Dismiss Notice
Extreme Beer Fest:Los Angeles
Join us December 9th in Los Angeles for the ultimate throwdown of craft beer creativity!
Learn more...
Dismiss Notice
Red Hill Christmas Ale
| Red Hill Brewery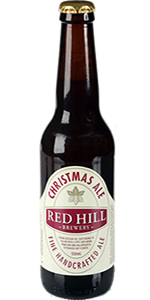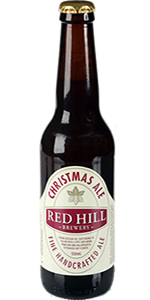 BEER INFO
Brewed by:
Red Hill Brewery
Australia
redhillbrewery.com.au
Style:
Belgian Strong Dark Ale
Alcohol by volume (ABV):
8.30%
Availability:
Summer
Notes / Commercial Description:
No notes at this time.
Added by brendan13 on 12-08-2007
HISTOGRAM
Ratings: 13 | Reviews: 11
Reviews by koolk:
More User Reviews:

3.08
/5
rDev
-12%
look: 4 | smell: 3.5 | taste: 3 | feel: 2 | overall: 3
Pours hazy dark amber with a medium-sized persistent head.
Nose shows lots of malt, with golden syrup and some spicy cloves, as well as grassy/spicy hops.
Similarly malty flavours, but with a somewhat floury note. Some grassy hops shows through. Not great.
Carbonation is way too high and prickly.
297 characters
3.18
/5
rDev
-9.1%
look: 4 | smell: 3.5 | taste: 3 | feel: 3 | overall: 3
This pours an orange/brown colour with a big, dense heavy head. Obvious high carbonation.
Very obvious hops on the nose. Some citrus as well - orange? Some alcohol evident.
Very evident alcohol warmth in the mouth which gives it a bit of a stewed fruit character.
Creamy mouthfeel.
I thought the balance was a bit out with the alcohol. I'm not a fan of this style.
368 characters
3.9
/5
rDev
+11.4%
look: 3.5 | smell: 3.5 | taste: 4 | feel: 4.5 | overall: 4
a: amber color, evident carbonation on the sides, small head quickly settles to thin veil
s: mild malts tempered with mild hops and a sweet syrup-y undertone
t: malts to start followed by quick hit of hops and finishes with combination of caramel sweetness, piny hops and alcohol
m: good mix of carbonated and smooth, medium/heavy body
d: another good brew from the red hill folks with their signature spicy hops, as well as a good balance of sweetness, hops and body. recommend this one
487 characters

3.63
/5
rDev
+3.7%
look: 4 | smell: 3.5 | taste: 3.5 | feel: 4.5 | overall: 3.5
Pours a dirty brown colour, very cloudy with a charming head of dense off-white foam, bubbling on the side but it goes on and on, rather like this sentence, and the lacing is alright but not very sticky. (and apologies to A.A. Milne) Steady bead keeps the head alive. Pleasant.
Smells pretty Belgian and musty. Hints of fruit with apple and pear, and some decent spice hiding behind it. Decently fruity and maybe a bit musty for my liking, but alright.
Taste is fruity and rich and pretty boozey actually. Lots of plum and sultana sweetness that then gets a bit hot and sharp, with brandy booze and some mulled wine - cinnamon and pepper and nutmeg, quite dry and smokey almost, with a bit of a sharp twang on the finish. Could use more evolution from that pleasant sweet fruit on the front. Bit off-kilter, but pleasant.
Texture is nice and simmering, with a good thick body. Like it.
Not quite my ideal beer, a bit hot but nice character overall.
952 characters

3.33
/5
rDev
-4.9%
look: 4 | smell: 3.5 | taste: 3 | feel: 3.5 | overall: 3.5
650ml bomber at hosers 17/7/11 (brandy barrel version)
A hazy golden orange with a fast falling foam that leaves a few specks of lace
S loads of green apple with melon, spice and earthy yeast
T confused by a weird funkiness that's not quite right, moldy wood maybe? a little toffee with a big boozy finish
M medium bodied with a creamy feel, booze burns hard to miss though
O a little boozy for sure with a slightly off flavor, nothing offensive but I just couldn't place what was off
I had high expectations after a Vintage RIS and a bottle of Temptation from these guys but this one was merely OK. Stoked I got to try this one though and so were a few other local beer geeks, thanks Kate for dragging this one around the planet and then forgetting to drink it with me, I spread the love around though something we'll never see again in these parts
858 characters
3.51
/5
rDev
+0.3%
look: 4.5 | smell: 3.5 | taste: 3.5 | feel: 3 | overall: 3.5
2011 version, very young, had on Christmas eve.
Pours extremely effervescent and frothy, with a huge, white, fluffy head above a cloudy golden orange body. The head stays full, like a meringue, right to the bottom of the glass. Quite a lot of heft and body to the brew. Looks very good.
Nose is spicy with sharp Belgian esters, but none of the round, slightly earthy-sweet vanilla-like notes you often get. The aroma is dominated by pepper, crushed herbs and a touch of booze. Some earthy biscuit characters come through as well. Not bad.
Taste is also spicy, estery and very peppery, with a big boozy astringency. Slight bite of almond skin bitterness later in the palate, while the malt struggled vainly to make it through. It feels a bit sharp and raw. It may benefit from some age. The feel is light and the spice is angry on the palate.
Very interesting brew from Red Hill, who I find generally consistent and who make some well made beers. This needs to integrate a bit more, but I have a feeling that laying it down for 12 months until next Christmas would help.
1,073 characters
3.37
/5
rDev
-3.7%
look: 3 | smell: 3.5 | taste: 3.5 | feel: 3.5 | overall: 3
First review - here goes
2008 edition - Poured into an oversized wine glass from 330 mL bottle
A - Deep Orange to Blight Brown. overcarbonated but poured with 2 cm of head which slowlydropped to a fine layer.
S - Strong fruity and hop aromas, quite nice on the nose
M smooth once beer had warmed up, nice easy drinking, slight bubbly feel
D - definately appreciated this once it warmed up a bit and easy to drink although I think it was better last christmas when fresh.
Will definately enjoy the few I have left
517 characters
3.78
/5
rDev
+8%
look: 4 | smell: 3.5 | taste: 4 | feel: 3 | overall: 4
Bottle from Local Provisions. From notes.
A - Poured with a giant 4 finger rocky white head. Big bubbles in the head. Super intense carbonation. Murky dark orange, sticky spots of lace and a finger of retention.
S - Light hop, some candy, noble hop, orange, and a little spice.
T - Yeast, booze, noble hop. Definitely has Belgian Pale Ale character. Toffee. Noble hop and orange seem to dominate. Tastes like a hoppy Belgian Pale.
M - Strong carbonation, medium body, seems a tad thin, dryness in the finish.
O/D - A strong, slightly more hopped Belgian style. Weak body isn't so bad. Pretty good stuff.
608 characters
3.73
/5
rDev
+6.6%
look: 4 | smell: 3.5 | taste: 4 | feel: 3.5 | overall: 3.5
Pours a very hazy golden honey hue which leaves a creamy,frothy three finger head with lacing everywhere,the smell is spicy herbal hops,honey and a touch of brandy,the mouthfeel is medium bodied and creamy and has tastes of citrus zest,spices,herbal hops,cherries and finished with a Belgian boozy sweet,dry finish and overall its nice and perfect for after Xmas lunch cheers.
376 characters

3.58
/5
rDev
+2.3%
look: 4 | smell: 3.5 | taste: 3.5 | feel: 4 | overall: 3.5
From Provisions store at Red Hill.
Pours dark amber. One finger head dies. Swirl revives head and lace.
Aromas of dried fruits, sultanas, apricots.
Taste is not quite full on Belgian, there is some Belgian yeast in there, and a whole lot of smooth malts, but not quite all in all. Dried fruits again, port/sherry, and hint of sweet cherries. Alcohol is noticeable.
Mouthfeel lovely and creamy. Full bodied but not overbearing.
Overall, a passable attempt, but not quite a good to great one. Almost comes across as 'Belgian Strong Dark Ale Lite' as it's a whole lot lighter, and I mean a lot, than say Chimay Blue...
620 characters
3.37
/5
rDev
-3.7%
look: 3 | smell: 3.5 | taste: 3.5 | feel: 3.5 | overall: 3
A - Poured into a snifter a hazy brown colour with a couple of centimetres of beige head that falls away fairly quickly.
S - Herbal & floral hop notes on top of a fairly big caramel base.
T - Similar characteristics to the smell with the caramel coming through pretty sweet and some light spice hints.
M - Medium bodied with a medium to high carbonation.
D - Nice enough but I don't see how this is called a Christmas Ale. Nothing really "christmasy" about it.
464 characters
Red Hill Christmas Ale from Red Hill Brewery
Beer rating:
3.5
out of
5
with
13
ratings