Barrel Select Raspberry
| Captain Lawrence Brewing Co.
BA SCORE
84
good
12
Reviews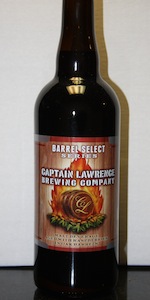 BEER INFO
Brewed by:
Captain Lawrence Brewing Co.
New York
,
United States
captainlawrencebrewing.com
Style:
American Wild Ale
Alcohol by volume (ABV):
not listed
Availability:
Limited (brewed once)
Notes / Commercial Description:
No notes at this time.
Added by SpeedwayJim on 12-05-2011
This beer is retired; no longer brewed.
Reviews: 12 | Ratings: 64
3.49
/5
rDev
-6.2%
look: 3.5 | smell: 3.75 | taste: 3.5 | feel: 3.25 | overall: 3.25
enjoyed alongside the cherry. pours a muddy.briwn nose is nice preswnt ripe raspberry. drinks like a raspberry sour but.nothing fancy. drinks the same, meh raspberry. ok. nothing great.
185 characters
3.29
/5
rDev
-11.6%
look: 3.75 | smell: 3.5 | taste: 3.25 | feel: 2.75 | overall: 3.25
Slight gusher when opened. A somewhat hazy garnet-hued liquid with an off-white head that settled as a thick ringlet, leaving some lacing on the glass. Earthy raspberry aroma, somewhat jammy, with hints of barrel. More of the same in the taste, raspberry puree, earth, oak, light caramel malts; flavor profile was a bit weak honestly, and there wasn't much sourness/tartness to be had. The mouthfeel seemed rather watery to me, more so as it warmed a bit, but it was still easily drinkable, body was light, though a bit sticky in the finish. I wasn't wowed by this one at all.
We did cuvee it with a Bruery Sans Pagaie, with interesting results, and I even threw a bit of Rubaeus into the mix, and I thought that blend really brought out the best in each beer, none of which I really cared for much in and of themselves.
822 characters
3.95
/5
rDev
+6.2%
look: 4 | smell: 4 | taste: 4 | feel: 3.5 | overall: 4
Poured from the bottle into a tasting snifter.
Appearance: Pours a cloudy reddish dark brown to amber color with a layer of off white head. The head fades to a ring around the pour.
Smell: Sweet raspberry jam. Mildly tart with some spice and a malt sweetness undertone.
Taste: Sweet raspberry notes up front with a nice level of tartness. I'm getting mild vinegar sourness that compliments the fruit nicely. The finish is quite good with a pleasant sourness.
Mouthfeel: The body is medium with tingly carbonation and a dry finish.
Overall: I enjoyed this one a bit more than the cherry version. Very smooth with a nice fruit flavor. I'd have more.
652 characters

4.12
/5
rDev
+10.8%
look: 4 | smell: 4.5 | taste: 4 | feel: 4 | overall: 4
Shared by yourefragile. Thanks Michael.
The beer is ruby to orange in color with a prominent raspberry aroma. The flavor does indeed bring a healthy dose of raspberries with some oak, funk, malt, yeast. Light in body with moderate carbonation. Easy to drink and quite tasty.
275 characters

3.9
/5
rDev
+4.8%
look: 4 | smell: 4 | taste: 4 | feel: 4 | overall: 3.5
Appearance is a light brownish red with a light layer of white head, minimal retention. Nose is heavy with fruity raspberry character, complete with some earthy funk and a bit of yeasty character. Taste is acidic with some raspberry and sweet malt character, sweet on the finish. Mouthfeel is somewhat heavy with a bit of syrupy character and light carbonation. Overall, a tasty sour beer with a little bit of funk.
415 characters
3.82
/5
rDev
+2.7%
look: 3 | smell: 3.5 | taste: 4 | feel: 4 | overall: 4
750 mL bottle, chilled most of the way down to fridge temperature from my cellar before being poured into my NEBCO 668 tulip.
Barrel Select Raspberry pours a hazy, burnt cherry red, with plenty of lighter red highlights. Roughly three fingers of cream colored foam rise up atop the beer. There's a little bit of head retention, but no real lacing is left behind. Some noticeable pieces of sediment are observed floating in suspension as well. The nose is pleasant, if not straightforward. The aroma is acetic acid and a surprising amount of raspberry, given that the beer's coming up on a year old. The flavor profile leads off with a very earthy brett funk, which adds new layers to the beer. A vinegar-like sourness flows through next. A still potent raspberry acidity provides an attention grabbing finish. The body is just a little bit too full and sturdy for my taste. The carbonation though is fantastic. Lots of active bubbles, but the CO2 never distracts from the beer. Barrel Select Raspberry is a middle of the road sour from Captain Lawrence. It's definitely better than BS Cherry, but doesn't quite reach the heights of Cuvee de Castleton or some of the other Barrel Select beers.
1,193 characters

3.9
/5
rDev
+4.8%
look: 4 | smell: 4 | taste: 4 | feel: 4 | overall: 3.5
Thanks for sharing, Jason.
Murky amber color with a small white head. Intense raspberry aroma to this beer. A very good sourness to go along with it. A bit of grass and wood, but the raspberries really stand out. Flavor is of fresh, tart berries. Raspberries all the way with a bit of lemon, grass, and wood. Maybe just a touch of red wine vinegar on the finish.
363 characters
2.44
/5
rDev
-34.4%
look: 2.5 | smell: 3.5 | taste: 2 | feel: 1.5 | overall: 2.5
Bottle starts to overflow upon opening. Pours a muddy dark pink color with a massive, fluffy light pink colored head with a lot of retention.
Aromas are dominated by raspberry puree. Moderately tartness that is mostly covered by and incorporated into the fruit flavors.
The tastes begin with raspberry fruitiness. Oak flavors peak through a touch in the middle with some yeast tones coming out as it warms. It tastes quite watered down to be honest; a lot like a raspberry seltzer drink. The finish is slightly tart with more raspberry. Tartness is very low, sweet fruits dominate now.
The mouthfeel is bodied with ample carbonation. Finish is watery and messy with a lingering aftertaste.
Overall this was a major dissapointment, the carbonation ismtoo high,the flavor tastes watered down and I really can't see this improving, except in the sour department. The carbonation will eventually become too dominant as it is bottle conditioned so I cannot recommend this beer at all to trade for or seek out. Glad I missed this release and was able to sample at a bottle share.
1,078 characters

3.87
/5
rDev
+4%
look: 3.5 | smell: 4 | taste: 4 | feel: 3 | overall: 4
A: Deep cola color with a touch of red when held up to the light. A thin covering of brownish head around the edge of my wine glass. Not a gusher at all here but the bottle had not been moved since the release.
S: The raspberry is right up front and really dominates the nose. That that much funk or sourness in the nose. A touch of oak is there. Just a slight hint of leather.
T: The taste is intense raspberries. Not really that much else going on. There is a slight sourness that compliments the fruit quite nicely. Right now there is not a ton of complexity. Still quite enjoyable though.
M: Probably my only real gripe with this beer is that it feels a little thin and there is minimal carbonation. I know the release of this beer was delayed due to carbonation issues.
O: This beer keeps getting better every time I have had it. When it was at EBF a year ago it needed more time. This is more enjoyable than it was at the release. It is also getting more sour for those into that...
992 characters
4.37
/5
rDev
+17.5%
look: 4 | smell: 4.5 | taste: 4.5 | feel: 3.5 | overall: 4.5
750ml into champagne flute, split 5 ways.
General consensus from the group was:
"(smacking noise) (smacking noise) this is good." -genovm
with a smell like "antiques in a barn".
The pour is very dark, muddied amber into reddish-brown. The nose is the highlight of the beer, which I did not find to be the case when tasting it in line at the Captain Lawrence release. The head dissipates quickly.
It's soured raspberries, a lot of muddled spices and a bit, very faint, of funk. The funk is limited to sour fruit, lemon juice and a spot of molted hay/blanket.
Distinct raspberry flavor with a strong 'puree' flavor that incorporates the seeds of the raspberries into the whole.
A good bit of carbonation, with the sour notes it really dances across the tongue. A bit too much sour at the end - likely not a complaint from many folks but I do like all of my beers to finish crisp even when it's not fitting the style...
Didn't have any 'gushing' issues and found this very good across the board if a little more fruit leaning than funky. However, we also didn't find much sweetness in this and certainly had no complaints. This was my only bottle and I'm happy I/we had it fresh.
(150th)
1,195 characters
2.21
/5
rDev
-40.6%
look: 3.5 | smell: 2.5 | taste: 2 | feel: 2 | overall: 2
Thank you Pete.
Dark reddish brown with a thin, white head with poor retention and little lacing, this looks OK. The nose has all the characteristics of raspberry beers that I dislike - plasticy, mildly solventy, intense raspberry seed metallic tannins (that's what it feels like to me). No funk and no complexity here, this is an all-out raspberry assault. The palate has more of the same - intense raspberry seed character with a rather awful metallic, plastic and tannic character. The base sour is very thin, making this feel incredibly watery, and the absence of a real funk makes this all the more disappointing. Carbonation is present, but with a mouthfeel like this beer has, no amount can be described as appropriate. I'm in the minority here, but at least the Cherry was pleasant to drink.
We followed this with the RR FFaC, and that only emphasized this beer's flaws.
881 characters
4.06
/5
rDev
+9.1%
look: 3 | smell: 4.5 | taste: 4 | feel: 4 | overall: 4
The first review! Capped 750ml bottle poured into a Cantillon tulip. A huge gusher. Lost about 1/4 of the bottle all over the walls. Be careful with this one. Shared with schen9303.
Pours a massive, 4 finger fluffy, coarse, and dirty light pink peach head with great retention. Beer is a very cloudy clay reddish brown. Lacing is stringy and thick with great stick. All aspects are good except the color which is pretty dreadful.
Nose is outstanding. Robust raspberry puree with some sweet spices. Moderately tartness that is mostly covered by and incorporated into the fruit flavors. Very simple but aromatic and deep. Really nice.
Opens raspberry fruitiness with a tart spice in the back. Oak flavors peak through a touch in the middle with wood and yeast tones coming out. More raspberry puree at the end. Sweet and dominated by fruit. Finish is slightly tart with more raspberry. Sweet juicy aftertaste. Tartness is very low with lots and lots of fruit. Not typical but very nice.
Medium bodied with ample carbonation. Prickly and lively in the mouth and spicy and coarse going down. Finish is watery and messy with a lingering aftertaste. More full bodied than most in the style but solid and really brings out the fruit components.
Not really too sour at the moment, Barrel Select Raspberry has a lot of potential to develop. Really fruit forward and quite sweet at the moment but I can see this one getting more sour with age. Can't wait to see how it develops!
1,488 characters
Barrel Select Raspberry from Captain Lawrence Brewing Co.
3.72
out of
5
based on
64
ratings.