Mateo Loco
| Scuttlebutt Brewing Company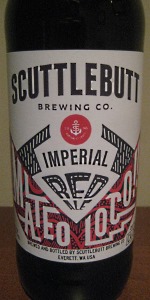 BEER INFO
Brewed by:
Scuttlebutt Brewing Company
Washington
,
United States
scuttlebuttbrewing.com
Style:
American Amber / Red Ale
Alcohol by volume (ABV):
10.00%
Availability:
Rotating
Notes / Commercial Description:
No notes at this time.
Added by beertunes on 04-21-2010
Ratings: 3 | Reviews: 3

3.98
/5
rDev
+3.4%
look: 4.25 | smell: 3.75 | taste: 4 | feel: 3.75 | overall: 4.25
Appearance: As it pours from the bottle it is a clear warm melted caramel color, in the glass it acquires a very dark red brick brown and still retains a lot of clarity you can almost see through it at the widest part of the glass. The head is an unbleached white standing two fingers tall and is smooth and creamy with an irregular dissipating pattern so it drops into peaks and valleys and at times resembles a fresh snow cap on rolling foothills. Time to break out the snowboard I think.
Aromatics: It is very smooth and subtle in scent, I get very light bread dough with a slightly more pronounced caramel sweetness. There is a little hint of some roasting going on, along with a slight medicinal herb quality (probably representing the 10 point ABV), but everything is so soft and powdery the scents just glide along the nasal passage with an effortless grace.
Taste: A little bit more involved than the smell - bringing in to play some mild roasted coffee - that, as the flavours have a chance to grab hold of the palate it carves in to the chocolatey sludge at the bottom of a cup of hot cocoa. (I happen to love that sludge - it's thick and pure flavour). With my board strapped on, it would be like gliding through some fresh dropped powder on a a wide open and clear blue square run with no one around and then just as you are getting in to a fluid back and forth and hovering groove you see a small dense kicker near the tree line and just go for it. It doesn't look like much, but it does a great job of popping you up 6 feet which triggers a short Adrenalin rush that results in a burst of (however short lived) but ever so satisfying packet of delisciousness. It is earthy but mild, and only in it has a wonderful graduated release of flavours that include (in order) sweet caramel, sweet leaf tea, slightly burnt toast, dark roast coffee bitters, and finally the pure warm and wet cacao sludge (with an angel's kiss of sweetness).
Palate: A good medium body that isn't wishy-washy, it's a medium and is staying a medium. Like my board actually - I can't stand those spaghetti noodle boards that are firm in the middle and floppy at the tips. Carbonation is also consistent and though a little less aggressive as it could be, it does break the full creaminess with a bit of tantalizing gritty but also velvety texture - like a newly groomed run; with no icey choppiness but some good glide and grip to it's passage. Bitter and dry in the finish, but it is one of those lingers you actually don't mind. You just finished your run down the mountain and your legs are burning a little, so you sit and wait it out a bit, but you also enjoy every second of it.
Overall: A really good, no fuss no muss IRA. Don't come across these too often, you'd almost think you were in a stout with some of it's qualities. I think it looks fantastic, and has a great flavour ramp. Still needs to learn a few tricks in the aromas and maybe a little in the feel, but overall I really enjoyed it's run. A solid Bronze (and maybe even a Silver) X Games medal run, and so glad it didn't bite it hard anywhere on course.
Pairing: It has a good body and enough flavour to support some solid chalet staples - chimichangas and burritos do immediately come to mind, but I think even better would be a very well-done (but still juicy) grilled burger, with grilled onions, melted jalapeno jack cheese, a drop or two of Franks Red Hot, a little bit of lettuce, light mustard, light ketchup, and a whole handful of regular potato chips or cheese flavoured Doritos (yes, ON the burger, not the side). I love that crunchy goodness.
3,622 characters
3.98
/5
rDev
+3.4%
look: 4.25 | smell: 3.75 | taste: 4 | feel: 3.75 | overall: 4.25
22oz bottle, @9.48% ABV (how very specific!), with no info on the label as to the meaning of the name - apparently, it translates to something like 'crazy God's gift' - ok.
This beer pours a clear, dark orange-brick brown colour, with three fingers of puffy, loosely foamy, and bubbly tan head, which leaves some decently awkward webbed lace around the glass as it evenly subsides.
It smells of gritty and grainy caramel malt, a bit of free-range roastiness, muddled domestic citrus fruit, some leafy, grassy, and piney green hop bitters, and a sense of looming metallic alcohol. The taste is bready and doughy caramel malt, sharp white grapefruit, blood orange, and lemon citrus rind, a further cereal graininess, hints of wet ash, and more peppy leafy, herbal, and piney hoppiness - with the booze keeping a respectful, court-mandated distance.
The carbonation is adequate for the job, via its perfunctory frothiness, the body a solid medium weight, and mostly smooth, just a touch of hop detritus messing with the ideal metrics here. It finishes off-dry, the sturdy malt and citrus fruitiness fending off the lingering resinous hop esters.
Overall, this seems to be one of those offerings that comes off worse for the parsing - I quite like it, but my description doesn't really fully indicate that. I guess the old adage of 'the whole is greater than the sum of its parts' duly applies here. Good stuff.
1,415 characters
3.6
/5
rDev
-6.5%
look: 3.5 | smell: 3.5 | taste: 3.5 | feel: 3.5 | overall: 4
This is a beer brewed for the 10th anniversary of the brewery. This is an Imperial Red Ale that comes in 10%ABV and 77IBUs. Served in straight pint glass. The beer poured a dark brownish red with under an inch of tan head that had good retention and lacing.
The aroma was a good blend of malt and hops, both had a strong presence, but neither dominated. The taste was similar, with the hops being very sharp on the finish. There was also a slight alcohol taste to the beer.
The body was good, full without being heavy. Drinkability was very good, especially for a beer of this strength. If you didn't know it was 10% you wouldn't guess it. You should be careful if you're going to have several of these (which I did, and they were all very enjoyable).
Overall, a pretty good brew from a brewery that sometimes gets lost in the crowded NW beer scene.
858 characters
Mateo Loco from Scuttlebutt Brewing Company
3.85
out of
5
based on
3
ratings.