Powder Mountain Lager
| Whistler Brewing Company
BA SCORE
78
okay
14
Reviews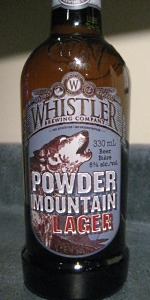 BEER INFO
Brewed by:
Whistler Brewing Company
British Columbia
,
Canada
whistlerbeer.com
Style:
American Pale Lager
Alcohol by volume (ABV):
5.00%
Availability:
Year-round
Notes / Commercial Description:
Voted by Whistler residents as their preferred lager, this lightly hopped North American style lager has become our top seller in the Whistler area. It's crisp as a moonlit night, cool as a mountain stream and clear as a howl at midnight.
Added by canucklehead on 05-18-2011
Reviews: 14 | Ratings: 43

3.1
/5
rDev
-1.6%
look: 3 | smell: 3 | taste: 3.25 | feel: 3 | overall: 3
Slightly hazy golden yellow. Moderate head to a ring. Apple nose. Plenty malt, also quite hoppy, fruity finish. Slightly doughy. Ordinary stuff, but drinkable.
159 characters

3.4
/5
rDev
+7.9%
look: 3.5 | smell: 3.5 | taste: 3.25 | feel: 3.5 | overall: 3.5
330 mL bottle from a mixed 12-pack, picked up at TBS. Served well-chilled and reviewed on my phone.
Pours a somewhat hazy golden-yellow colour, topped with an inch of soapy, bone white-coloured froth. A bubbly collar of foam is the only remnant after a minute or two. Grain husks and gritty, doughy whole grain bread on the nose, with hints of grassy hay and lemon.
Nothing to get too excited about here. The backbone is pure grainy pale malts; gritty, crackery and doughy, with light honey biscuit sweetness. Hints of red apple at the midpoint, followed by some spicy, grassy hops accented by suggestions of citrus zest and floral undertones. Off-dry finish with a bit of lingering doughy malt. Light-bodied, with fairly assertive carbonation that feels crisp and lively on the palate. Excellent drinkability, but overall it's a little on the dull side.
Final Grade: 3.4, a B-. Whistler's Powder Mountain Lager isn't bad, but it's not exactly all that memorable, either. A pretty typical Canadian craft pale lager - malt-driven, though with a respectable amount of hop scaffolding to keep things balanced - it's fine to drink, but not much more than that. I wouldn't turn one down.
1,186 characters
2.67
/5
rDev
-15.2%
look: 3 | smell: 2.75 | taste: 2.75 | feel: 1.75 | overall: 2.75
Light straw in colour, thick white head. Slight citrus and malt on the nose. Hopped to the point of pilsner level flavour which leaves a bitter aftertaste that I don't expect from a lager
187 characters
3.16
/5
rDev
+0.3%
look: 3.25 | smell: 2.75 | taste: 3.5 | feel: 3 | overall: 3
Nose is a little soapy and thin head soon fades. First taste revealed little but afterwards there was a pleasant fruity hop presence and a prominent biscuity malt character. Drinkable but unremarkable.
201 characters
3.1
/5
rDev
-1.6%
look: 3 | smell: 3 | taste: 3.25 | feel: 3 | overall: 3
A decent lager. If lagers are your "thing", you might be pleasantly surprised by Powder Mountain. I sampled this as part of a mixer pack of cans, but I didn't leave this one until last. It is definitely better than your standard adjunct, with more substantial malt and crackery/pepper notes.
291 characters
3.01
/5
rDev
-4.4%
look: 3.5 | smell: 2.5 | taste: 3 | feel: 3.5 | overall: 3.25
Served in a chilled pint glass.
Appearance: bright, translucent. Great lacing
Smell: sweet. Fresh cut straw, early spring rain
Taste: if a lager met a cider is the beat way to fit it. This strikes as more of a summer beer with lighter notes and crispness. Under ripe apple without the sour is the predominant flavor with a light amount of straw, matching the smell.
Mouthfeel: medium, medium- carbonation. Definitely lingers in flavor
Overall: this is a session lager for sure. While the flavor isn't overwhelming, you're not left lacking either. Great beer for a group setting, easy on the palate with just enough to have you ask, "what is this?"
653 characters
2.77
/5
rDev
-12.1%
look: 3.5 | smell: 3.25 | taste: 2.5 | feel: 2.25 | overall: 2.75
I bought this at a BC Signature Liquor store which is known for it's wide varieties of wines and beers. This was on sale for $10 for a six pack — which is pretty good considering that Budweiser, believe it or not, is actually more expensive. For a craft brew, not bad!
The name "Powder Mountain" is actually an allusion to where the brewery is located: Whistler Mtn, which was one of the sites of the 2010 Winter Olympics.
Labelling has a howling wolf. The font is old-timey, and makes the buyer feel he is buying a premium beer.
So does the brew live up to it's own hype? Not really.
First, let me speak about what it does well. Powder Mountain Lager pours with a bright yellow colour with a sunny sudsiness. The smell is breezy and light. I wouldn't call it flowery, but it promises a gentle sweetness.
It's then when you taste it that the story changes. You see, Powder Mountain Lager seems to have an identity problem. It wants to be an easy-going sweet-tasting beer, but then the hops pop up and immediately force your attention. This beer doesn't know whether it wants to be sweet or bitter.
This is echoed in the mouthfeel where Powder Mountain Lager feels simultaneously thin and thick. The label itself states "it's crisp as a moonlit night" but I wouldn't echo this. Power Mountain Lager gives you a lot to think about.
Which brings me to the aftertaste. It stays with you a long time. After a few swigs, I decided to taste this with a deep pan pizza, and I can tell you that Power Mountain Lager overrules anything else you might be having with it. So if you're planning to eat anything with this, I suggest don't.
Powder Mountain Lager has good ideas. Unfortunately, it doesn't have anything to tie it all together.
1,739 characters

3.24
/5
rDev
+2.9%
look: 3 | smell: 3.25 | taste: 3.25 | feel: 3.25 | overall: 3.25
Oh, it's alright. I guess I'm pleased that they went all malt and there is a hop presence here, but I wouldn't buy it in flats if that's what you're looking for. Poured it into a pint glass and it was straw yellow and fizzy as can be. I detect a hint of cereal grain, some grassy hops and some sweetness. It's rather bland on the palate, would probably be good with some nachos and a pepperoni and mush pizza. Not really something a guy like me reaches for, but respect the brewer for doing their thing in beautiful Whistler.
525 characters
3.08
/5
rDev
-2.2%
look: 4 | smell: 3.5 | taste: 3 | feel: 2 | overall: 3
Bought this on the recommendation of some guy in the liquor store in northern BC (came to ~$1.86 per bottle). It pours with lots of white head and a slightly hazy, yellow or gold-yellow colour. There is a very light honey lemon aroma. The taste is also very light; I detect a little bit of spicy pepper, mustiness, and a taste I generally associate with adjunct lagers. There is also a light mouthfeel but very high carbonation. Overall,it's disappointing; too much carbonation makes it difficult to drink and very little taste which is easily lost if paired with food (or if you have recently ate or drank anything else). For a pale lager better to just go with the common Moosehead lager.
690 characters
3.5
/5
rDev
+11.1%
look: 3.5 | smell: 3.5 | taste: 3.5 | feel: 3.5 | overall: 3.5
330ml bottle. Uninformative descriptive wankery on the back label, concerning wolves or something.
This beer pours a clear, medium golden amber colour, with two fat fingers of puffy, loosely foamy, and mostly fizzy dirty white head, which leaves just a bit of sparse microbial lace around the glass as it quickly beats it outta Dodge.
It smells of semi-sweet bready, slightly doughy pale malt, soft muddled drupe fruit, some earthy undertones, and musky, floral hops. The taste is lightly toasted bready pale malt, a touch of honeyed caramel, and bristling floral, musty, and somewhat straw-like hops.
The carbonation is a bit peppy up front, but gently frothy overall, the body medium-light in weight, and a tad clingy, but generally smooth. It finishes off-dry, and mostly grainy, as the hops, while not deciding on any particular direction, do well enough to bond in their successful effort of providing adequate balance.
None too shabby a lager, with agreeable, if not really eye-opening flavour, and a distinct lack of the off-variety sort. One is inclined to wonder if this is just a re-branding of their regular 'premium' lager, but I'd have to test them in a side by side showdown in order to render a definitive comparison. I'm not holding my breath on that one.
1,277 characters
3
/5
rDev
-4.8%
look: 3 | smell: 3 | taste: 3 | feel: 3 | overall: 3
Not a bad beer, this is. I'm not a mega lager fan - traditionally the style doesn't really impress me so when it comes to a lager I want something with that good standard "beer" taste that doesn't smell poor and has a good aftertaste so you don't feel disgusted with what you just had.
Whistler Powder Mountain Lager is better than most of the mainstream lagers I've tried, definitely. It's crisp, clean, has some good bite right off the bat, but a clean finish with minimal aftertaste. So in a way, it personified Whistler...so fresh, so clean, so crisp. The bottle itself is rather nice too.
Generally I've found the selections from Whistler Brewing to be solid (if not a wee bit expensive) so give it a shot if you like. I inherited a pair of these in the BC Craft Brews pack last month, and it's not bad. Just not anything to write home about and do backflips for.
870 characters

3.05
/5
rDev
-3.2%
look: 3 | smell: 3 | taste: 3 | feel: 3.5 | overall: 3
330ml bottle poured into pint glass 21/10/11
A straw yellow with loads of tiny particles if you look closely, decent amount of slowly raising bubbles that make little in the way of head or lace
S honey and sweet malts with some hay
T a little grassy on top of what I smell, nothing special some skunk is just barley detectable so on par for the style
M light with enough bubbles to give it some life
O pretty basic lager nothing too be ashamed of
just another average lager would make a lawnmower brew
510 characters
2.68
/5
rDev
-14.9%
look: 3 | smell: 2.5 | taste: 2.5 | feel: 3 | overall: 3
A - bubbly clear straw golden, finger of head dissipated fairly quickly to a thin film
S - strong adjunct aroma with mild leafiness and some metallic
T - corn adjust flavour dominates, there is a slight metallic characteristic
M - light and well carbonated, thin watery with a light dry finish
O - an average lager all around, got this as part of a mixer 12 pack from Whistler, but I wouldn't buy this on its own
412 characters

3.55
/5
rDev
+12.7%
look: 3.5 | smell: 3.5 | taste: 3.5 | feel: 4 | overall: 3.5
Part of the new mixed 12 pack, this most likely the export lager rebranded. Pours yellow more than gold with a mildly hoppy nose. This is a lager for the masses with a slightly sweet finish that is however well made and very drinkable. Don't expect Czech bitteness , this is a all malt North American lager that does the job on the patio but is no standout.
357 characters
Powder Mountain Lager from Whistler Brewing Company
3.15
out of
5
based on
43
ratings.