Arbor Brewing Saison
| Arbor Brewing Company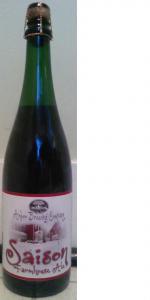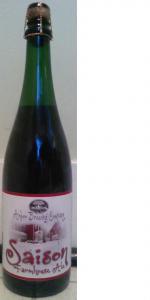 BEER INFO
Brewed by:
Arbor Brewing Company
Michigan
,
United States
arborbrewing.com
Style:
Saison / Farmhouse Ale
Alcohol by volume (ABV):
not listed
Availability:
Limited (brewed once)
Notes / Commercial Description:
No notes at this time.
Added by CortexBomb on 12-12-2008
This beer is retired; no longer brewed.
HISTOGRAM
Ratings: 12 | Reviews: 9
Reviews by CortexBomb:
4
/5
rDev
-0.2%
look: 4 | smell: 4 | taste: 4 | feel: 4 | overall: 4
Recently ran into this wonderful example of a saison, and was surprised that it was brewed by Arbor. Medium dark brown pour with a moderate head on top with a mild off-funky aroma.
The flavour on this is what I would term textbook Saison, smoothly malty with a generous (but not overpowered) helping of barnyard funk. Crisp finish.
Overall: I think the Arbor take on the style is up there with the delicious Bam offering by the folks over at JP. I hope Arbor keeps brewing this and throws it in bottles, as Saisons are some of my favourite session beers and this is a rock solid example.
593 characters
More User Reviews:
3.65
/5
rDev
-9%
look: 4 | smell: 4 | taste: 3.5 | feel: 3.5 | overall: 3.5
This is a from a recent release in 750mL bottles.
High clarity orange pour, about a fingers worth of white foam at first, but it doesn't last the duration. Very clear body that shows off streams of carbonation briskly rising up from the nucleation points at the bottom of the glass.
Lemon yogurt taste and aroma, very distinct once it was pinpointed. Some coriander and orange peel in the nose, sort of earthy. Tart and very effervescent. Just a little too much sweetness there also, instead of finishing dry. Not much discernable hop or malt character, it seems to be all yeast and spices. Not a bad offering, but for the price I was expecting something better.
Thanks again to J&R for sharing these...
708 characters

4
/5
rDev
-0.2%
look: 4 | smell: 4 | taste: 4 | feel: 4 | overall: 4
Reviewed from notes. Shared by Richard on 1-14-12.
50 characters
4.17
/5
rDev
+4%
look: 3.5 | smell: 4 | taste: 4.5 | feel: 4 | overall: 4
Received in bottle from Alan via BIF, thanks a lot man, lots of great Michigan brews I never would've tried. Consumed on 4/26
Poured into pint glass with a nice medium, golden amber color, with a good amount of white head. Smell is nice, with coriander, honey and other spices dominating. Taste is wonderful, with the spices shining through and a nice tart fruit flavor making up the back end (I like puckering!). A pleasure to drink both in terms of quality and its refreshing nature, and certainly a beer I would make a summer staple if I had regular access to it.
567 characters
4.05
/5
rDev
+1%
look: 4 | smell: 4 | taste: 4 | feel: 4.5 | overall: 4
750ml caged and corked bottle.
Poured a medium and cloudy amberish color with an averaged sized off white head. Aromas of bready-yeastiness, some citrus, spices and a little fruity. Tastes of citrus - lemony, fruity, and a lighter breadiness. Somewhat sweet with a lighter tart finish. Lively body with a clean finish.
320 characters

3.58
/5
rDev
-10.7%
look: 4 | smell: 3.5 | taste: 3.5 | feel: 4 | overall: 3.5
Pours a hazed golden color with a large white head. Really an interesting aroma. Nice floral, grassy, and yeasty notes to begin with. There is a pleasant fruitiness of raspberry, too. Unfortunately a bit metallic. The fruitiness is pronounced on the palate: nice raspberry and lemon notes. Plenty of grass, straw, and bread with a nice yeast bite. Not much in the way of pepper/phenolics, though.
396 characters


3.92
/5
rDev
-2.2%
look: 3.5 | smell: 4 | taste: 4 | feel: 3.5 | overall: 4
750mL cork and caged bottle courtesy of hoppymeal poured into a tulip. The cork popped with some serious force with a small amount of foam streaming out of the bottle.
Pours a bright, slightly hazy orange with a huge fluffy white head that recedes to a small soapy cap, leaving almost no lacing. Lots of bubbles streaming to the top.
The aroma is very sweet with lots over-ripe fruits, especially peaches and apricots, with some citrus as well, maybe oranges. Plenty of musty characteristics, with yeast sweetness and peppery spices. Overall, the aroma definitely leans more to the sweeter side of things.
The taste is a different beast altogether. Right from the outset, there is a tart lemony kick with an almost acidic sourness. The remaining sweetness in the taste is less of the peaches and more of a green apples sweetness with a lightly dry, almost funky finish. The spices are present but subtle.
The mouthfeel is medium bodied with tons of carbonation and semi-dry in the finish.
This is my first beer from Arbor and it's a good start with a saison with a nose and taste with very different characters. Nonetheless, big thanks to Derek for sharing this one.
1,171 characters

4.1
/5
rDev
+2.2%
look: 4.5 | smell: 4.5 | taste: 4 | feel: 4.5 | overall: 3.5
A very careful pour nets me a four, then five, then six fingers of head (two of which are above the rim of my large Tripel Karmeliet tulip) that is a light tan color. The beer is a dark amber, red color that shows millions of madly streaming bubbles and a brilliantly clear, orange amber-color when held up to the light. The beer smells very appetizing with a mix of tart, fruit and lightly funky notes. The mix reminds me of a ripe pear and berry fruit cup that is finished off with notes of Manchego cheese and hay like, pale-kilned malt. Notes of pale wheat crackers, a touch of herbal dry grass notes, lots of honey almost mead like character and a very bright floral character that is much more distinct now that I have picked it out. There is a sort of funkiness in the finish that is more apparent in an oral / nasal capacity while taking a sip of this beer (almost reminds me a bit of rotting fruit, but in an appetizing way somehow). An earthy spiciness reminds me a bit of coriander, woody black pepper as well as a touch of rotting citrus rind.
The beer is a bit more perceptibly sweeter than I was expecting, but it seems like this might be accentuated by some of the tartness that is in this beer. Lots of floral, nectar like honey-mead notes are found in the flavor. The finish has a mix of light tartness and a fizzy, lively carbonation that contributes a carbonic bite; these notes contribute to a finish that is reminiscent of pears, a touch of floral apple character, a hint of strawberry, some tart berry notes and an at times, bright citrus character. This is very light bodied and refreshing, the expressive carbonation helps with this and there is just enough texture to this to not seem watery. The most expressive flavor in this beer is that of the fruit, this can be quite bright tasting at times. There is a background note of earthy coriander, lemon zest, a touch of mellow white pepper (though it could really use some nice biting spiciness).
This is quite nice, my biggest complaint is that this beer is too drinkable, it seems to just about disappear from my glass. This could use a bit of bite to it, either some bitterness and / or herbal hop character or a bit more biting tartness that would help to balance out the more dominant fruitiness and floral qualities found in this beer.
2,317 characters
4.34
/5
rDev
+8.2%
look: 4 | smell: 5 | taste: 4 | feel: 4 | overall: 4.5
750ml
First off all I have to thank Hoppymeal for yet another great box in an already long line of great boxes thanks Derek! Secondly, I dig the label on this beer. It's very whimsical and reminds me of some of the Belgian labels out there. The cork shoots out like a bullet complete with the gunsmoke pouring from the bottle. I was worried about a gusher when I popped the top but luckily my fears were unfounded.
Arbor Brewing's Saison shows off a hazed orange body that runs the gamut from peach to sunset red. There's enough haziness throughout the body that it makes it difficult, if not impossible, to see through this saison. The pillowy white head rose to two fingers easily and slowly receded to a skimming leaving behind some thin lacing here and there.
The nose is bursting with vibrant fruitiness. Juicy Michigan peaches hit the second my nose fills the glass and manage to stay vibrant throughout. Dusty yeast and candy-like aromas flash everywhere. There's not a ton of green apple like other saisons but the stone fruit is incredible, not only are perfectly ripe peaches noticeable but handfuls of apricot join the fun. There's a little candi sugar/sugar cookie maltiness laying down the base. I could enjoy the smell of this saison for days on end.
While this is a damn fine saison the flavor just can't live up to the lofty expectations the nose set. The stone fruitiness is still splashed all over this saison but not as vibrant as I would have liked. Green apple does come along mid-palate along with the dusty yeastiness. A touch of candi sugar sweetness hits on the swallow. Coriander and a squeeze of lemon juice bring up the rear.
The mouthfeel nearly mimics its Belgian brethren but falls just short. Zippy carbonation pushes the body through at a quick pace. The weight leans toward the light side of medium and the carbonation is lively enough to cause some prickliness along the tongue and there's a mild bitterness after half a glass.
I find saisons to be one of the easiest drinking of styles and when I'm sippin' on one this good the bottle disappears in no time. The uber fruity nose, soft thirst quenching flavors, and snappy carbonation make this beer incredibly easy to put away.
Arbor Brewing Saison was on my "wants" list for quite awhile and I'm glad I finally got the chance to give it a dance. This is a wonderfully crafted saison and one I would be most appreciative to have more in the cellar. Thanks for the treat, Derek!
2,471 characters

4.33
/5
rDev
+8%
look: 4 | smell: 3.5 | taste: 4.5 | feel: 4.5 | overall: 5
I had this on tap at Crunchy's in East Lansing on 5/29/09. It poured a golden amber color into a pint glass. This beer had about a half fingers worth of head(could be the bartenders pour), not much lacing or head rentention. About half way through this beer I could have passed for a under carbonated cider. Not much in the way of smell with the beer, it has faint fruit and phenolic smells, not much in the way of any kind of hop, malt or spicy aroma, but no off smells that would make me not want to drink it. The taste of this beer is great, very fruity and sweet. This was the first beer I order this evening after playing a round of golf and it totally hit the spot, super refreshing and delicious. This selection almost reminds me off a dryer less sweet cider, pretty amazing and definetely a beer I could drink all day long on a summer day. My only regret is not ordering more of this beer because it was the best beer I had in the evening and it was the first beer that I got. My buddy Dave (not a BA) like it so much that he had 5 pints of it. Good Job Arbor, I'll definetly look to try this brew again....mmm!
1,119 characters
Arbor Brewing Saison from Arbor Brewing Company
Beer rating:
4.01
out of
5
with
12
ratings