Christmas Ale

Horseheads Brewing Inc.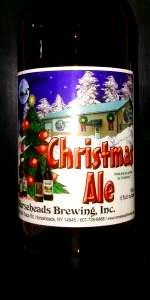 Write a Review
Beer Geek Stats:
| Print Shelf Talker
Style:

ABV:

6.6%

Score:

Avg:

3.72

| pDev:

18.55%

Reviews:

11

Ratings:

From:

Avail:

Rotating/Seasonal

Wants

Gots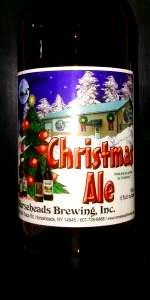 Notes:
tviz33 from New York
3.87
/5
rDev
+4%
look: 4 | smell: 4.5 | taste: 3.5 | feel: 3.5 | overall: 4
Poured from a 22 oz bomber in to a tulip glass.
A- Pours a crystal clear golden body with a one finger white head that quickly recedes to a thin foam cap.
S- The smell is great. The emphasis really is on the Belgian yeast. Smells quite spicy yet clean, with a touch of citrus.
T- Again, pretty spicy, but not overly done. A bit of banana, orange, and lemon is also present. Slightly bitter towards the end.
M- Quite a thin mouthfeel with medium-high carbonation. Finishes quick and dry.
O- Certainly drinkable, but not an overall favorite of mine. I don't know much about the style, but this makes me want to try more. I will be comparing this to Ommegang Hennepin tomorrow and I'm looking forward to it.
Dec 24, 2012
ManVersusBeer from Massachusetts
3.25
/5
rDev
-12.6%
look: 3.5 | smell: 3.5 | taste: 3 | feel: 3 | overall: 3.5
Got this beer from trxxpaxxs. He blinded it because we like to do things like that.
This pours out a yellow gold with a big white head.
I'm guessing this is some sort of summer style beer with a spicy, sweet caramel in the nose, not a hefeweizen, but verging on it, I feel.
There is a smooth, honeyed taste, but light overall, though there is some good candied orange going on. I would like this beer to be crisper and spicier, based on the nose, as it seems too one dimensional. It is smooth and an easy drinker, which make it a good, but not great everyday brew. Mild and light, but I like that this is more of X-mas in July kind of beer.
After I unwrapped this beer I wish I kept it blinded--how does Horseheads get away with these terrible labels?
Jan 14, 2012

dogfishandi from New York
3.88
/5
rDev
+4.3%
look: 4 | smell: 3.5 | taste: 4 | feel: 4 | overall: 4
22oz bottle at fridge temp poured into a bulb style glass.
a nice deep golden color with only a slight haze. creamy white head, good retention. little bits of lacing.
creamy, bannana yeast aromas. some nice aromas from the orange peel. a hint of grains way in the back.
again creamy, bannana, just a touch spicey. orange peel, apricot, wheaty grains. just enough hops for a quick shot of bitterness in the finish then it becomes slightly tart. some lemony citrus in the finish.
slightly odd creamy feel about this beer, but ive found that with certain belgian strains. nice crisp highly carbonated brew. light bodied. refreshing.
pretty basic saison. definatly worth a try, i wouldnt mind drinking it again. with all the bannana and creaminess this almost can work as a hefe, but i dig it.
Jan 04, 2012
trxxpaxxs from New York
3.95
/5
rDev
+6.2%
look: 4 | smell: 4 | taste: 4 | feel: 3.5 | overall: 4
A: Pours a beautiful golden apricot. The hues are slightly more orange than yellow. There is one full finger of head that settles nicely in a moderate amount of time. Some lacing as it drinks.
S: The smell is sweet, fruity, and a bit musky. There is also a bit of spice underneath. Wonderful malt and hop aromatic balance. This beer begs to be tasted.
T: This beer starts off with a great hit on orange, tangerine, and apricot. I'm also getting a bit of banana and clove. The finish is just a tad bitter, with what reminds me of citrus rind.
M: Light bodied beer. There is some moderate carbonation to this beer that makes it a bit dry from start to finish.
O: This is a pretty good beer. I'm really enjoying it. I also love the idea of staying away from a holiday beer that is just blasted with nutmeg and/or cinnamon. The orange notes in this brew are great for the holiday. In fact, I didn't even see on the label that this was brewed with orange peels until now. Nice. Trust your senses.
Dec 28, 2011
bolus14 from New York
4.62
/5
rDev
+24.2%
look: 4 | smell: 4.5 | taste: 5 | feel: 4 | overall: 4.5
This is my first saison, so not really sure if it fits the classification or not, but very good either way. I assume they used some Belgian yeast in this. I have tried almost all of Ommegang's brews this year, they do a lot of Belgian style brews, and this is right up there with them!!
Appearance: Very clear yellow/straw color, champagne like. About a quarter inch of white that stuck for a few minutes.
Smell: Unlike others I didn't pick up the clove(I'm not a big clove fan so I was happy I didn't get that. Definitely fruity maybe a slight gingerbread-ish smell. Hard to place.
Taste: Belgian yeast like flavors and orange and gingerbread.
Mouthfeel: Very bubbly, if I had one complaint it's here, I wish it was a little smoother. The carbonation may be part of the style though.
Drinkability: I usually only have one beer with my dinner, I had three with this tasty brew. I would highly recommend.
I actually just got two growlers filled to make sure I have it around for the holidays, since it's only available this month.
Dec 20, 2011

Hojaminbag from Colorado
2.65
/5
rDev
-28.8%
look: 3 | smell: 3 | taste: 2.5 | feel: 2.5 | overall: 2.5
I've been looking forward to getting my hands on Horseheads Christmas for a couple of years now, so it was nice to finally try the stuff. The cloudy yellow body has only a very thing white head. There isn't much to retain, and there isn't any lacing.
The aroma has a good dose of spices and some very sweet fruits.
Not a fan of this one. Lots of sweet fruit, with green apple and other powerful, sweet, and cloying flavors. I'm not sure if this beer is actually spiced, but it has huge flavors of coriander, clove, pepper and a little bit of anise. The malt body is pale and cracker-like, with lots of sweet malt. Overall, too strong in the spices, with a cloying sweetness to it.
The beer feels absolutely dead. Thick with low carbonation that is not ideal for any beer, but especially bad for a saison.
I really dig Horseheads beers, but I won't be buying this one again. I hope that it is better in bottles, but I have no idea.
Dec 20, 2011
lovindahops from New York
4.2
/5
rDev
+12.9%
look: 4 | smell: 4 | taste: 4.5 | feel: 4 | overall: 4
two weeks to christmas but i'm going to tap into this xmas ale anyway. I've had this on tap before and I liked it
a- a crystal clear light orange body with a nice off white head of foam. Very bright with a refreshing, appealing look in the glass
s- the yeast is very evident from the start. Some fruity and herbal scents are partnered with the buttery yeast flavors as well. Definitely a good amount of clove and banana flavors as well. Not to mention a slight spicy kick at the end
t- the aforementioned flavors mesh well to make for a delicious taste profile. The orange peel is a bit more evident with the tasting. Very flavorful with the spicy herbalness as well
m- carbonation matches up perfectly with the brew as well as some very smooth properties as well
o- although xmas ale is classified as a saison, to me it's more of a cross between a fruit beer and a belgian style... and that is just fine with me! This is incredibly refreshing with the fruity herbal characteristics compiled with the belgian spin. Horseheads continues to deliver on some incredible brews. Merry Christmas Horseheads!
Dec 11, 2011
younger35 from Minnesota
4.2
/5
rDev
+12.9%
look: 4 | smell: 4 | taste: 4 | feel: 5 | overall: 4.5
BeerTruth tossed this beer in a recent trade because he's the man. I'm sitting in my hotel room in Chicago right now and it's one of the beers I brought to review while wallowing in my own self pity. Drank from a generic tumbler.
Appearance- Pours a light straw colored yellow with a fairly nice off-white creamy head. A beautifully full collar remains the entire beer but not a lot of lacing or head remains.
Smell- Some light yeasty esters that are somewhat spicy and nice. A bit of clove and nutmeg and maybe even a pinch of banana (but very little). The grain is light and raw with a sort of doughy bready thing going on.
Taste- Really sort of complex and nice taste. Starts very bubblegum like with a yeasty sort of spicy thing going on. I'm not sure if it's spiced but there is a definite clove and cinnamon thing going on. Maybe the yeast? A pinch of ginger, orange peel and maybe coriander add to the christmasy spirit. There are a lot of spices going on in here but at no point is it overpowering. It's all fairly subtle and nicely balanced. The finish is lightly sweet with a touch of brown sugar and gingersnap.
Mouthfeel- Lightly creamy body that borders on medium with a sort of airiness that really makes this feel great. The carbonation feels fairly light overall but I do get a sharp tingle on the tongue.
Drinkability- I really dug this thing and was pleasantly surprised. It's got a light gingerbread thing going on but the yeast is pretty dominate and really nice. Tasty brew that I really enjoyed, thanks Adam!
Feb 09, 2010

WesWes from New York
3.5
/5
rDev
-5.9%
look: 3.5 | smell: 3.5 | taste: 3.5 | feel: 3.5 | overall: 3.5
The beer pours a nice golden color with a thick frothy white head that slowly fades to lacing. The aroma is decent. It's got a tremendously fruity yeast character that seems more geared towards a hefeweizen than a saison. It's got a banana/clove scent and is devoid of the dry, earthy farmhouse funk. The taste is decent as well. It has a smooth, pale and Munich malt flavor that goes down with ease and finishes fruity and a bit dry. Again, it's more fruity than funky. The mouthfeel is fine. It is a full bodied beer with good carbonation. This one drinks well, but I think they missed the mark with the given style. Still, I'll be back for more next Christmas. Happy Holidays Horseheads Brewing Company!!
Jan 02, 2010
Calico from New York
3.44
/5
rDev
-7.5%
look: 4.5 | smell: 3 | taste: 3.5 | feel: 3.5 | overall: 3.5
"A malt beverage brewed with orange peel" was all the information on the bottle, so I wasn't sure whether to expect a Belgian wit or perhaps a Belgian specialty beer.
I think that the placement of this beer within the Saison category is more or less correct. It's definitely on the clear and sparkling end of the spectrum, though.
Appearance: Clear medium golden color, full of bubbles. Good whitish head, leaving lace on the glass.
Smell: Clove, possibly banana, phenolic notes, some higher alcohols.
Taste: Citrus breaks through brilliantly amid the complex Belgian malt and yeast notes.
Mouthfeel: Quite carbonated, almost Champagne-like.
Drinkability: I am not sure of the ABV but it is a tasty beer. I could have a couple of 12-ounce glasses of this, if my local bar served it.
Dec 06, 2009
SLeffler27 from New York
3.75
/5
rDev
+0.8%
look: 4 | smell: 4 | taste: 3.5 | feel: 3.5 | overall: 4
This beer glows from within, radiating a reddish amber, similar to a ripe peach. Cristal clear, it showcases a big fluffy white head, that deposits patches of lace, then with a swirl converts the same to a fine film of lace.
The aroma is rather unique, simultaneously sweet apple and subtle melons, both over ripe, followed by honey and a spicy bite. With warmth, and a quick swirl one can detect a subtle embrace of funk. However, as it warms too much, that funk becomes too prominent of a player.
The tulip glass is well matched for this Christmas offering, as the flavor profile nearly duplicates the aroma. What little contrast there is, comes from the spice, which is light on hops, perhaps some of their chili beer got mixed in. Regardless, this is a fine beer, with a gentle bite in a lingering finish.
With a light to medium body, and watery texture, the soft carbonation adequately cleans the palate after each sip. There is no alcohol presence, leading one to consider embracing this for repeated rounds.
Horseheads has a fine offering here. Perhaps it can benefit from more layers of flavor, and stand-up to warming a bit better. But then again, some beers are intended to lubricate the larynx, and this one certainly does, without altering ones state of mind. As it is now, this one falls short of an aperitif, simply due to the odd flavors that come with warming.
Dec 01, 2009
Christmas Ale from Horseheads Brewing Inc.
Beer rating:
85
out of
100
with
20
ratings