Cow Sûre (Saison Sûre 2.8)

À La Fût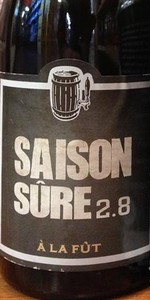 Write a Review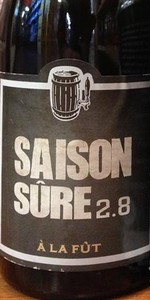 Notes:
Phyl21ca from Canada
4.03
/5
rDev
+11.6%
look: 4.5 | smell: 4 | taste: 4 | feel: 4 | overall: 4
Bottle: Poured a pale yellow color ale with a large pure white foamy head with great retention and good lacing. Aroma of light tart notes with hay undertones is pretty enjoyable. Taste is a mix of light tart notes with some hay flavours, some rustic malt with a dry finish. Body is about average with good carbonation. I know this stuff is not cheap but it is quite enjoyable with loads of flavours and great drinkability.
Jan 15, 2016
papat444 from Canada
3.71
/5
rDev
+2.8%
look: 3.75 | smell: 4 | taste: 3.5 | feel: 3.75 | overall: 3.75
Poured from a 750ml bottle, pkgd 010414.
Pours a hazy lemonade color with average head and decent retention. Aroma is acidic citrus fruit and floral. Flavor has refreshing lemon and a dry tart feel. Bit on toned in flavor but good pick i think though there are better sours out there.
May 24, 2014

Haydn-Juby from Vermont
3.67
/5
rDev
+1.7%
look: 3.75 | smell: 3.5 | taste: 3.75 | feel: 3.5 | overall: 3.75
A: A very light colored gold almost witbier like. One finger of creamy looking head. Carbonation is easily visible.
S: A touch of sourness is detectable in the aroma. Otherwise a touch peppery and maybe a bit citrusy and belgian in character.
T: Sourness is slight and a bit tart but comes through more as it warms. A little bit of light fruit esters ever so slightly poke their head. Green apples. Malt as well. There is a bit of displeasing graininess that I've experienced in some of my home brews which takes away from the beer a bit.
M: Spritzy and refreshing. Pretty light bodied and somewhat high carbonation.
O: A pretty decent beer and the first sour I've had made with Lacto. Good but expected it to be a bit more sour. I would never pay this price tag again ever though. A decent beer but nowhere close to the price IMO.
May 17, 2014
FondueVoodoo from Canada
3.63
/5
rDev
+0.6%
look: 3.75 | smell: 3.75 | taste: 3.5 | feel: 3.5 | overall: 3.75
Special thanks to hoppypocket for including this as an extra in a recent trade.
A: Hazy pale wheat pour with fluffy off-white head which settles to a think cap with minimal lacing.
S: Wheat, yeasty bread, lemon, mineral notes and a light acidity.
T: Follows the scent with yeasty bread and wheat followed by dry mineralness and lemon juice. Clean and dry.
M: Light body, moderate carbonation. Light and thin texture.
O: Clean and refreshing this traditional saison is a perfect summer patio beer.
May 12, 2014
Cow Sûre (Saison Sûre 2.8) from À La Fût
Beer rating:
85
out of
100
with
10
ratings