Bois - New French Oak Barrel
| The Bruery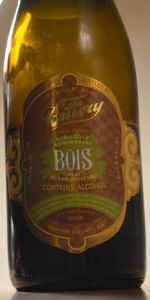 BEER INFO
Brewed by:
The Bruery
California
,
United States
|
website
Style:
Old Ale
Alcohol by volume (ABV):
15.00%
Availability:
Limited (brewed once)
Notes / Commercial Description:
Green wax.
Added by rudzud on 01-23-2014
This beer is retired; no longer brewed.
Reviews: 8 | Ratings: 54

4.62
/5
rDev
+18.8%
look: 4.75 | smell: 4.5 | taste: 4.5 | feel: 5 | overall: 4.75
Pours a dense caramel brown, with a fluffy pale-brown head. The mouthful is luxurious and almost creamy, offset by the slight prickle of carbonation. The smell and flavors are also decadent and sweet, with toffee, butterscotch, and a soft oaky booziness at the forefront. Altogether a real treat that's drinking very nicely right now.
★
335 characters

2.25
/5
rDev
-42.2%
look: 2.25 | smell: 2.25 | taste: 2.25 | feel: 2.25 | overall: 2.25
Tasted as part of a horizontal of all 5 Bois treatments.
Slight rubbing alcohol aroma stands out in the nose. Sweet and hot and oaky. Unimpressive and one-note.
★
161 characters

4.34
/5
rDev
+11.6%
look: 4 | smell: 4.25 | taste: 4.25 | feel: 4.75 | overall: 4.5
Green wax capped 750mL bottle acquired through The Bruery's Society. Bottled 11/22/13. Served in a Bruery snifter.
The now-familiar scents of Bruery's anniversary ales (toffee, caramel, dark fruit, oak and subtle vanilla) are augmented by a sappy, earthy quality. As usual, this smells sweet and quite inviting.
No surprises in the rich, robust flavor after that nose. Toffee, caramel, booze soaked candied dates/ raisins, oak, Bruery's signature Belgian yeast, semi-sour woodsy notes almost like sourgum sap, wet wood, leather, earth and a big alcohol presence. To my knowledge this is my first experience with French oak so I'm attributing the sourgum, sappy, earthy quality to those barrels because I haven't noticed that in the bourbon, rye or American oak variants. Delicious.
Full, thick, heavy body with supple carbonation. Boozy dark fruit, toffee, wood and funky sweet yeast work together in the finish.
While I am very familiar with Bois (and Bruery anniversary ales in general) the French oak was a new experience for me. Ultimately this is another delicious version of their stellar barrel aged old ale. Glad I have another to sock away for future enjoyment.
★
1,178 characters
4.22
/5
rDev
+8.5%
look: 4.5 | smell: 4.25 | taste: 4.25 | feel: 4.25 | overall: 4
Split with rudzud
Nice creamy thick 1/3 finger head that fades at a need pace, touch of lacing, long legs, super dark molasses brown color.
Nose brings big sweet candy, maple, lots of toffee candy and caramel, tons of candy, aged soft complex malts, little layering effect, vanilla oak, little candied raisin, plum and juicy dark fruit, hint of booze, little fluffy nougat caramel, tons of raisin, hint of fudge.
Taste brings tons of oak, fresh French toasted oak, raw oak, then mild vanilla, with tons of caramel, candied raisin again, some nougat and toffee candy, big plum raisin fruit and mild bitter note. Some booze warmth with touch of oak tannins in the background, touch of brown sugar and aged soft layered malt. Fresh oak chips that haven't been detannined, not soaked in water first. Finish is dry with tons more oak, little booze, sticky caramel toffee and juicy raisin lingering.
Mouth is fuller bod, fudgey, light but decent carb, touch of booze.
Overall very nice, oak was a bit too much, but quite tasty.
★
1,029 characters
4.13
/5
rDev
+6.2%
look: 4.5 | smell: 4 | taste: 4.25 | feel: 4 | overall: 4
Split with JLindros.
A - Poured into a Kate the Great tulip a nice clear dark hue with a thin of white head that fades to leave nice wisps and great legs.
S - Aromas of great sweet malts, loads of raisins, great barrel notes. No real booze either, quite aromatic.
T - Taste is similar to the nose, great old ale notes. Lovely raisins, malt sweetness, burnt caramel, booze, faint oxidation. Quite sweet. Loads of wood.
M - Mouthfeel is sticky sweet, little booze.
O - Overall this beer was quite tasty, little bit of oxidation.
Serving type: bottle
★
554 characters
3.97
/5
rDev
+2.1%
look: 4.25 | smell: 4 | taste: 4 | feel: 4 | overall: 3.75
750ml green wax poured into a matching Bruery hoarders snifter. The brew appears a hazy mahogany color with a yellowish stained cap. The smell is quite woody with a tangy alcohoo component that is slightly fruity feeling. For a "raw" barrel that never previously held a spirit, its not overly woody smelling but some finesse is lacking here. The taste is fruity with a tangy alcohol component and plenty of caramelized sugars. Some woody raw oak that lingers with a peculiar spiciness.
This is medium bodied, modestly carbonated and overall very raw with oak and warming alcohol. I previously shared/drank all the Bois variations back to back and was able to note the subtle nuance in each variation. Having drank this one on it's lonesome provided a unique opportunity to really take the beer in without having to compare and constrast it to anything else. Having said that, its similar to the new american oak version but less raw, harsh and woody. Also worth noting that there was no signs of oxidation in this whereas oxidation was quite prevalent in some of the other barrel iterations.
★
1,092 characters
3.99
/5
rDev
+2.6%
look: 3.25 | smell: 4.25 | taste: 4 | feel: 3.75 | overall: 4
Thanks to Retsinis for sharing this one at his tasting.
Bottled 11/22/13.
Pours a murky honey brown with a foamy bone head that settles to wisps of film on top of the beer. Small dots of lace form around the glass on the drink down. Smell is of toasted malt, caramel, toffee, and oak aromas. Taste is much the same with caramel, toffee, fruit, and oak flavors on the finish. There is a mild amount of wood bitterness and an alcohol kick on the palate with each sip. This beer has a lower level of carbonation with a slightly crisp mouthfeel. Overall, this is a good beer with nice oak characteristics from the barrel aging all around.
★
636 characters
3.99
/5
rDev
+2.6%
look: 4.25 | smell: 4 | taste: 4 | feel: 3.75 | overall: 4
A big, boozy, barrel aged gem! Pours a dark reddish brown. Big bourbon, vanilla, maybe some fig or sweet cherries. It's a little on the sweet side but a wonderful example of a barrel aged old ale. At 15%, this is a big beer and a little boozy, yet still very enjoyable. I'm hoping this will only get better with some aging. Drink one now and put some away…another great beer from The Bruery!
★
393 characters
Bois - New French Oak Barrel from The Bruery
3.89
out of
5
based on
54
ratings.