Bière De Mars
| Bières 23, Brasserie Artisanale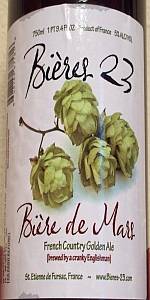 BEER INFO
Brewed by:
Bières 23, Brasserie Artisanale
France
bieres-23.com
Style:
Saison / Farmhouse Ale
Alcohol by volume (ABV):
5.00%
Availability:
Spring
Notes / Commercial Description:
No notes at this time.
Added by ccrida on 06-15-2008
Ratings: 8 | Reviews: 6
Reviews by 7ways:
2.91
/5
rDev
-18.9%
look: 3 | smell: 4.5 | taste: 2.5 | feel: 2.5 | overall: 2
I'm a little torn on the appearance. A vigorous pour only raised a 1 cm ivory head, and the lace isn't sticking around long. However, the color is a gorgeous orange gold.
Wonderful aroma, ultra funky like Reinaert Flemish Wild. Smells like it could be pretty tart too. Lemon and lime zest, fresh orange, but a notable lack of hops. I don't care, it smells awesome, if a little weak.
Shit. Talk about weak. This thing is seriously lacking in flavor. I can't believe something that smells this good could be so bland. No hops, grainy cereal, and just hints of fruit. It's like watered down fruit juice. It's not subtle, it's just lacking. I only notice the tartness on the very tip and sides of my tongue. It's not bad, I just expected more.
Watery aspect in the feel as well.
Damnit.
786 characters
More User Reviews:
3.45
/5
rDev
-3.9%
look: 4 | smell: 4 | taste: 3 | feel: 3.5 | overall: 3.5
Thanks to beersales314 for giving me this one.
Poured a 750ml bottle into my Boulevard chalice. This beer pours a light, hazy yellow with a nice 2 inch head that disappeared very quickly. The aroma is surprisingly funky. Not overly funky but contains a nice mustiness. Also there are some fruity esters, pear and peach both come to mind. The flavor is pretty weak all around. The funkiness has all but gone away. It's not really prevalent at all in the flavor profile. It actually surprises me, normally when there is that much funk in the nose, it comes out in the flavor. The flavor that does come through is rather watered down. I get hints of green apple and other tart fruits. The mouthfeel is a bit effervescent and finished a bit dry. While Saisons are my favorite style, this beer finishes middle of the road.
818 characters

2.89
/5
rDev
-19.5%
look: 4 | smell: 2.5 | taste: 3 | feel: 3.5 | overall: 2.5
"French Country Golden Ale (brewed by a cranky Englishman)"
750 ml bottle poured into my large Gulden Draak tulip, the Bière de Mars is a clear gold with a large, white head that leaves some nice, chunky lace.
Smell is very musty, with a strong sulfur aroma, like rotten eggs. Not too good! I picked this up the first week it hit the states, and it's been in my cellar for a couple months, so unless it was caught up at the importer or distributor or something (and this is a spring beer, right on time when I got it), I can't see how it would have gone bad after bottling so soon, and must be the brewer's intended product. Behind the funk is a slight sweetness, estery.
Taste is not as off as the nose, grainy malt and a soft sweetness but still very sulfery. As my palate adjusted, it was more enjoyable (or maybe it just needed to breath, as I noticed less sulfer aroma as well), the aftertaste was probably the best part, slightly sweet, fruity esters.
Mouthfeel is prickly and sharp, with a lighter body.
Drinkability started out very much on the lower side, it just wasn't that good. Maybe I got a bad bottle, but I'm not in a big hurry to revisit it. I do have the Amber on deck, so I'll see if that one is any better before I decide if I want to give this another try. It was however, easy on the belly and low enough in ABV that I would have been able to put a few away, had I wanted to. It had glimmers of hope, and by the end, I was started to enjoy it, but still, the sulfer was a bit much.
1,512 characters

4.42
/5
rDev
+23.1%
look: 4 | smell: 4.5 | taste: 4.5 | feel: 4 | overall: 4.5
Another slow gusher, but again it does not seem to be excessively carbonated. A careful pour nets me a one-finger thick, pale, off-white colored head in my large Tripel Karmeliet tulip. The beer is a light honey color that shows a brilliantly clear, bright, full gold color when held up to the light. Ahh, the aroma is quite nice; it is a mix of hoppy herbal notes ( lemon grass, orange zest, blossoming wild flowers), interesting pale malt aromatics (honey-like malt and cracker like grain) and a backdrop of soft funkiness that reminds me of musty - slight moldy cellars, a touch of barnyard musk and some cured leather phenolics towards the end. The deeper I breath in of the aroma the more focused the Brettanomyces funk gets. The aroma is just fantastic and all that I had hoped for in this beer.
Dry and effervescent the beer foams up as it hits my tongue. The carbonation provides both a peppery carbonic bite as well as a touch of carbonic acidity. This has a solid hop bitterness to it as well as a solid herbal hop component and a lemon grass notes; this last would likely be accentuated more if the beer wasn't so dry, but I like the beer dry. Grassy notes of hay mix with more herbal notes that remind me a bit of aromatic, spicy weeds (arugula, milk weed and nettle come to mind). The finish dries out even more because of a musky, phenolic Brettanomyces presence that seems to lurk in waiting and blooms after the beer has left the mouth (though it never becomes anything more than subtle). This beer is eminently quaffable, it is so light, so effervescent, so quenching; the light body just works perfectly with the flavors found in this beer. There is not a hint of oxidation to this brew, unlike the Ambrée that I had last night.
The second pour of this brew (which ends up quite hazy by the way) has me noticing the fantastic aroma again; it really is an amazing mix of hops, pale malt and soft Brett. Quite a bit more notes of aromatic orange zest start to come out in the flavor as this beer warms up. Also it becomes a bit more apparent that there is a light tartness to this beer, it is nothing over the top, but provides a nice note to this beer and it helps to accentuate the refreshing quality of this beer. This beer is way too easy to drink, I could quaff liters of this on a warm day as my 750ml bottle of this disappears quite a bit quicker than I was expecting / hoping.
2,403 characters
4.49
/5
rDev
+25.1%
look: 3.5 | smell: 4.5 | taste: 4.5 | feel: 4 | overall: 5
A - Poured into the Duvel tulip. Requisite cloudy gold, nice big head that quickly settles.
S - Big whiff of green apple. Leathery Brett quite noticeable. Gets perfumey as it warms, some lilac, lavender. Very nice aromatics.
T - The Orval-like leather carries the day against some slightly sour apple. Crisp grassy hop character is along for the ride. Dry finish, but not overtly so - mostly dry but a little juicy apple. Taste for the most part follows the aroma, very good.
F - Light bodied with some soft but active carbonation. Refreshing!
D - Hey, at 5% ABV, this is a no-brainer. Standout drinkability, even within the context of a style known for it. An excellent little farmhouse ale, you could drink the hell out of it.
734 characters

3.5
/5
rDev
-2.5%
look: 3.5 | smell: 3.5 | taste: 3.5 | feel: 3.5 | overall: 3.5
4.04
/5
rDev
+12.5%
look: 3.5 | smell: 4.5 | taste: 4 | feel: 3.5 | overall: 4
Burnished gold with an immensely busy interior. Dark flecks are floating (some are sinking), fine yeast are swirling and raucous carbonation is rising. The alabaster colored crown is massive after a gentle pour and isn't exactly oozing with character, which is quite often the case with overbubbled beer. A modest amount of sudsy lace makes it to the glass.
The nose more than makes up for the look. There's an impressive amount of wild ale funk present, which is somewhat surprising. Then again, I had no idea what to expect from Brasserie Artisinale since there seems to be an internet cone of silence surrounding the brewery. In addition to barnyard, the beer smells pleasantly golden fruity.
Biere de Mars falters a little on the palate, but only a little, and only in comparison to the nose. My first impression is how incredibly dry and crisp it is. Forget malt, this a hop and yeast dominated brew. As the ounces pass, that 4.5 for taste is looking mighty tempting.
The fruitiness is reminiscent of tart apples and pears, the hops are herbal-spicy and the yeast esters are clove-like with a wee pinch of cardamom. In the end, the beer doesn't have quite enough depth and complexity to play with the big boys. I like the level of sweaty feet funkiness. It's right upfront without being obnoxious about it.
To state the obvious, the mouthfeel would be more enjoyable if the beer was properly carbonated. It isn't bad, though, since the bubbles find an acceptable middle ground for most of the bottle. It's hard to argue with the light-medium body.
Biere de Mars is a worthwhile purchase if you like Belgian pales, wild ales or saisons, since it has characteristics of each of those styles. I have little doubt that if the carbonation was spot-on, the final three scores would have been higher. This is a brasserie to keep an eye on.
1,842 characters
Bière De Mars from Bières 23, Brasserie Artisanale
3.59
out of
5
based on
8
ratings.