Saison Voatsiperifery
| Broue Pub Brouhaha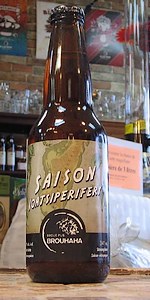 BEER INFO
Brewed by:
Broue Pub Brouhaha
Quebec
,
Canada
brouepubbrouhaha.com
Style:
Saison / Farmhouse Ale
Alcohol by volume (ABV):
6.00%
Availability:
Year-round
Notes / Commercial Description:
No notes at this time.
Added by Phyl21ca on 06-22-2011
Reviews: 8 | Ratings: 14
Reviews by liamt07:

4.12
/5
rDev
+6.5%
look: 4 | smell: 4.5 | taste: 4 | feel: 4 | overall: 4
Bottle shared by jerc on RB, 341ml into a tulip. A saison with Madagascar pepper, whatever that is.
Poured an unfiltered pale gold, with a white head. Good lacing. Nose is potent, tons of peppery notes, some mint as well. Really sharp and prominent, almost perfumey (cologne-y?). Some wheat and citrus zest as well. Taste continues the strong pepper notes, cologne-like flavours (interesting!), spicy again with light citrus and wheat. Lighter medium body, with a good bubble effervescence. A really unique pepper aroma/flavour, and quite an interesting experience.
567 characters
More User Reviews:
3.65
/5
rDev
-5.7%
look: 4 | smell: 4 | taste: 3.5 | feel: 3.5 | overall: 3.5
Thanks to Papat444 for the trade on this one!
Poured into a tulip glass to a light golden colour with a small white head that doesn't stop and make pleasantries if you get my drift!
On the nose I got citrus, spices, pepper and a modicum of herb.
Taste wise again, getting the spice and pepper a little nutmeg and yeasty/maltiness allied to a certain floral flavour.
Medium bodied and medium carbonation.
A well made Saison, not a world beater, but a good and refreshing beer from this genre!
496 characters
3.67
/5
rDev
-5.2%
look: 3.5 | smell: 4 | taste: 3.5 | feel: 3 | overall: 4
The bottle doesn't state if it was actually used in brewing but I would assume this beer makes use of the wild, hand-harvested Madagascar pepper known as Voatsiperifery (or fruit of the tsiperifery plant in the Malagasy language); especially as the label has a picture of Madagascar and branches with green peppercorns. I first sampled this at Brouhaha's anniversary party this past summer and definitely remember it as one of the highlights of that night.
Hazy banana-yellow coloured body with a thin cover of bright-white head. Bits of lacing.
A unique, spicy peppercorn is right up front in the nose, covering up almost all else. Almost enough to make you sneeze (smells great though). Pale malt, hints of other spices (clove, nutmeg) and citrus round it out.
Light malt and herbal hops serve as a base to feature these interesting peppercorns. Traces of other spices show up in the background but this beer is all about the pepper. The pepper element here ends up as something completely different than that of Dieu du Ciel's Route des Epices; whereas theirs comes off as more than a little spicy, these peppercorns are soft and floral (though still potent).
The body is thin; too thin. Lightly carbonated.
I definitely love that they took a rare ingredient and featured it in an uncluttered beer but I'm not sure I'm feeling a whole lot of the saison style here. If I was in the mood for a saison, this wouldn't really hit the spot. This is worth checking out for it's unique incorporation of green peppercorns, however.
1,535 characters
3.92
/5
rDev
+1.3%
look: 3.5 | smell: 4 | taste: 4 | feel: 3.5 | overall: 4
Draft: Poured a lightly hazy bright orangey color ale with a large foamy head with good retention and some lacing. Aroma of rustic malt notes with light peppery notes. Taste is a nice drinkable mix between some peppery notes with solid rustic malt notes with great attenuation. Body is about average for style with good carbonation. Well brewed with nice complex characteristics.
379 characters

3.68
/5
rDev
-4.9%
look: 4 | smell: 3.5 | taste: 3.5 | feel: 4 | overall: 4
Pours a cloudy golden with a large white head. Good retention.
The black pepper comes screaming through in the nose. Quite intense. Beyond that is wheat, banana, light fruit. Hard to get past the pepper, however.
Like the nose, the pepper dominates the flavour. The wheat is also present, and the yeast makes an appearance and brings a slight funkiness to the beer.
Medium bodied, moderate carbonation.
Overall, different and enjoyable if you like pepper. Not particularly complex- hard to get past the pepper.
517 characters
4.21
/5
rDev
+8.8%
look: 4 | smell: 4.25 | taste: 4.25 | feel: 4 | overall: 4.25
Nice blonde color with a big white head.
Lots of black pepper in the nose, a few other spices also, and a big nice aromas of belgian yeasts.
A really nice peppery taste in the mouth too, there's also lemon flavors that come through as well.
Nice mouth feel, medium carbonation.
This is a really nice pepper beer, I'm sure it would be really good barrel aged.
363 characters
4.25
/5
rDev
+9.8%
look: 4.25 | smell: 4.25 | taste: 4.25 | feel: 4.25 | overall: 4.25

3.68
/5
rDev
-4.9%
look: 4.5 | smell: 4 | taste: 3.5 | feel: 3.5 | overall: 3.5
Undated bottle acquired via phyl21ca in CanBIF 2012, thanks! Poured fridge cold into a wine glass as part of a saison sampling.
The beer pours a hazy orange with a nice head and solid lacing. Aroma is dominated by the black pepper. I keep insisting that there is an essential oil in the nose too, though others call me crazy and it's just the pepper. A hint of fruitiness and malt behind it. Body is more of the same. I really enjoyed the peppery nature of this beer, but I could see how some would find it off-putting. Pepper, cloves, some earth. Bitterness is barely perceptible over the pepper. Finishes dry. A solid beer, provided you like pepper. Personally a hint less pepper to allow the rest of the beer to come through and this beer would have been a solid 4+.
771 characters

3.89
/5
rDev
+0.5%
look: 4 | smell: 3.75 | taste: 4 | feel: 4 | overall: 3.75
Serving: On tap
Pours a very pleasing powdery golden straw with two fingers of cream-like pristine white head that slowly settles to a decent film. Concentric rings of lacing all the way down. The aroma is predominately bright floral yeast with an underlying tartness. The flavor is light and quenching and is the next natural step from the nose, I suppose. Thick, rich doughy body with a light tartness and a meaty, earthy flavor from the pepper. Light-medium body with soft carbonation and a dry/lightly acidic finish that leaves a lingering pepper tingle. This is a very tasty beer. The pepper beer definitely adds to it in a positive way. It doesn't taste like liquid pepper or anything, but when you burp afterwards, it sure tastes like that's what you were drinking! Would have again.
801 characters
Saison Voatsiperifery from Broue Pub Brouhaha
3.87
out of
5
based on
14
ratings.