Saison De Aviator Royale
| Aviator Brewing Company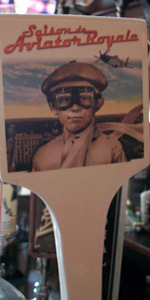 BEER INFO
Brewed by:
Aviator Brewing Company
North Carolina
,
United States
aviatorbrew.com
Style:
Saison / Farmhouse Ale
Alcohol by volume (ABV):
7.50%
Availability:
Spring
Notes / Commercial Description:
No notes at this time.
Added by atsprings on 03-17-2009
Reviews: 12 | Ratings: 33
3.65
/5
rDev
-2.7%
look: 3.75 | smell: 3.75 | taste: 3.5 | feel: 3.75 | overall: 3.75
Served from tap in to snifter. Poured a hazy yellow-orange with a one finger off-white head that subsided to a half finger slowly. Maintained nice lacing throughout the glass. The aroma was comprised of sweet malt, wheat, hay, fruit, grain, and spice. The flavor was of sweet malt, nutty, wheat, fruit, grain, and spice. It had a light feel on the palate with high carbonation. Overall this was a pretty decent brew. The flavor on this one really wasn't too bad for the style but it didn't feel like it was a saison. The nutty note on it really stood out from the rest. Too bad as this one could have actually been nice if there were a little more sweetness going on. Worth trying but doubt I would have a second glass.
★
719 characters

3.66
/5
rDev
-2.4%
look: 4.5 | smell: 3.5 | taste: 3.5 | feel: 4 | overall: 3.75
Pours a nice lighter amber shade into a large tulip glass with a large blooming white head that left alot of lace as it settled,a few chunkies and floaties at the bottom pour.Aromas of toasted wheat and spiced phenols,nothing out of the ordinary here.Flavors of toasted cereal grain and wheat malt with some light pepper spice and even more mild funk,a bit of citrus-like fruitiness is there as well.Not bad but it's a little predestrian for the style wich isn't a bad thing for me,i like the fact it's not overl "funky",but it lacks more to it.
★
545 characters

3.42
/5
rDev
-8.8%
look: 3 | smell: 3.5 | taste: 3.5 | feel: 3.5 | overall: 3.25
Served from a bomber purchased at Grapes and Hops (represent!) and poured into my Sam pint glass. Disclaimer: I have no idea what "Royale" denotes and to the best of my knowledge, the only take on this I have had is only labeled "Saison de Aviator," as is the case of the beer being reviewed.
A: Copper. Nice head that dissipated slowly. Streams of sexy CO2 making their way to the top. After a few minutes, yeast can be seen accumulating on the bottom of the glass.
S: Wheat, alcohol, yeast, some non-specific spices.
T: Belgiany? Yeast, wheat, alcohol, malty sweetness, and again with some spices I can't put my finger on.
M: Medium-bodied with medium carbonation.
O: This was always one of my favorite of Aviator's offerings prior to them bottling and I decided to revisit it when I saw it available in a bottle. This isn't a style that I'm overwhelmingly familiar with, but I can say that on a broader scale, this is a satisfying beer. Certainly not a sessioner by ABV determination, but it is fresh and bright and reminiscent of spring.
★
1,046 characters
3.65
/5
rDev
-2.7%
look: 4 | smell: 4 | taste: 3.5 | feel: 3.5 | overall: 3.5
Growler purchased at Whole Foods
A - copper with a half of an inch of soft, white head that has decent retention. There is a lot of carbonation rising to the top
S - funky yeast, faint coriander, a hint of white grapes
T - yeast, white grapes, faint coriander, alcohol, faintly piny hops, mildly bitter finish
M - crisp, warm, medium bodied
This is a decent representation of the style. The alcohol is a bit intense and slows the drinkability a bit, but overall this is a nice saison.
★
489 characters

4.22
/5
rDev
+12.5%
look: 4 | smell: 4.5 | taste: 4 | feel: 4 | overall: 4.5
Picked up a fresh growler today at Sam's Blue Light in Durham and poured into my Ommegang goblet. Full disclosure: the label identifies this Saison as only packing 6.5% heat. Murky golden in hue, with a thin cap but attractive lace. Nose is malty with touches of honey and dark fruit. All nicely ringed with booze, I might add.
Complexity is key to this one. Thick malt backbone with that familiar Belgian yeast and a wild card full of spices. Hops are what stick, though, with strong and persistent old world hops again laced with alcohol. Mouthfeel is delicate and tapered and fits the flavor well, but could maybe drop a smidge of carbonation.
Definitely different and worthwhile. I wouldn't say sessionable but I also wouldn't say I'll have any problem knocking back this growler by the end of the weekend.
★
814 characters

3.7
/5
rDev
-1.3%
look: 3.5 | smell: 3.5 | taste: 4 | feel: 3.5 | overall: 3.5
tap
Pours a hazy amber color with a white lacing.
Smells tart and citrusy with some yeasty esters.
The taste is a tad hoppy and mostly citrusy tart with some fresh grain malt flavor.
Medium body with mild soft carbonation.
A nice taste farmhouse ale, good showing from an American brewery and a bit hoppier than the style is normally. All around good thirst quencher.
★
373 characters
4.55
/5
rDev
+21.3%
look: 4 | smell: 4 | taste: 5 | feel: 4.5 | overall: 4.5
This was a very solid beer. Had on tap at the Aviator Brewery during the brewery tour.
Had a bit of a head that stayed with the beer for a while.
What I liked best about this beer was the taste. It was well balanced between the hops and malt. Very complex hints of other flavors as well.
I would absolutely have this again.
★
327 characters
4.12
/5
rDev
+9.9%
look: 4 | smell: 4.5 | taste: 4 | feel: 4 | overall: 4
On cask at Flying Saucer served in a standard pint glass a murky hazy dark yellow with a nice frothy eggshell head. Aroma is a nice balance of sweet malts and spices, loads of sweet fruits and orange peel as well. The taste is a wonderful blend of sweet malts, sweet fruits and spices with the spice lingering nicely in the finish. The beer is medium bodied and very easy drinking. This is one that is made for casks, very enjoyable.
★
433 characters
3.58
/5
rDev
-4.5%
look: 4 | smell: 3.5 | taste: 3.5 | feel: 3 | overall: 4
Served in a pint glass on tap at the Aviator Brewery.
Served with a hazy sort of 'golden straw' color, and ample white foam head. Head retention was pretty good lasting several minutes before diminishing. Lacing was reasonable lasting most the way down the glass.
Aromas were... interesting. The wheat definitely comes through, but not clean; other aromas include a earthy grass-like aroma that I assume are the hops, as well as some interesting citrus aromas that may also be hops. There are some other malt aromas that compete for space as well, making the whole matter of aroma rather complicated - in a good way.
Flavors are almost as complicated as the aroma! There is definitely wheat there, as well as some darker fruit and citrus - all balanced very nicely with a light hoppy bite. I can't think of another brew that I've had that tastes quite like this one. Though there is the play of sweetness here accentuated with all of the fruit, it actually finishes relatively dry and doesn't leave that wheat 'chafe' taste behind. Slight hit of bitter on the exit. Nice.
Carbonation on this was decent, but I would personally like to see it a little more fine to sort of smooth out the texture. Certainly very drinkable and enjoyable as it is. With the complexity and balance of this brew, it's very enjoyable, if unique. Nice job.
★
1,336 characters
4.13
/5
rDev
+10.1%
look: 4.5 | smell: 4 | taste: 4 | feel: 4 | overall: 4.5
a: served with a full two-finger white head and showing good retention, the beer is an opaque, hazy lemon golden in color
s: crisp wheaty body carries aromas of dried apricot and lemon, chalky wheat with delicate aromas of spice and maybe a mild banana, hops aged and imparting a dried citrus or herbal aroma
m: lively on the tongue with bubbly carbonation that's just a touch abrasive, light-medium bodied
t: much like the aroma, a crisp wheat body sets up complex but superbly balanced flavors of yeast and citrus with perhaps some delicate stonefruits, finishes dryly with a lingering dried citrus hop flavor and mild bitterness, carries the yeasty flavor of a witbier without the heavy spice or of a hefe without the big banana
d: exceptionally easy on a warm Summer day, a yeastier version of the style that dries well and shows little evidence of the abv
standard pint on my first visit to the brewery
★
912 characters
4
/5
rDev
+6.7%
look: 3.5 | smell: 3.5 | taste: 4 | feel: 4.5 | overall: 4.5
On tap at The Pit (so I guess it is not exclusive to the Times anymore)
Appearance: Arrives with a with a hazy amber color and a minimal head that doesn't leave much lacing
Smell: Vague smell of hay
Taste: Opens bready, with a growing fruit and spice element that comes out of nowhere, with a pepper and pear flavor that blends nicely
Mouthfeel: Light to medium body with spritzy carbonation
Drinkability: Although it lacks a bit of complexity, this is a very nice and refreshing beer
★
489 characters
3.9
/5
rDev
+4%
look: 4 | smell: 4 | taste: 3.5 | feel: 4 | overall: 4.5
A crisp saison with pear fruit notes with plenty of citrus character in the nose as well as in the flavor. There is a good bit of carbonation, but fits well for the style. The spice character keeps the malt in check and makes for a great "sipping beer." If you happen to stumble into Raleigh Times, give this a try. Sip Local! (even if it is St. Patty's Day)
★
358 characters
Saison De Aviator Royale from Aviator Brewing Company
3.75
out of
5
based on
33
ratings.