Hollows Superior Alcoholic Ginger Beer
| Fentimans Ltd.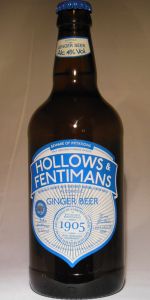 Write a Review

Average: 3.02

| pDev:

29.8%

Reviews:

14

| Ratings:

#152 ranked

Herb and Spice Beer

| 4.00% ABV

Wants Gots Fentimans Ltd. England

,

United Kingdomfentimans.com

Notes: Year-round availibility.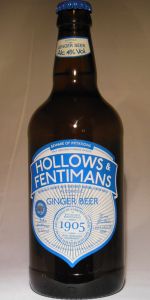 Reviews: 14 | Ratings: 28

3.26
/5
rDev
+7.9%
look: 2.75 | smell: 3.5 | taste: 3 | feel: 3 | overall: 3.75
If I've had more than a handful of ginger beers, it would surprise me because I liked sweet malt but not overly-sweetened malt. Ginger beer seems mostly the latter. Hollows is in the middle range... but still too sweet to have more than a handful in this style. Nonetheless, I am recovering from a cold; so I thought a shot of ginger would be good.
While Looks are not like beer, the ginger Smells are interesting until the sugar coats the nostrils. Tastes are refreshing until sugar coats the tongue. And the bubbles are cleansing until the sugar makes me stop drinking it. Maybe I will share the rest of the bottle.
Sensing that Fentiman's had an interesting past, I went on their website and this hunch was confirmed. Lots of classic English promotion that is convincing enough that someone like me -- who shuns sugar-water -- just might try their other ginger beer... on a hot June day.
892 characters
3.04
/5
rDev
+0.7%
look: 3 | smell: 3.25 | taste: 3 | feel: 2.75 | overall: 3
Ginger aroma, pours a hazy straw with a rapidly fading white head. Sweet flavor, with much less ginger then I was expecting. Thin body, with just a touch of ginger heat in the finish. Overall, there are a lot better ginger beers out there.
242 characters
3.85
/5
rDev
+27.5%
look: 3.75 | smell: 3.75 | taste: 4 | feel: 3.75 | overall: 3.75
My first beer in 2017, drank on the morning of Jan 1st.
Look: yellow, cloudy, not that lively
Smell: very gingerly,
Taste: Predominantly ginger, not too strong but not weak either. Some strange corn husk taste and sweetness, but was a good thing, also quite mild.
Feel: Very refreshing, would love to have this again in the summer. The taste was mild enough to not make it too difficult to consume a large amount.
416 characters

3.84
/5
rDev
+27.2%
look: 3.75 | smell: 4 | taste: 4 | feel: 3 | overall: 3.75
Just a note, that the current address of the brewer, is "Thomas Hardy Ltd., Kendal, Cumbria UK, which is different than listed on this page.
Looks beautiful and natural, slightly cloudy tan yellow. Nothing artificial. And I love the traces of particulate inclusions which give the slightly textured, murkiness. Lack of translucence, means the drink is real. :-) It says it's made with "ginger root, water, sugar, pear juice, and yeast.' The naturalness comes through in the flavor, as well. The ginger is sweetened by the pear juice, with only slight peppery tang. The hint of alcohol is very mild; less than some hard ciders. Medium-light bodied.
My only question might be was it strong enough.... It's really a mild drink; I've had other ginger ales where the peppery ginger is quite pronounced and particulate heavy, and prefer those. This beer was not as strong as "Not Your Father's Root Beer." And it was definitely not as spicey as "Sweet Heat". Perhaps the British Hollows does not push their recipe to American taste bud standards. But this was a very palatable, very real, if mild, ginger beer.
1,116 characters

3.8
/5
rDev
+25.8%
look: 3.5 | smell: 4 | taste: 3.75 | feel: 3.75 | overall: 3.75
Poured into a Seattle Beer Week pint glass. Pours a hazy pale straw with a thin white head tha dissipates to patches with no lacing. Aroma of fresh, genuine ginger with no discernible malt. Flavor of sharp, fresh ginger, mild lemon and pear, finishing with lingering ginger and light mixed fruit. Medium bodied with sharp carbonation. An interesting variation on ginger ale, with good ginger flavors dominating, but some pleasant fruit flavors to compliment them. This seems to have a bit more body to it than a non-alcholic ginger drink, which I would attribute to malt, although no malt flavors are detectable. I actually like this better than most standard ginger drinks because it is not quite as sweet and has a slightly better mouth feel. I like the mild fruit flavors too. I'm a fan of ginger ale and liked this a lot.
825 characters
4.18
/5
rDev
+38.4%
look: 4 | smell: 4 | taste: 4.25 | feel: 4.25 | overall: 4.25
Drank straight from the bottle like a savage (and because I was lazy). I enjoyed this possibly more than any other ginger beer I've had (not that I've had more than a half-dozen or so). I'm not normally a fan of very fizzy drinks, but it works very well here. Light, a little sweet, and not as harsh as some ginger beers go. Something I would drink either with a not-very-heavy meal such as fish or pasta sans tomato sauce, or just drink on its own at a bbq or something.
471 characters

3.76
/5
rDev
+24.5%
look: 3 | smell: 3.75 | taste: 4 | feel: 3.75 | overall: 3.5
0.5L bottle served in a shaker pint glass. Best before Aug 2016.
Appearance: Hazy pale gold to light tan. No head. Looks like a ginger beer.
Smell: Strong, but not overpowering ginger smell. Some floral notes as well.
Taste: Spicy ginger, honey, and an aftertaste of pear. A bit like candied ginger, but with a bit more heat and some other flavors in the sweetness to compliment it.
Mouthfeel: Fizzy and spicy, with some definite ginger "heat" lingering on the tongue. A bit sticky on the teeth. Normally I don't care for the fizziness, but it works here.
Overall / Drinkability: For an ginger beer with alcohol in it, it's good, but not great by ginger beer standards. Refreshing on its own, but I think it would go better with food. Cookies I think. Worth a try, but I've had better Ginger beers that were not alcoholic or had lower content. I will say though that this ginger beer doesn't burn a hole through you like Blenheim Ginger beer does, which is way too much heat. So this one is just right in heat and flavor balance, but not as deep in flavor as I had hoped as the other botanicals from Fentimans are quite tasty.
1,158 characters

3.69
/5
rDev
+22.2%
look: 3.5 | smell: 3.75 | taste: 3.75 | feel: 3.75 | overall: 3.5
Hollows & Fentimans Alcoholic Ginger Beer. 4% ABV.
A: Sounds very carbonated as it's poured, but the is not head nor lacing. Slightly orange yellow. A pretty solid amount of sheeting, though ragged.
S: Smells like candied ginger. That's a good sign. Very raw ginger aroma. No noticeable alcohol.
T/MF: Tastes like candied ginger, too. But with a fruity upturn on the finish. Took me a moment to pick it out as sweet pear. Makes sense since pear juice is listed as an ingredient.
Not bad. Slightly more interesting than Crabbie's, because of the pear and candied ginger thing, but I like the ginger flavor of the Crabbie's better.
Poured from a 16.9 oz. bottle, into a Belgian tulip glass.
693 characters
2.47
/5
rDev
-18.2%
look: 2.75 | smell: 2.5 | taste: 2.5 | feel: 2 | overall: 2.5
Marketed as beer, but not as adherence to the common and contemporary ingredient set that's been adopted by today's beer lovers, the taste of sugar and ginger make a massive mark on the session, overshadowing many of the finer nuances in taste.
Hollows Superior Alcoholic Ginger Beer pours with the slightest sepia tarnish upon an otherwise chardonnay hue. Racing streams of bubble billow from the glass and frame a spritzy pop upon the rim. Its aromas are all candied ginger with the slightest tinge of cider and white wine underneath. The first sip is much the same, but even more so soda-sweet with ginger flavoring.
The taste is steady and unwavering but never folds in any depth or complexity from malt, hops, fermentation character, acidity or balance. With the emphasis heavy on sugary ginger, the carbonic bite of effervescence highlights the beer's spicy, and peppery refreshment.
Its finish is of simple syrup, ginger and pepper as the three-headed monster tramples the palate like soda pop. Its carbonation shreds the throat and its sugar counterpart induces heartburn nearly upon impact. Simply put, this is no ale by modern standards. It's an alcoholic ginger ale soda.
1,185 characters

4
/5
rDev
+32.5%
look: 4 | smell: 4 | taste: 4 | feel: 4 | overall: 4
Better than I expected!
Tastes like a sweet thick alcoholic ginger ale. It's not dry like some popular ginger ale sodas are. Light carbonation.
I can see why this attracts non-beer drinkers and is used for beer cocktails.
221 characters

3.04
/5
rDev
+0.7%
look: 3.25 | smell: 3 | taste: 3 | feel: 3.25 | overall: 3
Served in a Lagunitas mason jar.
Amongst a slew of new British offerings at my local store I found this, a new "hard" ginger beer. And one that wasn't reviewed by the Craft Beer Lady (the erstwhile Mrs. RealAleGuide), to boot. Let's do this. It pours a clear brass topped by finger or so of relatively short-lived lightly off-white foam. The nose is the usual ginger beer aroma: ginger and sweetness. It's not quite Canada Dry Ginger Ale sweetness, it's not that thick, but maybe the Diet version (I wouldn't really know, as I steer clear of diet sodas). The taste brings in more of the same, the ginger taking an ever-so-slight backseat to the sweetness, making this one of the less intense ginger beers I've had, regardless of country of origin. The body is a light-leaning medium, with a light moderate carbonation and a slightly syrupy feel. Overall, a nice enough ginger beer, but it doesn't seem able to go toe-to-toe with the heavyweights of the genre. I might have one again in the future, but I won't be hurrying to the shelf for it.
1,052 characters
2.38
/5
rDev
-21.2%
look: 1.75 | smell: 2.5 | taste: 2.5 | feel: 1.75 | overall: 2.5
A: The beer is crystal clear dark yellow in color and has a moderate amount of visible carbonation. It poured with no head.
S: Light to moderate aromas of ginger are present in the nose.
T: Similar to the smell, the overall taste is dominated by flavors of fresh ginger and has slight hints of sweetness.
M: It feels light-bodied on the palate and has a moderate amount of carbonation.
O: This beer reminds me a lot like a ginger ale, except that there isn't nearly as much sweetness and the ginger flavors are stronger and seem to taste more natural, like you were eating slices of fresh ginger after having sushi.
Serving type: bottle
638 characters

1.39
/5
rDev
-54%
look: 1 | smell: 2 | taste: 1 | feel: 1.5 | overall: 1.5
"This is as bad as it gets" - @tobeerornottobe on serving me this beer blind.
It looks it. Pale champagne colour with no head at all and no lace. A swirl creates a mild flurry of bubbles, and there's a small trail of bead. Stagnant and limp beer. This pretty much looks as bad as it gets.
Smells of ginger and sugar. That's about it, yeah, it's just ginger ale, but very sweet with maybe a hint of carbonation acidity. I don't mind ginger ale as a soft drink, but if you're going to put alcohol in it you could try getting a more enjoyable fermentation flavour and try and cut down the residual sugar.
Taste hits you with a big, big sugary hit upfront, just glucosey with a very mild tang from the carbonation that doesn't offset the sweetness at all. The sweetness just keeps growing like the blob, developing a honey note on the finish and just some vague hints of ginger, but not even enough to call this a ginger beer. As I said, I'm actually quite a fan of ginger beer, the soft drink. This is worse.
Yeah, stagnant, watery, but an odd stickiness to it. This is where really fizzy carbonation can serve a purpose.
Look, yes, it's terrible. But it also challenges your preconceptions and takes beer to another dimension of possibility. Or, to put it another way, it doesn't, and I was lying, and it's just terrible.
1,324 characters
1.69
/5
rDev
-44%
look: 1 | smell: 2 | taste: 1.5 | feel: 1.5 | overall: 2
"It only goes up from here" — @tobeerornottobe on serving me this beer blind.
Pours a slightly hazed yellow colour, with large-fizzy softdrink bubbles, and no hint of head whatsoever. It looks like sparkling white grape juice. Really, there's nothing to make this stand out or even seem reasonable.
Nose is sweet and gingery, giving a very soft-drink like aroma of
ginger ale. Some yeasty hints when it's swirled which give it a dirty, unrefined character. It's ginger beer, pure and simple, but not good.
Taste is worse than a softdrink would be, as it has a harsh bitterness on the back that probably comes from the gritty residual yeast characters. This leaves an earthy, chalky feeling on the back, along with an aftertaste that is distinctly unpalatable. For the rest of it, the sugary ginger drink is the main event, and it's resoundingly bland and uninspired.
Pretty bad ginger beer. Pedestrian an somewhat artificial tasting for the most part, and with some genuinely unpleasant characters to round it off. Not a fan.
1,040 characters
Hollows Superior Alcoholic Ginger Beer from Fentimans Ltd.
Beer rating:
75
out of
100
with
28
ratings