Whitewall

Crown Valley Brewing & Distilling Co.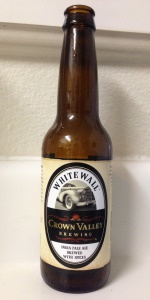 Write a Review
Beer Geek Stats:
| Print Shelf Talker
Style:

ABV:

6.2%

Score:

Avg:

3.58

| pDev:

9.5%

Reviews:

9

Ratings:

From:

Avail:

Year-round

Wants

Gots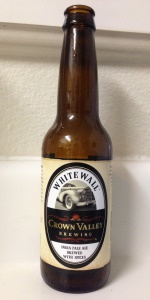 Notes: Our Whitewall IPA is a Belgian-style wheat beer with a hint of coriander and orange zest. Hops characteristics add a lemon zest flavor from the Citra hops as well as flavor and bitterness from the Zeus and Hersbrucker hops.

82 IBU

Flatlands from Missouri
4.02
/5
rDev
+12.3%
look: 4 | smell: 4.5 | taste: 3.75 | feel: 4 | overall: 4
This is a good Belgian White. Good price for what you get.
A- Just like a white should be. Just a bit hazy but more on that...
S-Really good, smells a bit sweet-grass like
T-I expected more piney but my bottle might have been too old to get pine hop notes. This is a sweet beer but that was expected.
M-Highly carbinated so good for me but might not be good, poor it slowly or it will foam up, again, might be an older bottle.
O-I like a hopped up Belgian White so right up my alley. This one is almost like a homebrew that was retailed. It had a huge amount of settlement and yeast at the bottom so pour it in a glass. I like a raw beer.
Kudos to Crown Valley, I'll have to try some more of your offerings. Small brewer that I expect is still evolving their style.
Aug 10, 2014

BirdsandHops from Oregon
4
/5
rDev
+11.7%
look: 4.5 | smell: 3.75 | taste: 4 | feel: 4.25 | overall: 4
A: pours a slightly hazy yellow-gold with three fingers of white head that fades into a thin cap with good lacing.
S: Belgian candy sugar up front with some light spice notes followed by floral lavender and sweet, citrusy hops.
T: Belgian spices and candy sugar here followed by piney hops, a tough of citrus, and a slightly yeasty finish.
M: Medium body with mid-high carbonation, this beer is nicely drinkable.
O: A good beer, overall, with a nice balance of Belgian and hoppy characteristics.
May 01, 2014

Boca-X from Missouri
3.75
/5
rDev
+4.7%
look: 3.75 | smell: 3.75 | taste: 3.75 | feel: 3.75 | overall: 3.75
Poured from a bottle into a pint glass. Cloudy gold, yellow & orange with a big, white foamy head. Sticky lacing hugs the glass the entire brew.
Fresh bread on the nose, coriander, oranges, lemon follow.
Sourdough creaminess hits my tongue first, then an over abundance of carbonation follows. The coriander comes back, citrus, a touch of root beer and cloves play in my mouth. The finish is quick and clean with a hint of white pepper. A nice warmth settles on my throat.
This is a really good white IPA, nicely balanced with a creamy rich center. The finish is extremely refreshing.
I do have one problem with it...the carbonation is out of control! I had this 2 days ago on tap at the Crown brewery and must say it was a true treat...almost perfect. So I picked up a few sixes...when checking out the barkeep told me the the bottles were over carbonated and to be extra careful when opening...it didn't help, the bottles are a mess. When and if they fix that problem I believe this to be an award winner...until then...draft only!
Mar 18, 2014
RonaldTheriot from Louisiana
3.67
/5
rDev
+2.5%
look: 4.25 | smell: 4 | taste: 3.5 | feel: 3.5 | overall: 3.5
Crown Valley Whitewall IPA has an extremely foamy, off-white head, lively carbonation, thick lacing left behind, and many bubble streams (etched glass). The aroma is very much of coriander and especially oranges, with a background of white bread. Taste is of white bread, bread crust, sweetness, oranges, some bitterness, no alcohol, and a touch of coriander. Mouthfeel is light to medium and a bit slick, and Crown Valley Whitewall IPA finishes crisp, semi-dry, refreshing, and a bit cloying or overly sweet/spiced. Overall, this is different and excellent.
RJT
Oct 12, 2013
russpowell from Arkansas
3.72
/5
rDev
+3.9%
look: 4.25 | smell: 4 | taste: 3.5 | feel: 3.5 | overall: 3.75
Pours straw colored with 2+ fingers of pearl colored head. Clouds up as the bottle is poured, nice lacing & head retention
S: Cloves, white pepper, pears & melon notes, some minty & grassy notes
T: Pears, melons, cloves & appleskin upfront & a touch of wheatyness too. Lemon zest notes, faint grapefruit as this warms, some pear, whitegrape & persimmons as well. Citric hops come on strong, pears & white grapes are present in the finish as well, whispers of phenols & cloves too
MF: medium bodied, firm carbonation
An interesting offering, drinks fairly easy in the heat, nice citric hop bite as this warms. Better than expected
Sep 05, 2013
Tone from Missouri
3.43
/5
rDev
-4.2%
look: 4 | smell: 3.5 | taste: 3.25 | feel: 3.5 | overall: 3.5
Pours a hazy, gold color. 3/4 inch head of an off-white color. Great retention and good lacing. Smells of sweet malt, hint of pale malt, hops, coriander, hint of citrus, earthy malt, and a hint of grass. Fits the style of an Belgian IPA. Mouth feel is sharp and crisp, with an average carbonation level. Tastes of sweet malt, grass, coriander, pale malt, hint of hops, and a hint of citrus. Overall, good appearance, and aroma, but blend is too strongly dominated by coriander (especially with the low hop levels).
Aug 07, 2013
zeff80 from Missouri
3.8
/5
rDev
+6.1%
look: 3.75 | smell: 3.75 | taste: 3.75 | feel: 4.25 | overall: 3.75
Poured out a clear, golden-yellow color with an off-white head of foam. It smelled of yeast, spice and caramel. This has a spicy, yeasty flavor with just enough piney bitter hops. Finishes with some sweetness.
Jul 27, 2013

ThickNStout from Georgia
3.21
/5
rDev
-10.3%
look: 3.5 | smell: 3 | taste: 3.25 | feel: 3.25 | overall: 3.25
12oz bottle. No bottling date. Served in a Southern Tier snifter.
Pours pale straw yellow with three puffy fingers of white head.
Smells of lemon zest, coriander and wheat.
No surprises in the flavors. It's a hopped Belgian wheat. Wheat, bittersweet lemon, coriander, mild orange peel, floral and a little bit of cracker
Light, slightly oily body with heavy handed carbonation. Lingering bitter floral/ wheat/ lemon finish.
Neither disappointing nor mind blowing. Probably a nice warm weather brew but I'm just not really a fan of white IPAs.
Jun 21, 2013
bmwats from Louisiana
2.66
/5
rDev
-25.7%
look: 3.75 | smell: 2.75 | taste: 2.5 | feel: 2.25 | overall: 2.75
Poured from a 12 oz bottle into a handglass.
A: Hazy, yellow hue. Pours a giant, foamy, white, head. Craters slowly, and unevenly leaving some dry residue behind as it does. Plenty of lacing.
S: Hoppy, floral, and fruity. Coriander and lemon citrus.
T: Spice and lemon zest strongly compliment light hop nature.
M: Light and crisp. Floral bitter finish.
D: Session style.
Atmosphere is pretty good. Giant head, and lots of lacing. Nose is hoppy, floral, and spicy. Spicy and citrusy, accentuated with spice. Kind of synthetic feel, though. Overall, this is an ok quaff. Given some of the characteristics, it's possible this thing was infected.
May 29, 2013
Whitewall from Crown Valley Brewing & Distilling Co.
Beer rating:
83
out of
100
with
30
ratings