Little Sister

Everybody's Brewing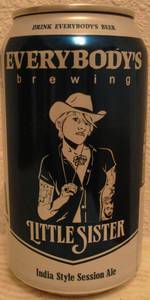 Write a Review
Beer Geek Stats:
| Print Shelf Talker
Style:

ABV:

4.3%

Score:

Avg:

3.47

| pDev:

9.51%

Reviews:

15

Ratings:

From:

Avail:

Rotating

Wants

Gots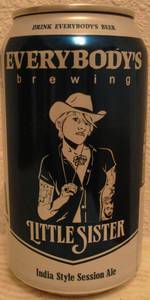 Notes: India-style session ale

3.61
/5
rDev
+4%
look: 4 | smell: 3 | taste: 3.5 | feel: 3.5 | overall: 4.5
Thanks to Stardusthotel83 for this, which arrived last week as an extra. 12 oz. can.
The pour is light, straw yellow with a ton of head. Smells like lemons & grass.
Little Sister tastes like it smells; gander that. Lemon, grass, sunshine, puppy dogs. Bitterness is on the low side of moderate. Finishes with mild sweetness, hay, & vanishing citrus. Light, refreshing, & super easy to drink.
Brewers take note. In a world full of weak, watery, crappy-ass session IPAs, this one stands out. Good, solid beer.
512 characters
3.57
/5
rDev
+2.9%
look: 4 | smell: 3.75 | taste: 3.5 | feel: 3.25 | overall: 3.5
A thanks to the captain of the canquest, woodychandler, for this beer. Has a hazy, golden color with a 1/2 inch head. Smell is dominated by grapefruit. Taste is grapefruit, but less pronounced than the aroma. Some grassiness, mild bitterness. Feels medium/light bodied in the mouth and overall is a solid beer.
310 characters

3.62
/5
rDev
+4.3%
look: 3.5 | smell: 4 | taste: 3.75 | feel: 3 | overall: 3.25
On tap at the brewpub in White Salmon.
A session IPA with notably strong and pleasant aroma, and excellent lacing: the head leaves sheets of sticky lacing on the glass Pale golden body is slightly hazy. the light body seems too thin even for style.
249 characters
3.65
/5
rDev
+5.2%
look: 3.75 | smell: 3.75 | taste: 3.5 | feel: 3.75 | overall: 3.75
12 oz. can from Philadelphia Beer Week. No date on can. Poured into Carton Dubviant glass.
L: 3F+ foamy head, little retention, almost no lacing. Little ring. Beer is a light, hazy copper.
S: Citrus-forward, like pink grapefruit and lime peels, and pine. Cracker malt.
T: Light citrus as in nose, some pine and dankness. Cracker malt.
F: Light body, light to medium carbonation. Not as crisp or clean as you would want a session ale.
O: Think this might be fading or past prime. No date on can, but I've been there/done that. Without another to compare, hard to say for sure.
582 characters
3.79
/5
rDev
+9.2%
look: 3.75 | smell: 4 | taste: 3.75 | feel: 3.5 | overall: 3.75
Clear pale gold with two fingers of white head that drops to a thin coating in about five minutes. Some lacing.
Smell is pungent floral and resinous hops. Some mild pale malts.
Taste is orange lemon citrus hops with a touch of the pine. A bit of grapefruit comes along later. Just enough malt to make the style.
Mouthfeel is light plus and carbonation is good. Finish is dry and lightly bitter.
Overall a light bodied refreshing beer that offers bit more hops than average for an "India Session Ale". Easy drinking.
517 characters

3.69
/5
rDev
+6.3%
look: 4 | smell: 4.25 | taste: 3.5 | feel: 3.25 | overall: 3.5
An inviting flowery aroma with a whiff of pine. Crisp and sharply carbonated. Amber color with a brief foam in the chalice. There is a woody taste that seems distracting at first.
Moderate bitterness, which is more than enough with the light body. Some club soda taste to start, but the touch of malt emerges with a sweet biscuity taste. That slightly fruity, slightly sweet flavor saves this from being another sharp and herbal light IPA. From the 12 oz bottle purchased at Elizabeth Station in Bellingham.
509 characters
3.51
/5
rDev
+1.2%
look: 3.75 | smell: 3.25 | taste: 3.5 | feel: 3.5 | overall: 3.75
Another can from beertunes. Thanks!
Great can.
Soft hop aroma. A bit grassy overall.
Big off white head. Cloudy yellow.
Certainly bitter, but not too much. Grassy hop flavor and a watery pale malt foundation. A touch of sweetness up front and that moves nicely into hop flavors which eventually goes to the long finishing bitterness. Sometimes I like the taste of this bitterness, other times less so.
Light body, as to be expected. Fully carbonated.
Solid for session IPA
481 characters

3.9
/5
rDev
+12.4%
look: 4 | smell: 4 | taste: 4 | feel: 3 | overall: 4
Pours a finger of head on a light straw body.
The aroma is grain, lemon, grapefruit and floral.
The taste is bold bitter grapefruit with a long dry bitter finish. Good profile.
The texture is crisp.
Great flavors and aroma.
223 characters
2.9
/5
rDev
-16.4%
look: 3 | smell: 3 | taste: 3 | feel: 3 | overall: 2.5
Light honey gold beer with a cream-colored head and good retention. Smells of grass, citrus, and lightly sweet malts. Tastes grassy & grainy, with light citrus notes and some biscuit. Fals slightly to the bitter side, and citrus rind hops stick with the tongue after drinking. Okay components, doesn't come together that well. I thought it was unremarkable.
357 characters
3.11
/5
rDev
-10.4%
look: 4 | smell: 3 | taste: 3 | feel: 3 | overall: 3.25
12 ounce can
Appearance is a golden yellow, two inches of white head, nice lacing, good retention
Smell is light with wheat, some light caramel, bread, grains, and grassy hops
Taste is slightly bitter at first with chewy notes, lemon peel in the finish, taste does not change much as it warms
Mouthfeel is light bodied, prickly carbonation, feels quite thin
This was not a bad session ale, wish it would have been more hop forward and fuller bodied
453 characters

3.5
/5
rDev
+0.9%
look: 3.5 | smell: 3.5 | taste: 3.5 | feel: 3.5 | overall: 3.5
12 oz can from "lifesource" Salem OR. $1.59 Pours a hazy golden colour with a huge frothy/bubbly white head. Nice slightly floral hop aromas..some lemongrass. Nice spritzy grapefruit flavour,light but not uncomplex. But.But tasty. Mouth feel is generally OK for low alcohol..its very drinkable. Overall typical Pacific North West "ISA" tasty drinkable.
352 characters

3.67
/5
rDev
+5.8%
look: 3.75 | smell: 3.5 | taste: 3.5 | feel: 4 | overall: 4
Poured from 12oz can into a pint glass.
Appearance: light orange hue with a light-to-moderate haze, a strong effervescence and a ton of little floaties hanging around. Head is a finger of pillowy ivory foam with a nice lace on the glass. I rather like it.
Smell: light, citrusy, lemongrass aroma with a sweet malt underneath. On the subtle side, due to the sessionable strength, but pretty good nonetheless.
Taste: much like the aroma, there are citrusy hops with a lemongrass character. The maltiness has a little more complexity to it, with a bready, somewhat biscuity character. Not too bad.
Mouthfeel: medium-light body with a great carbonation and a very creamy texture, especially for an IPA and for a session-strength beer. Great!
Overall: this is definitely an easy-drinking beer. More flavor would be a good thing, but in general this is highly quaffable brew.
874 characters

3.54
/5
rDev
+2%
look: 3.75 | smell: 3.5 | taste: 3.5 | feel: 3.75 | overall: 3.5
On tap into a nonic glass at the Green Dragon in Portland, OR.
A-My glass arrives with a short, white head. The beer is light golden in color with a slight haze. Not much carbonation to be seen. The head leaves good lacing on the glass.
S-The aroma is very dry, almost chalky. There is a good dose of floral scent, english breakfast tea, husk, and lemongrass. Biscuit and cracker-like malts.
T-The taste is similar to the smell with lots of floral hops, a bit of citrus (lemon mostly) and very dry malts like biscuits and crackers. There is a also a bit of straw and husk flavor, as well as this flavor that I can only describe as being like steeped english breakfast tea.
M-The body is medium in heft with an easy drinking carbonation. There is biting hit of bitterness on the finish that lasts for a bit.
O-I always enjoy trying new takes on hopped-up low-ABV beers. This particular example was an interesting take on the style with lots of floral character and a body so dry that it almost claimed me up like a saltine cracker. Although I could have done with a little more balance and sweetness, I did enjoy the mouthfeel and this low ABV brew packed enough flavor to keep me interested.
1,199 characters

3.5
/5
rDev
+0.9%
look: 3.5 | smell: 3.5 | taste: 3.5 | feel: 3.5 | overall: 3.5
Poured into a Dogfish Head pint glass. Pours a medium golden amber with white particulates; slightly hazy. A half finger of white head that dissipate to a thin film leaving a ring around the glass and light lacing. Mild aroma of sweet malt and light citrus hops. Flavor of sweet grainy biscuit malt and grassy hops light lemon, finishing with a touch of citrus rind and residual grassy hop bitterness. Light to medium bodied. This appears to fit the profile of an American pale ale, perhaps a bit hopped up. A simple, straight forward pale ale with a little more aggressive hop finish. OK as a pale ale, rather pedestran as an IPA.
631 characters
3.08
/5
rDev
-11.2%
look: 4 | smell: 3.5 | taste: 2.75 | feel: 3.5 | overall: 2.75
Appearance- Gushed up a bit but this is my fault- I should have waited a little bit longer. Has great retention. The head is a soft eggshell white while the body is a dirty straw amber which appears as a hazy pale amber when held up to the light. There are rings of lacing.
Nose- Fairly typical of a pale ale/IPA. Soft citrus notes with tiny bit of biscuit, some pine and resin. A little bit of a floral character. Orange and lemon are the main citrus. Swirling shows a sour note that smells a little bit of grapefruit and cat piss? At the very least, it's not the good kind of cat piss.
Taste- Starts off with biscuit mixed with citrus hops which build then grow into woodier hop profile (mostly pine and resin, some matchstick) that also leads into a bit of grapefruit (moldy) which has too long of a linger. Somewhat grassy and earthy but not in the balanced manner of English or German hops. It is not a very good taste and leaves a bit of chalk on the tip of the tongue. Lots of earwax that dominates too much of the flavor profile and leaves a pretty unsatisfactory linger. I can really see how it's going to be sessionable as I'm going to try to drink this as quickly as possible- what? Mellows out a bit but is definitely below average to average at best. I really wish I hadn't bought a six pack. I will have to remember to drink them cold.
Mouthfeel- Between light and medium bodied. Slight smoothness. Appropriate carbonation.
Drinkability- The hop profile is way too messy, abrasive, and astringent for me. 8.50 for a six pack. I will not be buying it again.
Overall- I get the India Style part but a session beer shouldn't wreck your palate. To me, this beer is just a low alcohol, badly made IPA. It appears the tendency on BA is to label these ISAs as APAs but I couldn't do that with this beer. The only thing it shares with an APA is its looks and aroma. Hopheads might want to give it a try but I would suggest passing.
1,947 characters
Little Sister from Everybody's Brewing
Beer rating:
82
out of
100
with
39
ratings