Wild Range India Pale Ale

World Brews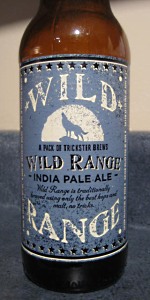 Rate It
Beer Geek Stats
| Print Shelf Talker
Style:

ABV:

6.3%

Score:

Avg:

2.77

| pDev:

19.86%

Reviews:

14

Ratings:

From:

Avail:

Year-round

Wants

Gots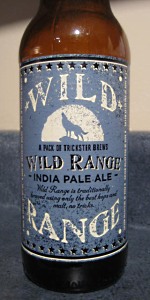 Notes:
sendsilk from Florida
2.42
/5
rDev
-12.6%
look: 3.5 | smell: 1.5 | taste: 2.75 | feel: 2.5 | overall: 2.5
Picked this up at an Aldi. Didn't have very high hopes for it but I thought I'd try it for $6.99 a 6 pack. Looks fine on the pour, nice looking head. It doesn't SMELL like an IPA, actually it smells kind of malty and sour. Tasting it, it's a big disappointment. This beer is trash, malty, some piney elements it nothing redeeming about it. No nice hop presence. Duly noted, if it seems too good to be true,like buying a nice IPA for about $1 a beer, it is. Stay away from this garbage.
Jan 07, 2017
Buck89 from Tennessee
3.3
/5
rDev
+19.1%
look: 3.5 | smell: 3.5 | taste: 3.25 | feel: 3 | overall: 3.25
Undated bottle but new at the local grocery store. Poured into a snifter. Not bad-looking - a crystal clear golden amber color with a medium-sized off white head that settled quickly. Modest aromas of oranges, pine, and caramel malt. The taste is moderately bitter with grapefruit pith, oranges, and decent piney notes. Overall the flavor was muted. A bready malt presence that wasn't too sweet. The feel was a tad thin and it was a bit dry on the finish. Far from a drainpour, but I would not buy this again, even at the price.
Dec 28, 2016
biboergosum from Canada (AB)
2.11
/5
rDev
-23.8%
look: 3.5 | smell: 2.5 | taste: 2 | feel: 2 | overall: 1.5
12oz bottle. "Traditionally brewed, blah blah blah, no tricks". No tricks, eh? How about telling me who actually makes this stuff, along with your apparently inbred siblings?
This beer pours a hazy medium golden amber colour, with one finger of somewhat foamy, puffy, dirty white head, which leaves a low vista of rainforest lace around the glass as it steadily bleeds away.
It smells of sweet, sugary malt, not really caramel, more of a stale, sour bready sort, some watery pine and thin citrus juice notes, and a stoney, flinty character that appears where I might have been expecting some bitterness. Oh well. The taste is more indistinct, plain, and neutered generic hops, echoes of citrus, pine, and herbs wailing as from the underworld, some equally pithy bready, wet crackery malt, with a growing metallic sheen.
The carbonation is pretty sedate, the body medium-light in weight, with a growing cloyingness, and sneaky, picky sourness that precludes any delusions of actual smoothness. It finishes off-dry, the mildly sour grain doing none of us any real favour in its longevity, as the hops and alcohol don't seem able to pull up the collective socks of this offering.
Trick me once, shame on you, trick me twice, shame on me. After barely getting through the majority of this bottle, I assure you, I won't be making that mistake again. Not an IPA, especially one of the oft-maligned American variety. Avoid with moderate prejudice.
Jan 17, 2013
BucannonXC5 from California
2.98
/5
rDev
+7.6%
look: 4 | smell: 3.5 | taste: 2.5 | feel: 3 | overall: 3
Poured from a bottle into a pint glass. About two fingers of head. Color was honey caramel. Nice frothy lacing. Heavy, wet, frothy film on the sides.
Smelled of citrus hops, lemon and pine. Fairly malty on the nose. Some sweet caramel and dark fruit.
Lots of malts in the taste. Syrupy, creamy. Some light citrus notes. Nothing too appetizing.
Medium body. Creamy texture. Average carbonation. Bitter, abrupt finish.
Pretty average IPA, actually below average. But a six-pack for $3.99, that's what you expect.
Mar 15, 2012

brokensail from California
3.08
/5
rDev
+11.2%
look: 3.5 | smell: 3 | taste: 3 | feel: 3.5 | overall: 3
A: The pour on this is a sort of dark amber color with a finger of soapy off-white head.
S: Smells as I expected: sweet and sugary. Lots of caramel and toffee with the hops being more of an afterthought. Some grapefruit and citrus notes along with light floral qualities and pine.
T: The flavor is pretty much the same. Sweet caramel, bread, and toffee dominate the flavor. There is a light to moderate bitterness of pine with minimal citrus hops (or any hops, to be truthful).
M: The body is medium, a bit heavy, all things considered. The carbonation is medium.
O: This wasn't awful, but as an IPA, I wasn't a fan and probably wouldn't want to have this again.
Aug 07, 2011
Gtreid from Florida
2.19
/5
rDev
-20.9%
look: 3.5 | smell: 2 | taste: 2 | feel: 3 | overall: 2
Don't remember who sent this one to me, but thanks to whoever did. 12 oz. bottle poured into my Cigar City tulip.
A: Deep amber color. The pour creates a finger and a half head that fades to a fizzy rim.
A: Metalic notes. Almost like a sour malt. Very little hop presence. Sweet and caramel notes also.
T: Pretty let down by this one. Metal, sweet caramel, and I guess a little pine sap. Finishes slightly dry and sweet, with a metalic aftertaste that really is offputting.
M: On the fuller side of meduim. Good carbonation though. But still not to style at all.
O: This is not a very good beer. No hops, too much caramel malt, and this metalic aftertaste is awful. Avoid. Skal.
May 20, 2011

Phelps from Arizona
2.95
/5
rDev
+6.5%
look: 2.5 | smell: 2.5 | taste: 3 | feel: 4 | overall: 3
Poured from the bottle into a pint glass.
Sediment-laden amber, chock full of little floaties. A one-finger head of grayish white becomes a soapy ring.
The nose is slightly metallic at first, though it clears after the beer warms a bit. Lots of caramel, toasty bread, but not a lot of hops.
Metal again in the flavor. There's also toasty bread, caramel, orange juice, and maybe some apricot? Honey and a pronounced floral emerge as warms. The spice and light bitterness of English hops tickle the tongue.
Pokey, medium-light carbonation in a body just a shade above light. Crisp and snappy.
It looks like this one's classified as an American IPA — if so, it's not a great example of the style. A passable grocery store beer, but definitely not good enough to make it into my shopping cart again.
Apr 20, 2011

jeffjeff1 from California
2.85
/5
rDev
+2.9%
look: 3 | smell: 3 | taste: 2.5 | feel: 3.5 | overall: 3
I picked this up at the new Fresh and Easy grocery store near us.
Appearance- coppery color, decent size head
Smell- hops, malt
Taste- some hops, a little too malty for an IPA
Mouthfeel- light to medium bodied, closer to light though
Drinkability- I thought it was ok but it was definitely too malty for an IPA which I do not like in IPA's.
Apr 19, 2011
pressman57 from California
3.33
/5
rDev
+20.2%
look: 3.5 | smell: 3 | taste: 3.5 | feel: 3 | overall: 3.5
Poured an amber color with a good head that lasted. Decent lacing.
Not much of a smell - maybe some piney hops.
I don't know if what I got was fresher than what the other reviewers got, but I thought the taste was well balanced, if not complex. Of course it doesn't compare to Stone or some of the others, but at half the price (I paid 4.99 for the six-pack) I was pleasantly surprised.
Apr 15, 2011

Nerudamann from Oregon
3.65
/5
rDev
+31.8%
look: 3.5 | smell: 3.5 | taste: 3.5 | feel: 4 | overall: 4
Poured from a bottle into a pint glass.
Look - light amber in color, clear, with about 2 fingers of khaki-colored foam that dissipates slowly. Slow/low carbonation.
Smell - lightly hoppy in the aroma, maybe a hint of some added spices.
Taste and Mouthfeel - Hoppy in flavor, but not terribly bitter. There's a sweetness in the beginning, maybe from maple or caramel malts? Finish and aftertaste are bitter, but not too strong. Texture is actually fairly well-balanced, leaning just slightly toward the watery side.
Drinkability - for the low cost, not a bad tasting brew. Also not very complex, but then again, sometimes you get what you pay for (in terms of complexity..not necessarily taste). Worth a six-pack!
Jan 27, 2011
OPE08 from California
2.06
/5
rDev
-25.6%
look: 3 | smell: 2 | taste: 2 | feel: 2 | overall: 2
Picked up a six-pack on sale at Fresh&Easy as I keep hoping against hope that they will wake up and sell some good beers.
Poured into a goblet.
Color and clarity are the best thing about this beer, pours with a nice head altho' it was thin and dissapated quickly.
It has the ABV of an IPA, 6.3% according to the label, but the smell is more like an amber and there is no hop characteristic that I can name. It does not have the fresh floral of say a green flash, or the intensity of a Stone, not that you HAVE to be awesome, but this beer ends upo being bland and boring. Makes me wish I had been a douche and made a "custom" mix-pack so I could taste them all...
Note to Tesco, every other aisle is great, and you obviously take time with your wine side, why is your beer case so ridiculous, there is a better selection at the gas station next door
Oct 02, 2010
SteelKettle from California
3
/5
rDev
+8.3%
look: 3 | smell: 3 | taste: 3 | feel: 3 | overall: 3
Appearance: copper in color with decent off white head with little lacing left on glass
Smell: slight hoppys little earthy and pine
Taste: little hoppy and bitter with slight a woody flavor
Mouthfeel: medium bodied with slight carbonation
Drinkability: a little bitter but somewhat drinkable
Fresh and Easy offering $6 six pack going after the craft beers they sell for 8 to 10 a six pack not horrible but not great...
Sep 17, 2010

Zorro from California
3.15
/5
rDev
+13.7%
look: 3.5 | smell: 3.5 | taste: 3 | feel: 3 | overall: 3
Another Fresh and Easy only beer.
Clear amber colored beer with a temporary good sized tan colored head.
Malty and floral with a mostly herbal scent. Some citrus and pine in here but this is mostly herbal.
Starts out malty and woody. A little citrus and herbal with a medium level of bitterness.
Mouthfeel is OK.
Drinkability suffers a bit here. OK and quite good for the cheap beer it is. Thing is it gets a bit bitter after a while, to an annoying degree. Still for $6 a six-pack it is OK.
Sep 10, 2010
mithrascruor from California
2.49
/5
rDev
-10.1%
look: 3.5 | smell: 2 | taste: 2 | feel: 3 | overall: 3.5
12 oz. bottle poured into a pint glass.
Appearance: Pours a clear copper color with some visible carbonation. Good off-white head leaves a hint of lacing and has decent retention.
Smell: Barely any aroma. Just getting a hint of sweet alcohol off this, I think?
Taste: Very little flavor - some grain and floral hints, with a bit of spiciness, but it all tastes kinda artificial. After a while it tastes perhaps like a household cleaner, and leaves an unfortunate aftertaste.
Mouthfeel: Light- to medium-bodied and very smooth. Almost too smooth. Very little carbonation.
Drinkability: Seriously boring, but drinkable.
Wild Range seems to be a new "line" of beers at Fresh & Easy that are trying to cash in on the craft market. I grabbed this and the wheat ale (there's also an amber). At $6 a 6-pack it is cheaper than your usual craft beer, but pricier than the other swill at F&E. Unfortunately, it sucks! Marginally better at craft attempts done at major breweries, it has so little flavor to it and tastes sort of artificial too. I wish F&E would just carry more good beer, rather than attempt to brew their own.
Sep 10, 2010
Wild Range India Pale Ale from World Brews
Beer rating:
76
out of
100
with
22
ratings