Idaho Select Lager

Wallace Brewing / Orehouse Tasting Room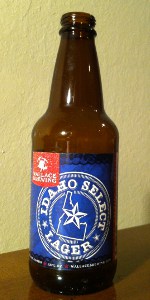 Write a Review
Beer Geek Stats:
| Print Shelf Talker
Style:

ABV:

4.5%

Score:

Avg:

3.54

| pDev:

19.77%

Reviews:

11

Ratings:

From:

Avail:

Spring

Wants

Gots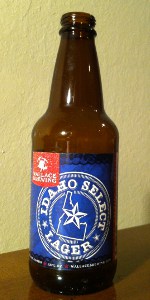 Notes:
3.69
/5
rDev
+4.2%
look: 3.75 | smell: 3.5 | taste: 3.75 | feel: 3.75 | overall: 3.75
affordable six pack of cans here, tasty and basic beer, with a nice crispness, and it tastes crafted rather than cheap, just my second beer from these guys, and the second one now that i would buy again. my dad is visiting this weekend, and he likes a bright lager like this, so it was an obvious pickup from the grocery store, and with the nice summery weather, we have been crushing them. its blonde and frothy looking, well carbonated, and dry enough to be refreshing. its almost one of those three or four pull cans that just goes down like nothing, expect this has a little biscuit note to the grain, a distinct freshness there, a light european style mineral or water profile to it, and a faint noble type hop, super mellow in all aspects, and the lager yeast is almost flavorless. i like its lightness and crispness, and i like how its minimal but can also hold up to food like spicy shrimp and grilled dry aged steak, its not too light for such flavors. impressed enough here to buy some more wallace flavors next time i see their beer. right on for the first nice weekend of spring!
1,091 characters

3.25
/5
rDev
-8.2%
look: 3.25 | smell: 3.25 | taste: 3.25 | feel: 3.25 | overall: 3.25
Very light very pale straw appearance almost like water. The aroma and taste are also very mild. This is a new brewery that has created something that is close to the mass produced beers.
189 characters
3.9
/5
rDev
+10.2%
look: 3.5 | smell: 4 | taste: 4 | feel: 3.75 | overall: 3.75
Clear pale gold with one finger of white that departs rather quickly. Some splotches of lace.
Smells of earthy hops and white bread malts.
Taste is herbal grassy hops with a good amount of bready malt.
Mouthfeel is light to medium with adequete carbonation. Finish is lightly dry and bitter.
Overall a tasty lager from Wallace, Idaho.
336 characters
3.67
/5
rDev
+3.7%
look: 3.75 | smell: 3.5 | taste: 3.75 | feel: 3.5 | overall: 3.75
Unsure of the previous disses against this, a near perfect lager. Medium golden body with thick, pillowy head. Pure grain aroma, sweet corn, cooked vegetables. Taste brings more grain flavor, slick mouthfeel, medium weight. A touch of hops bitterness on the tail end. Beats any of the commercial macrobrews hands down. Well done!
329 characters
3.54
/5
rDev 0%
look: 3.75 | smell: 3.5 | taste: 3.5 | feel: 3.75 | overall: 3.5
12oz bottle, another random grocery store sixer selection from a somewhat scorched earth visit to Sandpoint, Idaho, last week. Cool American flag bottlecap, I gotta say.
This beer pours a clear, pale golden yellow colour, with one skinny-ass finger of weakly foamy, and mostly just wanly bubbly dirty white head, which leaves a bit of splotchy paint gun splatter lace around the glass as things quickly sink out of sight.
It smells of bready, doughy pale malt, a hint of edgy gasohol, muddled pome fruit (maybe some overripe apple, maybe some underripe pear), earthy yeast, and faint leafy, weedy, and dead grassy hops. The taste is more grainy, doughy pale malt, soaked Wonderbread, still present, and slightly phenolic yeast, and a weak weedy, leafy, and wet-hay hoppiness.
The bubbles are fairly active in their palate-probing frothiness, the body medium-light in weight, and sort of smooth, the wafting gassy notes making a minor dent here. It finishes off-dry, with an unsteady breadiness, and some lingering, untethered semi-sweet orchard fruitiness.
Yeah, this comes off as a whole lot better than yer typical mass-market lager dreck, but that's not to say that there aren't any cracks in this one's veneer. There are indeed subtle allusions to the German lagers of renown, but they're fleeting, and they eventually fall flat, much like my overall impression of this offering.
1,391 characters

3.52
/5
rDev
-0.6%
look: 3.75 | smell: 3.5 | taste: 3.5 | feel: 3.5 | overall: 3.5
Poured into a Seattle Beer Week pint glass. Pours a light to medium golden amber with a half finger white head with good retention and lacing. Odd cidery aroma with light malt. Flavor is light sweet malt, mild grain, starts thin, develops a bit of mild biscuit and then finishes with grassy hops and a bit grainy. Light bodied. Somewhat thin and a bit grainy, but a satisfactory light lager. I agree that this is light lager, not an amber. Very mild and the aroma is not quite as expected with the cider overwhelming the malt. There is some evidence that this is an old bottle (found on a road trip from a store I'm not familiar with), so I'm going to give it the benefit of the doubt in my review.
700 characters
3.93
/5
rDev
+11%
look: 3.75 | smell: 3.75 | taste: 4.25 | feel: 3.5 | overall: 3.75
I received this from a friend and its a really solid lager. It is a really good lawn mowing beer/session beer. A little watery on the mouth feel, but a great after taste. Goes down really smooth. I would definitely try this again, if I'm ever in Idaho.
252 characters
3.54
/5
rDev 0%
look: 3.75 | smell: 3.5 | taste: 3.5 | feel: 3.75 | overall: 3.5
12oz bottle purchased at Pilgrims in Coeur d'Alene, Idaho, for $1.49. No freshness date to be found on the bottle. This is my first beer from this brewery, which at one time had a bad reputation for quality but is now regarded, from what I've been told, as having much improved after a change of owner and/or brewer. I have to take exception to the notion that this is an amber/red lager. This is definitely more lke an "American Pale Lager."
Poured a golden color with a little bit of chill haze. The head was bone-white, sudsy, compact and surprisingly long-lived. A surprising amount of lace was left on the sides of a Sierra Nevada nonic glass.
Soft hops and a slightly crude malt aroma greeted the schnozz. The malt aroma increased as the beer warmed to where it came to dominate the overall scent of the beer.
Not much flavor to discuss, but then again that's what it was meant to be like. It essentially tastes like a mass-market lager, minus the contributions of Pepe Le Peu.
Fairly light bodied, with a rather watery mouthfeel.
This beer did a workman-like job of hitting the spot on a 95 degree day after getting home from work. It's pretty unspectacular, flavor wise, but it's something that could be sessioned. As (vaguely) local lawnmower beers go, I personally prefer Iron Goat's ISA, which has more flavor and is brewed about a mile from where I type this, but if that is not available, and this is (Note: I have not seen this beer in Washington, so I'm not sure if it is available here), it could sub for it in a pinch.
1,553 characters

3.64
/5
rDev
+2.8%
look: 3.5 | smell: 3.25 | taste: 3.5 | feel: 4 | overall: 4.25
Poured from 12oz bottle into a pint glass.
Appearance: medium golden hue with a haze-free body and a strong effervescence. Head poured a finger of fizzy white foam and settled down pretty quickly. Not too bad, although definitely not what I would call an amber lager.
Smell: lightly malty with a hint of graininess; clean, but light in intensity and very little complexity. Sokay.
Taste: moderately malty with a little hint of sour graininess and a light, noble bitterness. A pretty faithful recreation of a European lager. Not bad, but not a lot going on.
Mouthfeel: light body, but a well-integrated carbonation yielding a great creaminess, especially for the style. Good stuff.
Overall: here's where this brew gets extra points: drinkability. Talk about a lawnmower beer: light and inoffensive, you could hydrate with this all day.
839 characters
2.3
/5
rDev
-35%
look: 2 | smell: 2 | taste: 2.5 | feel: 3 | overall: 2
On tap at brewhouse
Light, light yellow - really light. Hints of white foam. Nose carries diacetyl and corn, not much else. Flavor is of maize, and a hint of salinity - really thinned out. Empty body with hi carb and semi dry finish. I guess it's better than Keystone, but not much.
282 characters

5
/5
rDev
+41.2%
look: 5 | smell: 5 | taste: 5 | feel: 5 | overall: 5
Appearance: a sort of pink/copper body. white head. good lacing and retention
Smell: smells like a light version of apple juice, pear notes, crisp and awesome.
Taste: follows the nose perfectly.
Mouthfeel: smooth with a good amount of carbonation. super refreshing
Overall: this is my new favorite beer. later today i'll be heading to the co-op to buy their remaining stock.
386 characters
Idaho Select Lager from Wallace Brewing / Orehouse Tasting Room
Beer rating:
81
out of
100
with
18
ratings