The Gahan House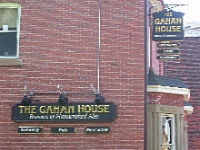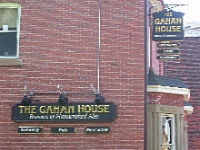 Brewery, Bar, Eatery, Beer-to-go
126 Sydney St
Charlottetown
,
Prince Edward Island
, C1A 1G4
Canada
(902) 626-2337 |
map
gahan.ca
Notes:
laketang from Arizona
3.68
/5
rDev
-2.4%
vibe: 3.75 | quality: 3.75 | service: 3.75 | selection: 3.5
Went there as part of a tour group.wish we would have spent moRe time there.they had a very good Stout with a low abv and real drinkable. Also a blueberry beer.nice old establishment with a real neighborhood feel.
Sep 15, 2017

TheBierdimpfe from Canada (QC)
4.08
/5
rDev
+8.2%
vibe: 4.5 | quality: 4 | service: 4.5 | selection: 3.5 | food: 4.25
Love the vibe and decorations, although the bar is very small, this is mostly a restaurant. English style house, yet with lots of modern crafts, very cozy and relax, but a bit small and cramped. Good selection of beers, can't remember well, around 10-15? In this 3 seasonals. The quality is pretty high and boosting an excellent IPA. The service is excellent, the spirit is high and friendly. In the menu, you can pay the cooks a pitcher of beer, a first for me. The food is very good, lots of seafood, specially liked the jambalaya. But the selection is of multiples nationalities, it lacks a bit of personality. Overall great place to go, very popular and busy, but no regrets.
Dec 03, 2016
jrothaway from Minnesota
4.18
/5
rDev
+10.9%
vibe: 4.5 | quality: 3.75 | service: 5 | selection: 4 | food: 3.5
A very cozy brick and dark woodwork atmosphere. 15-20 of their beers on draft. All good, some very good. The service sets this place apart. I was there three nights in a row. Every staff member was cheerful, fun, and helpful. Of particular note, I came back the third night after dinner at Terre Rouge to try their seasonal Russian Imperial Stout. The waitress said she wasn't sure they still had it, so I told her (politely and kind of in fun) that they ran out the previous night and the bartender said they'd have another keg this night. When she came back she said they didn't have it but the bartender remembered me, offered me a free beer while I wait, and said he'd go out to a place that had it and bring one back. He went to their production facility and did so. That's customer service!
Mar 04, 2016
djsnowman06 from Canada ()
4.13
/5
rDev
+9.5%
vibe: 4.5 | quality: 4 | service: 5 | selection: 3.25
So happy with the service. We showed up on a weekend when a hurricane decided to land in pei. Within minutes of ordering the hurricane had knocked out the power. While the servers had no way of cooking they were nice and lit candles so we could fin8sh our beers. They at no time rushed us out or got annoyed. Infact the were very tolerant of our obnoxious newfie shenanigans, and even shared a few laughs.
Unfortunately we didnt get to try the food but when i travel back to pei it is on the list of first stops.
Nov 09, 2015

johnnnniee from New Hampshire
3.68
/5
rDev
-2.4%
vibe: 3.75 | quality: 3.5 | service: 3.75 | selection: 3.75 | food: 3.75
Stopped in here for a late lunch after arriving on the island on the first nice day of my motorcycle trip. Large brick building that everyone wants to call Victorian. Lots of wood inside and some eclectic colors that make me wonder if this was once a Mexican restaurant. I was here quite early so the place was kind of empty. My server was quite attentive. I had the sampler and the spicy bean dip. The food was good and the beers ranged from Ok to pretty damn good. Lunch for just me was a bit pricey, but if I was in the area again I would stop in.
Jul 19, 2014

wordemupg from Canada (AB)
3.88
/5
rDev
+2.9%
vibe: 3.5 | quality: 4 | service: 4 | selection: 3.5 | food: 4.5
Went here twice on my trip out East line up to get in both times but the line went quick so we waited. Old building downtown with dim lighting and lots of people of all sorts. First time with my girlfriend and we just had a pint of IPA that was OK and some mussels that were great. Second time went with the family and had a burger that was very tasty and several of the beers, the only one that was worth a second pint was the stout. Service was as good as could be expected when every seat it the joint had an ass pinning it to the ground. Overall I'd go there again for sure if in PEI perhaps the best the island has to offer
Oct 19, 2010
berley31 from Canada (NB)
3.68
/5
rDev
-2.4%
vibe: 4 | quality: 3.5 | service: 4 | selection: 3.5 | food: 3.5
Went in for a quick beer and to share an appetizer on a very rainy Sunday afternoon.
I hadn't been to the Gahan House in easily 5 years, and I was pretty impressed by how the atmosphere has changed. Still a pub, but pretty classy as well. Two of the Gahan beers I wanted to try weren't available on tap (the Brown and the Cole's Cream), so I went with their new 1772 IPA, which wasn't bad. Split an order of potato skins with family; they were quite decent.
Definitely would head back for a longer visit next time I'm in PEI. Apparently, their deck is quite good as well.
Sep 01, 2009
CHADMC3 from Connecticut
4.08
/5
rDev
+8.2%
vibe: 3.5 | quality: 4 | service: 5 | selection: 3.5
This is a fun spot and as previously mentioned, the only brewpub in PEI.
The building is older and very neat packed with brick and dark woods throughout offering an excellent atmosphere for dinner or drinks. We did not eat here, so I cannot provide any feedback on the food other than that the menu was impressive for this type of establishment.
Gahan offers a tap line of 7-8 of their own brews as well as some generic macros. We sampled the Light Ale, Sydney Street Stout, Cream Ale, and Brown Ale. The cream ale was my favorite of the bunch, not bad given that its the only brewpub. The staff is knowledgeable about their brews and seasonals and good with suggestions. Also, a number of other restaurants in the area carry their beer as well due to common ownership.
On the service, some of the best I have ever had. If you're lucky enough to get Eddie as your bartender out front, he's quick, attentive, and comical without being intrusive. This guy worked the bar and was the highlight of the stop. Staff here is excellent all around.
The Gahan House is worth a visit if you're in Charlottetown.
Jul 02, 2009

Deuane from Pennsylvania
3.88
/5
rDev
+2.9%
vibe: 4 | quality: 4 | service: 4 | selection: 3.5 | food: 4
The only game in town, err on the island, so if you want the brewpub experience this is it on PEI!
A pleasant wood and brick interior located in an old brick building in the downtown area of C-town.
8 brews on tap during our visit including their new and revamped 1772 IPA. In addition to that we had the Sydney Street Stout which we found to be enjoyable.
Service was pleasant and swift during our busy lunchtime visit. On a trip down to the restroom I bumped into and had a chat with the brewer, a nice fellow that I enjoyed talking shop with for 5 minutes or so.
Our lunches were very nice with C ordering the grilled salmon and I my traditional fish and chips. Both came well proportioned and were quite tasty.
Nothing we ate or drank seemed off or lacking. This was my second visit and it seemed to me that the brews have improved, given more body and depth.
I certainly dont expect world class beers, this is a restaurant with a brewery....and the only one in town! I was quite satisfied with our visit and will surely return when travels take us to PEI again.
Jan 04, 2009

Shaw from Florida
3.29
/5
rDev
-12.7%
vibe: 4 | quality: 3.5 | service: 3 | selection: 3
On our last night on PEI, my wife and I went here for drinks.
It's a good thing we didn't want to eat, because they had a 30-minute wait on a table. This was a Saturday night, though.
So we sat in the bar. I went to the main bar and ordered the sampler, which was brought to us. They were out of a couple of their beers, including their IPA, which was a bummer.
The beers were good. Lots of flavor across their whole line.
The place has a nice look to it with lots of dark wood and soft lighting. And it's all nonsmoking, thank goodness.
If you want fresh beer on Prince Edward Island, check out The Gahan House. You can also get their beers at other restaurants on the island.
Sep 10, 2008
Cascade from Pennsylvania
3.94
/5
rDev
+4.5%
vibe: 3.5 | quality: 4 | service: 4 | selection: 4
We stopped by in the middle of the afternoon, for a taste of their beer. They had just started bottling beer so my first choice was unavailable. The two of us each had 2 beers, and we each liked our choices.
Regarding the service, We sat at the bar, and were served by the manager, who was very good. A homeless man wandered in, and was treated with respect while they escorted him out.(They allow homeless people on PEI, what might the tourists think?) The bartender was working on getting all the beers tapped, and gave me a pint of the beer that I had originally requested when he got it working. It was over carbonated, and mine sat for awhile while the head settled down, he eventually gave up (I got the only beer of that kind that day).
Sadly the waitstaff congregate by the bar, using the computer, and waiting for drinks, and we certainly heard derogatory comments about some of the customers. Not very professional.
Aug 28, 2008
deg from New Hampshire
3.53
/5
rDev
-6.4%
vibe: 3 | quality: 4 | service: 2.5 | selection: 4 | food: 4
I stopped in for lunch while I was in PEI for a few days. Quite quiet in there. I belied up to the bar. It took a little while before someone came by to take my order. Despite the place being empty and there appeared to be lots of employees there. I tried their Sydney Street Stout, their Ironhorse Brown, and for lunch I got the steak wrap.
The beer was good. The stout was thick and rich and so dark no light got through. I've had some stouts where a little bit of light gets through to show a brown color, but this one was pitch black. And quite tasty. The brown was good too.
The steak wrap was OK in my book. A nice mix of flavors.
I didn't stay too long, and I didn't look to see what type of entertainment they had there.
Jun 06, 2008
sgwestby from England
2.28
/5
rDev
-39.5%
vibe: 3 | quality: 2 | service: 2 | selection: 2.5 | food: 2.5
We are doing a tour of Nova Scotia, New Brunswick and PEI, visiting recommended brewpubs and beer bars on the way. I was particularly looking forward to visisting Gahan House because of the good reviews on Beer Advocate and because it appears to be the only brewery on the island.
I called ahead to reserve a table for Saturday evening but was told it was fully booked and so, because we were staying on PEI for two nights, reserved for the Sunday night instead. This meant that I was full of anticipation when we finally got to try the place, as it appeared to be so popular. Well what an absolute disappointment it proved to be!
Even though the place was half empty the servers seemed to be in a hurry and pushed menus at us which gave scant information on the beers available. I asked if they did samplers and was quickly given two trays with three beers on each and a card to say what they were, but when I asked about the respective strengths of the beers my enquiry was brushed aside and I never did get to find out the information.
The six beers ranged in quality from just about reasonable to pretty poor. The best of the bunch was Harvest Gold Pale Ale a slightly sweet ale with subtle hop flavours. The Sir John 's Honey Wheat Ale was reasonable too and the Cobs Cream Ale was a fair reprsentation of the style. The Island Red Amber Ale was too thin and the final two beers were as poor as I have had for some years in a North american brewpub. The Iron Horse Dark Ale was described as a full bodied brown ale, but to my taste it was insipid and lacking in body. The Sydeney Street Stout was equally poor, lacking in condition and with nothing to recommend it.
The seasonal brew, not included on the sampler trays, was an Apricot Ale. This complex brew was not at all bad with the apricots giving it a subtle bitter edge and there was not the invasive sweetness found with many fruit beers.
Our food proved to be equally disappointing with my wife declaring it the poorest meal she had had so far on our vacation. I was going to try a full pint of a couple of the beers but before I had chance the server put the bill on our table and so we thought we would cut our losses and leave. What a way to run a beer establishment!!
Oct 29, 2007

francisweizen from Alaska
3.93
/5
rDev
+4.2%
vibe: 4 | quality: 4 | service: 4 | selection: 3.5 | food: 4.5
A great addition to the PEI scene, this scenic brewpub right next to the old church on sydney street is really a nice change of pace for the islanders. The first brewpub in the town of the confederation has a nice church like atmosphere with some nice big windows and a view of the monastaic grounds as well. Quality was very good on both food and beer and the service was friendly and prompt. The selection of beers was tiny, with no real show stoppers, but the pale ale and unfiltered red were decent and the pint glasses they use are really killer big glass sort of reidel crystal bowl shaped glass which is a nice touch as far as I am concerned. The food was killer here, lobster, mussels, you name it and PEI has some of the best possible varities of them all! They do mean golden foods here as well, and some killer fish and chips...definately worth a stop when you are island hopping in Cranada...
May 20, 2006
QXSTER1 from Pennsylvania
4.25
/5
rDev
+12.7%
vibe: 4.5 | quality: 4.5 | service: 4 | selection: 4 | food: 4.5
This is the only brewpub on PEI. They call themselves a brewery but the beer is only available at the Gahan House on tap or in growlers. The pub is located near Victoria Row, a street of outdoor cafes and restaurants and the livliest street in the province. Next door is St.Dunstan's Basilica and in fact the brewpub is the old nunnery for the church. You can literally look out of the windows and into the church.
The beers are all well made, with the Sydney Street Stout being a top notch example of the style. I've found that the farther north you go though the less agressive the brewer's are with the hopping. Cascades, Centennial and Chinook have not made an appearance in the Maritimes as far as I could tell. That being said though, in previous trips to the island the only beers available were the Canadian mega-brewers and that's it. The Gahan House is a welcome addition to any travel plans to PEI. The food is above average with the fish and chips superb. Stop by and get the only fresh beer in the province!
Aug 27, 2002
The Gahan House in Charlottetown, PE, Canada
Brewery rating:
3.53
out of
5
with
380
ratings