Bone-A-Fide Pale Ale
| Boneyard Beer Company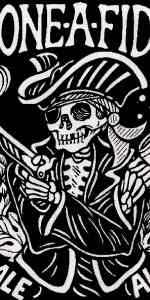 BEER INFO
Brewed by:
Boneyard Beer Company
Oregon
,
United States
boneyardbeer.com
Style:
American Pale Ale (APA)
Alcohol by volume (ABV):
5.50%
Availability:
Year-round
Notes / Commercial Description:
38 IBUs
Added by beertunes on 07-03-2010
Reviews: 15 | Ratings: 124

4.13
/5
rDev
+0.2%
look: 3.5 | smell: 4.25 | taste: 4.25 | feel: 4 | overall: 4
Served On-Tap
A — Pours a lemony yellow hue into the glass, great clarity here. White head sits on-top the beer and leaves behind some rather solid lacing.
S — Hello hops, juicy, piney, lemony, bitter, balanced with enough sweet crystal malts underneath.
T — Hop forward and focused again, piney, lemony, juicy, fruity, bitter, dry, leaves you wanting to come back for more.
M — Dry, balanced, thirst quenching, incredible.
O — This is fantastic, like Grunion on steroids, pretty damn good APA.
★
509 characters

4.8
/5
rDev
+16.5%
look: 5 | smell: 5 | taste: 5 | feel: 4 | overall: 4.5
I am going to be honest here. I went and tasted this blind against several other APA's. Hands down this was the best! This was a great APA. Some people were under impressed but I was amazed at how juicy and fun this was. It was actually one of my favorite beers in all of bend. I took a growler of it away with many others and drank it to myself.
I have only had a couple of pales that I liked as much as this and low and behold they were at Altamont and at Cellarmaker. Both somewhat inspired by Boneyard.
★
506 characters

3.3
/5
rDev
-19.9%
look: 3.75 | smell: 3.75 | taste: 3 | feel: 3.25 | overall: 3.25
I love Boneyard, but this one was not my favorite. Judging by the rest of the reviews, it seems like I might have gotten a bad batch. Looked and smelled good, but just tasted off. I will definitely try again.
★
208 characters

4
/5
rDev
-2.9%
look: 4 | smell: 4 | taste: 4 | feel: 4 | overall: 4
Pint at Growl Movement in Salem OR. $3....with discount Slightly hazy orange beer..tiny white head Nice hippy aromas fruity and some pine.... Great hop taste not too much.malts slight caramel Nice medium mouth feel. Delicious Great pale ale.
★
241 characters
4.18
/5
rDev
+1.5%
look: 3.5 | smell: 4.25 | taste: 4.25 | feel: 4 | overall: 4.25
i am a sucker for sorachi ace hops, and i will be shocked if this beer isnt brimming with their creamy lemony oil aroma and vibrant fruitiness. the beer looks pretty regular, barley able to hold a short white head in a pint glass, but the nose is just fantastic, with the sorachi and even some mosaic or some other fruity foreign varietal are just bursting out. tangerine and lemon, but rich and creamy too, the hops are beautiful in this beer. the grain is medium weight, but the alcohol is perfectly light for a beer with this flavor profile that i just want to hammer several of. its easy drinking, but mostly because its delicious. i think its a little flat in feel honestly, could use more carbonation, but that would make this one of my favorite pale ales ever, and since i cant get it in this market, im okay with it having some element this is off a little. that way i wont miss it so much, but man are those hops glorious!
★
931 characters

4.05
/5
rDev
-1.7%
look: 4 | smell: 4 | taste: 4 | feel: 4 | overall: 4.25
I had this beer on-tap in my OBF pint glass at Oregon Brewers Festival.
Appearance: slightly hazy, rich orange hue with a light effervescence and a thin layer of white foam. I think it looks pretty good.
Smell: sweet, but not too sweet; a little bit tangeriney, a little bit grapefruity. Nice and light underlying malt character which works really well.
Taste: flavor is really good; hops are a little more herby than the aroma, but overall it's still very bright and balanced. I like it.
Mouthfeel: medium body with a good level of carbonation and creaminess. I like it.
Overall: very solid, quaffable pale ale; just an all-round great beer. I would love to have this again.
★
680 characters
4.82
/5
rDev
+17%
look: 4 | smell: 4.5 | taste: 5 | feel: 5 | overall: 5
A: Pours a cloudy deep golden color with a nice fluffy white cap, almost a little dirty white cap, some good head retention, lacing clings to the glass in waves down the glass as I continue to drink
S: Big floral nose, with healthy doses of citrus and passion fruits with a nice dose of bread
T: Big citrus, tropical and passion fruit chiming in; mainly in the ways of pineapple, mangos and grapefruits. So good. This beer has so much going on, taste buds go bananas.
M: Balanced West Coast APA, lots of dank and malt balance.
O: Probably the best West Coast APA ever, tied with Zombie Dust.
★
597 characters
4.62
/5
rDev
+12.1%
look: 4.5 | smell: 5 | taste: 4.5 | feel: 4.5 | overall: 4.5
This one is tough to review.
No, not because I'm confused in any way as to how great this beer is. No ... great would be an understatement. But this would be a great IPA, nevermind a pale!
It pours a shade of sun touched honey that makes me want to taste it the instant I see it. Head is minimal. Nice lacing left behind. This color always tells me the finish won't be too sweet for a pale or IPA and I'm not wrong.
One whiff and my nose is nearly assaulted by the scent of orange rind, mango, tangerine, and peach. Lovely. There's some biscuit there too but it seems to be fighting for recognition amongst all the tropical fruit.
One sip releases the floodgates of orange, grapefruit, pine needles, caramel, and again, biscuit. Bravo!
A lot has changed over the years. There was a time when the east coast by and large didn't have the taste for hops we out west do. They've caught on a bit but I feel like this would be a bit extreme for an east coaster looking for a pale. For me, it is nearly exactly what I want. This beer should set the standard for a Northwest Pale Ale.
★
1,082 characters
4.42
/5
rDev
+7.3%
look: 4 | smell: 4.5 | taste: 4.5 | feel: 4 | overall: 4.5
On tap at E9 the other day.
The beer pours the expected amber peach color with good head retention and lacing. The nose is about what I expected as well, considering this beer is made by boneyard, as I pick up considerable dry citrus, light pine, pepper and skunky weed. Most IPA's I encounter don't smell this good. The flavor profile replicates the nose in this dry, hopheads dream of an APA. In some ways, this beer reminds me very much of zombie dust, though the aroma profile is a bit different. Mouthfeel is fairly light, though there's no denying that the beer delivers plenty of flavor. The finish is long, crisp and bitter, and despite my better instinctis, I found myself ordering a second glass before leaving E9. So yeah, drinkability is quite good in this excellent APA, and the alcohol was barely detectable.
An altogether excellent APA, and about what I would expect from Boneyard.
★
899 characters

4.08
/5
rDev
-1%
look: 4.5 | smell: 4 | taste: 4 | feel: 4.5 | overall: 4
Draft at The Pine Box in Seattle, WA.
Pours a hazy goldn copper color with amber edges and a two finger off-white head that slowly settles into a lasting ring. Streaks of soapy lacing left behind.
Floral hop aroma with a nice balance of earthy and sweet citrus/tropical fruit notes. Lots of grapefruit and orange peel countered by grassy pine needle and pale malt.
Medium bodied with a blast of dank juicy hops that linger over the sweeter notes and pale malt into a long dry finish. Huge citrus/tropical fruit presence with lots of grapefruit, mango, pineapple and orange peel sweetness which is countered by some dry, bitter pine needle flavor. Complex hop profile with a subtle pale malt backbone providing further balance. Hints of bread, biscuit and toffee toward the finish. Really well balanced, flavorful and easy to drink. Tastes more like a west coast IPA than a pale ale.
★
888 characters

4.07
/5
rDev
-1.2%
look: 4 | smell: 4.5 | taste: 4 | feel: 3.5 | overall: 4
on-tap at Belmont Station.
from notes.
Orange with a craggy, billowy white head.
Big, juicy citric hop notes.
Citric hops upfront blend to moderate piney hops. Grain, oat, lightly sweet malt in the backing.
Medium body for the style, average carbonation.
A very hop forward pale ale upfront, but does allow enough well done malt notes to come through in the backing to help balance it out.
★
394 characters
4.08
/5
rDev
-1%
look: 4 | smell: 3.5 | taste: 4.5 | feel: 4 | overall: 4
Pale golden colour with a creamy, white head. Good head retention.
Grapefruity hop aroma. Punchy with a slightly grassy note.
Soft, light malt on the palate with a big hit of pine and grapefruit. Fairly bitter but suitably balanced.
Medium-light body with moderate carbonation. Solid.
A good APA with great hop flavour and not too much malt.
★
345 characters
3.98
/5
rDev
-3.4%
look: 4 | smell: 3.5 | taste: 4 | feel: 4 | overall: 4.5
My buddy maltbombpete introduced me to these guys... I first had the Black13 at The BeerMongers, and then my bro snagged up some of this pale for me to try. Drinking a cold mason jar of it now for me to review....
- Nice clear copper ale.... slight fog, but more clear. The head is quickly thick... fuzzy... and lays down quick leaving thick sheets of lacing all about the glass... the whole way down.
- Nice bright piney bitter hop scent... light biscuit, bready caramel malt... and a floral touch of hops as well. Slightly grassy and earthy.
- Smooth and very balanced drinker here... great subtle pine bitter hop with a light aroma of floral and grassy hops... perfectly balanced with a smooth sailing caramel pancake batter of a malt.... biscuit, grain... oat-like...
- Medium bodied... slightly creamy almost, but still light and not so chewy sticky....
- A fantastic drinking pale... and different. With all the beers out there, it's nice to see a start-up come out with a beer as simple as a pale... and have it still stand out above the rest. Very good.
★
1,066 characters

3.7
/5
rDev
-10.2%
look: 3.5 | smell: 3.5 | taste: 4 | feel: 3.5 | overall: 3.5
It appears an orange/amber like color with about an inch of white foam.
It smells a bit citrusy. There is also a tad bit slight bready malt smell as well.
The taste is a nice blend of citrus like hops backed up with a dry malt flavor. There is a nice profound bitter aftertaste. The flavors seem to mingle nicely with each other.
The carbonation is moderate. The drinkability to me seems average for the style.
Overall this is a better than average pale ale but is not ground breaking in any way. Worth trying if you see it.
★
529 characters
3.98
/5
rDev
-3.4%
look: 4 | smell: 3.5 | taste: 4 | feel: 4 | overall: 4.5
Served in straight pint glass. Poured a dark golden yellow with about 3/4 of an inch of white head that had decent retention and lacing.
The aroma was crisp and well balanced, a very nice blend of malt and hops. The taste was very similar, crisp, sharp hops built on a solid malt foundation.
The body was full and smooth. Drinkability was excellent, you could easily settle in for an afternoon with this brew. Overall, not an earth-shattering beer, just an extremely well done example of the style. Worth seeking out.
★
523 characters
Bone-A-Fide Pale Ale from Boneyard Beer Company
4.12
out of
5
based on
124
ratings.