Boneyard Beer Company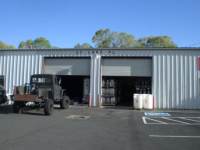 PLACE INFO
Type:
Brewery, Bar
37 NW Lake Pl, Suite B
Bend
,
Oregon
, 97701
United States
(541) 323-2325 |
map
boneyardbeer.com
Notes:
* Tasting room hours *
Monday - Saturday 11am - 6pm
Added by beertunes on 06-27-2010
Reviews: 12 | Ratings: 79
4.3
/5
rDev
+8%
vibe: 4 | quality: 4.5 | service: 4.25 | selection: 4.25
The main focus is on the brewed product. They'll let you have as many samples as you want (within reason), only charging a buck after the first hit. I really like the smaller size, too, especially if one has to get back on the road. I think they made the right decision to skip the stools and tables, but with the level of quality, I hope they open up a place to sit and ponder.
378 characters
3.85
/5
rDev
-3.3%
vibe: 4 | quality: 3.75 | service: 4 | selection: 3.75
This place was pretty disappointing. It looks like the whole purpose is to get you in and out of there as quickly as possible. They have 5 offerings on draft and you can try each for $1. Then you can either buy growlers or leave.
232 characters

4.04
/5
rDev
+1.5%
vibe: 4.25 | quality: 4.25 | service: 4 | selection: 3.75
I visited Boneyard today during my annual pilgrimage to Bend and enjoyed it. I was rather surprised to find that the place is all of about 150 square feet, with no seating. It was rather busy today, the Friday of a long weekend, but service was efficient and friendly so the crowd wasn't a problem.
Interestingly, they don't serve pints here in the tasting room. You can get tastes (I'd say around 2oz) or growler fills -- that's it. Still, the place has a great brewery vibe with a bit of a garage atmosphere. There's Boneyard swag adorning every surface of the taproom, and it's quite charming. They only had 5 beers available, but as always with Boneyard beers the offerings were delicious.
Boneyard is kind of tucked away in a corner of a residential neighborhood, but it's well worth a stop if you're checking out the Bend scene.
842 characters

4.07
/5
rDev
+2.3%
vibe: 4 | quality: 4 | service: 4 | selection: 4.25
The photo tells you all you need to know about vibe and ambience. Located in Bend's historic neighborhood, surrounded by small older homes (use your GPS to find it). I bought a growler of RPM IPA to take back to my hotel and thoroughly enjoyed it. Hope I can go back some day.
279 characters
3
/5
rDev
-24.6%
They only have a small tasting room, which is fine, but it was disappointing to only get one free 1/2oz taste and then have to pay for additional tasters when they only have 3 total beers to offer. We had high hopes given the hype heading in, but were left wanting.
265 characters

4.5
/5
rDev
+13.1%
Stopped in here on our way to Medford, from Portland. Shot out from Eugene, the mountain road takes a while but the views are worth it.
Main reason was to get a coveted growler of Hop Venom; mission accomplished. Great stuff!
This is a very small place , but it offers a great experience, try beers , shop the merch, friendly service, good atmosphere.
Cannot wait for another chance to get out here, bought a taster glass, shirt, and a hat, too.
449 characters

3.06
/5
rDev
-23.1%
vibe: 2.75 | quality: 3.5 | service: 3 | selection: 2.75
This was stop #27 for my wife and I on a 21-day pub-crawl from Michigan to N. CA and OR. We stopped here on a Monday afternoon to enjoy their beers. The taproom is located inside a small partitioned area of this pole barn structure that is located in a mixed residential and light industrial setting. The taproom has more of a feeling of a retail store that it does a taproom, possibly because there is no seating.
With only four beers available it's easy to experience them without having to sit down, and then move on to the next place, which is what we did. The beers were brewed to style, but we had read a lot of hype about this brewery that we just didn't feel was whet we experienced. The beers were good to very good, but none were exceptional. Until they are able to grow and produce more selections, we've experienced all that we can about this brewery.
871 characters
1.81
/5
rDev
-54.5%
vibe: 1 | quality: 3.5 | service: 1 | selection: 1
Ok normally I would rate this place very highly, they have good beer and it's a dive. But, today I drove in from portland and I love their beer so this was my first stop. I got out of the car with my growler in hand. I walked in the front door with my growler In Hand. The cute little girl says hello, and then says we can't fill your gangtic breew growler up. I read the board and they only had 4 brews on tap. None of which I was looking to drink. They didn't say bye or anything else. Sadly, I left very disappointed I can't say this is a normal experience but I was so disappointed that this is the kind of brewery they want to become. I will be back because their beer is good, but I hope they don't become a snobby brewery, with classless service.
753 characters
3.64
/5
rDev
-8.5%
vibe: 3 | quality: 4.75 | service: 3.25 | selection: 3
IMHO, the tasting room really shouldn't be reviewable. Given what it is, I don't understand how it can receive a good rating (though obviously, it has).
The tasting room is a small affair, consisting of a small bar area where you can stand and get sample pours of whatever is on offer. The first pour is complimentary, and after that it's a dollar a taster. You can also buy t-shirts and other schwag here, as well as growlers to go (which is the primary reason people stop by).
Boneyard beer is outstanding of course, especially their IPA's, DIPA's and APA's. On this day they had the RPM and Hop Venom available, as well the Funky Bunch, the Diablo and an habenero infused red ale. I don't think the funky bunch is anything to write home about, but everything else was excellent of course. Still, I'm just not sure why I'd come by the tasting room, unless they happened to have something on offer that you can't find elsewhere (the funky bunch wasn't available for growler fills, I don't believe). Both the RPM and Hop Venom are very easy to find around town, and prices at some of the growler stations in Bend are cheaper than what you'll pay at the brewery.
As for service, the two women working here were very pleasant, but otherwise, service consists of handing them a couple of bucks, and them handing you a taster glass. Shrug.
I'm a huge fan of Boneyard beers, but there's nothing particularly remarkable about the tasting room.
1,442 characters

4.73
/5
rDev
+18.8%
vibe: 5 | quality: 5 | service: 5 | selection: 4
If you ever find yourself within a 100 mile radius of Bend, Oregon you must visit. There are oodles of craft brewers with fine custom ales that sit along side the ourstanding Boneyard Beer Company, a diamond in the rough of a town that should rename itself to Beer, Oregon.
I'm from Oregon; the hardest part of moving to Los Angeles was saying goodbye to Boneyard. I would drive three hours just to get my growler filled, visiting family was a bonus. Boneyard's beer is that good. Boneyard is a relatively new brewery with only three years under their belts, but in that small amount of time they have created fine beers, a following and reputation that can only be described as legendary.
When you arrive at their modest facility, tucked away in a residential area like most of the coolest businesses in Bend, you'll hear route 97 roar across the road while the smell of hops drift toward you in a wash of burnt popcorn. Their tasting room is small and cozy, but it makes the experience that much more unique. A dry eraser board is updated daily with whatever brews are available. The demand for Boneyard is so high that they will frequently run out within a few hours of opening. Locals make the trip regularly to get an extremely cheap growler fill, only $9 for a full. Their specialty brews will set you back $13. One free taste is included with your visit, and for only $1 a pop you should definitely try everything on the board.
My personal favorites are the RPM IPA, Skunkape, and Hop Venom. Just like bigfoot, the Skunkape is elusive so if you get a chance to try it you are a lucky soul indeed.
Boneyard just finished their bottling facility and will be bottling their special brew very soon, so stay tuned for updates on the amazing stuff in a store near you!
1,777 characters

4.38
/5
rDev
+10.1%
vibe: 3.5 | quality: 4.5 | service: 4.5 | selection: 4.5
I concur with the other review here, this is a must-stop in Bend. My experiences at the larger breweries were not nearly as personal or enjoyable as what I saw at Boneyard. While my guests were turned off by the small (and busy!) tasting room, I was thrilled to see a grass-roots brewery turning out a product that drew that many people to stand in a room and drink beer.
The tasting was super inexpensive, I think it was $5 for six pours (correct me if I'm wrong! We had just walked over from Crux, my memory may be hazy). Again, my antsy guests kept me from drinking all six tastings, but I was able to try one of the IPAs i missed at a Thai restaurant in downtown bend, which was fortuitous. My favorite taste of the stop was the Raspberry Tart. Yes, I am a chick, yes, I like fruit beers, and this hit all the right notes. It was crisp, fruity, and yes, a bit tart. Lovely.
As a visitor from the Midwest (Chicago), it was easy to see the adoration these brewers have for Three Floyds, as evidenced by the Dark Lord Day paraphernalia on the walls, the large posters, and even the sticker on the toilet. Once I was able to taste the IPA later in the week, I can see the inspiration is making it into the beer. It was balanced and delicious, lightly citrusy with a slight malt backbone (ala Drednaught, my favorite), and was perfect with the spicy Thai food I was enjoying.
No, there's not a lot of room here, yes it's in an industrial area (another head nod to Three Floyds, no doubt), but it's worth the journey, and is a simple walk from Crux and to downtown to hit a few more stops along your Bend tour.
1,612 characters
4.46
/5
rDev
+12.1%
vibe: 4 | quality: 5 | service: 5 | selection: 3.5
A MUST stop while in Bend.
Atmosphere is basically a small room in the front of an industrial building. But, they have all sorts of funny signs, stickers, and crap on the walls. Plus, you can see quite a bit of 3 Floyd's swag which is cool.
Quality is phenomenal. Boneyard is making kick ass beer, enough said.
Service was great! The guy and girl working the front were super cool. When the keg of RPM blew half way through my growler fill, the guy just gave me the growler for free.
Selection is a bit small. I've heard this is due to the fact that Boneyard is doing so well that they are having trouble keeping up with demand. Still, they had specials on tap that were awesome. Suge Knight Imperial Stout, Rye Bourbon Barrel Aged Diablo Rojo, and Bourbon Barrel Aged Black 13. The regulars were RPM, Diablo and Hop Venom.
Prices are very fair, we sampled 4 beers and got our growler fill (plus the 1/2 filled freebie) for $10.
Boneyard has only been around only for two years, but they are killing it when it comes to beer quality. They might be my favorite brewer in Oregon, giving Hair of the Dog and Deschutes a run for their money.
1,144 characters
Boneyard Beer Company in Bend, OR
3.99
out of
5
based on
3,741
ratings.