London Sour White Wine Barrel
| The Kernel Brewery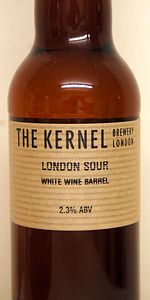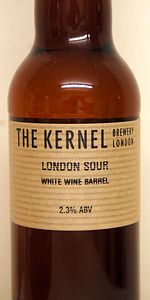 BEER INFO
Brewed by:
The Kernel Brewery
England
,
United Kingdom
thekernelbrewery.com
Style:
Berliner Weissbier
Alcohol by volume (ABV):
2.30%
Availability:
Rotating
Notes / Commercial Description:
Aged in Burgundy Chardonnay barrels for 4 months.
Added by GJ40 on 08-07-2013
HISTOGRAM
Ratings: 12 | Reviews: 6
Reviews by Roman5150:

4.29
/5
rDev
+10.3%
look: 4.25 | smell: 4.5 | taste: 4.25 | feel: 4 | overall: 4.25
On tap at The Kernel in London
Cloudy golden yellow slight white head
Sour saison like smell very strong, white wine and vinegar notes prominent
Taste: very sour, follows the nose with lots of whute wine character, vinegar notes, palate wrecker
Rather light bodied, medium hi carbonation
A damn good sour, no complaints
328 characters
More User Reviews:

3.87
/5
rDev
-0.5%
look: 3 | smell: 4 | taste: 4.25 | feel: 2.75 | overall: 3.75
Thanks to Paccamacca for this extra!
33cl bottle poured into Belgian style tulip / snifter glass.
bottled on date 06.02.13
Appearance: pale yellow bodied beer with a clearish white bubbles that completely dissapear after a few minutes leaving no head on the beer.
Smell: Lactic notes of cheesy and yogert like funk. Sharp white wine and mild vinegar note.
Taste: Thats has got a bite to it! Didnt expect it to be as sour as it is. The nose makes you think it will be a mellow sour, but its not. Fruity sourness and wheat malt. Cheesy and yogert funk. Tannic and vinous with a bit of oak too. Cheesy funk and sourness continue to build well beyond the aftertaste. Alot of flavor for a 2.3% abv beer.
Mouthfeel: light bodied beer with low carbonation. Its flat. Carbonation would really make this beer fantastic.
Overall: The carbonation is the biggest flaw in this beer. Since the beer lacks carbonation it actually resembles a white wine due to the heavy wine barrel influence. With a blind taste test, I think you might even be able to fool a veteran wine snob into thinking this is a wine and not a beer based on flavor and mouthfeel. The cheesy funk helps me keep in perspective that yes this still is beer. Props to the fact that this beer really does have a huge flavor profile while it sits at such a low abv at 2.3%. Probably the lowest abv beer that I have drank without being considered a non alcholic beer, but still tastes beer than a "BMC" light pilsner.
1,475 characters

3.97
/5
rDev
+2.1%
look: 3.5 | smell: 4 | taste: 4 | feel: 4 | overall: 4
330ml bottle, bottled 6/2/13 poured into a juice glass, sadly all I have available in my hotel room
A: Hazy white color with next to no head
S: Citrus, grape must, light malts and a bit of oak from the barrel
T: Quite sour, with citrus & sour grape coming through. Light malt, a bit of vinegar
M: Light but quite crisp from the acidity & a hint of carbonation
O: Quite sour as a word of precaution if you don't like that style. I think it's quite tasty, and packs a lot in for 2.3%. Definitely unique and tasty IMO
514 characters

4
/5
rDev
+2.8%
look: 4 | smell: 4 | taste: 4 | feel: 4 | overall: 4
Sampled from a 12oz bottle after a busy day of walking the English countryside. Yellow and hazy with some bubbles but no head. Fruity aroma with apple, lemon and pears. Flavor is a nice tartness with fruity notes and hints of the white wine barrel. The aroma made me think it was going to be sweet but no so. Very interesting and complex for a 2.3% beer. Very refreshing! I really enjoyed this one.
398 characters

3.5
/5
rDev
-10%
look: 3.5 | smell: 3.5 | taste: 3.5 | feel: 3.5 | overall: 3.5

3.77
/5
rDev
-3.1%
look: 3 | smell: 3.5 | taste: 4 | feel: 4 | overall: 3.75
Proved as fresh as it can be, right at the brewery.
Yellow color with a fluffy head with short retention.
Strong sour aroma of crude leather and horse blanket with notes of lime.
Pleasant tart and funky flavor with notes of lime, white wine and non sweet pineapples. Dry and acid aftertaste.
Light body with low carbonation with the toniest bubbles.
Very nice sour, worth trying. Not aggressive but still very flavorful with predominant lemony drive.
450 characters
3.74
/5
rDev
-3.9%
look: 3.5 | smell: 3.75 | taste: 3.75 | feel: 3.75 | overall: 3.75
Purchased at the Kernel Brewery in London recently; coming in a 330ml brown bottle, bottled on 06/02/2013, BB 06/02/2014, served lightly chilled in a short-stemmed beer goblet. Notes: The back label states "Aged in Burgundy Chardonnay barrels for 4 months"; enjoyed back-to-back with the sister product, London Sour (Red Wine Barrel), as the two products were bottled on the very same date.
A: pours a pale straw colour with very low level of carbonation, leaving lots of large-sized bubbles attached to the side of the glass, and there's no beer head whatsoever.
S: salty-sour comes the oxidised fruitiness with lemony, cider-ish and lightly metallic/rusty notes, while Chardonnay wine's lightly buttery aroma and oakiness come pretty much restrained at the secondary layer. Given a good swirl, the refreshingly tart quality of a sour beer comes to the fore, while the vanilla-ish oakiness plays as an anchor to balance off the tart edge elegantly, presenting an almost wine-ish aroma all in all.
T: flat on the entry, the tart, sour, salty oxidised fruity feel of the sour beer base makes itself felt immediately, as the palate undergoes a short period of rather pungent, vinegary attack; as it settles, the aftertaste presents more barrel-ageing influence, leaving a good wheat-ish backbone and really nice, semi-dairy/cheesy undertones to be enjoyed. Finished decently dry with random notes of sourness to boot. Moderate all in all.
M&O: flat on the mouthfeel, which I suspect is what's meant to be, thin-bodied, decently-flavoured though short-lived on the palate; the white wine barrel-ageing has contributed some positive and enjoyable elements to the original sour beer base, not by a considerable margin, though. I'd be interested in what type of barrel is used and where it is sourced from, which probably would give more clues on the type of influence that can be expected…?
1,901 characters

London Sour White Wine Barrel from The Kernel Brewery
Beer rating:
3.89
out of
5
with
12
ratings