Death Or Glory Black Saison
| Lavery Brewing Company
BA SCORE
83
good
11
Reviews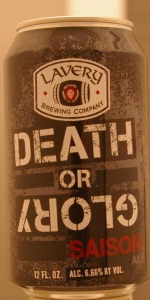 BEER INFO
Brewed by:
Lavery Brewing Company
Pennsylvania
,
United States
laverybrewing.com
Style:
Saison / Farmhouse Ale
Alcohol by volume (ABV):
6.66%
Availability:
Rotating
Notes / Commercial Description:
No notes at this time.
Added by thecheapies on 03-04-2014
Reviews: 11 | Ratings: 41
4.6
/5
rDev
+29.6%
look: 4.5 | smell: 4.5 | taste: 4.5 | feel: 4.5 | overall: 5
12oz. can into oversized wine glass.
Look: It looks like a stout. Black with an impressively large tan head that shrinks but never quite fades away.
Smell: Barnyard. Some roasted malt in the background, but mostly barnyard. A little sour, too.
Taste: Coffee. Roasted malt. A little bit of something acidic, barnyard funk, and mild fruity sweetness up front. Coffee and bitter chocolate flavors dominate in the middle. Bitter finish that blends some earthy hop notes with the roasted flavors.
Feel: The head sticks to the glass, but the body is surprisingly light. Goes down easily and doesn't feel as strong as it is. It would be easy to get into trouble with this one.
Overall: A bit of a departure from the style, but a well executed one. The roasted notes dominate the flavor, but they don't completely overpower the acidity and barnyard funk that defines the saison.
875 characters
3.54
/5
rDev
-0.3%
look: 4.5 | smell: 3 | taste: 3.75 | feel: 3.5 | overall: 3.5
This is a rad beer! It's super black with zero opacity. A beautiful sand color head. It doesn't give off much for aroma, very subtle hints of coffee. It tastes pretty damn good. It has the roasted malt notes of a porter at first then transitions into the spicy taste of a saison and has a wonderful dry finish. I love this beer. If you're in the Erie area stop in to Lavery Brewing Company and give this guy a try. hopefully it's on tap.
437 characters

3.85
/5
rDev
+8.5%
look: 4.5 | smell: 3.75 | taste: 3.75 | feel: 4.25 | overall: 3.75
a: a murky, very dark brown color. almost black. large 3 finger tan rocky head that settles in around 1 finger and holds strong
s: dark fruit, spicy yeast, red grapes, wheat, toffee, black pepper, slight licorice, a hint of brown sugar and molasses. doesn't smell much like a typical saison - the taste should be interesting
t: fig, plum, dark chocolate powder, light coffee note. sweet citrus zest, wheat & grains, loads of clove. sticky brown sugar, and a hint of roasty bitterness at the end
m: medium, high carbonation
o: not at all really what i was expecting with my prior experiences with dark saisons. its malt heavy, with a lot of dark fruit & esters. there is a nice spicy yeast profile in here as well, and the high level of carbonation is helping to give it a saison-like feel, but the richness is what tells you its not quite what you've come to expect with a regular saison. honestly, i like it. style-wise, though,i think its a bit heavy (even for a black saison) and has a touch too much of the dark fruits. other than that, i'd recommend as i actually did enjoy this
1,097 characters

3.49
/5
rDev
-1.7%
look: 3.75 | smell: 3.5 | taste: 3.5 | feel: 3.25 | overall: 3.5
-Saison. 6.66% abv. (cute). can poured into a duvel chalice.
A: A ruby soft cola pour yields a monstrous 4 finger cork colored head with a whipped, foamy texture showing large air pockets along the vessel walls. Good retention, sloppy, splattered showing of lacing with a shiny 8ball black coloring for the body.
S: Sweet toasted cookies with a hint of butterscotch sweetness upfront is quickly consumed by a french oak barrel and musty barnwood scent. Fresh wheat stalks.
T: Sweet start with a short duration period, yields to a low awareness of musty yeastiness. Sweet flashes of the candi sugar mingles with a fresh roasty coffee flair. Dark grape fruitiness, black cherry fruit, with a fresh yeastiness of bread, sponge cake and dry chocolate. Wine laced barrel woodiness finishes with a roasty chocolate character and dry yeastiness, vinous dry grapes on the fade.
M: Light mouthful, slick and smooth texture wit a low carbonation presence.
O: Overall pretty good level of blended complexity when you break things down, decent flavor with a musty finish. Farmhouse, bier de garde yeastiness, dry stout chocolate malts.
1,134 characters

3.79
/5
rDev
+6.8%
look: 3.75 | smell: 4 | taste: 3.75 | feel: 3.5 | overall: 3.75
$ 2.00/12 oz can at 1000 Beers, Erie, PA
Undated can at 45 degrees into tulip
Aroma primarily of roasted malt with a hint of chocolate, lasts the entire glass
Head large (6 cm, aggressive pour), light brown, creamy, diminishing to 3 mm ring and layer
Lacing poor – rare small island of tiny bubbles
Body dark brown/black, opaque
Flavor of roasted malt with some fruity esters; no hops, no alcohol, no diacetyl
Palate medium to full, watery, lively carbonation
Appearance 3.75, Aroma 4, Flavor 3.75, Palate 3.5, Overall 3.75
527 characters
2.68
/5
rDev
-24.5%
look: 3.75 | smell: 2.5 | taste: 2.5 | feel: 3.5 | overall: 2.5
12 oz can poured into a stemmed tulip.
Appearance
Black with 3 fingers of fluffy khaki head.
Nose
Extremely roasty. Charcoal, earth, and cocoa nib.
Taste
Roasted barley, charcoal, earth, and cacao. Dark Belgian candy sugar, black pepper, and root beer.
Mouthfeel
Light bodied, crisp, and well carbonated.
Overall
Tastes like a Porter doused with black pepper. All Saison characteristics are lost...
403 characters
3.98
/5
rDev
+12.1%
look: 4 | smell: 3.5 | taste: 4.25 | feel: 4 | overall: 4
Pours with a tight head and a nearly opaque black/dark dark brown color. Head dissipates kinda quickly, leaving behind firm lacing.
Taste is a nice roasted flavor that quickly turns into a mix of saison dryness and char/dry stout flavor mixed together. Notes of black coffee
Feel is like a little thin, but fits the beer well.
Smell is roasted malts and alcohol, the latter of which I wasn't expecting from 6.66%. Not off-putting, just odd.
The ratings so far are much lower than I expected. If rated as a true saison, I understand. But if rated solely on the beer and not thinking about style, I find it enjoyable. YMMV
632 characters

3.5
/5
rDev
-1.4%
A score from the Friendly Greek Bottle Shop that also required an approved picture before I would be CANfortable Crack!ing it open and now I am ready to go.
From the CAN: "This Black Saison combines the best qualities of Stouts and Saisons."; "English malt, Ameri[CAN] hops, French yeast and Belgian Dark [CAN]di sugar meld together to form fruity, toasty and dark chocolate flavors found only in Death or Glory! Slainte[!]"; "Best served around 45-50 [deg.] F in a classic tulip or large wine glass."
The Crack! unveiled yet another brimful CAN, plus its foaminess led me to decide that I would not be doing an inverted Glug since I was using a tulip glass, as instructed. It was a wise decision on my part since the glass filled with over three fingers of dense, deep-tan/light-brown head that seemed to take forever to settle. Color was, unsurprisingly, Opaque Black (SRM = 44), allowing zero light penetration. Nose was a tropical rain forest of scents, ranging from a concord grapiness to the mustiness of Belgian Saison yeast to a smoky dark chocolatiness from the malts along with a slight sourness, probably from everything trying to work together. Mouthfeel was medium. The taste was primarily of the dark chocolate from the malt, but underlain by the interaction of the yeast and the [CAN]di sugar to produce an interesting sweetness. Finish had an initial sharpness that was undoubtedly the Saison yeast, but it was quickly replaced by the chocolaty smokiness. Phew. It is nice to see them putting experimental beers in CANs, but this was more of a novelty than a cooler filler. YMMV, as always.
1,619 characters
3.44
/5
rDev
-3.1%
A big thanks to the creator of the canquest, woodychandler, for this beer. Poured from a 12 oz. can. Has a cola color with a 1 inch head. Smell is of roasted malts, hops, chocolate. Taste is mild compared to the smell. Roasted malts, a light smokiness, a bit of hops, some vanilla, no a flavor profile I would think of in a Saison. Feels light in the mouth and overall is a pretty good beer.
391 characters

3.5
/5
rDev
-1.4%
look: 3.75 | smell: 3.75 | taste: 3.25 | feel: 3.75 | overall: 3.5
Poured into a Tallgrass Brewing tulip glass. Foamed quite a bit when opening the can and produced a huge three fingers of sand colored head. Body is dark brown. Leaves a nice thick cap. Up front is floral hops followed by nice roasty malts. Candi sugar sweetness in the middle with some spicy saison yeast in the finish. Initial tastes of zesty, sweet saison that transfers into toasted brown ale type malts and roasted stout notes to pure ashtray and second hand smoke. Mouthfeel is prickly and light. An appealing looking/smelling ale with nice mouthfeel. However the ashy aftertaste really brings the drinkability of the beer down. It does smooth out after a while but not enough to let the beer be enjoyable.
Edit: as it warmed more farmhouse notes came out (straw/tartness) which made it more enjoyable.
809 characters

3.63
/5
rDev
+2.3%
look: 4 | smell: 3.5 | taste: 3.75 | feel: 3.5 | overall: 3.5
I'd call the head on this one massive. Slowly reducing, but still showing almost two inches. It's a nice antiquated shade of tan, too, matching the deep brown color of this dark saison. Some light translucency. Laces hesitantly.
Lightly roasty malts border on brown ale intensity. Farmhouse yeast is restrained in the nose with subtle hints of dried fruit and straw. It almost has a bit of acidity. Some Belgian chocolate notes, along with coffee, vanilla, and citrus rind.
A decadent flavor profile for a saison featuring vanilla, coffee, Belgian chocolate, lemon, orange peel, candi sugar, and fresh fig. The yeast is slightly tart, which produces great contrast to what the roasty malts are doing. Slightly nutty, slightly soapy; and offering hay-like funk lite.
Has a richness from the strength and stocky body that I like. A whole lot of carb rattling around in my jaws. Decent.
I don't want to say it's particularly good, because it couls stand to have more assertiveness in the fact that it's a saison. But, I like drinking it, and would consider having another. A unique black saison with conversation to follow.
1,124 characters
Death Or Glory Black Saison from Lavery Brewing Company
3.55
out of
5
based on
41
ratings.