Bearded Farmer 2: "McCullough"
| Westbrook Brewing Co.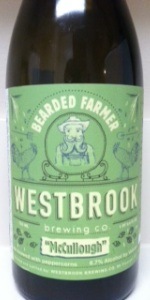 BEER INFO
Brewed by:
Westbrook Brewing Co.
South Carolina
,
United States
westbrookbrewing.com
Style:
Saison / Farmhouse Ale
Alcohol by volume (ABV):
6.70%
Availability:
Limited (brewed once)
Notes / Commercial Description:
McCullough is the second installment in our "Bearded Farmer" series of Saisons. In keeping with the farmhouse brewing tradition, the idea here is to brew each successive beer a little (or a lot) differently than the ones before it. McCullough is brewed with pale, pilsner, and rye malts, spiced with white, green, and pink peppercorns, then fermented with a combination of three strains of wild Brettanomyces yeast.
Added by jsanford on 03-26-2013
This beer is retired; no longer brewed.
Reviews: 12 | Ratings: 49
3.62
/5
rDev
-9.3%
look: 3.5 | smell: 4 | taste: 3.5 | feel: 3.5 | overall: 3.5
Bottled on: 2/27/13
Appearance: Very pale, straw-hued, almost milky body with a tall, expansive, lasting white head.
Smell: Lightly malty on the nose, hinting of pilsener. Spicy, stinging phenols, sourish lemon juice, Granny Smith apples, and a child's whisper of butyric acid.
Taste: Predominately pils malt upfront, lightly sweet, with touches of grain and hay. Burst of lemon, green apple. Light tartness. Floral menthol vibe riding atop a low tone of raunchiness. Faint spiciness, not discernible as being a product of the peppercorns or not. Dry, very airy finish from the high level of suds.
Mouthfeel: Medium-thin body. Highly carbonated, crackly in the mouth.
Overall: It's good, it's refreshing. I would prefer a few tweaks here or there; perhaps a mite less carbonation. Don't get me wrong, I'm not asking for the fat, flabby, languid saison you usually see shuffled out of American breweries doors, but, if each pour and every sip is like dealing with a foaming soap dispenser, then, what good does that do me? Hmm?
1,031 characters
4.23
/5
rDev
+6%
look: 4.25 | smell: 4.25 | taste: 4.25 | feel: 4 | overall: 4.25
On tap into a tulip
Enjoyed at Homegrown Brewhouse
A: bright straw colored yellow, with bright white head, decent retention and lots of lacing.
S: tart citric acidity, funky Brett notes, grassy/herbaceous, peppery spice, barnyard notes grow as it warms in the glass
T: lemon, grass, lots of Brett funk, cracked peppercorn, citrus, really excellent
M/D: medium body with a higher carbonation, drying finish, average drinkability
O: very enjoyable saison, I recommend this one
484 characters
4.31
/5
rDev
+8%
look: 4.25 | smell: 4.5 | taste: 4.25 | feel: 4.25 | overall: 4.25
This one opened violently but wasnt a gusher which was a surprise as a gentle pour yielded a glass filled with foam. Cloudy dull gold body with excellent lace, very think head. Aroma is excellent with lemon custard, yeast, pineapple and pale malts. Flavor follows with more lemon custard, herbal and spicey hops, peppercorn, belgian yeast and clove. Medium body, moderate carbonation and semi dry finish. I really enjoyed this one. Its got good belgian character and is very flavorful.
485 characters

4.07
/5
rDev
+2%
look: 3.5 | smell: 4.5 | taste: 4 | feel: 3.75 | overall: 4
Pours as mostly foam with a huge, white head on a hazy, golden body. Lots of musty, earthy aromas with notes of lemon, pepper, and coriander. Spicy wheat, with some pepper and lightly earthy flavor. Medium body, high carbonation, and a balanced finish. This is actually a really nice beer, the aroma is great and it is very drinkable. However, the carbonation is ridiculous, to the point it is almost impossible to pour, beware as this is a potential bottle bomb.
463 characters

4.06
/5
rDev
+1.8%
look: 4.5 | smell: 4 | taste: 4 | feel: 4.25 | overall: 4
I loved BF 1.0 Hughey, so was happy to find Bearded Farmer 2.0 recently in Chucktown. Poured from a 750ml into a Riedel stemless goblet.
A: This thing had been sitting on my counter for probably 20 minutes prior to popping the cap, and it STILL exploded over like a well shook bottle of Dom after a NASCAR race. Pours light cloudy lemon / apricot yellow with about 2 fists of fine soapy merengue head. Lingers and Clings. #carbonatedlikeamofo , for sure. Looks great though.
N: I got quite a bit of phenol and funk in the nose, but it's a clean brett smell, not really horseblanket funky. I believe they used 3 separate brett strains, and tastes like they may have brett spiked it at bottling. Also some green apple and a bit of pepper aroma.
T: Nice tartness, light sour apple or tart cherry notes over a pils malt foundation. I really expected to pick up more pepper given that it was brewed with peppercorns, but actually this was pretty subdued to me, with just a nice pop of peppercorn pucker on the finish.
MF: Although I would say this is probably slightly overcarbed, the mouthfeel was nice and refreshing in true to form saison style. Very refreshing and begged me to take another sip just as I finished the last. This would be an awesome summer picnic beer.
O: I continue to be impressed by Westbrook and even though McCullough is quite different from Hughey, he's a very nice farmer. This is a great American Saison and well worth searching for.
1,462 characters
4.24
/5
rDev
+6.3%
look: 4 | smell: 4.25 | taste: 4.25 | feel: 4.25 | overall: 4.25
750 ml bottle served in a Westbrook snifter. Bottled /2/27/13. Thanks to rnorgart for the bottle.
A: Pours a hazy creamsicle color with a huge white head forming on the pour. Over-carbed for sure, the head forms a moon-rock like shape and sticks around for a while. Sticky clumps of lace are eventually left down teh glass.
S: Big peppery notes up front with some green apple tartness. Fruity Belgian yeast with some stone fruit sweetness and a little funk. Back end pale malt sweetness.
T: Same as the nose. Fruity with some citrus notes. A little orange pith dryness with some peppery and yeasty notes. Sweet malts with some lemon grass and stone fruit sweetness. Brett funk is definitely present.
M: High carbonation with a clean and yeasty finish. Light bodied. Easy drinking.
O: Definitely enjoyed this one. Fruity and funky with a nice sweetness to it. Would definitely like have again.
897 characters

4
/5
rDev
+0.3%
look: 4 | smell: 4 | taste: 4 | feel: 4 | overall: 4
a - poured a huge four-fingers thick bubbly, rocky and billowy off-white head into a tulip glass that left thick lacing throughout. the body was a hazy, straw golden color.
s - lemons, grass, pepper.
t - very spicy and peppery with hints of lemon, other citrus fruits, grass and candy with just a hint of brett.
m - prickly, medium mouthfeel.
o - another good beer from westbrook, lots going on with this saison.
413 characters
3.73
/5
rDev
-6.5%
look: 4.5 | smell: 4 | taste: 3.5 | feel: 4 | overall: 3.5
750ml. Slightly foggy gold pour, gigantic billowing white head. Looks near but for some reason te standard Belgian pour annoys the crap out of me. Laces like crazy.
Aroma, citrus zest, some hay and horse blanket. Some Italian spice and herbal like hop notes.
Taste, certainly sweeter, up front especially, some candy caramel. Sweet stone fruit and mango. Get more herbally bitter later. Can see some more of the pepper and spice here also. Quite grassy in the finish. Funk seems very in check.
Lighter body and pretty dry, though stickier than I would like with the sweetness. High carb and pretty good drinkability, again hurt by the sweetness.
I seem to be really picky when it comes to this style and this one is just something I would not reach for again. Worth trying though for sure.
793 characters

3.93
/5
rDev
-1.5%
look: 5 | smell: 3.75 | taste: 3.75 | feel: 4.25 | overall: 4
750 mL bottle poured into a tulip at fridge-cellar temperature.
L – Cloudy pale gold color with an enormous and everlasting billowing, frothy, rocky, white head that measured 6 fingers on the initial pour. Awesome retention and crazy chunks of lacing. That's right, chunks of froth are hanging onto the side of the glass.
S – There are a lot of aromas going on here with lemon and very faint green apple esters, grainy pilsner malt, spicy rye and peppery yeast, and faint musty Brettanomyces. I wish there was a little more Brett, but this smells good.
T – It starts off slightly sweet for a bit with lemon and green apple esters. Musty Brett comes in immediately following the sweetness along with spicy rye, grainy malt, and peppery yeast. After the spice and must settles, fruity sweetness returns. There's a bit of a bitter, grassy hop flavor at the very finish, too. Again, not as much Brett as I'd like in a saison, but it's tasty.
F – Medium-bodied with great carbonation, a creamy but effervescent mouthfeel, and a sweet, dry, and very slightly bitter finish. Some sweet fruity esters and malts linger for a bit.
O – This is a pretty nice saison. It doesn't have the complexity that some of the better examples have, but it is tasty and drinkable. It's certainly different than the first Bearded Farmer and, from what I remember, slightly better. I'm looking forward to the next one that Westbrook puts out.
1,444 characters

4.05
/5
rDev
+1.5%
look: 4.75 | smell: 4 | taste: 4 | feel: 4 | overall: 4
A: Poured from a bottle to a pint glass. Had a yellow-brown color and a cloudy, murky consistency. There was an absolutely massive, bright white, fluffy, long-lasting head. Great lacing. A very good looking beer.
S: An interesting aroma for a saison: Somewhat spicy, funky, and a little hoppy.
T: Tasted of peppercorns, a bit of the saison funkiness, hops, malt, a little salt, and a hint of apples. Like the aroma, a different kind of flavor. Sweet, vibrant and tasty.
M: A highly carbonated beer with a smooth finish. Light- to medium-bodied.
O: An easy to like, off the wall saison. Drinkable.
600 characters
4
/5
rDev
+0.3%
look: 4 | smell: 4 | taste: 4 | feel: 4 | overall: 4
Served from bottle into a Westbrook snifter. Poured a hazy golden yellow with a four finger white head that subsided to two fingers extremely slowly. Maintained excellent lacing throughout the glass. The aroma was comprised of sweet malt, earth, funk, spices, and subtle grain. The flavor was of sweet malt, earth, funk, spices, and subtle grain. It had a light feel on the palate with high carbonation. Overall this was a good brew. There was a really nice balance going on here that made it extremely easy to drink and each sip was a little different from the last. The carbonation level was quite high on this one as it tried to liberate itself from the glass. Nicely done saison with a nice touch of funkiness to keep it interesting.
737 characters
4.22
/5
rDev
+5.8%
look: 3.75 | smell: 4.25 | taste: 4.25 | feel: 4.25 | overall: 4.25
Bottled on 2/27/13. Brewed with white, pink, and green peppercorns, fermented with three Brett strains.
Bottle opens with a nice hiss. Pours a cloudy peach-yellow with a very dense and fluffy white head that never really fades, leaving lots of meringue-like suds in the glass. Lovely aromas of grainy malt, Jolly Rancher-like green apple, earthy Brettanomyces, peppercorn spice, and a bit of ripe pear. More crisp green apple in the taste, with a moderately creamy malt profile, more pear, complex peppercorn spices, and dry Brettanomyces. Very bright and flavorful, definitely a pleasure. Mouthfeel is very crisp, with a medium body, ample scrubbing carbonation, and a lovely dry finish. Overall a very impressive Saison, a great follow-up to the excellent "Hughey".
770 characters
Bearded Farmer 2: "McCullough" from Westbrook Brewing Co.
3.99
out of
5
based on
49
ratings.