99 Additions

Carton Brewing Company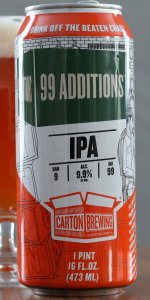 Write a Review
Beer Geek Stats:
| Print Shelf Talker
Style:

ABV:

9.9%

Score:

88

Avg:

4.19

| pDev:

5.97%

Reviews:

7

Ratings:

From:

Avail:

Retired (no longer brewed)

Wants

Gots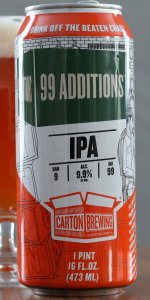 Notes: 99 Additions is our tribute to Sam Calagione and Dogfish Head. Fundamental to what Carton does is timing hop-additions to push aspects of the hop's potential, like herbs in cooking- an approach introduced to us by the "salting method" of the various Dogfish Head Minute beers. With 99 Additions we apply our style and technique to Sam's method. We took an all-barley mash boiled for 99 minutes, with hop additions each minute throughout totaling 9.9kg. The resulting wort is then finished off with 9.9kg of hops added in the cool pool. After amassing 99 barrels of beer in our fermenters, our hop-rocket delivered the final addition of a 99kg dry hop; 33kg of T90 pellets, 33kg of whole-cone and 33kg of lupulin powder. Drink 99 Additions cause a double ain't one.

Harrison8 from Missouri
4.14
/5
rDev
-1.2%
look: 4 | smell: 4.25 | taste: 4 | feel: 4.25 | overall: 4.25
Pours a foggy orange with a finger and a half of khaki foam. Head retention is fair. Aroma is resiny, herbal, floral, grassy hops for a very natural forest aroma. Hops are welcoming and sticky. Flavor profile is more sticky hops, hitting notes of resiny, herbal, grassy and lightly dank and citrus. It's hops through and through, with enough stickiness to coat and linger on the palate for a long while after each sip. There is a touch of a green, hoppy bite at the finish of the flavor profile. Mouth feel is medium in thickness with a light fuzzy feeling. Very middle of the road texture-wise. Overall, big hops in a delightful way. It's sticky and fuzzy, allowing the hop notes to sit on the palate for a long while.
Served in a 15.5oz Spiegalau tulip from a 16oz can.
Mar 04, 2019
Claude-Irishman from New Jersey
4.35
/5
rDev
+3.8%
look: 4.5 | smell: 4.5 | taste: 4.25 | feel: 4.5 | overall: 4.25
Looks burnt orange with nice creamy head. Smells like a fruit bomb wafting out of the glass, buttered biscuit, pineapple,cherries,hay, Taste is fruity and full bodied with a nice malt background.feels well carbonated and delicious,not viscous or oily for a big beer. Overall this tastes like a triple 077XX. Nice job
Jan 09, 2019

JBowenGeorgia from Georgia
4.19
/5
rDev 0%
look: 4.25 | smell: 4 | taste: 4.25 | feel: 4.25 | overall: 4.25
Pours a slightly cloudy orange with a finger of dense white head.
Smells of citrus, grapefruit, lemon, pine.
Taste follows with the grapefruit and pithy lemon leading the way. Resinous pine with some sweet malt peeking through as well.
Medium body, good carb level. Alcohol not present for a 9.9% brew.
Overall a tasty hop forward IPA.
Jan 08, 2019

Act25 from New Jersey
4.18
/5
rDev
-0.2%
look: 4 | smell: 4 | taste: 4.25 | feel: 4.25 | overall: 4.25
If you like to pucker, this is your DIPA.
A) Very orange-red sunset through haze body, with a creamy white cloud head that scuds some lace like a sunset too.
S) Bitter grass and pine.
T) More citrus in the bitter pine and grass, hemp mix.
F) IF you like the pucker, ow. Ow! Wow!
Jan 03, 2019
TheGent from New Jersey
4.42
/5
rDev
+5.5%
look: 4 | smell: 4.5 | taste: 4.5 | feel: 4 | overall: 4.5
Shit. It's 12:15 Eastern when I'm starting my review. Hopefully we go off @lordoftheweins time?!
Cooked a lot today, watched the kids while my wife was out shopping with her sister. Now everyone is in bed. This is my time to write beer reviews. Chilling on the couch here with my father-in-law. I can tell he's skeptical about me burying my face in my phone (as I write this review). Watching Forged in Fire on the History channel. I really like this show. Old man's throwing back the Coors Light. He's big on dark, malt forward lagers as well. Picked up some Einstök Doppelbock and saved him a can of Industrial Arts Winter Landscape, a black lager I know he'll enjoy. He digs the Schwarzbier so I'm pretty sure it'll be a grand slam home run. Scotch, Irish whiskey, bourbon and tequila aplenty, so we've been visiting each of those all night as well.
"Every IPA (pronounced ee-pah) you drink tastes like carbonated orange juice." Well, I've got news for you Old Man...not this one. Onto the review!!!
Carton 99 Additions IPA
https://imgur.com/a/TsZOmMy
https://youtu.be/BxpH8i4HUQg
Appearance: Clear and translucent. Two finger off white head that dissipates to a thin layer. Initial sticky lacing has also disappeared. No visible carbonation.
Smell: This IPA smells really dank and herbal. Sweet leaf. Oregano. Lemony and earthy. Notes of fresh cut grass, lemon juice, unsweetened iced tea. A sweet dark bread aroma. Rye/pumpernickel. No 9.9% ABV whatsoever.
Taste: There are waves of malt sweetness upfront that quickly break to the definitive flavor profile of this beer: Prominent lemon rind bitterness, unsweetened iced tea with green, herbal and pine qualities. Moderately sweetened iced tea as the beer warms. No tropical fruit juice. The only citrus is the lemon rind/pith. Reminds me of some dishes I've had with oregano and parsley flavors.
Mouthfeel: Low carbonation. I don't find the beer unpleasantly syrupy or slick, but it's close. It's an old school IPA. It feels like I'd expect without being off-putting for a palate that's so used to soft and fluffy IPA's. No warmth from the 9.9% ABV on the palate or pipes.
Overall: Plain and simple. Quintessential DIPA. Carton delivers. Big on ABV, but drinks easily. Bitterness. This is a no frills beer, but a world class IPA. You can see right through this beer that had absolutely nothing to hide.
Dec 24, 2018

MacMalt from New Jersey
4.12
/5
rDev
-1.7%
look: 4 | smell: 3.75 | taste: 4.25 | feel: 4.25 | overall: 4.25
Canned on 12/12/2018. Poured into a Carton IPA glass. It pours a pretty, honey-orange color with more than a finger of fluffy, bright white head and spotty lacing. The smell is highly fruity: lemon, tangerine, and bubblegum. It has a somewhat grassy, herbal, medicinal quality. The taste is fresh and hoppy with lemon, grapefruit, light tangerine, and lots of grassy, herbal hops. There is also abundant resinous pine. It's dank as hell and finishes extremely bitter and biting. This ale is a hop lover's delight. Yet, there is also a malty sweetness that emerges as the glass warms a little. This ale has a creamy, fairly viscous mouth feel with moderate carbonation, and the 9.9% ABV provides a lot of punch. This is a big, bold IPA in every respect. And a very fine one! It's the type of adventuresome beer at which Carton excels.
Dec 23, 2018

soze47 from Massachusetts
4.31
/5
rDev
+2.9%
look: 4.25 | smell: 4.5 | taste: 4.25 | feel: 4.25 | overall: 4.25
A very classic east coast ipa I was lucky enough to enjoy at a live taping of steak this beer. Reviewing from a can passed out at the end of the taping. To hear all the 9s and methods thrown around as a tribute to sam and dogfish it seems like it may amount to a fun one-off. But this beer is truly great and has channeled my own personal cravings for the ipas of even ten years ago. Classic hop bite on the nose - grapefruit rind, pine, and floral notes. I forgot that ipas could smell this way rather than like a glass of sunny-d. Love the flavors as they start fruitier with initial biscuit sweetness from the malt. Finishes with a lovely classic resin finish that makes this dangerous at 9.9 abv. I could drink too much of this.
Dec 16, 2018
99 Additions from Carton Brewing Company
Beer rating:
88
out of
100
with
11
ratings