Pumpkin Cream Ale
| Carton Brewing Company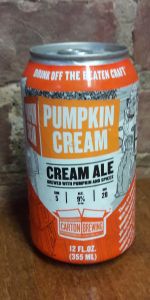 BEER INFO
Brewed by:
Carton Brewing Company
New Jersey
,
United States
cartonbrewing.com
Style:
Cream Ale
Alcohol by volume (ABV):
9.00%
Availability:
Fall
Notes / Commercial Description:
There are pumpkin based flavors that are not pumpkin pie. With this in mind we set out to make an autumnal beer in the pumpkin tradition that wasn't simply a spiced beer using the usual pie-spice blend. Looking to enhance the pumpkin's flavors, we roasted its meat touched with orange oil, pink peppercorns and candied ginger. We added this to the mash of our high gravity cream ale recipe. The result is a rich bodied ale, its creaminess teased by the peppercorns' heat, that presents the flavors of pumpkin while notes of orange zest and a sweet ginger bite tame the vegetal dryness. Drink Pumpkin Cream Ale because there are spices on the shelf behind the nutmeg.
https://www.youtube.com/watch?v=d5WXEVzWxMw&list=UUnN44_ILc3y0x6WbvjLR1Kg
Added by jlenik on 09-22-2012
Reviews: 7 | Ratings: 63

3.62
/5
rDev
-6.9%
look: 3.75 | smell: 3.5 | taste: 3.5 | feel: 4 | overall: 3.75
Pours a very hazy orangey straw color with a finger of head. The nose has some seasonal spices but more coriander than anything. The flavor also has corriander and definitely pepper. The finish is dry.
I'm not sure what I expected but it was definitely not this.
★
263 characters

4.07
/5
rDev
+4.6%
look: 4 | smell: 3.75 | taste: 4.25 | feel: 4.25 | overall: 4
Canned 9/29/2016. Poured into Carton teku glass. It pours a cloudy, golden-orange color with one finger of milk-white head and lacing with good retention. It smells of sweet malt, pumpkin, nutmeg, and a whiff of citrus. It has a nice flavor of pumpkin, nutmeg, ginger, pepper, bready malt, and a touch of hoppy bitterness at the finish. It is really thick, creamy, and chewy with moderate carbonation, and the 9% ABV is noticeable and potent. Overall, this is a really enjoyable and fun Autumn beer. Like Carton's other cream ales, this one is nicely-bodied and has lots of flavor and character. Very well done!
★
617 characters

3.79
/5
rDev
-2.6%
look: 4.5 | smell: 3.5 | taste: 3.75 | feel: 4.25 | overall: 3.75
From notes. Hand pump at Pour House in westmont, NJ.
Pours a very hazy pale golden orange color that's more straw/yellow-hued with a two finger frothy white head that slowly settles into a lasting cap/ring. Surprisingly good retention for high ABV and serving style with streaks of soapy lacing clinging to the glass. Color is much lighter than expected for a pumpkin beer.
Strong lactic cream presence in the aroma along with pumpkin pie filling, very prominent zesty citrus and peppery spice. Lots of coriander and white pepper along with some ginger and sweet orange peel. Pumpkin is in there but pretty subtle with only faint autumnal spice notes. Most of the pumpkin beer character is overpowered by the citrus, pepper and lactose. Smells more like a cream-witbier hybrid.
Full bodied with creamy texture and a crisp, peppery bite that lingers over the lactic creaminess, sweet citrus and pumpkin into a dry finish. Definitely has more of a cream ale flavor profile than a traditional pumpkin beer. Wouldn't have even guessed that pumpkin was in there if I didn't know. Strong lactose sweetness/creaminess followed by pepper, coriander and ginger. Underneath, there's some bready yeast with prominent citrus zest in the finish, especially orange pith. . Little to no autumnal spices that are typically associated with the style. Still, this is a pretty flavorful beer with nice cream ale characteristics. I was just expecting a bit more pumpkin.
★
1,471 characters

4.14
/5
rDev
+6.4%
look: 4 | smell: 3.75 | taste: 4.25 | feel: 4.5 | overall: 4.25
Carton pumpkin - served on tap at Morris Tap and Grill 10/12
Pours a cloudy gold haze. Light foam. Spiced pumpkin nose, hints of nutmeg. Rich pumpkin taste. Pie filling taste. Light spice in the back. Creamy mouthfeel, really tasty. Very flavorful. Solid seasonal. 4 375 425 45 425
★
282 characters
4.15
/5
rDev
+6.7%
look: 4.5 | smell: 3.75 | taste: 4.25 | feel: 4.25 | overall: 4.25
This ain't your daddy's Genesee! Though pro'lly twice the octane, this is a pleasant, smooth drink. Lite on aroma, it laces nicely and has a subtle sweetness and fruity finish. OK, I'm done being homogenous in my review. Short story is, if you want an easy drinking beer that will kick your ass.... Or just appreciate a well-done example of the variety, I say you won't do better.
★
383 characters
3.85
/5
rDev
-1%
look: 3.5 | smell: 3.5 | taste: 4 | feel: 4 | overall: 4
Served on tap in a Palm tulip at the Cloverleaf Tavern.
Carton's Pumpkin Cream Ale pours an opaque tangerine, with almost two fingers of white foam capping the beer. Head retention is pretty good, but lacing is spotty. The nose has a strong candied orange peel aroma, supplemented by a light spiciness. The flavor profile is still orange peel forward, but it's more well balanced. The peppercorns make some more noise here than in the nose, and a light pumpkin note is just appreciable. The body has a bit of sturdiness to it, but it is paired with a lively carbonation that keeps things light. Carton's Pumpkin Cream Ale stands well apart from most traditional pumpkin ales, yet manages to have a tasty, fall inspired flavor.
★
727 characters
3.93
/5
rDev
+1%
look: 4 | smell: 3.5 | taste: 4 | feel: 4.5 | overall: 4
on tap @ coppermine pub.
a: hazy orange, but a vibrant orange. nice eggshell colored head which there wasn't an abundance of.
s: I was expecting spices but instead I got a lot of malt sweetness.
t: much better than I had anticipated, herbal notes along with orange peel upfront. The pumpkin is subdued in this one, some light pumpkin flavors meld well with the sweetness of this beer.
m: smooth and easy drinking cream ale. flavors are never overbearing in the mouth. despite the 9% abv it does not give any hints toward that much alcohol.
o: I was really impressed with this offering. Most pumpkin beers tend to be BIG on the pumpkin AND BIG on the spice, this was neither and I thoroughly enjoyed it. Had no clue of what the ABV was until I came home and researched it. I was expecting around 5% but it's 9!!! I found it to be more of a cream ale than a pumpkin ale but I guess it's still both?
★
912 characters
Pumpkin Cream Ale from Carton Brewing Company
3.89
out of
5
based on
63
ratings.