1327 Pod's ESB

Blue Blood Brewing Company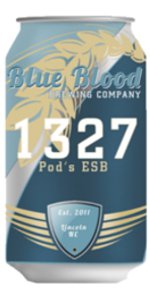 Rate It
Beer Geek Stats
| Print Shelf Talker
Style:

ABV:

5.6%

Score:

76

Avg:

3.11

| pDev:

22.19%

Reviews:

13

Ratings:

From:

Avail:

Retired (no longer brewed)

Wants

Gots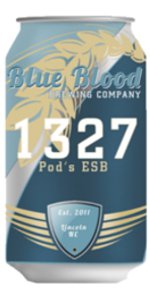 Notes: A well-balanced beer between sweetness from the malt and bitterness from the hops with 5.6% alcohol by volume and 37 IBU. The beer is named after a co-founder of the brewery whose love for the Extra Special Bitter style of beer is why this beer is one of our first releases. The beer is meant to be a little bitter, but not over the top and very drinkable. The hop aroma and flavor do not dominate the beer, but support the malt to create a well balanced beer.
SD-Alefan from South Dakota
1.52
/5
rDev
-51.1%
look: 2.5 | smell: 1.75 | taste: 1 | feel: 2 | overall: 1.75
Poured a slightly hazy yellow with tons of carbonation. A huge and growing, thick and creamy white head that persists.
Aroma is what I feared. I believe we have an infection as their is a sour acidic tartness in the aroma that does not belong in an ESB.
The taste follows the nose. An unpleasant sour followed by a lasting bitter. And that's about it.
Nasty. One of the few beers I've ever drain poured.
Apr 05, 2015

Dave50c from Illinois
3.52
/5
rDev
+13.2%
look: 3.75 | smell: 3.5 | taste: 3.5 | feel: 3.5 | overall: 3.5
Dropped into the brewery over Christmas, this is a very tasty beer. we tried several of their brews just found this ESB was what I really enjoyed. Very balanced not overly Hopped just right for this type. If you have the opportunity I recommend this beer and the brewery!
Jan 25, 2015
BeerWithMike from Nebraska
3.25
/5
rDev
+4.5%
Sampled this evening on 10/22/14. Comes in a 12 ounce can only. Can chilled down to 36 degrees F in my beer cooler and poured in to a tulip glass.
Pours a very hazy orange-yellow in color with a thick foamy/creamy 4-finger head that finally settles down to a good 5mm cap after a good 10 minutes. Lots of lacing is seen with each sip that sticks to the sides of the glass, like a good German brew would. The aroma has a lot going on with some malts, caramel and spice. Even more going on with the taste with some biscuit, grass in the mix and finishes with a bitter aftertaste that lasted a bit too long for my likes. Medium bodied and perfect carbonation though. Overall, not a big fan of the E.S.B. style brews.
Oct 23, 2014
claspada from New Jersey
2.9
/5
rDev
-6.8%
look: 3.75 | smell: 3 | taste: 2.75 | feel: 3 | overall: 2.75
Pours a pale amber color with a small white head that settles quickly leaving some spotty lacing.
Aromas begin with ever-so-slight grassiness and some light crackery and caramel maltiness. Sadly that's pretty much it.
The tastes begin with light crackery and biscuity maltiness with some mild grassy hop flavor and bitterness.
Mouthfeel is light to medium bodied with medium carbonation.
Overall, that's 0-2 so far on this brewery. While this was better than the Pale ale by leaps and bounds this still isn't anywhere close to style and no where near a respectable ESB.
Feb 07, 2013
StonedTrippin from Colorado
2.9
/5
rDev
-6.8%
look: 3 | smell: 3 | taste: 3 | feel: 3 | overall: 2.5
i promise im not discounting this beer because its made by cops. i swear. it really is just lousy, and under no circumstances could anyone who knows anything about beer call this an esb in good faith. the pour is clear pee yellow with an inch of big bubbled and fading whie head. gone in seconds. the nose is pushing offensive. extracty and watery at the same time, nothing to this at all. flavor is the same, generic and watered down, where are the robust english malts? the nutty aftertaste? the smooth thick feel? the fortitude? its all absent from this entirely forgettable brew. a predictably watery mouthfeel, lacking any real substance. carbonation is too light, but its not too bad. funky metallic finish, not for me. had to split this can with two others to choke it down. was bummed when we showed up and the brewery was closed, but one can of this wash makes me glad it was. i should be fair though, ill try again when passing through on a day other than sunday next time. ive had worse beers, but skip it.
Jan 01, 2013

searsclone from Arizona
3.06
/5
rDev
-1.6%
look: 4 | smell: 3 | taste: 3 | feel: 3 | overall: 3
can into a pint glass. tons of carbonation formed a light tan head on top of a very clear honey colored liquid.
smell reminds me of wood glue followed by a bready sweetness.
taste is bitter hops at first followed by some malt. spicy finish.
mouthfeel is light and watery
overall, just average. I won't search for this one
Nov 25, 2012
biboergosum from Canada (AB)
3.11
/5
rDev 0%
look: 4 | smell: 3 | taste: 3 | feel: 3.5 | overall: 3
12oz can, been kicking around for a while now. Apparently, the whole lot that was shipped to our small corner of the world has gone off, and been recalled, which makes makes me all the more curious to ascertain the status of this lonely, singular aluminum vessel.
This beer pours a somewhat hazy, dark golden amber hue, with three fingers of densely creamy off-white head, which leaves a solid paint job of lace around the glass as it very slowly melts away.
It smells of bready and grainy pale malt, a bit of sour red fruitiness, and zippy leafy hops. The taste is sweet bready malt, a nicely balanced orchard fruitiness, and loitering, ne'er do-well leafy, musty, and earthy hops.
The carbonation is pretty well sublimated, the body an adequate medium weight, and smooth, in a field of no contention. It finishes sweet, with a slightly saccharine biscuity maltiness, that lingering fruitiness elevating the cause, and some soft leafy hops rounding things out.
A tasty enough affair, though it is indeed missing that sharp biscuity character that I associate with the style. However, this is hardly enough evidence to dismiss the whole freaking batch, IMHO, as I have had much more egregiously off-putting examples of ESBs that lack one or more of their expected attributes. Beyond my measly control, I reckon.
Jul 20, 2012
cpolking from Iowa
3.73
/5
rDev
+19.9%
look: 3.5 | smell: 3 | taste: 4 | feel: 4 | overall: 4
The beer pours hazy, yet a bright and glowing orange and amber in color. There is a short head of thin off-white foam.
The aroma is somewhat floral, and fruity, with fresh plums and dried apricots.
The taste is malty, light caramel, followed immediately by a floral and grassy bitterness. The overall effect is refreshing, but very flavorful. The taste is far better than the aroma, and this makes a very good English bitter.
Mar 24, 2012

dbossman from Nebraska
3.55
/5
rDev
+14.1%
look: 3.5 | smell: 3.5 | taste: 3.5 | feel: 4 | overall: 3.5
A: Ice-tea colored beer with a thin but steady head; lacing is pretty intricate--though they fade a bit
S: Lots of bready malts--sweet and bready but also some tea leaves, lemon, grass; this smells pretty good and nicely balanced
T: Good hop bitterness up front with a citrus grassy quality; some slightly sweet toasty, bready malts; this is a nice American take on a British beer: balanced, drinkable, good
F: Medium body; sticky; nicely carbonated; good all around mouth feel
O: Again, this is a drinkable slightly hoppy and bready beer
Mar 08, 2012
lawlerj from Nebraska
3.23
/5
rDev
+3.9%
look: 3.5 | smell: 3 | taste: 3.5 | feel: 3 | overall: 3
Poured from a 12 oz. can into a standard pint glass.
A - Pours a translucent light copper color. Slightly off white two finger width head. Appears to have strong carbonation.
S - I'm primarily picking up caramel malt on the nose. Not much else really - a bit of hops, a hint of breadiness. Nothing super complex going on here.
T - Caramel malt up front, sliding back into some moderate hop bitterness. It has a nice bready finish. Not too bad. Again, nothing crazy or complex going on here, but tastes pretty good.
M - On the light side of medium bodied; it felt a little slick. Not quite as crisp as I would have liked.
O - Overall, tastes pretty good and would be a great sessioner, especially for a nice spring day.
Feb 04, 2012
scarfield from Nebraska
3.26
/5
rDev
+4.8%
look: 4 | smell: 3 | taste: 3 | feel: 4 | overall: 3.5
App- High Clarity, Golden/Dark Amber. Pours with a half inch head. Moderate lacing. Nice looking beer.
Smell- Not much to get here in terms of complexity. Malty and bready.
Taste- Very malty, taste is also earthy and a bit stale. Caramel is present, but matched by the hops. A bit of an alcoholic bite as well.
Mouthfeel- A bit of bitterness from the hops lends to the crispness of this beer. Carbonation is perhaps on the high end.
Overall- Very easy to drink, but there is nothing that stands out about this beer. Balanced well, packaged well in a very attractive can, but I hope that better can come from the brewery in the future.
Feb 03, 2012

NStLincoln from Nebraska
3.92
/5
rDev
+26%
look: 3 | smell: 3.5 | taste: 4.5 | feel: 4 | overall: 3.5
Old gold coloring with a slight white head that is gon e in a snap.
Caramel is the star of the nose supported by dark fruit and breadiness. Not getting much in terms of aroma, but the beer might be a little too cold.
Really nicely balance ESB. The caramel and bread is coming through but the hops (including Nebraska grown hops) is big and upfront. The finish is soft and easy making for a sessionable ESB.
Jan 19, 2012

midworken from Nebraska
3.23
/5
rDev
+3.9%
look: 3.5 | smell: 3 | taste: 3.5 | feel: 3 | overall: 3
Poured a very clear amber brown with a head that dissipated rather quickly. Lacing was left until the last drop.
Smell is not overly complex, nutty aromas with a stronger malt presence balanced with a bit of bitterness from the hops aromas. Nothing fancy here.
Taste is a very bright, yet mellow enough to not overdo it. Same that went for the smell goes for the taste here. Maybe I'm too used to Imperials that this beer doesn't wow me. However, it is very sessionable and easy to drink a few. Maybe a great intro beer to non-craft drinkers. Mouthfeel is dry, with the flavors leaving quickly and the beer being "smooth".
This beer is a good representation of the style, but nothing that is out of the norm - little complexity and no stunning features.
I hope this new brewery does well, it's the second to open in this city and will have a pretty good competition with the other brewery that has been around for a while. Hopefully Blue Bloods can turn out some great beers, and I look forward to trying other offerings.
Jan 17, 2012
1327 Pod's ESB from Blue Blood Brewing Company
Beer rating:
76
out of
100
with
43
ratings