1335 Wicked Snout Ale

Blue Blood Brewing Company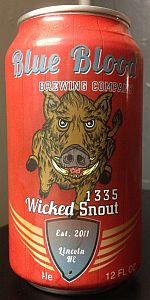 Rate It
Beer Geek Stats
| Print Shelf Talker
Style:

ABV:

6.4%

Score:

82

Avg:

3.44

| pDev:

18.6%

Reviews:

8

Ratings:

From:

Avail:

Retired (no longer brewed)

Wants

Gots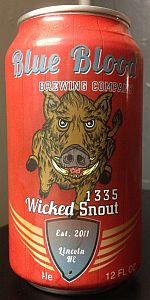 Notes: The latest addition to our lineup. Our Farmhouse Ale is named after a good ol' Nebraska farm boy. His work ethic is our inspiration behind this saision with the yeast doing hard work to produce the flavors you would expect. The namesake of this beer worked hard on his family farm and one of his chores was dealing with the pigs. Those wicked little pigs never seemed to make friends and brought about the name of this beer. With 6.4% ABV this beer will sneak up on you if you are not careful, just like those pigs on the farm.
StonedTrippin from Colorado
3.99
/5
rDev
+16%
look: 3.75 | smell: 4 | taste: 4 | feel: 4 | overall: 4
im stoked to have found a regularly packaged saison from a relatively unknown brewery that is flavored by something more than just runaway estery ale yeast, of whichever persuasion. this beer has great complexity and balance, even in its relative mild overall approach, i really like that! there are some soft hops here, juicy and citrusy and a little bit of that grassy old world thing, reminds me of what i know about french aramis hops, although its impossible to call that as an actual varietal in this beer. the wheat malt is light in color and body, but there is some nice dry flavor from it that i think the yeast really needs. the yeast for me is kind of subtle here, which is a nice change of pace, it certainly makes the beer dry, and it has a light white wine and orchard fruit note, but thats not so far above the other notes as to be monotone, which i think is a common pitfall in the style, especially in the clean ones. great carbonation, this is super refreshing and insanely easy drinking for what it is. one of the better beers i had in here, despite not being all funky and barrel aged, its really well done. a great base saison too for things like single dry hopping and fruit additions, which they should venture into...
May 28, 2017

Brutaltruth from Ohio
3.87
/5
rDev
+12.5%
look: 4 | smell: 3.75 | taste: 4 | feel: 3.75 | overall: 3.75
Enjoyed from the 12 oz can in a snifter via a friend form work---THANKS RANDY!
This saison pours a rustic, cloudy dirty dishwater blonde with a nice head of white foam that settles to a thick ring, thin layer, and excellent lacing. Nose of orange zest, lemons, breaded yeast, and herbal pepper notes. Flavors follow the nose with bread and cracker flavors on the front and sides blending nicely with orange zest in the middle with a touch of honey. Middle to back fades to a lemon zest note with subtle spicy white pepper and light herbal hops. Nice for the style but more along the lines of a Belgian witt. Great carbonation, creamy yet lightly dry. Excellent thirst quencher.
Cheers
Feb 11, 2016
hoptheology from South Dakota
3.65
/5
rDev
+6.1%
look: 4.25 | smell: 3.5 | taste: 3.5 | feel: 4 | overall: 3.75
This piggy was served in a nonic pint.
Appearance : Hazy peach glow with some iced tea hues towards the middle. Some sediment floating as well. The head is large and 3 fingers tall, receding to a finger leaving lace behind in wisps.
Smell : Fresh roses are met with a slight antiseptic scotch tape odor with some tin. Beyond that there's some citrus fruit rinds, crystal kilned malts, and slight hop oil.
Taste : Orange pith and peel out front, with baked biscuit malts, some herbal flavors, and finally a squeeze of hop oil and light antiseptic.
Feel : Light and crisp, refreshing, with a light creaminess bumping it up in body a bit. Moderate carbonation.
Overall : This was an okay farmhouse ale. I've definitely had worse, and I've definitely had better. I'd say this falls on the better side of the fulcrum for saisons. Try it if you're curious.
Oct 23, 2015
BeerWithMike from Nebraska
3.03
/5
rDev
-11.9%
look: 3.5 | smell: 3 | taste: 3 | feel: 3 | overall: 3
Sampled this past Saturday evening on 8/8/15. Comes in a 12 ounce can. Can chilled down to 36 degrees F in my beer cooler and poured in to a "BUD LIGHT - OMAHA" pint glass.
Brew pours a hazy straw-yellow in color with a good 1 to 2-finger foamy/creamy white head. Some light spotty lacing was seen when sipped. The aroma is of lemon and citrus zest with some 'wet hay' type of smell also for the most part. Pretty much is the same of most other types of this brew style. Taste is the same as the aroma with some floral hops in the mix. Typical slightly bitter finish from the hops, again like most of this type of brews. Medium-bodied with good carbonation. Overall, not a big fan of this style of brew.
Aug 10, 2015
zeff80 from Missouri
3.51
/5
rDev
+2%
look: 3.25 | smell: 3.5 | taste: 3.5 | feel: 3.75 | overall: 3.5
12oz can. Poured out a hazy, golden color with a small, fizzy head of foam. It smelled of yeast, pepper and caramel. Mildly peppery and spicy with some sweet caramel.
Jul 21, 2013

OregonGrown7 from Oregon
3.68
/5
rDev
+7%
look: 3.25 | smell: 3.25 | taste: 4 | feel: 3.5 | overall: 3.75
Poured can into stemmed glass. Big head formed that dissipates fairly quickly to a lacy film on top. Nice hazy golden color. Nose has a bit of funky spice to it, not bad. Taste is nice, rounded citrus, a little yeast, spices definately come through, definately coriander, which I like. Mouthfeel is light, but not too light. Overall, nice and refreshing. Don't pass it up it's definately worth a try, it's not gonna knock your socks off, but its good beer.
May 04, 2013
LambicPentameter from Nebraska
3.62
/5
rDev
+5.2%
look: 3 | smell: 3.5 | taste: 3.75 | feel: 3.5 | overall: 3.75
Drank straight from the can. No discernible 'enjoy by' or 'canned on' date. Also, while currently listed as an American Pale Ale on Beer Advocate, this is most certainly a farmhouse ale.
Appearance - As noted, I drank this directly from the can, so I gave appearance the average. It seemed unfair to rate it high or low.
Smell - Some notes of lemon, citrus zest, a bit of subtle, hay-like funk as well. Hard to get a good read on smell through the mouth of the can.
Taste - Really light and refreshing, but with a yeasty backbone with notes of sourdough. The citrus zest comes through, with perhaps some notes of coriander and other light spices. I'm honestly surprised it's 6.4% ABV.
Mouthfeel - Creamy and delicate, with pleasant carbonation. A little bit of roundness from the wheat.
Overall a highly drinkable and affordable beer. This is the second saison I've had out of a can (Sneak Attack by 21st Amendment being the first), and it's quite tasty. This one may have to become my go-to summer beer based on how inexpensive it is.
Apr 22, 2013

Bear1964 from Nebraska
2.71
/5
rDev
-21.2%
look: 3 | smell: 2.5 | taste: 2.75 | feel: 2.75 | overall: 2.75
Poured from a 12 oz can into a pint glass, even with a good tilt a huge large bubbled head grew to almost 4 fingers. The appearance was a golden haze but almost cloudy, soon the head completely went away and left spotty lace at best. The aroma was acidic with a faint citric whiff, nothing much after that. Taste held a metallic herbal tang, some grapefruit bitter came through at the end. Somewhat dry, thin mouthfeel which left an empty spot where switching to a different beer would be ok...not a fan of this offering. Overall living in Lincoln I'm pleased with the 2 other brews from Blue Blood and will try more as I find them, the can has a great picture of a boar...but not much else.
Mar 18, 2013
1335 Wicked Snout Ale from Blue Blood Brewing Company
Beer rating:
82
out of
100
with
26
ratings