12°
| Selkirk Abbey Brewing Company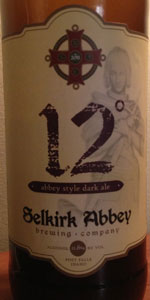 BEER INFO
Brewed by:
Selkirk Abbey Brewing Company
Idaho
,
United States
selkirkabbey.com
Style:
Belgian Strong Dark Ale
Alcohol by volume (ABV):
11.80%
Availability:
Winter
Notes / Commercial Description:
The 2015 release of our abbey strong dark is very exciting for us. Like its cousin the abbey style dubbel, the origins of the abbey dark strong are lost in the distant past. It is likely that a beer was brewed for the Lenten season that was richer and more nourishing than the table beers normally brewed by the monks of the middle ages. The prevailing theory is that such a beer is the predecessor of the modern abbey style dubbel and dark strong. Selkirk Abbey's 12° is our take on this modern classic. Eminently rich and inviting, 12° has resinous fruit notes, with deep toffee and caramel. The layers of seemingly endless malt yield ever so slightly to allow hints of Tabaco and leather in the finish.
Added by JohnGalt1 on 12-18-2013
Reviews: 6 | Ratings: 14
Reviews by SadMachine:
More User Reviews:
3.97
/5
rDev
-1.2%
look: 3.5 | smell: 4 | taste: 4 | feel: 4 | overall: 4
RB
22oz bottle ... Picked up today at Homebrew Stuff on Chinden... Paid $12ish... Pours with a deep walnut.... not much light escaping... short lasting dark brown head leaves little in the way of lacing.
Nose is complex and thick... tons of different malt stuff happening, rich caramel, raisin, dark cherry... EtOH comes off a more perfumy and isn't really solventy hot... some peppery phenolic notes.... Pretty good.
Flavor mirrors the aromas but with a big punch of cherry essence... The dark maltiness never is really sweet, just rich and is magnified by the fruity esters.
Pretty thick body for the style... could use more carbonation IMO... surprisingly drinkable... I would personally like it to be a little drier.
Well done... I will buy this one again... I think I liked the 10° more.
3.5/4/4/4/4
★
811 characters

4.24
/5
rDev
+5.5%
look: 4 | smell: 4.25 | taste: 4.25 | feel: 4.25 | overall: 4.25
Poured into a Gulden Draak tulip. Pours a dark, slightly hazy mahogany brown with ruby notes. Half finger light khaki head with good retention and lacing. Aroma of caramel malt, raisins, dates, plum, hints of cherry; classic Belgian dark ale profile. Flavor follows with rich caramel malt, dark dried fruit dominated by raisins, plums, and cherries with a finish of concentrated dried dark fruit elixer with a gently tart cherry element. Nice mouth feel with medium body and light creaminess. A very nicely made Belgian dark ale, very full flavored, but quite different than the classics from Belgium, a bit more sweet/tart and a little more estery, both welcome. The more estery fruit seems to reflect the house yeast which is not as bright here because of the deeper flavors, but adds some interest. I'm a big fan of this brewery and glad that their ales are available in my area now, although this is a bottle I got last year in Eastern Washington. As typical for the style, has aged gracefully. I look forward to another bottle of this one.
★
1,044 characters
4.19
/5
rDev
+4.2%
look: 4.25 | smell: 4 | taste: 4.25 | feel: 4.25 | overall: 4.25
Poured from a bronze wax topped bottle, #1426 of 2000, into a snifter, the beer is a vibrant, dark, ruby-tinted mahogany coloring, with a solid foamy halo of tan head, and a slow roll of small bubbled carbonation legs up the sides of the glass. Aromas of rich toffee, apple, date, fig, some toasted caramel, earthy highlights, and a bready backbone. This smells rich. Flavors are heavily rich and boozy forward, with a blast of old world fruit, including plum, date, fig, and raisin, with a second layer of sweet consisting of rich toffee and burnt caramel, sugary and heavily roasted. Going further down, there are earthy undertones and a solid bready backbone. There are even accents of molasses and brown sugar throughout. Very massive, smooth, chewy body, which does well to support all of these intensely sweet and rich characteristics, as well as the increased ABV. The aftertaste is heavily roasted and richly sweet, with a dominant blend of the old world fruits. Smooth, slow, slick finish, with a solid cloying linger of all the malty and sweet characteristics. This is a beast! Damn tasty, and very nuanced for something of its size.
★
1,143 characters
4
/5
rDev
-0.5%
Bottle opened on 7.6.14
Dark fruits, raisins, grainy. Nice Belgian dark with a touch of heat in the finish.
109 characters

4.1
/5
rDev
+2%
look: 4 | smell: 4 | taste: 4.25 | feel: 4 | overall: 4
Poured from 22oz bomber into a Selkirk Abbey tulip.
Appearance: dark, ruddy copper hue with no haze and a pretty light effervescence. Head is two fingers of frothy tan foam with good retention and a nice lace. I like it.
Smell: very sweet and malty with lots of rich, dark fruit character. I get cherry, plum, raisin and tobacco; the quadrifecta of delicious quads (and BSDAs, if that's what we're calling it). Great.
Taste: the flavor is much like the aroma, with the same dark fruit character, but the sweetness is counteracted by a little astringent character which serves to dry out the experience. There's also a little dankness and bitterness which really round everything out. I'm a big fan of this big brew.
Mouthfeel: medium-rich body with a bit of a syrupy texture and a good carbonation and creaminess. I like it.
Overall: a greatly tasty Belgian, brewed in North Idaho of all places. While this isn't exactly "quaffable", it is tasty and definitely well worth trying.
★
984 characters
3.38
/5
rDev
-15.9%
look: 3.25 | smell: 3.25 | taste: 3.5 | feel: 3.5 | overall: 3.25
On tap at Bier:Thirty. I would have guessed quad based on the taste and smell. Lots of dried fruit presence in this one, perhaps too much. A little on the sweet side for my taste. Dark brown / ruby body, small head disappears quickly. One nice thing is the high ABV hides nicely in the mix.
★
290 characters
4.17
/5
rDev
+3.7%
look: 4.5 | smell: 3.75 | taste: 4.25 | feel: 4 | overall: 4.5
4.69
/5
rDev
+16.7%
look: 3.75 | smell: 4.75 | taste: 5 | feel: 4.25 | overall: 4.5
I've had hundreds of beers though I rarely review them; I'm a busy little Cicerone. This one, though, is my favorite beer... and I don't hesitate in saying that. It has some wonderful and unique nuances.
A dark, slightly rusty brown pour with a short, lasting head. Explosive complex aroma with sweet caramel malt, Belgian yeast, esters, dark fruits and... the best nuance... tobacco. Very aromatic
The palate follows aroma directly, tobacco coming through right before that glorious, long, and complex finish... but adding raw leather. The leather and tobacco qualities I have yet to experience to this degree in a quad. Fantastic. Must ask Steve for the specialty malts used here.
Mouthfeel is good, thick but not syrupy and it clings to the palate without being overbearing.
A must-try in my book. $11 at Total Wine, 22oz bomber. Produced in odd years, bottled October 2013... I look forward to trying this again with a fresh batch at the end of 2015.
★
958 characters
12° from Selkirk Abbey Brewing Company
4.02
out of
5
based on
14
ratings.