Coconut Mudbank Milk Stout

Neshaminy Creek Brewing Company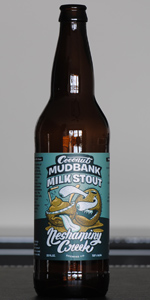 Write a Review
Beer Geek Stats:
| Print Shelf Talker
Style:

ABV:

7.2%

Score:

Avg:

3.89

| pDev: 9.25%

Reviews:

15

Ratings:

From:

Avail:

Rotating

Wants

Gots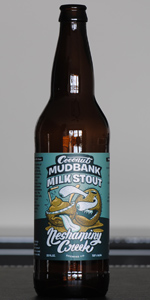 Notes: A limited release version of our Winter stout offering brewed with two row barley, Munich, and Caramel malts, as well as coconut cream and milk added to the kettle; all ran through a hop back filled with 60 pounds of toasted shredded coconut before it hits the fermenter. The combination of bready malt, chocolate, coffee, and sweetness from the coconut and lactose give this beer a complexity beyond the ordinary. 7.2% ABV and only available in odd numbered years.
Reviews: 15 | Ratings: 98

3.86
/5
rDev
-0.8%
look: 4 | smell: 3.5 | taste: 4 | feel: 3.75 | overall: 4
3/5....pours deep dark chocolately brown, with off white foamy head. Creamy to the eye. Light chocolate nose, some coconut. Faint. Sweet milky flavorful stout. Lactose based sweetness with a mild coffee ground bitter to close. Very smooth. Fast finish. Really tasty stout.
272 characters
2.86
/5
rDev
-26.5%
look: 4 | smell: 3 | taste: 2.75 | feel: 2.5 | overall: 2.75
**
03/17/2014
Aroma Is chocolate, Toasted malt. Taste: chocolaty, very sweet. Very similar to neshaminy choc milk stout. Appearance Is dark black, off white head. Thin texture. Low carbonation. Surprised and disappointed not to taste or smell any coconut."
**
259 characters
4.32
/5
rDev
+11.1%
look: 4 | smell: 3.75 | taste: 4.5 | feel: 4.25 | overall: 4.75
This is arguably the most coconut forward beer I have had. Taste is coconut-milk and dried flakes, dark chocolate and sweet chocolate. I thought I was drinking a liquid Almond Joy. Really a great dessert beer if you are into coconuts. I will look to pick this up again.
273 characters
4.24
/5
rDev
+9%
look: 4 | smell: 5 | taste: 4 | feel: 4 | overall: 4
A: Pours a nearly opaque coffee color with a frothy light brown head that settles to a thin veil across the top. Some lacing and no visible carbonation.
S: Subtle nose at first followed by a burst of natural and toasted coconut as the beer warms. The nose really opens with hints of cream and almond joy.
T: Nice base milk stout with faint notes of vanilla and chocolate. Slight roast and distant hop bitterness. Milky in the middle with a long, semi dry finish highlighted by toasted coconut.
M: Slick and milky. Smooth with moderate carbonation. Medium body reminiscent of 1% milk.
D: Highly drinkable. A beer with coconut in the name that actually embodies the fruit in smell and flavor. What a novel concept! I haven't tried the base stout, and this is my first non-IPA from these guys. This is a smooth milk stout with the quintessential silky body that achieves natural notes of coconut on the nose and palate. Very nice.
942 characters
4.38
/5
rDev
+12.6%
look: 4.25 | smell: 4.25 | taste: 4.5 | feel: 4.5 | overall: 4.25
Dark brown in color with deep amber hues on the edges of the glass. Poured with a thick, dense, dark beige foam that slowly reduced to a thick cap that left sheets of sugary, sticky lacings on the glass. Grainy, earthy, dark roasted malt aromas with dark molasses, and sweet cream and chocolate notes. Full bodied with a velvety smooth feel up front, a sticky sweet feel through the middle and a semi-dry finish. Dark roasted malt and dark chocolate up front followed by a sweet creamy maltiness. Light bitter hopiness through the middle with a continual underlying sweet creaminess. Hop bitterness peaks near end followed by sweet chocolate. Finished dryly with earthy, roasted malt and sweet creamy aftertaste. Although there was no definitive coconut aroma or flavor that I could detect, the coconut adds smoothness, creaminess and sweetness which made this pretty amazing.
876 characters

4.1
/5
rDev
+5.4%
look: 4 | smell: 4 | taste: 4.25 | feel: 4 | overall: 4
A deep brown/ black in color with 2 fingers of tan head, slow dissipation and creamy lacing left behind. Smells of roasted malts, sweet chocolate, molasses.. Not getting much coconut on the nose. Flavor wise, this beer is fantastic. Sweet milk chocolate up front with a nice roasted grain profile that builds up bitterness to even out the subtle coconut finish. This reminds me a lot of the coconut milk stout I made (toasted flakes and coconut milk).. It is very subtle in that coconut flavor but still enough trace of it to add flavor.
Medium in body with moderate carbonation. A lovely beer again, by neshaminy creek.
620 characters
4.54
/5
rDev
+16.7%
look: 5 | smell: 3.5 | taste: 5 | feel: 4 | overall: 5
Pours a cloudy-opaque jet black with huge tan head that disappates fairly quickly with a sticky lacing. Aroma is chocolate, roasted malt with pineapple resemblance. Apparently the coconut aromas do not survive the fermentation process since, in my experience, coconut beers at best have a subtle fragrance of coconut unless there is flavoring added.
The taste of Coconut Mudbank Milkstout is exceptionally smooth, lusciously sweet and chocolatey rich with a nutty finish. There are some fruit esters in the background adding to the complexity. Compared the the regular Mudbank Milk Stout, this coconut added version is not hugely different, but somewhat smoother. Given a choice I would go for the Coconut version, but considering the limited production, I will keep drinking the regular Mudbank Milk Stout quite happily.
823 characters

4.04
/5
rDev
+3.9%
look: 4 | smell: 4.25 | taste: 4 | feel: 3.75 | overall: 4
Had on tap. Lighter black body with some dark brown bubbles. Big sweet coconut and milk chocolate in the nose. Taste brings in some sweet chocolate muffin and vanilla cream to go with the coconut and milk chocolate, with the lactose bonded well on the finish. Body is a little thin but has decent creaminess. Overall a well flavored and easy drinking milk stout.
367 characters

3.76
/5
rDev
-3.3%
look: 3.75 | smell: 4 | taste: 3.75 | feel: 3.25 | overall: 3.75
Tasted this offering side-by-side with the Imperial Chocolate Mudbank Milk Stout (ICMMS), so it is impossible not to compare the two to one another.
The appearance is the same as the ICMMS with a dark brown almost black color and a finger of beige head. The nose has the definite essence of coconut as well as the taste. I am impressed by the truth in advertising on the coconut, but I must confess that I am not sure if coconut is the best flavor to blend into a stout.
On the negative side, the body is definitely thinner than the ICMMS; on the positive end, the alcohol burn that pokes its way through the ICMMS is not present here.
Definitely a step down from the ICMMS, but still a solid beer.
701 characters
3.69
/5
rDev
-5.1%
look: 3.75 | smell: 3.5 | taste: 3.75 | feel: 3.75 | overall: 3.75
22oz. bottle, extra in a trade from dnb128. Poured into a Jolly Roger snifter
A: Pours a very dark, rich-looking brown with a slight mocha tint. Big creamy head, leaves a consistent thin layer throughout, and nice dark beige lacing.
S: warm, lactic, sweet bready malts, milk chocolate, lacking coconut on the nose
T/M: cocoa, toffee, coconut! solid hops for balance. incredibly creamy & smooth
O: Full disclosure: I'm a sucker for basically any beer brewed with coconut. That said, I wish this had even more of a coconut presence (despite being brewed with both coconut cream & shredded coconut)!
600 characters

4.12
/5
rDev
+5.9%
look: 4 | smell: 3.75 | taste: 4.25 | feel: 4.25 | overall: 4.25
Poured from a bomber...
Looks great. 1/2" head that settles to a nice foam ring around the inside of the glass.
Smells a bit sweet. Almost a creamy/ dairy scent.
Tastes sweet with a bitter finnish. The sweetness is very mellow, finishes out much more bitter. Tastes like toasted malts. The coconut flavor is not very obvious. Despite the lack of coconut taste defined by its name, it is still a great milk stout.
Very full bodied beer.
441 characters
4.03
/5
rDev
+3.6%
look: 4.25 | smell: 3.75 | taste: 4.25 | feel: 3.75 | overall: 4
A: Deep brown/nearly black, 1 finger of tan creamy head that quickly dissapates
S: Roasted malt upfront, light sweetness and some toasted coconut, hint of chocolate
T: Roasted maltiness nicely balanced with chocolate and lactose sweetness upfront. Yields to toasted coconut and finally a coffee bitterness balanced with coconut.
M: Creamy and slightly thick.
This stout is put together well, a good value for the price. Well balance but might benefit from a hint more coconut in the nose and on the tongue (at times it almost seems to not be present). More coconut came out in the smell and taste as it warmed. Would definitely recommend drinking this one fresh if you want more coconut.
692 characters

3.87
/5
rDev
-0.5%
look: 4 | smell: 3.75 | taste: 4 | feel: 3.75 | overall: 3.75
Served on tap in a fluted glass
Appearance – Served a deep brown color bordering on black. Upon serving there was a one finger off white/cream head on the brew that had a good level of retention, slowly fading to leave a nice level of lace on the sides of the glass.
Smell- The aroma is of a sweet milk chocolate mixed with a moderate amount of coconut. Mixed with these aromas are some nice notes of vanilla and a bit of a coffee smell.
Taste – The flavor begins with a nice roasted malt base with hints of milk chocolate. The chocolate grows stronger and seems to pick up coconut milk and vanilla taste as the flavor advances. All the while a light coffee taste lingers in with the other flavors with it getting slightly stronger at the end. While the coffee brings a bit of bitterness at the end, the coconut counters and brings with it a nice bit of sweetness as it surges at the end of the taste, leaving a nice roasted and moderately sweet milk chocolate coconut bar flavor to linger on the tongue.
Mouthfeel- The body of the beer was on the slightly thicker side with a carbonation level that was rather average overall. The thicker body was quite nice for the roasted and darker flavors of the brew, giving it a slightly creamier texture on the whole.
Overall – A rather tasty milk stout with just enough coconut flavor to give it a little something different in the flavor without being too overpowering.
1,424 characters

4.25
/5
rDev
+9.3%
look: 4.25 | smell: 4.25 | taste: 4.25 | feel: 4.25 | overall: 4.25
I didn't want to bite on this one, not since that episode with Kona's coconut porter or whatever but since varity was slim at the Blue Dog I gave this beer a whirl. I'm glad I did beacause it was pretty good.
The coconut is not overpowering, you can barely smell it in the nose. And in the taste it compliments this fine stout as opposed to dominating.
It's very appealing in it's on right with a tight off white head on top of a black colored beer.
Aroma has sutle roastedness and hints of molasses or maybe licorise.
Taste finds a rich roasted malt with coconut that has amore toasted taste. You really don't notice the coconut until almost the swallow. Taste pretty sweet too.
Feels pretty smooth flowing pass the palate with no note problems.
I enjoyed this beer it was fun and taste really good.
800 characters
4.05
/5
rDev
+4.1%
look: 4 | smell: 4 | taste: 4 | feel: 4.5 | overall: 4
22oz bottle poured into a snifter.
Appearance
Nearly black with a half finger of tan head that dissipates quickly. There's a little light penetration around the edges.
Nose
Milk chocolate, coconut milk, roasted barley, licorice and medium roast coffee.
Taste
Coconut milk (that's somewhat tangy) and lactose sweetness. Roasted barley, milk chocolate and licorice. Lightly roast coffee with heavy cream and sugar. Heavier roasted notes trickle in towards the finish.
Mouthfeel
Medium bodied, creamy and smooth.
Overall
This is incredibly smooth and balanced. The coconut is kept fairly light, but reminds you that it's a Milk stout at heart.
645 characters
Coconut Mudbank Milk Stout from Neshaminy Creek Brewing Company
Beer rating:
87
out of
100
with
98
ratings