Three Tree American Rye
| Badger Hill Brewing Company
BA SCORE
83
good
11
Reviews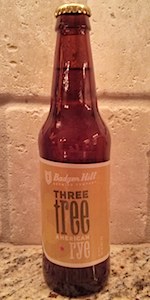 BEER INFO
Brewed by:
Badger Hill Brewing Company
Minnesota
,
United States
badgerhillbrewing.com
Style:
Rye Beer
Alcohol by volume (ABV):
5.20%
Availability:
Year-round
Notes / Commercial Description:
No notes at this time.
Added by garymuchow on 09-06-2012
This beer is retired; no longer brewed.
Reviews: 11 | Ratings: 35

3.71
/5
rDev
+3.3%
look: 4 | smell: 3.5 | taste: 3.75 | feel: 3.25 | overall: 4
Amber pour with a sticky fluffy white foam laces profusely. Smells dank, grain, bready, yeasty. Interesting but unexpected. Taste opens with a hit of rye, earthy, a bit spicy. Grain and bready characteristics appear. Rye and hop interplay is nice. Again, yeast. Firm carbonation. Mouthfeel is a bit light and watery but that's being picky. Clean finish, lightly bitter, easy to drink. Overall enjoyable.
403 characters

4.94
/5
rDev
+37.6%
look: 4.75 | smell: 5 | taste: 5 | feel: 4.5 | overall: 5
Loved this one. I was impressed with the smell and even more with the taste, even with the aroma one mouthful carried. I don't think I've had a rye before, but if they're this good I'll become a devotee. I'm especially pleased to see it's local to me.
251 characters

4
/5
rDev
+11.4%
look: 4 | smell: 4 | taste: 4 | feel: 4 | overall: 4
Badger Hill Three Tree American Rye, Proudly Brewed in Minnesota, Brewed and Bottled by Badger Hill Brewing LLC, Minnetonka, MN.
What's In This Brew? 7 Various Malts, including Munich, Pale, and Caramel. American Hops, Plato: 12, IBU: 48. 5.2 % ABV.
So, let's open up and find out what's in it.
Clouded dark amber coloring, short, slim off-white head.
Aroma: spicy rye malt and hops are on top. Some fruity esters are in here, too, but it's mainly a nice balance of hops and malt.
Taste: Oh, this is nice one! Good and wet, rye malt drives it all with hops showcased in the forefront. Medium, but memorable bitterness. Medium bodied. Fairly lean, with loaded with character. Good drinking, an excellent nominee for a session or three.
Tasty, tasty stuff, perfectly balanced. Yeah, I can sit down with a few of these, nice work, Badger Hill.
848 characters
3.56
/5
rDev
-0.8%
look: 4 | smell: 3 | taste: 4 | feel: 3 | overall: 3.5
A- Orange-golden with a one finger white head. Good retention and just a week bit of lacing. Perfectly clear.
S- The rye was a bit underwhelming to the nose. A faint bit of rye, but bread and grass were prevalent on the nose.
T- Good rye on the tongue though! A bit sweet and bready up front, but the rye takes a good bit of control midtongue with some peppery flavors and some nobletype hop flavors.
M- Body is fairly light, and the carbonation strikes me as kinda fizzy.
O- It's an ok rye beer. Good on the tongue but the body is a bit fizzy and the nose is underwhelming.
574 characters
2.96
/5
rDev
-17.5%
look: 4 | smell: 3 | taste: 3 | feel: 4 | overall: 2
This beer is so bizarre I do not know how to honestly rate it. Seems like a different beer from previous reviewers.
Pours a dark golden color with an attractive two fingers of head that had great retention before settling to a thick cap. Some lacing is left down the glass.
They must of used a Belgian yeast strain in brewing this beer. A lot of clove and yeast phenols are upfront. There is a very faint hint of rye but the yeast phenols are overpowering.
Tastes like a Belgian IPA . A lot of yeast flavors that dominate. Some earthy and floral hops and plenty of bitterness. Tastes very dry and finishes with a lingering spice. Not much for rye as it seems the yeast got away from them when brewing this beer and is dominating.
Good body for a lower ABV beer. Suitably carboanted that gives a beer a pleasant texture.
An interesting beer, and even a pleasantly tasting beer, but I feel I have been mislead with the packaging. Maybe this brewer still has some kinks to work out of their process and lacks consistancy.
1,023 characters
3.88
/5
rDev
+8.1%
look: 4 | smell: 3.5 | taste: 4 | feel: 4 | overall: 4
Picked up a single at Four Firkins and drank it back to back with Summit's one-off rye beer, Old 152. This one's a breadier rye ale, with lighter citrus spice and hops. It brings a nice, drinkable balance of the malts and mild hop to make a rye-forward beer that's complemented by citrus peel notes. Overall it's a good example of rye malt and a more sessionable rye ale.
371 characters

3.97
/5
rDev
+10.6%
look: 3.5 | smell: 4 | taste: 4 | feel: 4 | overall: 4
As a self-appointed rye connoisseur, I needed to try this. Enough that I went to the very first tour the brewery did & tried it. Wasn't impressed. Hoped that they were still working out the kinks, because there just aren't many rye options around Minnesota. Picked up a 12 oz. single, & hope to pick up many more.
Pour is a pale, clear red; zero sediment. Nose leans towards the spicy side of rye, which I prefer. Very spicy as it warms. Cool bread. Not much else. Promising.
Three Tree American Rye puts a rye charge into my tongue. Yeeps! Spiciness that rivals Hunahpu's, without the chile heat. Scalding bitterness adds to the bruising impression. Bit of sweetness in the middle staves off complete palate collapse, pale malts bring things down a notch. Earthiness chews into the end-game, along with a vague note of late fall, under-the-damp-leaves mustiness. Certainly easy to sip.
Have to say, this is a leap ahead of the ho-hum homebrew-clone that I sampled on the tour; the mustiness in that was overpowering & rather foul. A little more cleaning up & this could rival Schell's Emerald Rye. Hops & rye: very good beer.
1,132 characters
3.84
/5
rDev
+7%
look: 3 | smell: 4 | taste: 4 | feel: 3 | overall: 4
Produced a 1 finger beige head. Beer color is translucent gold.
Aroma is of rye bread, citrus hops.
Taste was similar, but with a light sweetness. Their is a medium, lingering bitterness. Mouth feel was a medium, and so was the carbonation.
Nice beer. Not great, but I'd have another.
284 characters

4.12
/5
rDev
+14.8%
look: 4 | smell: 4.5 | taste: 4 | feel: 4 | overall: 4
Appearance: Gold, good head.
Smell: Big toasted rye bread aroma.
Taste: Follows the smell, toasted rye bread. Spicy bread comes in solid and stays around. Solid rye through the finish.
Overall: Picked up a single to try. This beer has a huge amount of rye flavor. I couldn't pick out much for hop flavors, they keep in the background and let the rye shine through. Seems like a nice change-up fall beer, something to go between the porters and big ABV octoberfests.
468 characters
3.8
/5
rDev
+5.8%
look: 3.5 | smell: 3.5 | taste: 4 | feel: 3.5 | overall: 4
Crystal clear golden color with a thin head of white foam on top.
The rye is very evident in the nose. Graham cracker and honey with some pilsner notes with the spiciness of the rye coming to the top.
Definitely shows the rye character in the taste. Pale malt with a light sweetness, earthy and spicy rye with hop bitterness coming on strong in the finish. Has kind of a buttery popcorn taste in the middle. Pretty different overall taste.
Lighter body that is smooth and completely dries out the palate on the finish.
Rye is definitely the focus of this beer, but it has major hop bitterness to boot. A unique overall beer that I could tip a couple back with ease. Nice to try, but I would never seek it out again, especially at $9.49/sixer. Along the lines of Emerald Rye from Schells, but the hop profile is not as good to me in this one. Solid beer though.
864 characters
2.97
/5
rDev
-17.3%
look: 2.5 | smell: 3 | taste: 3 | feel: 3 | overall: 3
This from the website -
A German, a Belgian and an American walk into a bar. This isn't a joke, but a modern tale of Rye Ale making—rooted in a rich family legacy. Our brew resembles a German Roggeinbier, but is eccentric enough to skew Belgian with its seven unique malts. Seven! This crisp beer has been crafted with just the right mix of spicy rye, distinctive malt flavor, and hoppiness making it an all-American home run. Let your palate branch out with this winning ale.
Served on tap at Mt. Fuji.
There is a noticeable rye presence soft in both the aroma and flavor, but apparent enough to add some spiciness and complexity. Hopping with American types is the next most prominent quality. Again, not too excessively done, but balanced reasonably well.
Presented as kinda' a muddy brown with no real head - a smallish thin layer of off-white bubbles.
Body was moderate (but often less than that at times) and carbonated adequately.
Overall is was kinda' unrefined. There was a watery quality at times (in feel and taste) and the flavors didn't seem to blend all that well. Seemed to have a homebrew quality at times. Not that it was distasteful, just more of a work in progress.
1,196 characters
Three Tree American Rye from Badger Hill Brewing Company
3.59
out of
5
based on
35
ratings.