The Black C
| Sloop Brewing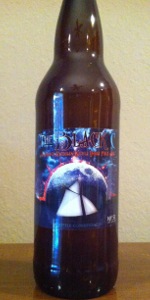 BEER INFO
Brewed by:
Sloop Brewing
New York
,
United States
sloopbrewing.com
Style:
American Black Ale
Alcohol by volume (ABV):
7.50%
Availability:
Year-round
Notes / Commercial Description:
No notes at this time.
Added by flagmantho on 12-01-2012
Reviews: 6 | Ratings: 23
2.94
/5
rDev
-19.9%
look: 3 | smell: 3.25 | taste: 2.75 | feel: 2.75 | overall: 3
22 oz bottle. no date
hard to pour, it's over carbonated, so too much head. almost black in color, with the big foamy off-white head. aroma is mostly earthy, herbal Belgian yeast esters. taste is slightly roasty, with some earthy hop flavor and the yeast. not sure it all goes together that well. medium body, but again too carbonated - okay once it settles down.
373 characters

3.4
/5
rDev
-7.4%
No bottling date that I can see.
A: Pours a very dark brown with an extremely effervescent head. Huge, fluffy and light with a light brown color. Great head retention but very little lacing actually sticks to the glass.
S: Very fruity and floral. Smells of lavender and citrus. Some generic berry and earthiness. Sweet. Very, very light notes of chocolate.
T: Again, very floral and flowery. Tastes like roses. A little citrus in there too. Dark fruits, very belgian yeast-like in the middle with some chalky cocoa. Earthy aftertaste with more belgian yeast character. Light bitterness with grapefruit and flowers in the finish.
M: Medium bodied, smooth.
O: A belgian black IPA huh? It has all of the right flavors but the combination didn't strike me quite right. Kinda felt messy a bit. Maybe overcomplicated is the word? Good balance of flavors but they just don't work together, that's the best way I can describe it.
927 characters
3.74
/5
rDev
+1.9%
look: 4 | smell: 3.75 | taste: 3.75 | feel: 3.5 | overall: 3.75
A: The beer is clear but very dark red in color and has a moderate to high amount of visible carbonation. A careful pour resulted in a four finger high light tan colored head that took a long time to die down and consistently left a half finger high head covering the surface.
S: Light to moderate aromas of Belgian yeast are present in the nose.
T: The taste has flavors of Belgian yeast and roasted malts along with slight hints of citrusy hops. Light amounts of bitterness are also perceptible.
M: It feels medium-bodied on the palate and has a moderate to high amount of carbonation. No crispness is evident.
O: This Black IPA isn't nearly as hoppy compared to other beers in the style. I would have enjoyed it more if it had more hops and less carbonation.
761 characters
3.8
/5
rDev
+3.5%
look: 4 | smell: 4 | taste: 3.75 | feel: 3.5 | overall: 3.75
Dusky webby tan head over black that goes chestnut in light.
Sweet brown sugary roast, light clove, red plum and some light C hop orange on the nose.
Plum, pumpernickel swirl and very light phenols then some tangerine rind hops.
Orange zest linger.
Slight oil, light more than medium, come chew.
Round, smooth, balanced and easy. But surprisingly thin, unhoppy, non-charred and with no Belgian edge. At 33 IBUs, I'm wondering if the hops are supposed to be all about aroma, in which case at almost 3 months, I might have held this too long. Still, underwhelming.
I really wanted to love this, it being local, but it's just not there. Yet.
640 characters

4.02
/5
rDev
+9.5%
look: 4 | smell: 3.75 | taste: 4.25 | feel: 3.75 | overall: 4
Finally, a beer that was born in Poughkeepsie, NY - just like me. And like me - an ethnic combination of European nationalities filtered through centuries of the American experience - this beer is a hybridized combination of influences from the old and new worlds, i.e., a hoppy black ale with Belgian yeast. Let's see how Sloop Brewing has done. . . .
A: Poured from the bomber into a Sam Smith's nonic-style pint glass. Body appears thin on the pour (I expected darker) - it's more brownish than black on the pour and with any backlighting. However, in the glass it appears black with a half-finger greyish-khaki-colored head.
S: Definitely more yeasty than your usual American Black Ale. Also less hoppy.
T: Roasty - some coffee beans, some charcoal. Finishes with a clean but lingering piney bitterness. Not much in malt presence at all, either in feel or flavor (maybe a touch of fruitiness as it warms up a bit), and the Belgian yeast strain that was presumably used also doesn't stand up in the flavors.
M: Thinner than expected; carbonation is prickly/active, but not sharp.
O: Solid. Different - like an American Black Ale meets a hoppy Porter meets a Belgian-type carbonation and mouthfeel. Based on this initial sampling of Sloop, I'd be willing to give them a shot again. . .. .
1,297 characters

4
/5
rDev
+9%
look: 4 | smell: 4 | taste: 4 | feel: 4 | overall: 4
Poured from 22oz bomber into a dimpled mug. The label says this is a "black Belgian IPA" and the website says it is made with American hops, so I went with American Black Ale on this one.
Appearance: black hue with some brown highlights around the edges when held up to the light. Head poured two fingers of frothy tan foam with good retention. Attractive.
Smell: big citrusy hop aroma, especially redolent of Cascade. There's also an undertone of funk which could be a Belgian yeast contribution, and a vegetal aroma I usually associate with black beers. Surprisingly balanced and fresh-feeling, however; this is not a particularly dank smelling beer.
Taste: sweetish malt with a big citrusy hop flavor and a roasty character which develops through the flavor. Vegetal hoppiness is there as well, but it doesn't detract too much from the experience. This isn't always my favorite style, but I think this is a good example of a hoppy black ale.
Mouthfeel: medium body with a big carbonation and a big, smooth creaminess. I dig it.
Overall: quite good and drinkable. I think I would have this again if given the chance.
1,133 characters
The Black C from Sloop Brewing
3.67
out of
5
based on
23
ratings.