Crash Landed
| Begyle Brewing Company
BA SCORE
83
good
11
Reviews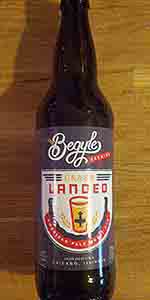 BEER INFO
Brewed by:
Begyle Brewing Company
Illinois
,
United States
begylebrewing.com
Style:
American Pale Wheat Ale
Alcohol by volume (ABV):
7.00%
Availability:
Rotating
Notes / Commercial Description:
Crash Landed is a hoppy American Pale Wheat Ale balanced by a slight sweetness.
Added by emerge077 on 01-20-2013
Reviews: 11 | Ratings: 86

3.44
/5
rDev
-5.2%
look: 3.5 | smell: 3.25 | taste: 3.5 | feel: 3.5 | overall: 3.5
1/2/16 Chicago (12 oz Bottle poured into pint glass) Golden orange pour, light white head which quickly dissipated. Wheat and hops aroma. Strong hops taste, nice solid carbonation and feel while drinking. Easy going down.Overall good offering.
243 characters
3.8
/5
rDev
+4.7%
look: 4 | smell: 4 | taste: 3.75 | feel: 3.5 | overall: 3.75
L-clear, pretty copper color leaning amber. 2-3 fingers of fine suds that lingers a while. Good looking beer.
S-loads of hop aroma, piney, citrus, perhaps some pineapple/tropical fruits.
T-fairly bitter with some of the same notes as the aroma but a little greener tasting. The sweeter, caramel notes are there in the background and increasingly in the finish.
F-this feels a little more viscous than I'd like. It really sticks around which is not what I would expect from a hoppy, moderate strength wheat.
O-I like this beer and would have a couple but wouldn't buy a six. It looks and smells really great but is, perhaps, a little muddled when it comes to taste and heavier feeling than I'd like.
702 characters
4.3
/5
rDev
+18.5%
look: 4 | smell: 4 | taste: 4.5 | feel: 4 | overall: 4.5
Pours a bright amber with light head, much darker than I'd have expected a wheat beer to look. Sweet with deeper malt character than I expected and a notable slightly bitter citrus finish. Enjoyed this one - see it more as a competitor to Lagunitas Lil' Sumpin Sumpin than to Gumballhead.
290 characters
3.38
/5
rDev
-6.9%
look: 3.5 | smell: 3.5 | taste: 3.25 | feel: 3.25 | overall: 3.5
Tasted in a Teku glass from a 12 oz bottle on August 16, 2015. Look is bright amber, medium head that thins quickly and some thin lacing. Smell is wheat, citrus fruit, and sweet pale malt. Taste is a little sweet grain and then strong bitter citrus fruit. Feel is medium in body with a dry bitter finish.
308 characters

4.05
/5
rDev
+11.6%
look: 5 | smell: 3.75 | taste: 4 | feel: 4 | overall: 4.25
It's tasty enough. I would have wanted the wheat aspect to have come through a little more. Similar style to Gumball head but not as much citrus flavors. Hoppy with an easy drinkability. The 7%abv is not even noticeable.
220 characters
3.52
/5
rDev
-3%
look: 3.75 | smell: 3.5 | taste: 3.5 | feel: 3.5 | overall: 3.5
Given the label of a wheat pale ale, I wanted this to be a little lighter and to have more of the wheat taste. Caught some hops in the nose and on the taste, but the finish was clean and not as sweet as I wanted. Would drink again as is solid beer, but is behind other wheat ales for me.
289 characters
4.25
/5
rDev
+17.1%
Orange color with a thin white head. From a bottle, yeast sediment on the bottom, the first bit was nice and clear. Fruity aroma, with a slight bit of noble hop character. Clean bitter finish. Not a lot of malt complexity, but not a dru finish, sweet at the end.
Great wheat beer, I'd buy more.
301 characters
3.75
/5
rDev
+3.3%
I like the crash landed. It is a solid slightly hoppy wheat beer.....has decent bitterness that dissipates quickly making this very drinkable and sessionable. The beer poured clear and golden but with not much head and no lacing. Overall this is a good beer and I would drink it again.
288 characters

2.98
/5
rDev
-17.9%
look: 3.5 | smell: 3 | taste: 2.75 | feel: 3.5 | overall: 3
Served in the commemorative shaker pint glass at Mundelein Craft Beer Fest 2013.
Makin' my way over to the Begyle table with the Cheers theme strangely beginning in my head... Anyway, this stuff pours a clear sunrise brass topped by a finger of cream-white foam. The nose comprises mild wet wheat, very light grass, and a kiss of sweet biscuit. The taste leads with a strong note of dark greenery, which is then backed up by grass, wheat, and biscuit. The hops really don't meld all that well with the grains, leading to an almost astringent bitterness in the finish, despite the relative weakness of the hops on an absolute scale. The body is a light medium, with a light moderate carbonation and a drying finish. Overall, this is my least favorite Begyle beer thus far, one that shows promise but doesn't execute all that well at the moment.
844 characters
3.81
/5
rDev
+5%
look: 4.25 | smell: 3.75 | taste: 3.75 | feel: 4 | overall: 3.75
The bottle is marked Batch 1
A- it poured a lovely golden straw color with a hint of orange. A 1 & 1/2 finger white foamy head formed and settled in nicely for the entire drink. Good lacing crept up the sides of my pint glass. It was a very pretty pint.
S- I could smell the grains & wheat notes right away. A bit of biscuit and a smudge of sweetness rounded the aroma out. I didn't really get any hop profile on the nose.
T- there are the hops! A herbal flavor hit me right upfront. It's heavy on the grains with the biscuit note and a mild sort of sweetness helping to balance the taste. A resin quality appeared in the tail end. It wasn't a hop bomb by any means, but it was rather hop forward. Tasty, but not really memorable. Personally, I thought that it could have used a bit of citrus to brighten it, but that could be just me.
M- the mouthfeel was medium. There was an abundance of carbonation, which made it very easy to drink. The finish was short to medium.
O- I would drink it again (especially on a warm summer day). But I'm rather excited to see if this new brewery tweaks this beer just a bit. I think as they refine the recipe, it could become something really wonderful.
1,194 characters
3.31
/5
rDev
-8.8%
look: 4.25 | smell: 3.25 | taste: 3.25 | feel: 3.25 | overall: 3.25
First batch of bottled beer from Begyle.
Pale straw color with a saturated orange tone in the center. Billowing head of creamy foam that sticks around, leaving behind concentric lace rings and a steady head that never retreats. Slow but steady carb trails visible. Looks pretty nice.
Husky grain aroma, wheat... mild sweetness, fairly subdued in general.
Flavor shows a little bit more hop character, slightly green and herbal bitterness comes through in the aftertaste. Mellow wheaty feel, smooth though not much oomph. Light and grainy, light hops in the finish. A bit bland, not much to set it apart really. Hope this improves in the future.
649 characters
Crash Landed from Begyle Brewing Company
3.63
out of
5
based on
86
ratings.