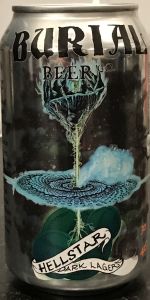 Rate It
Beer Geek Stats
| Print Shelf Talker
Style:

ABV:

5%

Score:

Avg:

3.97

| pDev:

6.55%

Reviews:

14

Ratings:

From:

Avail:

Rotating/Seasonal

Wants

Gots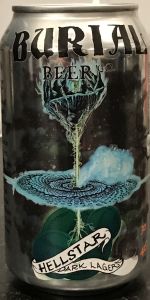 Notes:
Cast into the clutches of eternal damnation. And crucified by all the noise. It's dark lager. You need to have it but you don't know it yet. You're infested with deceit. Someone told you that all black beer is heavy. Well that's just stupid. Oh we're as heavy as the chains of Hell. But this beer ain't. Open your heart to evil. Sip on the depths of our black souls.
hoptheology from South Dakota
4.06
/5
rDev
+2.3%
look: 4.25 | smell: 3.75 | taste: 4.25 | feel: 4 | overall: 4
12 oz can, "15SEP21, JESUS CHRIST IS THE KING OF ALL", pretty cool message.
into Boiler snifter.
Dark black color with a half finger of beige head.
Aroma is stale brown malt with hints of molasses and tar. Maybe a hint of vanilla if I try for it.
Flavor is pleasantly smoky with hints of dark chocolate malt and slight sarsaparilla. Nutty ashy malt on the finish.
Feel is about right for a Schwarzbier. Not too heavy, not too light, just enough heft and carbonation. No alcohol heat.
Overall a capable schwarzbier. One of the better examples I've had. Still not entirely blown away by Burial though.
Nov 26, 2021

puck1225 from Texas
3.96
/5
rDev
-0.3%
look: 3.75 | smell: 4 | taste: 4 | feel: 3.75 | overall: 4
Had this from a can poured into a shaker pint. Pours a dark, clear brown color with an excellent initial head and decent lacing. Strong smell and taste of dark roasted malt. Some dark toast at the end with a bit of bitterness. Pretty good and it went well with our cheese board!
Jul 08, 2021
arizcards from North Carolina
3.94
/5
rDev
-0.8%
look: 4 | smell: 3.75 | taste: 4 | feel: 4 | overall: 4
Picked up a 12 oz single from the Blue Door Bottleshop in Hendersonville on 4-5-21 for $2.50. Canned on 09FEB2021; consumed 4-12-21.
Beer poured brown with a nice off white head with the original pour.
Nose has mild roast with some breadiness.
Taste is well done with the mild roast, a touch of bread and chocolate, that finished well balanced and a touch dry.
Mouthfeel is light bodied and refreshing.
Overall a nice Dunkel that i am glad i got to try!
Apr 12, 2021

JimKal from North Carolina
4.45
/5
rDev
+12.1%
look: 4.75 | smell: 4 | taste: 4.75 | feel: 4 | overall: 4.5
L: Dark brown to black with a nice tan head. Really nice lacing on the drink down
S: Malt forward
T: Reminds me of some of my favorite porter with dark roasted notes. Will definitely repeat if I can find it again.
F: Medium body. Very nice for 5% ABV
O: Nothing about this beer that I didn't like
Dec 26, 2020

drdiesel9483 from Ohio
4.02
/5
rDev
+1.3%
look: 4.25 | smell: 4 | taste: 4 | feel: 4 | overall: 4
Look - pretty much black slight head and nice skimming
Smell - roasted malt bread
Taste - sweet roasted slight toasted bread
Feel - medium body and carb
Overall - really great dark lager
Nov 24, 2020
riptorn from North Carolina
4.29
/5
rDev
+8.1%
look: 3.75 | smell: 4.75 | taste: 4 | feel: 4.25 | overall: 4.5
A non-gentle (but not aggressive) pour from a 12 oz can into a 16 oz shaker. Date on the can is Sep 03, 2020 (hope that's the "brewed on" and not "best by" date)
Look:
¼" head that quickly dissipated to near nil. Lacing is minimal.
Color was like a dark porter. When held to the light it had a dark garnet tinge near the bottom of the glass. I think serving it in a Pilsner or Stange glass would showcase the color and clarity.
Smell:
Good malt aroma with faint but perceptible roast (not harsh). Some floral can be detected if you hunt for it. Maybe from some European hops. Other than the floral, I didn't get anything I'd call hop aroma. No alcohol fumes, no diacetyl.
Taste:
Pretty much follows the nose, with a bit more malt and less roasty bitterness (which wasn't much to begin with).
Feel:
Although the head was minimal, the carbonation is good and nucleates in the mouth to give an added perception of silkiness. No astringency, no alcohol burn or aftertaste.
Overall:
This is a well-balanced beer. Probably the easiest drinking dark beer I've had in a while, maybe ever.
I picked up a sixer, then on my next trip got a case.
Nov 22, 2020
ChainGangGuy from Georgia
3.87
/5
rDev
-2.5%
look: 3.5 | smell: 4 | taste: 4 | feel: 3.5 | overall: 3.75
12 ounce can - $1.89 at Hop City Craft Beer & Wine in (West Midtown) Atlanta, Georgia.
Appearance: Pours a dark brown body with an inch of steadily evaporating tight, beige foam.
Smell: Chocolate, faint sliver of roast, a slight nuttiness and sweet-scented gust of caramel overlaying a nicely toasty malt aroma.
Taste: Baker's chocolate hunks, showing a little light roast, moderate toasted bread. Throw on some oven-heated nuts and a sensible glaze of caramel. A nice round sweetness within without being overbearing. Super faint trace of earthy hops, though no real appreciable bitterness felt. Remains predominately chocolaty through the smooth, semi-dry finish.
Mouthfeel: Medium-bodied. Medium carbonation.
Overall: I was pleased. It is a pleasing dunkel.
Nov 23, 2019

yuriyt from New York
4.31
/5
rDev
+8.6%
look: 4.5 | smell: 4 | taste: 4.5 | feel: 4.25 | overall: 4.25
Poured into glass from can. Pours dark, clear with some ruby highlights. Definitely looks the part. Aroma is faintly roasty with a bit of caramel. Nice caramel flavor without being sweet and a bit of smokiness. Finishes dry with medium body. Fantastic example of the style and thoroughly enjoyable.
Nov 15, 2019
hman43 from North Carolina
3.75
/5
rDev
-5.5%
look: 3.75 | smell: 3.75 | taste: 3.75 | feel: 3.75 | overall: 3.75
Look: It pours brown. It has a tan head with good head retention.
Smell: It has a malty rich aroma of toast. There is a slight hint of smoke well into the background. The aroma is very clean.
Taste: The flavors are forward with toast. There are some caramel elements with chocolate. There is a very low level of smoke well into the background. It is very clean.
Feel: It has a medium body that is smooth.
Overall, a classic bock with a very light addition of smoke.
Jun 15, 2019
RonaldTheriot from Louisiana
4.17
/5
rDev
+5%
look: 4.5 | smell: 4.25 | taste: 4 | feel: 4.25 | overall: 4.25
Hellstar has a thick, beige head, a mostly clear, dark brown appearance, and a bit of glass lacing. The aroma is of dark bread crust, coffee, and roasted malt. The flavor is similar, with almost no bitterness. Mouthfeel is high medium, and Hellstar finishes dry.
RJT
Apr 23, 2019

Sabtos from Ohio
3.47
/5
rDev
-12.6%
look: 4 | smell: 3.25 | taste: 3.5 | feel: 3.5 | overall: 3.5
Foggy chill hazed prune juice brownish-red with a fluffy khaki head dying to a fuzzy collar.
Toasted brown malt is paired with a fruity sweetness and a faint dark fruit finish. It's also bready with a light bubbly froth, crisp light body finishing semi-dry. Absolutely no apparent bittering.
NC loves their beer to be sweet. Must be all this damn sweet tea.
Mar 06, 2019
Gadzook from Georgia
3.98
/5
rDev
+0.3%
look: 4 | smell: 4 | taste: 4 | feel: 3.75 | overall: 4
L: Pours VERY dark. Shining a light through it only gives a hint of deep chestnut around the edges. Poured into a tulip with about 2 fingers of rocky khaki foam that dissipates fairly quickly with no lacing around the edges and a little bit of bubbling around the edge.
S: Roasted malt, dark bread, hint of caramel, some dark fruits (plum, maybe a little bit of fig), tiny bit of grass/hay.
T: Malt-forward, roasty, nutty, again with the hint of caramel but very lightly sweet. There's some yeasty breadiness (think sourdough), not picking up too much of the fruit. Just the very tiniest wisp of hops at the finish. Aftertaste is pretty clean with grain being predominant.
F: Light-medium body. Carbonation feels right for the body without being too much. Clean finish.
Overall it's a solid Dunkel. I'm a big fan of the style, and this is probably one of the best I've had of the style brewed in the southeast.
Mar 02, 2019
metter98 from New York
3.88
/5
rDev
-2.3%
look: 3.75 | smell: 3.75 | taste: 4 | feel: 3.5 | overall: 4
A: The beer is very dark brown in color—when held up to a bright light it is clear and very dark reddish brown in color. It poured with a quarter finger high off white head that quickly died down, leaving a collar around the edge of the glass.
S: Light to moderate aromas of dark fruits and nutty malts are present in the taste.
T: The taste follows the smell, having lots of flavors of dark fruits with notes of dark and nutty malts. There is a slight amount of sweetness.
M: It feels light- to medium-bodied and slightly smooth on the palate with a moderate amount of carbonation.
O: I really liked the aromas and flavors of dark fruits in this dunkel lager. It was quite tasty and very easy to drink.
Serving type: can
Jan 26, 2019
dbrauneis from North Carolina
3.91
/5
rDev
-1.5%
look: 4.25 | smell: 3.75 | taste: 4 | feel: 3.5 | overall: 4
A: Pours an opaque yet still clear extremely dark cola brown (approaching jet black) in color with moderate amounts of fine active visible carbonation rising quickly along the edges of the glass and moderate amounts of garnet red + chestnut brown + mahogany colored highlights. The beer has a two finger tall dense fizzy foamy tan head that reduces to a couple of small to medium sized patches of slightly mottled thin film and a thin ring at the edges of the glass. Light amounts of lacing are observed.
S: Just shy of moderate aromas of roasted, chocolate, bready, nutty, and toasted malts with a light amount of caramel sweetness. No perceptible aroma of hops.
T: Upfront there are moderate flavors of roasted, chocolate, bready, nutty, and toasted malts with a light amount of caramel sweetness. That is followed by light flavors of lager yeast. Finally there are light flavors of earthy hops with minimal amounts of bitterness.
M: Light bodied with moderate amounts of carbonation.
O: Easy to drink with well hidden alcohol and a nice depth of flavor from the malts. Enjoyable with enough complexity and not being overly sweet even with all of the malt present.
Nov 16, 2018
Hellstar from Burial Beer Co.
Beer rating:
87
out of
100
with
38
ratings