Iron & Barleywine

Funky Buddha Brewery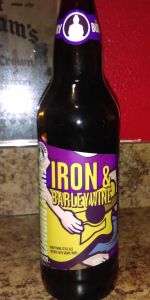 Write a Review
Beer Geek Stats:
| Print Shelf Talker
Style:

ABV:

10.5%

Score:

Avg:

3.71

| pDev:

10.78%

Reviews:

11

Ratings:

From:

Avail:

Rotating/Seasonal

Wants

Gots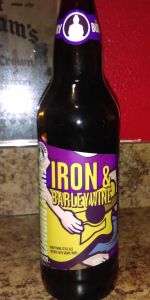 Notes: We blended this English-style barleywine with grape must for a distinct, vinous character that pairs well with slow braised dishes or acoustic folk rock. Notes of plum, pear, grape, red wine, fig, honey, and rock candy blend into a complex, slow sipper.
zac16125 from South Carolina
3.23
/5
rDev
-12.9%
look: 4.25 | smell: 3 | taste: 3.25 | feel: 3.5 | overall: 3
Funky Buddha Iron and Barleywine
22oz bottle into a snifter
no bottling dates
rated fresh, recently found notes so posting
A: Slightly hazy, burgundy with ruby hues, 1 finger of tan head, decent retention and a good amount of lacing. 4.25
S: Sweet grapes, booze, sugary notes. Smells like sugar cheap wine mixed with grape flavored Four Loco. 3
T: Tastes better than it smells, but still not great. Lots of grape flavors, some candied sugar, subtle bitterness. 3.25
M/D: Medium body, carbonation medium, ABV well masked, drinkability is fair. 3.5
O: This is easily the worst beer I've ever had from FB. It also has no semblance of an English Barleywine at all (which it claims to be on the label). Bonus point for uniqueness I guess though. 3
Of note: I recently drank one that I had cellared first several years and it was much better; had developed a lot of quad like characters and the artificial grape faded quite a bit. Full review can be found on Cellar Reviews 2020 thread if interested.
Oct 23, 2020

Treyliff from West Virginia
3.85
/5
rDev
+3.8%
look: 4.5 | smell: 3.75 | taste: 3.75 | feel: 4.25 | overall: 3.75
22oz bottle poured into a snifter
I believe that this is around 2.5-3 years old
A- pours a clear ruby-amber color with a one-finger foamy off-white head that reduces to a ring around the edge
S- grape-forward aroma gives a vinous aroma up front, along with notes of plums, figs, blackberry jam, caramel & booze
T- grape notes up front, along with flavors of red wine, figs, raisins, honey and caramel. The finish gives more grape and leaves a linger of wine
M- medium body with moderate carbonation leads to a creamy mouthfeel that continues into a velvety finish, just a hint of alcohol on the linger
O- this beer reminds me a lot of Midas Touch, doesn't really drink like an English barleywine but still enjoyable
Apr 24, 2019
hoptheology from South Dakota
4.37
/5
rDev
+17.8%
look: 4.25 | smell: 4 | taste: 4.5 | feel: 4.5 | overall: 4.5
Aged 1.5 years. Has a nice tea colored body with some murky brown streaks, and a nice fluffy pink-white head.
Aromas of grape, barrel, vine, and hot caramel. Tons of polyphenols.
The flavor is down right delicious. The grapes really kick into high gear here, and it's a welcome change from many other BW's. Has an almost Cabernet-like quality to it, very tannin-like; mixed with grape Kool-Aid, finishing off with notes of thick caramel, butterscotch, and oak barrel.
Feel is right where it needs to be - medium bodied bordering on thick, with a tight carbonation and a sticky, velvety wine-like dryness that does not quit.
Overall, this beer is really something to be considered if you like Barleywines at all. I love this beer. So surprised at the low ratings.
Feb 04, 2018

Jwale73 from Rhode Island
4.06
/5
rDev
+9.4%
look: 4 | smell: 4.25 | taste: 4 | feel: 4 | overall: 4
Pours a dull copper color with a hazy clarity and a tight band. Nose expresses grape must. Taste follows nose with just the merest hint of caramel and honey. That said, I don't much of an English Barleywine quality here. Mouthfeel is light-medium in body with a mild carbonation and a kiss of acidity. Overall, solid but closer to a wine than a beer and overall character.
Jul 03, 2017

macrosmatic from Florida
2.72
/5
rDev
-26.7%
look: 3.5 | smell: 2.75 | taste: 2.25 | feel: 4 | overall: 2.75
Reviewed from notes. Poured from a 22 oz. bottle into a Cigar City El Catador teku glass.
A: Ruddy brown, fairly hazy, with a half-finger of off-white head that fades quickly. This was quite a bit of visible carbonation as well, especially for the style.
S: Vinous, with caramelized sweet malts and toffee. There's some oaky vanilla as well. The grape juice/vinous aspect is the most prominent aroma though. Honestly, this doesn't smell very appealing.
T: Well, if you've ever been motivated to dump Welch's grape juice into a pedestrian barleywine - apparently Funky Buddha wondered the same thing. Bready malts with the grapey flavors lead to an old raisin bread aspect (though without the cinnamon). Light caramel flavor in the malts. And then the grape juice wells back up again in the hang and the exhale.
M: Medium body and very tame alcohol presence for style. Average carbonation sensation.
O: I don't know, maybe I'm just missing the appeal. This isn't at all like a wine barrel-aged barleywine. I guess it doesn't seem awful for what they said it would be – a barleywine with grape must. But it is not *anything* I would recommend to anyone, unless they were really, really, really sure that grape juice in a barleywine seemed like a good idea. It's just absolutely not appealing. Drain pour, ultimately.
Jan 20, 2017
Jaypeajus from Indiana
3.41
/5
rDev
-8.1%
look: 3.5 | smell: 3 | taste: 3.5 | feel: 3.75 | overall: 3.5
Bomber to FB snifter. Bought at brewery back in May, I think. Anyway looks like light ruby hues with mild ring of soapy head. Smells of grape juice-must be the must. Not too boozy, slightly wine-ish. Tastes like wine with more carbonation, fruits booze twizzlers. Feels pretty viscous. It leaves very little oil slick look in glass tho. Overall I don't think time did much to/for this. It's good, but as I live in Indiana, prob won't get again. This was the last of my FB haul of that day in May.
Nov 29, 2016
rudzud from Massachusetts
4.03
/5
rDev
+8.6%
look: 4.5 | smell: 4 | taste: 4 | feel: 4 | overall: 4
Shared with JLindros.
A - Poured into a Kate the Great tulip a nice clearish chestnut hue with a half finger head that fades to leave sticky lacing and a solid blanket.
S - Aromas of huge concord grape musk, fruity English barley wine. Very little malts or anything else that makes a barely wine.
T - Taste is similar to the nose, nice grape musk, big, huge almost. Nice caramel, light malt sweetness. The finish is really grape musk heavy, which is super unique. Like eating a concord grape.
M - Mouthfeel is lightly carbonated, alcohol hidden well.
O - Overall this was a rather decent barley wine. The grape musk was super interesting.
Serving type: bottle
Aug 26, 2016
jlindros from Massachusetts
4.01
/5
rDev
+8.1%
look: 4.5 | smell: 4 | taste: 4 | feel: 4.25 | overall: 3.75
Thanks to rudzud
Big foamy bubbly head fades pretty slowly, nice lacing, long legs, hazy bright red color.
Nose concord grape or musty grape musk, dank grape skin, sweet candy malt notes, fruity esters, sweet kosher wine, sweet candy malt, almost citrus candy, apple syrup, little spicy hop, raw malt.
Taste starts really sweet, syrupy sweet candy into big grape, musty grape again sweet kosher wine, little sweet candy malt caramel, white barleywine, toffee notes, toasted, little syrupy, touch bitterness. Finish little sticky, more barleywine notes, big concord grape musk little bitterness.
Mouth is med bod, little syrupy, decent carb, hint of booze.
Overall pretty funk, not great but interesting for sure.
Aug 26, 2016

Mateo2699 from Texas
3.27
/5
rDev
-11.9%
look: 3.75 | smell: 3.5 | taste: 3 | feel: 3.5 | overall: 3.25
Pour is a very dark red hue. Long lasting head for a barleywine. Aroma is somewhat muted, but getting some nuttiness, caramel and some hints of brown sugar. Getting that grape must as the label suggests, more of an artificial grape. Typical barleywine flavors are in the background at initial sip, nice toffee and caramel. Then the artificial grape comes around in the finish. Moderately thin mouthfeel, not much booze to be detected.
Jul 24, 2016

nickfl from Florida
3.59
/5
rDev
-3.2%
look: 4 | smell: 3.75 | taste: 3.5 | feel: 3.5 | overall: 3.5
Sticky sweet and full of of toffee and caramel. Kind of one dimensional in the aroma and cloying with a sweetness that lingers excessively, it has the fog of a beer 2 or 3% stronger but without the alcohol to balance it.
Jun 05, 2016

cjgator3 from Florida
3.49
/5
rDev
-5.9%
look: 3.75 | smell: 4 | taste: 3.25 | feel: 3.5 | overall: 3.25
22oz bottle poured into a Funky Buddha snifter. When held up to the light, the beer is a really nice dark reddish/purple color with an off-white head. The grapes are the most dominant aspect of the aroma with some noticeable alcohol in the nose as well. The taste is sweet with just a touch of tartness with some of the sweetness coming from the grapes and the rest from the malt. The finish is hot and boozy, this may benefit from a few years of aging to take off some of the heat.
Apr 15, 2016
Iron & Barleywine from Funky Buddha Brewery
Beer rating:
86
out of
100
with
52
ratings