Heylissem Blonde
| Brasserie Val De Sambre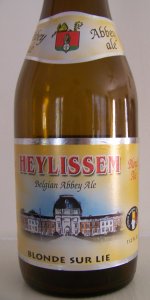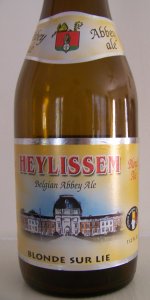 BEER INFO
Brewed by:
Brasserie Val De Sambre
Belgium
valdesambre.be
Style:
Belgian Blonde Ale
Alcohol by volume (ABV):
6.00%
Availability:
Year-round
Notes / Commercial Description:
No notes at this time.
Added by cjgator3 on 05-15-2007
HISTOGRAM
Ratings: 13 | Reviews: 10
Reviews by steve99:
More User Reviews:

3.81
/5
rDev
+1.1%
look: 4.5 | smell: 3.5 | taste: 3.5 | feel: 4 | overall: 4.5
11.2oz bottle poured into a tulip glass. Beer pours a pale golden yellow color with a lot of carbonation quickly rising to the top supporting a massive white head. The aroma is soft pale malts with some lemon, spice and yeast. The taste begins with a nice clean malt flavor that finishes dry with some spices and a delicate hop presence. The mouthfeel is light bodied and prickly from the high carbonation. Overall, this is a solid beer that is highly drinkable. Recommended.
475 characters
4.3
/5
rDev
+14.1%
look: 4 | smell: 4 | taste: 4.5 | feel: 4 | overall: 4.5
Pours a light honey color into my tulip glass. The head initially forms with large bubbles that slowly settle into smaller one more characteristic of a belgian ale. There is a haze of yeast and some chunks swirling around through the active carbonation. Good looking blond ale. The smell a really nice for such a lightweight beer. Strong sticky-sweet candi sugar is most prominent with hints of ripe melon and mild citrus fruit. At the first sip there is a nice pale malt flavor that is almost nutty. From there it ramps up to the citrus/sweet flavor which creates a sticky mouthfeel. Very light hops finish the drink and dry out the stickiness. The flaovr is balanced, complex, and not overpowering. A very nice blond ale in my opinion.
737 characters
4.42
/5
rDev
+17.2%
look: 4 | smell: 4.5 | taste: 4.5 | feel: 4 | overall: 4.5
A- Golden yellow color, semi-cloudy, one finger thick white fluffy head that lasted well, lots of tiny bubbles rising throughout
S- Strong citrus auromas, grains, wheat, hint of yeast
T- Lemons, oranges, pale malts, grains, sweet, hint of melon near the end
M- Light/medium body, medium carbonation, crisp, clean, slightly fizzy
D- Definatly worth buying again
I was overly suprised with this beer. I didn't really know what to expect but I definitely enjoyed it. I would really like a chance to have this on tap somewhere.
528 characters
3.75
/5
rDev
-0.5%
look: 4 | smell: 4 | taste: 3.5 | feel: 3.5 | overall: 4
11.2 fl. oz. bottle, courtesy of Cindirene. Thanks Chuck!
Poured into my Kolsch cylinder and held to the early afternoon sunshine, Heylissem "Blonde Sur Lie" is clear golden with a few floaties in suspension. A torrent of internal carbonation feeds a monster-sized bright white head that stands like stiff-peak eggwhites and clings to the sides of the glass in puffy 3-D sip-line rings that defy gravity to the end.
The aroma is is sweetly fruity and laced with tangy yeast. Ripe pears, juicy figs, and sweet-tart Granny Smith apples work well with a notion of bready, nutty cookie dough.
The taste is mild and malty with a bit of tangy yeastiness that masquerades as honeydew and diluted golden apple juice. An earthy, mineral-rich note of muskmelon deepens the sweetness and introduces a crisp green-rind bitterness that closes the proceedings.
The drink is medium-bodied, vividly carbonated, and quite refreshing on a warm afternoon.
940 characters
3.65
/5
rDev
-3.2%
look: 4 | smell: 4 | taste: 3.5 | feel: 3.5 | overall: 3.5
Consumed 7/20/09- from notes.
Bottle poured into a pint glass.
A- A little hazy golden yellow with a few little floaties. A two finger sticky white head that lasted most of the glass. Good lacing.
S- Sweet citrus.
T- Lemon, orange, some kind of melon maybe? Some spice hints I cant nail down, mild hops.
M- Light to medium, a little tingly on the tounge.
D- Normally iffy on pale ales but this one was pretty good. I'll be looking to try the other brews from Heylissem.
476 characters
3.9
/5
rDev
+3.4%
look: 4 | smell: 4 | taste: 3.5 | feel: 4 | overall: 4.5
I was able to pick up this 11.2 fl oz. bottle for $.99.
Poured a pale yellow with a huge head. Smelled good...spicy, grassy/earthy, with a touch of alcohol. It tastes pretty good... some citrus tones, some spices, malts, and the faintest bit of hops at the end. This is not as spicy as some of the other blondes I have had, which I liked.
Overall, this is a very simple Belgian blond ale and is very easy to take down. If you like strong, assertive blonds, this one probably isn't for you. However, if you want a pretty good blond then this one is worth trying.
564 characters

3.25
/5
rDev
-13.8%
look: 3.5 | smell: 3.5 | taste: 3 | feel: 4 | overall: 3
A - poured honey amber with frothing 1.5" white head. Slight cloudiness and good lacing
S - bittersweet hoppiness with fruity overtones of apricots, grapes, apples and grapefruit
T - citrusy and malty upfront, semisweet and bitterness follows but has a clean finish. Perhaps somewhat unbalanced
M - light bodied with medium carbonation. Clean, refreshing, smooth
D - very drinkable. Not too bubbly but still has a bite
Overall - this is actually pretty good, but I do prefer Grimbergen's blonde more. I found this one a decent session beer. It was on sale at Beers of the World in Rochester NY for $1.80 for a 12 (or 11.2) oz bottle. I may pick this up again.
664 characters

3.32
/5
rDev
-11.9%
look: 3 | smell: 3.5 | taste: 3.5 | feel: 3 | overall: 3
Heylissem Blonde pours a yellow color with a fluffy white head from a brown 750 ml corked and caged bottle. The aroma is very mild and mostly is malt with perhaps a hint of fruit. The flavor is mostly malt too, a touch of hops appears near the end, the hops really are minimal, the yeast is much more apparent though, there is a touch of clove which adds a bit to the complexity (although complexity may be a generous word here, this isn't a very complex beer). Overall, this is slightly above average, I didn't think it was bad or offensive and it was reasonably priced at $4.30 for a 750.
590 characters

4
/5
rDev
+6.1%
look: 4 | smell: 4 | taste: 4 | feel: 4 | overall: 4
33cl into a tulip. Pours a slightly hazy golden orange, dense off white head retained nicely, good lacing.
Aroma is sweet of honey and floral notes, apricot and something wanting to turn sour.
Taste begins pleasantly sweet of the light fruit sorts but then a kick of dryness appears and vanishes just as quick leaving a mild undefined aftertaste. Zero bitter, crisp, refreshing. Thin to medium bodied lively mouthfeel.
Taste is somewhat surprisingly full. I've come to anticipate pale ales to be watery to a degree, not this one.
cheers
jd
542 characters

3.72
/5
rDev
-1.3%
look: 3 | smell: 3.5 | taste: 4 | feel: 3 | overall: 4
The aroma is malty with a corn like malt. Also in the aroma there is yeast, fruit, and spices. The appearance is golden with an average head for the style. The flavor is like the aroma. The palate is OK. Overall it's very nice and one I wouldn't mind having again.
264 characters

3.44
/5
rDev
-8.8%
look: 3.5 | smell: 3.25 | taste: 3.5 | feel: 3.5 | overall: 3.5
Heylissem Blonde from Brasserie Val De Sambre
Beer rating:
3.77
out of
5
with
13
ratings