Veldrijden Love Saison
| Other Half Brewing Co.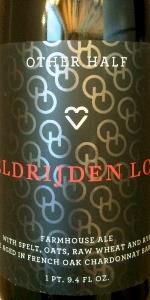 BEER INFO
Brewed by:
Other Half Brewing Co.
New York
,
United States
otherhalfbrewing.com
Style:
Saison / Farmhouse Ale
Alcohol by volume (ABV):
7.80%
Availability:
Spring
Notes / Commercial Description:
No notes at this time.
Added by vfgccp on 04-13-2014
Reviews: 8 | Ratings: 87

3.82
/5
rDev
-4.3%
look: 3.5 | smell: 4 | taste: 3.75 | feel: 4 | overall: 3.75
A pretty golden amber. A thin,clean white head. Scant lacing. Nose is exciting with notes of honey, mango and pineapple as well as traditional light fruits like apples, pears and grapes. Taste delivers on the promise of the nose. A well presented hybrid. A Belgian tropical IPA fusion. Saison like malt core with a honeyed, caramel malt body. Hops offer up tons of tropical fruits that broaden the sweetness and malt flavors. Then those same characters dry and bitter the beer expertly. Nice crisp Belgian funk. A tropical/citrus IPA personality that is clean and short in the finish. Crisp feel with a smooth, effervescent swallow. Solid beer overall with a standout personality.
681 characters

3.11
/5
rDev
-22.1%
look: 3 | smell: 3.25 | taste: 3 | feel: 3 | overall: 3.25
4oz pour for $3 USD @ the taproom. The cramped crowded space forces my notes to be brief.
Oats, melon, flaked wheat, and a kiss of oak round out this overhopped farmhouse ale. I don't find rye's signature spiciness, but there is some doughy spelt/dinkel when I look for it.
Decent depth of flavour.
Lacks any spice, Belgian yeast, starchiness, or brettanomyces funkiness. No oak character from the foudre they age this in (maybe a move to barrels would help).
Drinkable but forgettable, Veldrijden Love is a saison for the IPA fan (and isn't that the market Other Half caters to?).
C+ / ABOVE AVERAGE
606 characters

4.16
/5
rDev
+4.3%
look: 4 | smell: 4.25 | taste: 4.25 | feel: 4 | overall: 4
Received this one in a trade. It's always great to get some rare East coast goodies!
Poured from a 750ml bottle into an oversized wine glass. The beer is a deep apricot colour with a huge white head.
The nose is sweet with a touch of vanilla and biscuity graham crackers. I can really pick up the chardonnay barrel. The saison yeast comes through in the nose. A touch of fusel alcohol and fruity esters.
Wow lots going on in the taste. The fruit is up front and then woodiness from the chardonnay barrel. The signature Belgian yeast makes an appearance and a slight sweetness finishes it off. This is not as dry as some saisons, especially now that a lot of saisons are brewed with brett.
This beer has a fairly descent medium mouthfeel, it's definitely not thin.
Overall a great beer! This a beer for those who like barrel aged saisons, complex and tasty.
863 characters
4.35
/5
rDev
+9%
look: 4.25 | smell: 4.25 | taste: 4.5 | feel: 4.25 | overall: 4.25
Appearance: Arrives hazy and honey colored with a thin meringue of a head: pretty decent lacing action
Smell: Bready and spicy with wheat and rye tones; stone fruit, vanilla and oak, with a vinous element
Taste: Bready, up front, with the fruit (lychee and plum), the rye spice and the vanilla kicking in; oaky and vinous through the finish
Mouthfeel: Medium body with moderate carbonation
Overall: A very interesting Saison with a lot of malt complexity and a strong vanilla aspect that complements the fruit flavors
528 characters

4
/5
rDev
+0.3%
look: 4 | smell: 4 | taste: 4 | feel: 4 | overall: 4
From 07/24/15 notes. Had this at Goodnight Sonny's in NYC on the LES; new place.
Pours a hazy golden yellow color with one finger of white head and moderate carbonation evident. Spices, pepper, white wine, fruity malts. Medium body and moderate carbonation. A nice beer.
271 characters

4.17
/5
rDev
+4.5%
look: 4.25 | smell: 4 | taste: 4.25 | feel: 4 | overall: 4.25
750mL bottle poured into an oversized snifter.
The beer's got a big frothy head and persists forever. The body is copper-colored and cloudy. Lace is aplenty. 4.25
Lot of wine on the nose. Floral, yeasty and grape qualities. Light maltiness is the only suggestion on the aroma that this is beer. 4
Very much in taste as is the aroma: grapey, wine-like, bubblegum, floral and touches of yeasty, peppery spice. There are touches of plum and other fruit too. Very nice. 4.25
The body is light and feels of light yeast presence, sweetness and a vinous quality. Some hints of solvent feel suggest this beer may have been hot fresh, so I'm glad to drink it with some age on it. 4
This beer is nice. The base beer is tasty and the wine qualities are great.
754 characters
3.88
/5
rDev
-2.8%
look: 4.25 | smell: 3.75 | taste: 4 | feel: 3.75 | overall: 3.75
A: The beer is rather hazy pale yellow in color and has a moderate to high amount of visible carbonation. It poured with a finger high bright white head that died down, leaving a thick collar around the edge of the glass and a thin head covering the remainder of the surface.
S: Light aromas of Chardonnay wine barrels and oak are present in the nose; the oak becomes a little stronger as the beer warms up.
T: The taste initially starts out with lots of flavors of oak and associated vanilla—once the beer warms some spicy hints of rye also become noticeable.
M: It feels light- to medium-bodied on the palate and has a moderate amount of carbonation. The oats seem to lend a bit of smoothness to the mouthfeel and coat your mouth a little bit.
O: If you like oak aged beers, especially those that impart flavors of vanilla, this is a really nice choice for the summer months as the underlying saison base keeps things lighter in body.
Serving type: bottle
962 characters

4.59
/5
rDev
+15%
look: 4.25 | smell: 4.5 | taste: 4.75 | feel: 4.5 | overall: 4.5
I originally had this at the Brooklyn Brewery poured by Garret Oliver at a really fun ghost bottle event. At the time I thought it was a pretty good Saison with an interesting grain profile. I had this again recently and was blown away by the complexity of the grain characteristics. The appearance is interesting; the bottom two thirds of the beer is a deep honey color while the top has a dark sandy appearance. The beers poured with about two fingers of thick foam. Its hard to describe the amount of things going on in the aroma. A bombardment of cereal is the first thing I get, tapering off into pepper, honey, and just the right amount of funkiness to bring things into perspective. Along with all the aforementioned aromas the taste produces a coriander like quality that always makes me think of fruit loops. The carbonation carries all of these amazing qualities to the exact high it needs and lets go at the right moment. Truly a superior saison. Special thanks to Sam at Other Half for explaining the name of the beer to me.
1,036 characters
Veldrijden Love Saison from Other Half Brewing Co.
3.99
out of
5
based on
87
ratings.