Bourbon Strike Stout
| Rockyard Brewing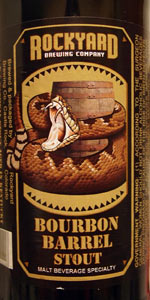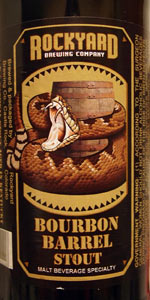 BEER INFO
Brewed by:
Rockyard Brewing
Colorado
,
United States
rockyard.com
Style:
Oatmeal Stout
Alcohol by volume (ABV):
not listed
Availability:
Rotating
Notes / Commercial Description:
No notes at this time.
Added by russpowell on 04-10-2006
HISTOGRAM
Ratings: 13 | Reviews: 10
Reviews by mentor:
3.28
/5
rDev
-15.7%
look: 4 | smell: 3.5 | taste: 3 | feel: 4 | overall: 3
Bourbon Barrel Stout. I'm very interested in how an Oatmeal Stout holds up to barrel treatment. Pours a two finger tan-brown head over a clear dark brown liquid. Smells tame overall. Bourbon, vanilla, oak, charred marshmallow, chocolate, citrus (lemon and orange), pineapple, and very mild roast.
Tastes not as nice as the smell. Strong flowery vanilla, modest clean alcohol, oak barrel, medium-wet/dry chocolate, tame roast, fruit-wood smoked grains, and caramel marshmallow. Great british hop flavor with mild clean hop bitter. Dextrinous in the mouth, but not particularly thick. Drying from barrel and alcohol leaving a peppery and minty alcohol sting in the finish/aftertaste. Meh, I'd not spend $10 to get another bottle.
728 characters
More User Reviews:
3.87
/5
rDev
-0.5%
look: 3.5 | smell: 4 | taste: 4 | feel: 3 | overall: 4
22oz bottle, label only says "bourbon barrel stout", but indications seem to be that it is this beer. there is a ferocious rattlesnake on the label wrapped around a barrel
appearance: poured into an oversized snifter - mahogany body with clear garnet highlights...rather light for a stout. creamy beige head with very light retention
smell: pretty light - vanilla, bourbon, chocolate
taste: i just assumed this was an imperial stout as thats often the case with barrel stouts - that is not the case. This is actually a rather light stout with a heavy emphasis on the depth provided by the barrel - bourbon, oak, vanilla. oatmeal and chocolate flavors balance out the bourbon. Interesting beer but barely a stout
mouthfeel: light, bourbon provides a nice strong finish
drinkability: good
791 characters
3.92
/5
rDev
+0.8%
look: 3 | smell: 3.5 | taste: 4 | feel: 4 | overall: 4.5
Based on more recent tastings I'll dial back my score a bit, even though they garnered a bronze at the world beer cup
From what I can see on line this either a oatmeal or sweet stout, either way, it kicks ass!
Pours Dark mahogany with a 1" tan head. Unfortinately, no head retetion & just a little lacing is on display
Smell: some oakiness
Taste: Rich oaky notes, vanilla & bourbon. Finishes fruitty,oaky & dry
MF: Rich, smooth & very good carbonation
Drinks too easy, my favorite beer at the rockyard. If you like this style check it out, you will be delighted!
568 characters


5
/5
rDev
+28.5%
look: 5 | smell: 5 | taste: 5 | feel: 5 | overall: 5
22oz bomber poured into snifter
A: espresso like color, creamy head that lingered with good carb
S: freshly poured bourbon barrel, heavy aroma of the four roses barrels
T: big bourbon flavor, vanilla, char, chocolate, oak
M: creamy and satisfying, leaves a coating that reminds you how tasty this is
O: one of the best BA stouts I've had this year so far
354 characters

3.95
/5
rDev
+1.5%
look: 4 | smell: 4 | taste: 4 | feel: 3.5 | overall: 4
Sharp flavors with a nice whiskey tang. Not overly strong or heavy bodied. Dark brown with a reddish cast in the glass. Just slightly sweet in a way that is just like a sip of Bourbon. Sharp yet mellow. Some bitterness creeps in but just seems to accentuate the barrel flavors. Nice mouthfeel, not overly woody. A little raspy in the back of the throat along with some smokiness. Interesting sipping beer.
Grapevine on South Monaco has this and several other Rockyard beers in bottles, which I have not encountered before.
523 characters
4.1
/5
rDev
+5.4%
look: 4 | smell: 4 | taste: 4 | feel: 4 | overall: 4.5
Pours kind of a light black color, not quite dark brown, but close, with a minimal amount of off-white head. Sweet, roasty malt aromas, mingle nicely with some subtle bourbon-oakiness. Flavors of vanilla, oak, bourbon and sweet cream. Kind of thin-bodied for a stout, but pretty solid flavor wise.
Received a bottle of this for Christmas, and drank it Christmas morning. Much more drinkable than the previous bottle, more flavorful and the bourbon works better with the lower alcohol oatmeal stout. very good.
510 characters

3.93
/5
rDev
+1%
look: 4 | smell: 3.5 | taste: 4 | feel: 4.5 | overall: 4
Ah, the Rockyard. For years they stuck to their guns producing solid takes on normal styles...but this one (and several other new beers) break out of that mold.
I'll start this with an interesting fact: this is a 6% stout aged in bourbon barrels. Usually that spells doom for a milder stout.
Arrives a deep brown, nearly black color. Head and any foam is brownish. While the head is minimal, the foam lingers on the glass and isn't as slick as expected.
The nose is bourbon heavy, but not to the point of being a turn-off. I think that's just a fact of making a bourbon barrel stout below a certain strength. There's still definitely a full bodied stout character in there.
Flavor starts off sweet with a mix of vanilla, whiskey, and lightly roasted malts. Booziness is minimal in spite of the bourbon barrel character. As it warms, the stout's coffee and chocolate come out more and more, which is pleasant and unexpected.
The oatmeal base gives this the right thickness to hold bigger flavors without being syrupy or strong.
Initially I think your palate wants to think this is stronger than it is because of the whiskey character. However there's minimal heat and as it warms, a strange balance is achieved.
My initial thoughts on this beer were wrong, and I found it to be quite good. It's sold in bottles in a few select areas (and at the RY), as well.
1,358 characters

4.19
/5
rDev
+7.7%
look: 3 | smell: 4 | taste: 4.5 | feel: 3.5 | overall: 4.5
Shaker glass at the brewpub, this is the bourbon barrel version of their 5.5% Oatmeal Stout. Pitch black, with a thin off-white head that quickly dissipates, leaving no lace.
Smell is pretty subdued, lots of chocolate and some vanilla...roast?
Taste has a very nice vanilla oak flavor, but per the nose, it not very roasty, with lots of chocolate, some oat sweetness and bitterness and alcohol on the finish. Very well balanced and enjoyable, perhaps pushing Porter territory with the lack of roast in the Oatmeal stout, regardless, I really enjoyed it.
MF is on the slicker side, with a light body, dry.
Drinkability is really high for me as any beer goes, period. I love the vanilla notes from the bourbon barrel, and it's low enough in ABV that I could really have a fierce session with these when the time is right.
826 characters
3.36
/5
rDev
-13.6%
look: 3 | smell: 4.5 | taste: 3 | feel: 2 | overall: 3.5
On tap at the brewpub in Castle Rock.
Dark brown in color with no head retention and low carbonation. Strong grainy aromas that mix with strong bourbon notes. The balance between the grains and the sweetness of the bourbon aromas is really spectacular. Great, balanced bourbon flavor that is sweet but not cloying; hops and the flavor of dried grain cut the bourbon flavor short at the back of the tongue and the finish--thin and dry--detracts from an otherwise nice sip. Lengthy, lasting alcohol warming.
Overall, this is a so-so bourbon stout. The smell and initial bourbon flavor are great, but the finish takes away from the mouthfeel and drinkability. I also wish it had a little more carbonation to vary the textures in each sip.
Worth checking out if you're at the brewpub, but don't make a special trip for this one.
827 characters

3.67
/5
rDev
-5.7%
look: 3.5 | smell: 4 | taste: 3.5 | feel: 4 | overall: 3.5
Picked up a bomber of Bourbon Barrel Stout at Lukas, based on the description these are the same brew. Oatmeal Stout aged in Kentucky Bourbon Barrels.
A - Poured from brown 22oz bomber to pint glass. The beer pours a deep dark almost black color with dark amber edges. A thin 1/2 finger tan head with little retention and lacing.
S - A nice bourbon aroma. A bit of vanilla meets a roasted malt character. Not overpowering but bourbon heavy.
T/M - Beer starts off with a nice sweet character along with a light roasted malt character. Also a bit of vanilla before the bourbon hits. The bourbon isn't as strong as you'd expect from the nose. A hint of chocolate and coffee at the end. Can't detect any alcohol. Finishes smooth and fairly creamy. Good mouthfeel.
O - The beer was better than I thought though a little pricey at $10/bottle. Glad I tried it but likely won't be back on the bottle. If I'm at the Rockyard I'd probably order though.
Note: This review was a re-post from my former account, jmkratt, which was hacked and I lost all my reviews...sorry for the redundancy.
Serving type: bottle
Reviewed on: 03-26-2011 01:23:16
1,139 characters
3.5
/5
rDev
-10%
look: 3.5 | smell: 3.5 | taste: 3.5 | feel: 3.5 | overall: 3.5
Bourbon Strike Stout from Rockyard Brewing
Beer rating:
3.89
out of
5
with
13
ratings