Samuel Adams Reunion IPA

Boston Beer Company (Samuel Adams)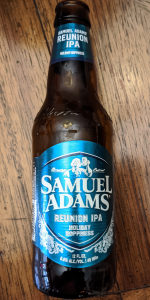 Rate It
Beer Geek Stats
| Print Shelf Talker
Style:

ABV:

6%

Score:

Avg:

3.66

| pDev:

10.93%

Reviews:

12

Ratings:

From:

Avail:

Rotating/Seasonal

Wants

Gots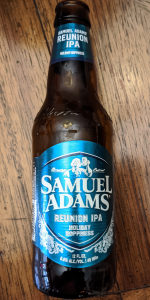 Notes:
Extract every bit of magic from this year's celebrations, just as we did with Reunion IPA. This golden IPA has bright citrus and pine aromatics with a hint of lightly toasted malt. It has a lean body and a crisp, clean finish.
orcrist_cleaver from New York
3.4
/5
rDev
-7.1%
look: 4.25 | smell: 3.5 | taste: 3.25 | feel: 3.5 | overall: 3.25
A: Early sunset orange accompanied by slight winter haze. Produces a good head with excellent retention.
S: Sweet marmalade, pine and herbal tea/mushroom. Husky, sun-drenched caramel corn, orange bitters, papaya-peach.
M: Dry, grainy, crackery with some spice.
T: Peach marmalade, papaya and pine tea; green mint with some honey in the background. Overall, good bitterness provided by an orange pithiness, but it's pretty dry and grainy with a lot of malt muddling the hops; the sweetness seems malty, and the hop flavor becomes a concentrated mess of simple syrup.
Yesterday at 07:02 PM
Roguer from Connecticut
3.44
/5
rDev
-6%
look: 4.5 | smell: 3.5 | taste: 3.25 | feel: 3.75 | overall: 3.25
Excellent head production, retention, and lacing. Body has a slight haze, but you can still read through it up close. Gorgeous orange color.
Interesting and surprisingly complex aroma. Caramel, candied orange, mango, mint, peach, white grape. It smells a touch overripe, and there's perhaps too much going on to really appreciate the notes.
For all the juiciness on the nose, it's quite dry and grainy on the palate. Not that it's particularly lacking in hop flavor; it's got a nice level of bitterness, and along with the pale grains and toasted malt, there are grassy and mild orange notes along with overripe peach.
The blend of flavors doesn't quite work for me. I wanted to like it, but it's just a bit of a mess. It's malt-forward, and the hops don't pop, don't present cleanly, and overall are muddled and overripe.
Saturday at 09:26 PM

Foyle from North Carolina
3.7
/5
rDev
+1.1%
look: 4 | smell: 4 | taste: 3.5 | feel: 3.5 | overall: 3.75
Poured from 12oz bottle into pint glass. A 2" sudsy white head falls slowly with plenty of lacing. Color is hazy yellow-orange with moderate streaming carbonation. Aroma of citrus, floral, and pine notes. Mouthfeel is medium with a dry warming finish. Flavors of tangerine, citrus rind, with floral and pine notes. Yeast roll malt in background. Overall: good, easy drinking IPA.
Saturday at 06:12 PM
Riverdivine8
5
/5
rDev
+36.6%
look: 5 | smell: 5 | taste: 5 | feel: 5 | overall: 5
Absolutely delicious and refreshing. I am usually not an IPA fan, as there are so many IPAs out there that are so heavy handed with the hops, as to make the brew clumsy and undrinkable. But, the bright notes, crisp flavor, and balanced hops here are incredibly refreshing- with savvy, nuanced blending- a happy surprise! :) I hope that Boston Beer Co will release Reunion IPA in handy 6 pk/glass bottles, all yr around, soon! :) Awesome job~
Nov 30, 2021

daliandragon from Maryland
3.91
/5
rDev
+6.8%
look: 4.25 | smell: 3.75 | taste: 4 | feel: 3.5 | overall: 4
Part of a mixed twelve still living in the fridge from before Thanksgiving break. Citrus and medicinal hops pair with the standard biscuit note in the nose atop a big fluffy head. A nice break on the carbonation but body seems to be reduced as well. Some herbal and medicinal notes and again that lemon zest note but kind of insubstantial. This is okay, especially as far as poundability as this is mostly mild and not face clenching or bitter.
Nov 29, 2021
RonaldTheriot from Louisiana
4.56
/5
rDev
+24.6%
look: 4.5 | smell: 4.75 | taste: 4.5 | feel: 4.5 | overall: 4.5
Reunion IPA has a medium, off-white head, a semi-clear, gold appearance, with lots of bubbles, and minimal lacing. The aroma is of faint spice, with fairly-strong white bread crust. The flavor is the same, with low-level bitterness. Reunion IPA has a medium body and a dry finish.
RJT
Nov 18, 2021

Spade from Pennsylvania
3.44
/5
rDev
-6%
look: 3.5 | smell: 3.75 | taste: 3.25 | feel: 3.25 | overall: 3.5
Nice foam head that lingered. Mouthfeel is a bit thin. The flavor is dominated by the hops, which makes things a somewhat bitter. The finish has a slight grainy, grassy taste.
Not a great beer, but would probably go over better on a warm spring or summer day.
Nov 14, 2021
puboflyons from New Hampshire
3.83
/5
rDev
+4.6%
look: 4.5 | smell: 4 | taste: 3.75 | feel: 3.5 | overall: 3.75
From a 12 fl. oz. bottle with a Feb (2022) label snip. Sampled Nov 13, 2021.
The appearance is a slightly foggy yellow-amber color underneath a lacing-leaving creamy white head. I rarely if ever criticize the pour of a Sam Adams brew.
The aroma features a boisterous pine, citrus, and lemon character with a slightly lower profile but noticeable toasted white bread crust character.
Medium mouthfeel but certainly smooth.
The taste is sweet for a second and then all of those vibrant, penetrating hops roll in to absorb all other characteristics right up to the moderate bitter finish. The is more like a traditional IPA than a new hazy IPA. Kudos for that.
Nov 13, 2021
Knoght5191 from Pennsylvania
4.53
/5
rDev
+23.8%
look: 3.5 | smell: 4.25 | taste: 4.75 | feel: 4.5 | overall: 4.75
I have been disappointed with Sam adams recently. There beer seemed to have been completely lacking on everything I had before when I was younger. When they stopped their brown ale and stopped their black lager or at least started making less ones, I hadn't seen those two beers, in years their quality seemed to have gone down hill. This beer is completely different. It is a nice pleasant ipa unlike anyone I had before. Usually ipas I have are usually really juicy and bitter which is fine and good but not easily drinkable. This one is all that and easily drinkable. Well done Sam Adams . I hope to see more changes and to get back to the good beer I know you guys can make!
Nov 11, 2021

mikeinportc from New York
3.47
/5
rDev
-5.2%
look: 3.75 | smell: 3.5 | taste: 3.25 | feel: 4 | overall: 3.5
Hazy orangey-gold, with 1/2 finger of white head.
Smell is orange, and a bit of pine and biscuity malt. Rather muted.
Taste is more-or-less the same as aroma. Moderate bitterness.
Feel is medium, with moderate, very fine carbonation tingle. Borderline juicy.
Overall, not unpleasant, but not that interesting either. Glad there's only two in the Holiday 12pk. (Bringing back the Cranberry "Lambic" would have been a better choice. ;) )
Nov 09, 2021
Iamaskier from Idaho
3.43
/5
rDev
-6.3%
look: 3.5 | smell: 3.5 | taste: 3.25 | feel: 3.75 | overall: 3.5
Smells of bright pine hops, a bit grassy, a bit of grapefruit. Taste is grand fir- don't ask me how I know, but it's a grand fir pininess. Hints of grapefruit, slightly floral, with a lemony sweetness at the end. Not very bitter, except for on the aftertaste. Crisp feel, quite smooth. Tastes like Christmas. Not bad, but any old micro IPA will bring more to the table than this.
Nov 08, 2021
officerbill from New York
3.45
/5
rDev
-5.7%
look: 4 | smell: 4 | taste: 3.25 | feel: 3 | overall: 3.25
A very nice looking murky orange/gold with a tall, fairly long lasting white head.
Clean solid aromas of pine and fresh citrus
Flavors of pine, orange/lemon/grapefruit zests, noticable malt backbone and something else that I can't quite put my finger on. There is a taste of spoiled oranges in the background that leaves an unpleasant sticky, bitter aftertaste. Not a drain pour, but not a repeat purchase
Oct 30, 2021
Samuel Adams Reunion IPA from Boston Beer Company (Samuel Adams)
Beer rating:
84
out of
100
with
35
ratings