Distant Relatives
| Casey Brewing & Blending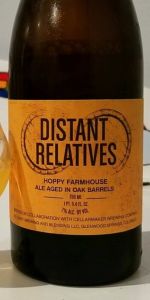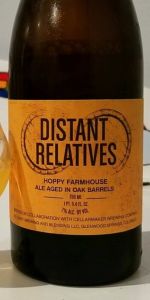 BEER INFO
Brewed by:
Casey Brewing & Blending
Colorado
,
United States
caseybrewing.com
Style:
Belgian Saison
Alcohol by volume (ABV):
7.00%
Availability:
Rotating
Notes / Commercial Description:
Distant Relatives is a dry hopped farmhouse ale. Wee took a couple barrels of Funky Blender and sent samples to Cellarmaker Brewing Company. They selected a hop blend for dry hopping, Southern Passion, Riwaka and Motueka at over 3 pounds per barrel. Drink this fresh!
Reviews: 7 | Ratings: 21
4.36
/5
rDev
+0.9%
look: 4.25 | smell: 4.5 | taste: 4.25 | feel: 4.25 | overall: 4.5
dude! this is amazing! one of the best i have had from casey in a long time. not so sour as many of them are now, and with a hop profile that is truly unrivaled. its cool that these two operations, casey and cellarmaker got together, nothing but love for both of them, and of course the beer this meetup yielded is brilliant. drinking perfectly right now, regardless of whenever it came out, the hops taste and smell super fresh still, pineapples and kiwi fruit and sexy perfume, high end white wine, pheromones, dripping wet. i am literally aroused. its clear for the first part of the bottle, more sedimented later on, but never heavy. its got a nice head, steady carbonation, and an amazing mix of piquancy and savory richness, balanced in a cool way, especially for a saison. the dry hop is amazing, whatever it is, and the fruitiness and vinous nature of it are mouthwatering even after i already sip on it. great funk, not too much acidity but the right amount of pucker to bring out the best of the hops. southern hemisphere for sure, oily to an extent, yet still some pine and orange to my tastes. its a little thick in feel but super active, feels and tastes really well developed,and has a classic casey twangy funk. better colder than warmer oddly enough, but world class beer overall. not surprising from these two. stoked i got a bottle!
1,350 characters

4.46
/5
rDev
+3.2%
look: 4.25 | smell: 4.5 | taste: 4.5 | feel: 4.25 | overall: 4.5
750ml cork and caged bottle. Says "Thank You Cellarmaker", bottled 8/20/2016 on the back. Served in a Casey stemmed glass.
Pours a hazy, golden yellow body, slight orange hue, one finger thick white head, fantastic retention and lots of lacing. The retention isn't typical for Casey beers- the head typically always bows out super early. This is a nice change of pace as far as appearance goes. Smell is rich citrus, lemon and grapefruit; presumably this dry-hopping really added quite a bit to the base Casey saison. Grain, minerals, leafy resin and grapefruit zest. The dry-hopping is unreal on this beer; it reminds me of the Dry Hopped Oak Theory that I had yesterday, to be honest. Flavour is even more juicy grapefruit; this is unreal how much this tastes like a DHOT. Citrus, grapefruit, slight resin, lemon, light leather and funk, slight grainy sweetness. The grapefruit is almost overpowering but of course it could never be so. Mouthfeel is medium bodied, crisp and dry, good carbonation, bitter grapefruit juice on the finish. Again, this is mini-DHOT, period. The hops did really well in this base Casey saison.
1,125 characters

4.56
/5
rDev
+5.6%
look: 4.25 | smell: 4.5 | taste: 4.75 | feel: 4.25 | overall: 4.5
Massive funk and tropical on the nose. Tasted like drinking pineapple/guava juice. Big fan of dry hopped sours but this rises to the top of my list. Drank several months after release - if it was this good aged, can't imagine fresh
231 characters
4.08
/5
rDev
-5.6%
look: 4 | smell: 3.5 | taste: 4.25 | feel: 4 | overall: 4.5
750 mL bottle. Hazy orange. Medium white head. Smells of lemon lime hoppiness. Oak. Maybe some wine barrel. Tastes much more of white wine barrel. Lemon hoppiness. Light grain. Very pleasant. Medium light body. Again, simple and delicious from Casey.
250 characters

4.01
/5
rDev
-7.2%
look: 3.75 | smell: 4 | taste: 4 | feel: 4.25 | overall: 4
From a 750 ml bottle (bottled August 30, 2016) to a tulip. Cellarmake collab.
A-The beer is quite murky and light yellow-golden in color. A dense, tall head of white foam has good retention. The head leaves a little lacing in patches and chunks. No carbonation is visible. It looks like other beers of this style, but it isn't terribly attractive.
S-The aroma is surprisingly aggressive. I sniff tropical fruit like guava, star fruit, and hints of citrus, and well as lemongrass and floral notes. The beer smells juicy, but there is an earthy not-quite-pine undertone and the bitterness is higher than many "sour" IPAs.
T-The taste is much the same as the smell. Assertive, acidic tropical hop notes combine with assertive lemon-like acidic barrel/wild beer notes to provide one of the more punchy hopped beers that I have tried from Casey. The beer is almost too astringent and dry on the finish for my taste.
M-The body is substantial and the carbonation is assertive, but fine and almost soft of the palate.
O-This is a really well-made beer and some hop fans are sure to enjoy it. I found it a touch too acidic and astringent to be ranked among the best beers of this style.
1,185 characters

4.77
/5
rDev
+10.4%
look: 4.5 | smell: 5 | taste: 4.75 | feel: 5 | overall: 4.5
Absolutely loved this one, my highlight at What The Funk! So stoked to have a few bottles to open again. The aroma that pops on this is on par with some of the very best IPAs I've ever smelt. Cellarmaker absolutely nailed the hop profile for this, tons of ripe tropical fruit, big waves of guava/passion fruit consume the nose. Taste is on par with the aroma just incredible. Super fresh, don't age this, you don't want to miss the dry hopped qualities. Mouthfeel is on point, super crushable, super juicy, super delicious. Overall one of my absolute favorites I've ever had from Casey and that's saying a lot!
612 characters
3.53
/5
rDev
-18.3%
look: 4 | smell: 3.5 | taste: 3.5 | feel: 3.5 | overall: 3.5
Poured at Mile High Wine and Spirits. It had a very turbid yellow appearance. Heavy brett in the aroma. Flavor was odd, not quite brettanomyces but very strange.
161 characters
Distant Relatives from Casey Brewing & Blending
Beer rating:
4.32
out of
5
with
21
ratings