Rattlesnake ESB
| The Tin Whistle Brewing Company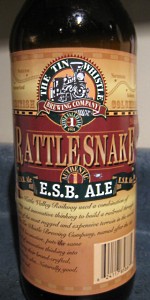 BEER INFO
Brewed by:
The Tin Whistle Brewing Company
British Columbia
,
Canada
Style:
Extra Special / Strong Bitter (ESB)
Alcohol by volume (ABV):
6.50%
Availability:
Rotating
Notes / Commercial Description:
No notes at this time.
Added by canucklehead on 05-16-2005
Reviews: 8 | Ratings: 10
Reviews by zachloveshisbeer:

4.66
/5
rDev
+15.3%
look: 4.5 | smell: 4.75 | taste: 4.75 | feel: 4.5 | overall: 4.5
I picked this up in the summer from the brewery. They've upped the abv to be more on-par with the style at 6.5%. I poured it into a pint glass and right away I was hit with caramel sweetness and some floral, earthy hops. They could serve this beer in jolly ol' England and I would put it in a competition with any of the pub ales there, and I'm almost certain it would win almost all of them. I like the new label system Tin Whistle has going and it makes their beers more creative and they really stand out. Pick one of these up next time you see it on the shelf, you'll be glad you did.
★
588 characters
More User Reviews:
4.05
/5
rDev
+0.2%
look: 4 | smell: 4 | taste: 4 | feel: 4.5 | overall: 4
I grabbed a 650ml bomber of this when I realized that the gas station parking lot that we stopped in upon entering town was adjacent to the brewery. How fortuitous - it made me want to fire up some of Skid Row's Rattlesnake Shake!
This beer pours a clear, pale bronzed amber colour, with two fat fingers of puffy, rocky, and chunky off-white head, which leaves some nice spiderweb-like lace around the glass as it lazily recedes.
It smells of biscuity caramel cream, some hard water flintiness, subtle candied toffee notes, and some heady leafy, herbal, and citrusy hops. The taste is sweet toffee and caramel malt, with just enough of that biscuity edginess to satisfy we style snobs, a hint of black pepper dust, some sugary generic citrus rind, and more tame leafy, floral, and grassy hoppiness.
The carbonation is on the low side, what with its gently rendered frothiness, the body medium-full in weight, fairly smooth, and even a tad creamy. It finishes off-dry, the sweet and yet still nice and biscuity malt continuing its dominance, with the weaker bitter grassy hops keeping things sane from their perspective.
Overall, this is one tasty beer, that is if you're OK with the sweeter, and fully malt-borne scene. It kind of reminds me of those Madeira or Olorosa-laden whiskies - big (other than the ABV), yet somehow rounded and moderated. I'm more than glad that Tin Whistle brought this one back.
★
1,416 characters
4.13
/5
rDev
+2.2%
look: 4 | smell: 3.5 | taste: 4.5 | feel: 3.5 | overall: 4.5
Pours out a clear dark orange with a rocky off white head. The head fades some, but is quite sticky and leaves a fair bit of lacing. Looks just like I hoped it would.
Smell is of toffee and floral hops, with the hops being slightly stronger. It is a fine smell, but not quite a standout.
The first taste gives a surprising amount of malt. The caramel/toffee holds its own in the front of the mouth. Midway through a hint of citrus comes through and the hops bring up a dry finish. A fine taste for the style, quite pleasant.
This beer has a bit of body to it, and a medium to light carbonation. The only hit here is it leaves a bit of a bad feeling in the mouth. I'd best describe it as soapy. There's not much of it, but it is there.
This 650mL bottle will not last long, and I'm already thinking I would like another. The finish makes you long for another mouthfull, and each mouthfull is pleasing. This is my first beer from The Tin Whistle Brewing Company, and I'm fairly impressed.
★
998 characters

3.88
/5
rDev
-4%
look: 4 | smell: 3.5 | taste: 4 | feel: 4 | overall: 4
From a 650 ml brown bottle. Pours out a clear deep golden apricot hue, medium-sized spongy head. Serious clinging lace, my glass is starting to look like the grotto of some coral reef. Light biscuity malt on the nose, a dose of sweet fruit, followed by a more sobering balancing act of fresh vegetables (zuchinni anyone?) and herbal hops. The flavour is more down to earth, light malts up front that are almost immediately married with bitter, at times astringent hops that pick up momentum towards the finish. Nothing fancy here, but the direction a proper English bitter should be taking, which is what they accomplish. The mouthfeel, though mostly consistent, tends to flip flop at times, starting out full and creamy, and finishing thinner and a tad watery. As bitters tend to lean more towards the watery side anyways, it's nice to have one with some more body, at least most of the time in this case. There's no beating around the bush about it, you have to like your hops, and your dry, more astringent ones at that, to enjoy a bitter, but if you answered yes, then this is definitely a bottle worth picking up. Would not end up as my first pick for a sessional, but I'll be getting more and savoring them from time to time. A welcome addition to the shelves of Alberta.
★
1,277 characters

3.97
/5
rDev
-1.7%
look: 3.5 | smell: 4 | taste: 4 | feel: 4 | overall: 4
Yet another score from my brother for Christmas, which I enjoyed that afternoon!
A - Pours a golden caramel colour, slight haze, finger of head with ittle retention and no real lacing.
S - Biscuit and caramel malts, bitter citrus and leafy green hops. Very earthy in nature.
T - Sweet honey and caramel malts come off the top, a bit of burnt brown sugar and the leafy green, earthy, hops come through on the finish.
M - Nice body carbonation, goes down smooth and doesn't finish overly dry.
D - This is definitely one of the better Tin WHistle offerings that I've had and is a great example of the style. Nice malt and hop balance, and some delicious flavours coming through. Highly recommended to any ESB fan.
★
715 characters

4.13
/5
rDev
+2.2%
look: 4 | smell: 3.5 | taste: 4.5 | feel: 3.5 | overall: 4.5
Purchased a 650ml bomber from Willow park. The pour revealed a amber-orange ale with a great sticky, long lasting cap. Floral-fruity aroma; sweet malts and a twang of citrus in the nose. Medium bodied, mellow...huge malts and lovely citrus-pine hops...moderately mild bitterness in the finish...a very malty and nicely hopped ESB....very drinkable...one of the best domestics of the variety I have tasted.
★
405 characters

4.27
/5
rDev
+5.7%
look: 4 | smell: 4.5 | taste: 4 | feel: 4.5 | overall: 4.5
A wonderful surprise to find at Willow Park in Calgary, as this is a very little known microbrewery from Penticton, BC, and I did not think I would ever get to try their beers unless I was passing through the Okanagan. The Tin Whistle Brewing Company does not seem to have a website either. The bottle for their Rattlesnake ESB is the 500ml the BC micros seem to love(a la Mt Begbie, Cannery Brewing, etc). The label is yellowish brown and details the naming of the brewery, which is after a locomotive and a railway that pioneered the local mountains near Penticton. Marks for presentation. Rattlesnake pours out a shadowy dark honey colour, like a good pale ale. The pillowy head is consistent and very creamy, leaving its bone-white lacing on the glass, and sticking viscously. The first smell from above the rim gives a nice pumpkin-like hoppiness mixed with creamy malts. Delicious. In closer the smells become intensified and I began to realise just how excellent the aroma really is--the hops are masterfully balanced with the malt, but the hops still predominate, and this is an aroma I am sure fans of Tree Brewing's Hophead would love. Pumpkin and cinnamon, a little grapefruit citrus, and green grass or herbs. The caramel malting also begs to be appreciated: lightly toasted bread, some maple syrup sweetness, raisins and cream, tapioca, and faint oak notes. The balance is stunning. Mmm, smells like a good session beer. A near perfect aroma for an ESB, in my opinion. Taste does not disappoint. Again, magnificent balance here betwixt the vine and cereal. Some light breadiness at first, but the hops come in with a burst of citrus almost immediately, then the middle and finish let the hops take over, with the result of a satisfyingly dry aftertaste. Yet even in the finish the malts leave their caramel roastiness. The beer is so balanced that I find with every subsequent sip I get either excellent and strong hoppiness like the best IPAs, or great maltiness belonging more to a style like amber ale or brown ale. Quite a bit of pumpkin in the taste; assertive spiciness; some leather; and definite grapefruit. The mouthfeel is medium to full(leaning more towards full), the carbonation rather low. This is extremely drinkable. I was not expecting this to be so superb--a wonderful surprise! All Alberta BAs should be pleased to see this on the shelf. Those lucky dogs in Pentiction have Cannery Brewing and Tin Whistle in their city! Some cities have all the luck. This would make a phenomenal session beer. An excellent ESB.
★
2,544 characters

3.8
/5
rDev
-5.9%
look: 3.5 | smell: 3.5 | taste: 4 | feel: 3.5 | overall: 4
This is a real nice bitter with all the proper hop notes done BC style. Generous head and a nice mid gold colour with the English hop nose. The beer is full bodied with a dryish finish. Very drinkable and well crafted. I feel that Granville Island has a better Bitter but it is only a seasonal.
★
294 characters

Rattlesnake ESB from The Tin Whistle Brewing Company
4.04
out of
5
based on
10
ratings.