Pistonhead Hot Roddin' Lager
| Spendrups Bryggeri AB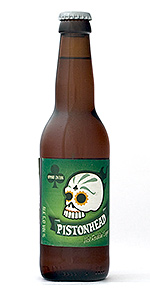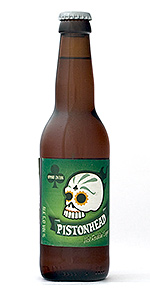 BEER INFO
Brewed by:
Spendrups Bryggeri AB
Sweden
spendrups.se
Style:
American Lager
Alcohol by volume (ABV):
5.00%
Availability:
Spring
Notes / Commercial Description:
Introduced in February 2010.
Malt: Pilsnermalt,dark and pale caramel. Hops: Magnum, Saazer, Cascade Amarillo
This beer is retired; no longer brewed.
Reviews: 6 | Ratings: 11
3.6
/5
rDev
+20.4%
look: 3.5 | smell: 3.5 | taste: 3.5 | feel: 3.5 | overall: 4
Bottle into a tulip.
Finally a Swedish beer with flavor, 4 kinds of hops, 2 american...Pours a dark clear amber with with a light tan head, good retention and lacing...The aroma is light but mostly fresh hops, good hops displayed...The taste is light hops with a light orangeness to it. Ok feel, easy to drink.
Not great but beats almost all common Swedish beers. nothing to seek out but among poor options the best of a bad bunch.
433 characters

2.71
/5
rDev
-9.4%
look: 4 | smell: 3 | taste: 2.5 | feel: 2.5 | overall: 2.5
The bottle is a 33 cl longnecked brown. The green label has a white skull on it - the boys at Spendrups really try their best to be cool...
A: The color is redish copper with a bit uneven and soapy head. Pretty quick dissipation leaves little lace.
S: Malt, a bit sweet. Bitterness and citric notes from the hops. A bit alcoholic.
T: Sweet malt, but a bit rough with an "off-taste" you get from corn (though the label states that there's only barley malt in it). Citric notes and a bit flowery.
M Short aftertaste. Mediumlight body. Rich carbonation with lots of small rough bubbles.
D: I will not buy this one again.
623 characters
2.91
/5
rDev
-2.7%
look: 4 | smell: 3 | taste: 2.5 | feel: 3.5 | overall: 3
Appearance - A golden color with a head that dissipates slowly and leaves some lacing.
Smell - Pilsner malt, metallic and faint citrus.
Taste - A bit sweet bread, faint citrus and some bitterness. But finishes with unpleasant sour taste.
Mouthfeel - Medium carbonation, smooth and a light body.
Was hoping for something with more hops since the bottle says "Introducing the real hop rod"
391 characters
3.06
/5
rDev
+2.3%
look: 4 | smell: 3 | taste: 3 | feel: 3 | overall: 3
This is a clear light golden beer with a light off-white head that leaves lots of lacing.
The aroma is rather weak, some citric notes, a hint of malty sweetness. A bit chemical and metallic.
The taste is mild lemon, a small sweetness and a little alcoholic hint finished of with some bitter hops.
Medium low carbonation, watery.
A rather average lager, good as a thirst quencher. A plus for a relatively good bitterness. IMHO they could have been more bold with the cascade and amarillo.
491 characters
2.99
/5
rDev 0%
look: 4 | smell: 2.5 | taste: 3 | feel: 3.5 | overall: 3
The colour is gold, the liquid clear. The high firm off-white head slowly sinks down to a thick lid leaving lots of lacing.
The smell is sweet and malty in a very Swedish lager way. Notes of alcohol and pulp. Some distant notes of anonymous hops.
The taste is first sweet with off flavours of wet paper and vegetables. It develops into a more balanced taste with some fruity American hops; bit also a raw flavour of alcohol and an unsophisticated bitter-sour note.
The carbonation is medium strong, the small bubbles very fresh. The liquid is a bit smooth.
Marketed as a flirt with the flavours of American craft lagers, this one does a bad job in hiding its roots, it got that odd sweetness that I recall from so many Swedish lagers. A slight disappointment.
767 characters
3.23
/5
rDev
+8%
look: 3.5 | smell: 3 | taste: 3.5 | feel: 3 | overall: 3
Appearance: Pistonhead Hot Roddin' Lager pours a orange peel-to-amber colour along with a foamy "old lace"-white crown. The crown in question is of approximately 1½ " of height and persists for quite some time eventually leaving a ring of lacing alongside the glass -- colour me impressed Spendrups!
Smell: Some upfront citric notes, floral to some extent and to a lesser degree a tad of diacetyl, or buttery notes, if you want to be nice about it. Mowed grass also come to mind,
Taste: Gentle caresses of a undefined sweetness, a reappearance of the citric hop-note which brings a freshness to the whole experience, the malt adds a dimension of breadiness which is really enjoyable. I really like the aftertaste, a distinct and lingering bitterness, probably the amalgamation of hops acting up.
Mouthfeel: Medium full, alert carbonation and rather smooth, yet the carbonation gives it a rough edge.
Drinkability: Maybe it's me loosing touch with the lager, an ongoing process for the last couple o' years -- which would obviously damage my "neutral standpoint" -- but this doesn't quite add up what I expected. Still, the best I've had from Spendrups in a looong time!
1,176 characters
Pistonhead Hot Roddin' Lager from Spendrups Bryggeri AB
Beer rating:
2.99
out of
5
with
11
ratings