Pistonhead Summer Brew - Low Ridin' Lager
| Spendrups Bryggeri AB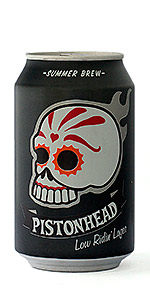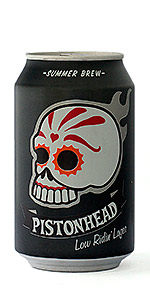 BEER INFO
Brewed by:
Spendrups Bryggeri AB
Sweden
spendrups.se
Style:
American Pale Lager
Alcohol by volume (ABV):
5.20%
Availability:
Summer
Notes / Commercial Description:
Introduced in May 2010. Hopped with Magnum, Brambling Cross and Amarillo.
Added by bark on 04-13-2010
This beer is retired; no longer brewed.
HISTOGRAM
Ratings: 12 | Reviews: 10
Reviews by dansmcd:

3
/5
rDev
+14.9%
look: 3 | smell: 3 | taste: 3 | feel: 3 | overall: 3
A - Pale golden colour, one finger of fizzy, bubbly white head with a few spots of lace following.
S - Corn, grass, barley and some faint yeast.
T - Grass, honey, slight hop bitterness in the finish.
M - Moderate to highly carbonated, thin bodied.
O - Nothing special here. Drinkable.
288 characters
More User Reviews:

2.96
/5
rDev
+13.4%
look: 2 | smell: 3.5 | taste: 2.5 | feel: 3 | overall: 3.5
Pours gold with a large but short-lived, white head.
Nose shows sweet caramel and resinous pine. Quite faint.
Very similar flavours; caramel, spicy hops, followed by a metallic bitterness.
Body feels a little syrupy.
Doesn't really stand out that much.
252 characters
2.56
/5
rDev
-1.9%
look: 3.5 | smell: 2.5 | taste: 2.5 | feel: 2.5 | overall: 2.5
A clear golden yellow beer, a white firm head leaving lacing.
A rather weak smell, some sour malt, a few bitter notes.
The taste has a lemon soda reminiscence finishing of in a short metallic bitterness.
Medium carbonation, rather fizzy, a bit coarse.
Well, it looked good, but then it went downhill. Not much to remember, except when moving the lawn.
355 characters
2.25
/5
rDev
-13.8%
look: 2 | smell: 2 | taste: 2.5 | feel: 2.5 | overall: 2
330ml. can, brought to me from Sweden by a friend. Clear golden colour, white head that dissipates too soon. Smell of grains, with hints of oranges and a skunky note. Watery in the mouth, not much carbonation. Taste is just like the smell, some oranges and grains and metallic notes. Weak. Flat. Save your money.
312 characters
2.69
/5
rDev
+3.1%
look: 3.5 | smell: 2 | taste: 2.5 | feel: 4 | overall: 3
The colour is medium yellow; the high head is off-white. It sinks quite quickly to a two finger very airy head, leaving some lacing.
The smell is quite mild with a dusty bread-like note. Some sweetness and a weak chemical bitterness.
The taste is sweet and malty. Otherwise... there is not very much going on here. Some bitterness in the background. The aftertaste is short and sweet with touches of bread and some anonymous bitter flavours.
The carbonation is medium strong; the very small bubbles are very fresh. The liquid is surprisingly smooth.
A vapid beer. At least, there are no odd off flavours.
611 characters
2.67
/5
rDev
+2.3%
look: 4 | smell: 2 | taste: 3 | feel: 2.5 | overall: 2.5
Looks like a lager with a whole lot of fizz to it, bubbles all over the glas.
On the nose I get sour-malt component that is dominating the aromapicture. A hint of yeast and sitrus, but like I said, the unhealty maltflavour is not promising....
Got a long aftertaste that sit´s in the back of the mouth and is bitter and sour. Not to bad in the begining, but the aftertaste is not very plesant.
This American Pale Lager is different. Not in a good way, but I think they tried to give it some more hop flavour, and failed.
Of balanced flavours, aromas on the nose that is unplesant and a sour aftertaste.
Stay away!
621 characters
2.32
/5
rDev
-11.1%
look: 3.5 | smell: 1.5 | taste: 2.5 | feel: 2.5 | overall: 2.5
Pours clear gold, big head. Flavor is the a-typical adjunct lager. Dirty, slightly metallic, and uninteresting. Cheap in price and quality. No, no, no. This is not the type of American beer you want to take a page out of the book of. Nice enough packaging. Very bad beer.
271 characters
2.65
/5
rDev
+1.5%
look: 2.5 | smell: 2.5 | taste: 2.5 | feel: 3 | overall: 3
A - Pale head on top which quickly subsides. Honey-straw coloured liquid.
S - Sweet, sharp hops combined with plenty of dry, dusty overtones.
T - Classic dry euro lager taste. Slightly sweet on the palate at first with a smooth honey-like texture. Behind that is a harsher, more bitter sensation. Not much in the body - quite light.
M - Variety of sweet and bitter flavours coming through with a sharp but weak-bodied feel.
O - Another basic euro lager without any overly special features.
Drinking note - this review is for the Pistonhead Low Ridin' Lager. The beer I've been drinking isn't marked as the summer brew however, so if I've reviewed the wrong beer please let me know as I'll have to create a new entry.
724 characters
2.88
/5
rDev
+10.3%
look: 3 | smell: 2.5 | taste: 3 | feel: 3 | overall: 3
Pours a see through golden hue with nice carbonation that leaves behind a two finger frothy head and sporadic clingy lacing,the smell is noble grassy herbal hops,barley malts,toffee and fresh cut grass,the mouthfeel is lightbodied and has tastes of grassy noble hops,honey,toffee,barley sugar and finished with a hoppy dryness and overall this brew is better than the first offering but not by much and would not buy again cheers.
430 characters

2.34
/5
rDev
-10.3%
look: 4 | smell: 2.5 | taste: 2 | feel: 2 | overall: 2.5
The dark grey can is 33 cl. The label has a white skull on it - the boys at Spendrups really try their best to be cool - yawn!
A: Pours clear golden with a really large creamy head, that stays for a long time, leaving great lacings when it sets.
S: Bitter hops. Malt, unbalanced - corn? Faint citric notes. Over all a weak smell.
T: Citric and bitter, but faint. The malt is unbalanced. Kind of thin taste.
M: Medium carbonation and kind of thin body. Aftertaste is short and unbalanced. A sizzeling sensation on the tounge.
D: Nothing to write home about.
562 characters
Pistonhead Summer Brew - Low Ridin' Lager from Spendrups Bryggeri AB
Beer rating:
2.61
out of
5
with
12
ratings