PC Genuine Lager
| Brick Brewing Co.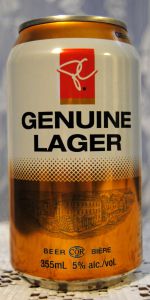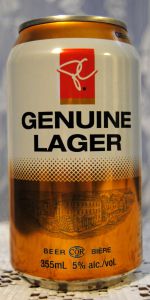 BEER INFO
Brewed by:
Brick Brewing Co.
Ontario
,
Canada
brickbeer.com
Style:
American Adjunct Lager
Alcohol by volume (ABV):
5.00%
Availability:
Year-round
Notes / Commercial Description:
Cold filtered and noted for its smoothness, PC Genuine Lager is brewed in small batches with Natural Spring Water and select hops delivering a medium body genuine lager, easy to drink and refreshingly enjoyable.
Added by Phyl21ca on 06-05-2006
HISTOGRAM
Ratings: 10 | Reviews: 4
Reviews by thehyperduck:

2.47
/5
rDev
-3.9%
look: 4.25 | smell: 2.25 | taste: 2.5 | feel: 1.75 | overall: 2.5
355 mL can from a six-pack, traded for some empties at TBS. Apparently this is a survivor from that old line of 'Dave's' beers that Loblaws was pushing in the mid-late 90s, though I don't think it was made by Brick back then. Served well-chilled.
Pours the standard golden-yellow colour, topped at first with two fingers of soapy, billowing white head. It seeps away over a prolonged period, leaving an uneven cap behind, as well as a messy coat of sticky lacing. This lager certainly looks the part, but it doesn't smell it - I am getting a lot of fruity apple juice concentrate, some corny sweetness, and very little else. If someone gave this to me blindfolded I could see myself mistaking it for actual apple juice - it's not especially off-putting, it's just an odd aroma for beer.
Curiously enough, I am getting a lot of apple in the flavour, too - soft, sweet, and a little tart, like Macintosh flesh that has already been bitten into and started to brown from oxidation. Some corny cereal grain notes also come into play, with a brief finish of apple juice concentrate and light bitterness. Fairly clean aftertaste. On the lighter side of medium-bodied, with inadequate carbonation for the style that gives this one a relatively gross mouthfeel. Easy to drink cold and quickly, I guess.
Final Grade: 2.46, a D+. PC Genuine Lager is a budget beer through-and-through, so if you're in the market for that this might be worth a try - though I actually preferred their Corona knock-off (Cerveza). This is one of the few non-ice/malt liquor adjunct beers that I would consider trading straight-up for a Boxer... it's that unimpressive. I have no idea how old this can is, but I am going to go out on a limb and assume TBS probably doesn't move a lot of it - it may just be super-old, or it may just be a crappy beer. Unfortunately, I don't really care enough to explore this matter in any more depth.
1,908 characters
More User Reviews:

2.01
/5
rDev
-21.8%
look: 3 | smell: 2 | taste: 2 | feel: 1.5 | overall: 2
Bottle: Poured a golden color lager with a small head that vanished quickly. Aroma of light corn is discernable. Taste is very eatery with traces of corn and very light hops. Mostly boring and watery (wish I guess was the goal because of the market targeted) but not offensive in any way.
288 characters


2.71
/5
rDev
+5.4%
look: 3.5 | smell: 2.5 | taste: 2.5 | feel: 3 | overall: 3
First review in 5 years and first from a can. Contract brewed by Whitewater Brewing (Brick Brewing Company Limited).
Pours a pale, golden straw colour with a large, frothy white head that hangs on as a long-lasting collar and leaves large amounts of lace on the glass.
Smells of sweet corn and light malts, backed by a mild floral tone and a hint of red berries.
Very sweet with a thick corn taste, but surprisingly solid malt character behind it. Even more surprising is a pleasant floral hop tone that brings a nice dryness with it. Finish is crisp and dry.
Medium-bodied with a moderate carbonation. Syrupy on the tongue. Aftertaste has a strong corn syrup tone.
Not nearly as bad as I expected. I really appreciate the dry and floral hop characteristics, subtle as they may be. Too sweet overall and the aftertaste is a bit much, but its a decent macro-style lager at a budget price that goes down easily when served cold.
931 characters
3
/5
rDev
+16.7%
look: 3 | smell: 3 | taste: 3 | feel: 3 | overall: 3

2.27
/5
rDev
-11.7%
look: 1.5 | smell: 2 | taste: 2 | feel: 3 | overall: 3
served from a 341 clear twist off bottle
A- very pale yellow color, small head disappears quickly. Not too much carbonation.
S- sweet, corn, some wiffs of malt.
T- Watery, grains/corn, hints of some floral hops, pretty sweet with bitter aftertaste.
M- very thin and watery,not much carbonation here.
D- decent and better than alot of other discount brews.
Overall- i had the PC Honey Red sometime last year and it at wasnt amazing but at lest it had a little flavor. The PC Genuine Lager is just too sweet and watery for me. But hey for the price, this beer is probably one of the better choices in an ever growing discount beer segment.
655 characters
2.3
/5
rDev
-10.5%
look: 2 | smell: 2 | taste: 2.5 | feel: 2 | overall: 2.5

2.4
/5
rDev
-6.6%
look: 2.25 | smell: 2.25 | taste: 2.5 | feel: 2.75 | overall: 2.25
PC Genuine Lager from Brick Brewing Co.
Beer rating:
2.57
out of
5
with
10
ratings