Chakra
| Brouwerij Van Steenberge N.V.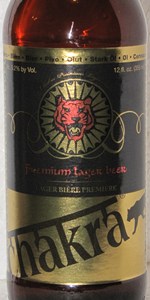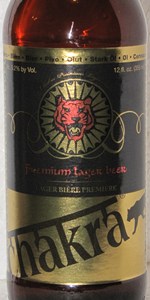 BEER INFO
Brewed by:
Brouwerij Van Steenberge N.V.
Belgium
vansteenberge.com
Style:
American Pale Lager
Alcohol by volume (ABV):
4.70%
Availability:
Year-round
Notes / Commercial Description:
No notes at this time.
Added by yesyouam on 05-04-2010
HISTOGRAM
Ratings: 6 | Reviews: 5
Reviews by FernMaster:

1.96
/5
rDev
-26.6%
look: 3 | smell: 2 | taste: 1.5 | feel: 3 | overall: 2
Poured from the bottle into a tulip, into the drain.
There's a funny Tiger on this bottle. I bought this because of the funny bottle. I don't even feel like I should really write a review for this beer that's as long as it takes to get to the minimum. It's like it deserves a 250 word review. It doesn't. This beer is bad. It may be fermented piss. I knew I would dislike this. It pours an average gold bud light colour, it smells like an average un-flushed urinal, it tastes like shame and neglect on the brewers end and it finishes like a punch in the face. Is this 250 words yet?
583 characters
More User Reviews:
2.16
/5
rDev
-19.1%
look: 3 | smell: 2 | taste: 2 | feel: 2 | overall: 2.5
Rerate, 750 ml green "champagne" bottle, courtesy of Cardinal Pub & Bar, Stavanger. The label has the address of "Chakra Brewery India", but the beer is "Bottled in E.C.". Apparently brewed by Van Steenberge now, previously brewed for a short period by Trio Bryggeri, Norway. ABV is 4.7%. Pale golden colour, moderate head. Grassy and citrussy sweetish aroma. Moderate carbonation in the glass. The flavour has some fruity and citric notes, the bitterness is minimal and the beer is quite boring - but it is not undrinkable. Slightly better than the variety from Trio. Not worth the fancy bottle, though. Original rating: 330 ml clear bottle, courtesy of Cardinal Pub & Bar. This "Indian" beer is a gimmick brew of Trio Bryggeri (50% Mack owned), Skien, Norway. The beer is brewed with "the purest Norwegian water", but claims to be a "Product of India - Chakra Brewery". There is no evidence on the internet to suggest that the "Chakra Brewery" actually exists. And even if it did exist, it would hardly brew with "Norwegian water", would it? The beer is extremely pale yellow coloured, with a low head that disappears rapidly. The "skunky" / fruity / lemony whiff in the aroma is actually the best thing about this beer. Flavour is very bland and dull with just a hint of lemons, hardly any bitterness. Fizzy mouthfeel. Ice cold it may serve as a thirstquencher, or to wash down a hot curry, but for people looking for tasty beers, this is one to pass.
1,454 characters
3.11
/5
rDev
+16.5%
look: 4 | smell: 3 | taste: 3 | feel: 3.5 | overall: 3
Pours a clear, pale straw color. One inch head of a white color. Great retention and slight lacing. Smells of pale malt, grain, hops, and a hint of citrus. Fits the style of an American Pale Lager. Mouth feel is sharp and crisp, with an average carbonation level. Tastes of grain, pale malt, slight hop, hint of wheat, and hint of citrus.
338 characters
2.55
/5
rDev
-4.5%
look: 2.5 | smell: 2.5 | taste: 2.5 | feel: 3 | overall: 2.5
A - Poured out a very clear, straw yellow color with a small, white, fizzy head. It left no lace.
S - It smelled of grains, rice and a little skunkiness.
T - It taste of grains, rice and mild bitterness - maybe from hops.
M - It was crisp and sharp with a somewhat dry finish. A light bodied lager.
D - One was enough. Tastes more like a "Euro Pale Lager" than an "American" one.
383 characters
2.77
/5
rDev
+3.7%
look: 2 | smell: 2.5 | taste: 3 | feel: 2.5 | overall: 3
Chakra is a very clear, very sparkling pale golden lager with a thin, soft white head that slowly fades and leaves nice lacing. It has a slightly sweet light malt aroma with a hint of funk and perhaps Saaz. It's light bodied with a dry finish. It starts a little toasty then gets lightly bitter and lemony and finally, sweet. It has a syrupy sweet aftertaste. It's a little boring but it has no obvious faults. It's pretty quenching.
433 characters
Chakra from Brouwerij Van Steenberge N.V.
Beer rating:
2.67
out of
5
with
6
ratings