Pszeniczniak
| Browar Amber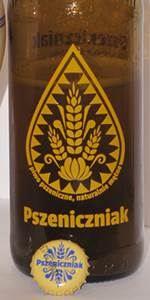 BEER INFO
Brewed by:
Browar Amber
Poland
browar-amber.pl
Style:
Hefeweizen
Alcohol by volume (ABV):
5.20%
Availability:
Year-round
Notes / Commercial Description:
No notes at this time.
Added by LiquidAmber on 01-13-2014
Reviews: 7 | Ratings: 23
3.52
/5
rDev
+3.5%
look: 4 | smell: 3.75 | taste: 3.25 | feel: 3.75 | overall: 3.5
I'm trying a few beers from eastern Europe tonight, this being the first. Poured from a brown 16.9 oz. bottle. Has a very cloudy golden color with a 1/2 inch head. Smell is of bananas, cloves. Taste is wheat, some banana, a bit of an unusual, green apple like flavor as well. Feels medium/full bodied in the mouth and overall is a solid beer.
342 characters
3.69
/5
rDev
+8.5%
look: 4 | smell: 3.75 | taste: 3.75 | feel: 3 | overall: 3.75
A cloudy gold - a bit ruddier than a typical Hefe but worked. Creamy white head but no lacing.
Smelled of bananas and cloves in a straight forward way each being distinct and separate.
Again straight forward here flavors with a nice mild hop finish.
The feel was a bit watery.
Lacked the ethereal qualities a top shelf hefe has but for the price this is a very good value beer.
378 characters
3.41
/5
rDev
+0.3%
look: 4.5 | smell: 3.5 | taste: 3.25 | feel: 3.5 | overall: 3.25
L:
-pours a cloudy golden (apple juice-like) with a medium to big,creamy,white head
-medium to high carbonation visible
S:
-apples,pears,lemon,banana,clove,spruce
T:
-lemon,pears,wheaty,banana,clove
-finishes dry
F:
-light body
-medium,soft carbonation
O:
One of the better non-german Hefeweizen
295 characters
3.32
/5
rDev
-2.4%
look: 4 | smell: 3.25 | taste: 3.25 | feel: 3.5 | overall: 3.25
Cloudy orange, excessive foam forms crags and peaks, sticky clumps of lace all around the glass.
Aroma is wheaty and a little bland, sweet with and artificial lemon note.
Tastes like cream of wheat, very smooth and creamy body, light trace of banana. Light to medium bodied, mellow carb level. Overall it's ok, sort of like Hacker Pschorr I guess.
350 characters
3.04
/5
rDev
-10.6%
look: 4 | smell: 2.5 | taste: 3 | feel: 3 | overall: 3.5
Color light yellow, straw, a little cloudy.
Head very large, massive, white.
Intense aroma, dark bananas, yeast, slightly acidic.
The taste is the same as the aroma. Slight bitterness, very delicate, well hidden alcohol and low saturation. As for me, Amber Pszeniczniak deserves another "meeting".
297 characters

3
/5
rDev
-11.8%
500ml bottle. 30.08.2014. Pours an opaque, pale gold colour with a large, dense white head which lasted well and left some lacing. Aroma of banana and cloves. Medium sweet banana taste with an astringent, metallic aftertaste. Medium-full body and smooth texture. A bit of a mixed bag. Initially unpalatable (due to the metallic note), this got better after a few swigs.
369 characters

3.67
/5
rDev
+7.9%
look: 4 | smell: 3.75 | taste: 3.5 | feel: 3.75 | overall: 3.75
Poured into a Celebrator pokal. Pours a quite hazy medium straw amber with a golden tint. Great three finger white head with good retention and thick lacing. Aroma of sweet wheat and clove, spicy with a slight sour note. Flavor starts with sweet wheat, clove and hints of banana, but tapers quickly off to a somewhat flat dry wheat that is slightly astringent. Medium bodied with pleasant carbonation. A good looking and aromatic wheat beer. The flavor is good, but finishes rather disappointingly, the dry astringency detracts from an otherwise nice tasting hefeweizen. I was impressed by the looks of this one and wanted to like it more.
639 characters
Pszeniczniak from Browar Amber
3.4
out of
5
based on
23
ratings.