Local Option La Petite Mort
| Central Waters Brewing Co.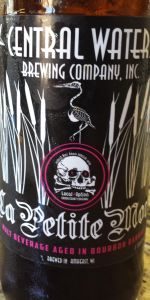 BEER INFO
Brewed by:
Central Waters Brewing Co.
Wisconsin
,
United States
centralwaters.com
Style:
Weizenbock
Alcohol by volume (ABV):
9.05%
Availability:
Limited (brewed once)
Notes / Commercial Description:
La Petite Mort is a Belgian inspired Weissenbock brewed as a one off collaboration between The Local Option and Central Waters Brewery in Amherst, Wisconsin. When Central Waters decided to open its brew house for its first collaboration beer, Chicago's Local Option was the obvious partner in crime. The resulting brainchild, La Petite Mort - a Belgian inspired Weissenbock – maintains the traditional characteristics of its Bavarian forbearer, with the added complexity of Belgian ale yeast. La Petite Mort is dark amber in color; maintains a rich, full-bodied mouth-feel augmented by caramel; mild and dark fruit.
Added by znichols on 12-08-2011
This beer is retired; no longer brewed.
Reviews: 9 | Ratings: 88

4.15
/5
rDev
+13.1%
look: 4 | smell: 4 | taste: 4.25 | feel: 4 | overall: 4.25
From the 22oz bottle to my Angel City Brewing glass
Notes taken from 08/29/15
Stoked to see Central Waters popping up in SoCal now….I really fell hard for this one. Would have this again and again.
The pour resembles that of an Iced Tea color. Think dark amber with some thinning around the edges. Similar color to that of a dried date fruit or raisins. I get a thin layer of turbinado sugar colored froth that dissipates rather soon. Minimal stick/lace noted.
Rich caramel and dark stone fruit with brown sugar, spices, toasted pecan, earthy woods, belgo yeast and some more mild dried fruits/berries.
Complex and rich malt flavor melds with a light barreling and Belgian yeast strains. Gooey caramel toffee and brown sugar sweetness poured over dark breads and stone fruit/berries. Has a very vinous character overall. Light earthy spice and some banana bread baking in the background. Moderate to lower amount of bitterness and warming with booze but not in a negative fashion. The mouthfeel is heavier and full with a low amount of carb. contributing to that nod. That said it does not detract from my enjoyment. Still manageable and balanced with some light lift in the finish. Sticky sweet in a good way.
1,226 characters

2.92
/5
rDev
-20.4%
look: 2.75 | smell: 3.25 | taste: 2.75 | feel: 2.75 | overall: 3
1 pint 6 fl oz brown glass bottle with a pry-off crown cap acquired at Bottle Barn in Santa Rosa for $10.69 per bottle. It's unclear if this is the same beer as De Kleine Dood (also a Central Waters/Local Option collaboration weizenbock). Perhaps this is also a bourbon barrel aged weizenbock, but not aged in Heaven Hill barrels? In any case, I liked De Kleine Dood and am looking forward to trying this whether it's a rebranding of the original or a new beer entirely.
Label clearly says "La Petite Mort," but it looks the same as the De Kleine Dood label.
Served cold into stemware and allowed to warm over the course of consumption. It's unclear if ale or lager yeast was used for this weizenbock; I'm assuming ale yeast? Reviewed live as a bourbon barrel aged weizenbock.
APPEARANCE: Head dissipates within seconds, leaving only a deep amber-brown opaque body. Appears fairly well carbonated. Not unique or special, but appealing in general.
AROMA: Central Waters' mastery of bourbon barrel aging is evident, with rich notes of marshmallow, caramel, leather, and subdued vanilla coming through - but is that really what you want in a weizenbock? (For what it's worth, though, there isn't any rich toasted white oak or barrel sugar character).
I wouldn't know there was wheat in this trying it blind, and I struggle to find any of the yeasty esters associated with a classic weizenbock (banana, clove, even bubblegum). There are no indications German yeast was used in this beer, or that it's a weizenbock in a traditional sense.
But then they aren't going for traditional, are they? Hopefully, the taste is better.
Aromatic intensity is above average.
TASTE: Lovely Central Waters bourbon barrel character - marshmallow, leather, caramel, really faint vanilla. No toastiness or oak barrel character here.
A hint of dark fruit. Not jammy, tart, or vivid in its fruit profile. Reticent as all hell.
Weizenbock-wise, there's nothing here for discerning fans of traditional expressions of the style. No banana esters, bubblegum phenol, spicy clove, etc. Any wheat is reticent as hell, lacking the fresh and overt characteristics of wheat in a proper weizenbock.
Given the lack of esters, I wouldn't be surprised if bottom fermenting yeast was used in this purported weizenbock.
Barrel character overwhelms the base, which throws off the beer's balance. This is amongst the most shallow beers I've ever tasted.
TEXTURE: Smooth, wet, medium-bodied, somewhat thin, a biteen watery, plain. Aptly carbonated. A bit gooey.
OVERALL: Ester-free lager-like tendencies and a lack of any interesting base beer character make this ostensible stab at a weizenbock a definite failure. Yes, the bourbon barrel aspect of the brew is nice, but this wouldn't be recognized as a weizenbock in any blind tasting the world around. A rare miss from an otherwise very good brewery, but it does disguise its ABV well I suppose.
C (2.92) / AVERAGE
2,938 characters

3.09
/5
rDev
-15.8%
look: 3 | smell: 3.25 | taste: 3 | feel: 3.25 | overall: 3
From notes. 22oz into a tulip. Pours a deep mahogany brown w/ minimal head that settles almost instantly. Soon looks flat.
Aroma is gooey sweet. Prunes, brown sugar, dates, figs. Smells like unattenuated bourbon-soaked wort.
Taste follows nose. Sugary sweet. Prunes, plums, red grapes, raisins.
Mouthfeel is sticky, syrupy, heavy.
Overall a big disappointment. Just a big syrupy sweet sticky mess.
401 characters

4
/5
rDev
+9%
Pours a dense, tan head. Sweet malt aroma bursting with vanilla and oak. It smells like candy! Deep burnt umber color. Starts with sweet malt, booze, a flash of floral hop bitterness, and then the bourbon flavors move in and dominate. The vanilla stretches across the sweet malt with notes of oak developing into the finish. The finish is vanilla and oak, a touch of hops in the background, and sweet malt.
This is pretty good. It's just bursting with bourbon notes. When Central Waters puts it in a bourbon barrel, you know it's going to be amazing.
556 characters

4.15
/5
rDev
+13.1%
look: 4 | smell: 4 | taste: 4 | feel: 4.5 | overall: 4.5
Served in a Grieskirchner weizen glass at Local Option.
After enjoying Dampf Loc, I'm looking forward to trying this collab. It pours a hazy burnt sienna topped by about two fingers of cream-white foam. The nose comprises banana, clove, dark wheat, and some light brown sugar. Delightful. The taste brings in more of the same, but with more brown sugar and some cinnamon, creating a decent amount of sweetness that works in this beer. The body is a straight medium, with a very light moderate carbonation and a smooth, lightly grainy feel. Overall, a very nice weizenbock, indeed. These Local Option boys gotta keep the recipes comin'...
638 characters

4.01
/5
rDev
+9.3%
look: 4.5 | smell: 3.5 | taste: 4 | feel: 4 | overall: 4.5
Thanks again to my brother for the gift of beer.
A - A medium brown body with a ton of haze. It has a light tan head with decent stamina and great lacing.
S - It has a slight coffee aroma among a roasted malt and sweet scent.
T - A yeasty taste of a Belgian strain. The malt has a medium to high level of roastiness. The flavors really devlop well as the growler is empties.
M - The feel is rather thick with a mild stickiness left in the finish.
~ I really like the interesting qualities this beverage has to offer. I strongly recommend this beer to anyone who enjoys a fine brew.
587 characters

3.88
/5
rDev
+5.7%
look: 4 | smell: 3.5 | taste: 4 | feel: 4 | overall: 4
On tap @ Hopleaf
A: Cloudy brown. Looks like sewage. Served with a thin creamy tan head that settles to a thick surface coating. Lots of lacing.
S: Toffee, caramel, and raisins. Lightly sweet butterscotch.
T: Lots of toffee and quite malty. Toasted malts, sweet caramel, oak, vanilla. Finishes with lots of spice. Finish is rather aggressive actually with some dry persistent fusel spice.
M: Medium in body. Thinner than the taste would leave you to believe. Sweet up front, but exceedingly dry on the finish. Moderate bitterness.
O: I'm admittedly not familiar with the style, but I've got to question any beer named after the French phrase for orgasm. Overall, I did enjoy this beer. Strong, malty, and with a lot of interesting flavors.
745 characters

3.53
/5
rDev
-3.8%
look: 4 | smell: 3.5 | taste: 3.5 | feel: 3.5 | overall: 3.5
On-tap at Jake Melnick's. Served in a taster stange.
A - A finger of tan foam settles to a partial cap and thick collar, leaving behind splotchy lace spots. Murky red-brown body with some purplish highlights to it.
S - I was initially quite confused, as I'm 99.9% certain the lines were crossed at Jake Melnick's. I asked for Morning Wood, and I got this beer, to which my first response was "Where's the coffee?", followed by "Is this some sort of dunkelweizen?" In any case, this beer smells like chocolate, nuts, banana bread, toasted grains, a hint of caramel, and some spicy, estery yeast.
T - Nuts and berries, fruity, estery yeast, some roasted grains and earthiness, and a light char note. Not as sweet as the aroma, but has a very crisp and clean finish to it. Alcohol is reasonably well-hidden.
M - Zesty carbonation, medium body with some grit and chaffed wheat texture to it. Lightly dry finish with minimal alcohol warmth.
D - Weird beer - I get more German character than Belgian. Not really a style that gets a lot of love from the community, but a nice American attempt at it all the same. I probably wouldn't order a full pour of this, especially at Local Option's price.
1,194 characters

3
/5
rDev
-18.3%
look: 3 | smell: 3 | taste: 3 | feel: 3 | overall: 3
A- dark maple color. Very hazy, almost dirty. Whatev. I'm not opposed to unfiltered beer. Little to no head. Some solid lacing, surprisingly.
S- belgian yeast, wood, candied nuts. Decent smell to this beer but its pretty subtle. Expected more pop!
T- kind of a hodge podge of flavor. Belgian yeast and alcohol dominate. There is a touch of banana, cinnamon, bread, and maple syrup. Complex but not amazing.
M- pretty watery, light carbonation. Not bad but I expected it to be a little heftier. Light body.
O- this is a decent beer. Its an american take on a dark belgian. A little more mild than I expected. That's all.
631 characters
Local Option La Petite Mort from Central Waters Brewing Co.
3.67
out of
5
based on
88
ratings.