Fuller's Red Fox
| Fuller Smith & Turner PLC
BA SCORE
83
good
12
Reviews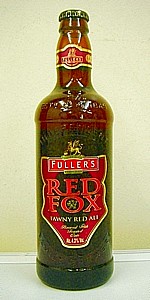 BEER INFO
Brewed by:
Fuller Smith & Turner PLC
United Kingdom (England)
|
website
Style:
Irish Red Ale
Alcohol by volume (ABV):
4.30%
Availability:
Year-round
Notes / Commercial Description:
No notes at this time.
Added by rastaman on 04-20-2005
Reviews: 12 | Ratings: 14
Reviews by clemtig76:

3.75
/5
rDev
+4.2%
look: 4 | smell: 4 | taste: 3.5 | feel: 3.5 | overall: 4
On tap at Ordes of England in Greenwood, SC. Brownish/ruby read with a thin white head. Very little lacing. Aroma is of roasted caramel and biscuity malts with some spicy hop notes. Taste is of toasted caramel malt with just a hint of spicy hop bitterness. Mouthfeel was a little on the thin side. A decent change of pace from the other offerings available.
★
357 characters
More User Reviews:
3.38
/5
rDev
-6.1%
look: 3.5 | smell: 3 | taste: 3.5 | feel: 3.5 | overall: 3.5
[email protected]
Prince of Wales, Richmond, London. Nutty and smooth, caramelly, lightly grainy, dry and bitter, smooth mouthfeel, typical of Fullers. felt like more of an Irish red than anything else, due to the nutty flavours, and slightly red/brown appearance, whatever it was, it was decent.
★
287 characters
3.6
/5
rDev 0%
look: 3.5 | smell: 3.5 | taste: 3.5 | feel: 3.5 | overall: 4
Volo cask fest 2009, malty aroma. lightreddish colour with a bit of foam. Average mouthfeel, a litte sourness otherwise average English cask.nothing too exceptional. unique flavour, sweetish, from the toasted oats. decent drinkability. understated bitterness.
★
259 characters

3.6
/5
rDev 0%
look: 3.5 | smell: 3.5 | taste: 3.75 | feel: 3.5 | overall: 3.5
Hand-pulled pint in the lovely 'Bear' , a Fuller's pub in Oxford. Pub crawl on 23rd Nov 13.
Poured a lovely reddish brown with a good, deep crown of off-white foam on top.
The aroma is toffee coated biscuits with nuts sprinkled on top.
The taste is also toffee-ish in flavour, with a wild berries coating adding some bitterness to the brew.
Good feel to this beer, an ideal Autumnal brew.
★
392 characters

3.5
/5
rDev
-2.8%
look: 3.5 | smell: 3.5 | taste: 3.5 | feel: 3.5 | overall: 3.5
Another one in the Fullers lineup that I hadn't tried before. I had a pint of this on a recent trip to England. Overall a pretty good beer, not my favorite.
Appearance is an amber red, a little clearer than most cask pulls but not much more carbonated.
Aroma is clean and malty. Not too much nose.
Flavor is good and what you'd expect from an Irish Red. Malty, a little sharp on the tongue. Not much in the way of hops.
Overall a pretty refreshing beer. Not much else to say about it.
★
489 characters
3.52
/5
rDev
-2.2%
look: 3.5 | smell: 4 | taste: 3 | feel: 3.5 | overall: 4
500ml bottle bought from Sainsbury's as part of an autumn brewery 4 pack...
Poured a dark coppery orange colour. Creamy head poured tight and thick then faded quite quickly to thin wispy layer... barely any carbonation and no real lacing...
Aroma - Quite juicy and spicy fruits (oranges, apricots, some figs), caramel / sugary sweetness, strong nuttiness, toasted bread, nice strong biscuity malts, dried hay notes, light earthiness, some butterscotch traces, light spicy hops, some faint mucavado sugar... all quite appetizing...
Taste – A bit disappointing after the good aromas.... light slightly watery fruitiness (oranges, some apples, figs), some butteriness, light caramel / toffee sweetness, definite toasty bread / biscuity notes, some hazelnut nuttiness...
Feel - Quite sharp and dry... medium bodied... a decent sessionable brew at 4.3%...
Overall - A very average brew from the usually excellent Fullers... just a bit on the boring side... still worth a try though...
★
995 characters

3.58
/5
rDev
-0.6%
look: 4 | smell: 3.5 | taste: 3.5 | feel: 4 | overall: 3.5
sampled on cask at volo as part of cask days '09, oct 30/09.
pours crystal clear orangey-amber with a small white head. the head drops slowly with spotty lace.
aroma is nice. fruity! white bread. cracker. light alcohol. earthy. a bit floral. hints of orange and light citrus. herbal.
taste is nice. fruity again. bit of caramel. light citrus. herbal. bit of honey. white bread and cracker. low alcohol.
mouthfeel is good. nice light body. low carbonation level.
drinkability is nice. light and refreshing. nice balance. an easy session ale, just not all that interesting. a bit underwhelming.
★
597 characters

3.49
/5
rDev
-3.1%
look: 4 | smell: 3.75 | taste: 3 | feel: 4 | overall: 3.75
A: Dark auburn, slight haze, medium, tanned head gave way to nice lacing.
S: Rich malt, some espresso, cranberry, molasses.
T: Balanced sweetness, malty, slight sour fruits, wheaty finish.
M: Smooth, medium body, soft carbonation.
O: A beer for when the weather is changing, not dissimilar to other offerings from Fullers but quaffable.
★
344 characters
3.21
/5
rDev
-10.8%
look: 4 | smell: 3 | taste: 3 | feel: 3.5 | overall: 3.5
500ml bottle poured into an imperial shaker pint glass
Pours with a deep amber body, reddy highlights and lots of bubbles rising up through the glass. Tight fluffy offwhite head, great retention and about half an inch thick or so. Big lumps of lacing
Smell, sweet biscuity malt, some caramel sweetness on the nose too, a few little esters in there.
Taste, very thin mouthfeel, very short on the palette. Chewy malt and a touch of toffee sweetness, very little hop character but a little on the finish. A lingering biscuity malty flavour on the palette but ultimatly most of the flavour is gone very quickly
A pretty average ale from the Griffin Brewery, one of the most disappointing that I've had from them to date. I'm sure this would be much better fresh on cask
★
778 characters
4.61
/5
rDev
+28.1%
look: 5 | smell: 4 | taste: 5 | feel: 4.5 | overall: 4.5
On Cask at Conservative Club in Maidenhead (near Windsor & London, England). A seasonal ale, it is fantastic when served correctly. I didn't feel it an Irish red at all, but was slightly ruby red in colour. Loved its autumn biscuity and caramel flavour and fading aftertaste. It can be found in bottles in south England anyways, but wasn't the same. Great seasonal ale.
★
369 characters
3.33
/5
rDev
-7.5%
look: 3.5 | smell: 3 | taste: 3.5 | feel: 3 | overall: 3.5
Coming in a pack of four, Fuller's "Autumn Beer Festival" selection, along with three other beers: Organic Honey Dew, Mr. Harry, and London Porter. BB 23/10/2007, served cool in a straight imperial pint glass.
A: bright amber hue, fast-dissipating off-white beer head, on top of constant streams of tiny fizziness.
S: gristy malts, melted barley candy, rich dark honey, faint raisins, and corn-ish grainness dominate the nose, added with an herbal touch of hops and a faint citric-fruity line in parallel. Overall the aroma is overwhelmed by the sweet caramely maltiness, resulting in a somewhat simplistic theme.
T: exactly in reflection of the aroma, with biscuity and brown-sugary (nearly caramel-like) malts dominating the palate, quickly leading towards a licorice like bitter-sweet aftertaste added with a slightly chewy mouthfeel of toasted grains and nuttiness (maybe the "toasted oats" mentioned on the beer label?); a flow of soothingly dryish tea-leafy and mildly tangy-bitter hoppyness lingers along with more malt aroma in the end.
M&D: light-bodied with a softly spritzy mouthfeel, making the beer somewhat thinner and more fizzy than enjoyable. Fortunately the lingering hop bitterness and the lingering oat flavour make up for the lack of body. Overall this bottle is not bad, but I believe the cask version must be much more enticing (seemingly so, according the previous two reviews)~~
★
1,409 characters

3.41
/5
rDev
-5.3%
look: 4 | smell: 3 | taste: 3.5 | feel: 3.5 | overall: 3.5
Cask at The King Edward in Ilderton, ON. The server claimed this is an "autumn" seasonal ale available from October to December.
Amber brown body with a full inch of cream white head and big gobs of webbed lacing. A good looking beer. Didn't pick up much from the smell, other than lager yeast (odd) and slightly earthy hops. Taste is toasted oats, cereal grains, and orange pekoe tea, backed by biscuity caramel malt. Faint flavours of honey, toffee, and cinnamon, with a bit of zest from the hops. Some yeasty esters as well. Finish is dry grainy husk with a muted bitterness that ranges from tart to astringent. Light-bodied, almost watery mouthfeel. A strange little beer that seems more like a lager than an ale. Not really impressive, but I find it intriguing. I would probably try this again.
★
801 characters
Fuller's Red Fox from Fuller Smith & Turner PLC
83
out of
100
based on
12
ratings.