Kinmugi (Rich Malt)

Suntory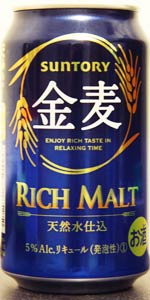 Write a Review
Beer Geek Stats:
| Print Shelf Talker
Style:

ABV:

5%

Score:

Avg:

2.95

| pDev:

16.61%

Reviews:

12

Ratings:

From:

Avail:

Year-round

Wants

Gots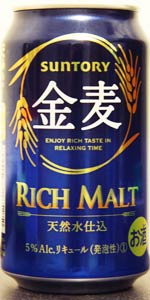 Notes:
2.75
/5
rDev
-6.8%
look: 2.75 | smell: 2.75 | taste: 2.75 | feel: 2.75 | overall: 2.75
Pours a clear golden coloration with a medium, fizzy head and carbonation clinging to the glass. Smells faintly of doughy malt, grassy hops and hay. Taste follows the nose, with faint, watery flavors of sweet, doughy malt and grassy hops coming through, as well as hints of citrus and hay. Finishes with no discernible bitterness or aftertaste. Thin mouthfeel with a light body and medium/lively carbonation.
This is basically a Japanese AAL, but perhaps even less flavorfull. Still quite refreshing and bearable if served ice-cold on a hot summer day, I guess.
562 characters

3.47
/5
rDev
+17.6%
look: 3.5 | smell: 3.25 | taste: 3.5 | feel: 3.75 | overall: 3.5
Pours a completely transparent moderate yellow with two fingers of white, foamy head. Head retention is okay at first and then recedes rapidly. Aroma is rice, floral and herbal hops, and pilsner, bready malts. Flavor profile is spicy, herbal, and floral hops throughout. It fades into a yeasty, dry finish. It has a bready malt to it. Mouth feel is medium-thin with an effervescent texture. Overall, spicy, dry, and interesting. Flavorful for a "non beer, beer", but still a bit off putting.
Served in a 12oz snifter from a 16oz can.
534 characters
3.23
/5
rDev
+9.5%
look: 3.25 | smell: 3.25 | taste: 3.25 | feel: 3 | overall: 3.25
This is a fairly easy to drink beer and given that it's a happoshu it should be judged using criteria for the style. Yes, there is no complexity and the flavor is mild but it's supposed to be like that. A nice beer for the purpose it serves.
241 characters

3.54
/5
rDev
+20%
look: 3.75 | smell: 3.5 | taste: 3.5 | feel: 3.75 | overall: 3.5
Suntory Rich Malt – 5%
350 ml can on a Shinkansen from Kobe, Japan.
Aroma: light spicy hops with sweet malts.
Flavor: light spicy hops with sweet malts. Very mild bitterness.
Medium body with exceptional smoothness and near medium carbonation.
Overall: a flavorful, well balanced and harmonious lager. Went well with the Kobe beef bento box I picked up at the station. Recommended.
386 characters

2.34
/5
rDev
-20.7%
look: 1.75 | smell: 2 | taste: 2.5 | feel: 2.5 | overall: 2.5
Pours a nice golden color. It has a very sad and thin head that disappears very quickly. Skunky smell. Fruity taste not unpleasant but a bit watery. Carbonated feel.
165 characters
2.84
/5
rDev
-3.7%
look: 3.5 | smell: 2.5 | taste: 3 | feel: 2.75 | overall: 2.75
A: The beer is clear yellow in color and has a light amount of visible carbonation. It poured with a finger high white head that died down, leaving a thin layer of bubbles covering the surface and a thin collar around the edge of the glass.
S: Faint aromas of malts are present in the nose with hints of sweetness and skunk.
T: The taste has flavors of pale malts with hints of sweetness and skunk.
M: It feels a bit more than light-bodied and somewhat smooth on the palate with a moderate amount of carbonation.
O: This Happoshu beer is easy to drink and doesn't have that much in the way of "off" or skunky aromas or flavors.
Serving type: can
651 characters
3.03
/5
rDev
+2.7%
look: 3.5 | smell: 3 | taste: 3 | feel: 3 | overall: 3
Wow, another Japanese beer to try while here in Tokyo. Poured from an 11.2 oz. can. Has a light golden color with a 1/2 inch head. Smell is mild, some malts are present. Taste is light, malty, a touch of sweetness. Feels light in the mouth and overall is yet another mediocre beer.
281 characters

3.3
/5
rDev
+11.9%
look: 3 | smell: 3 | taste: 3.5 | feel: 3.5 | overall: 3.25
Tasted On: 05-30-2013
Freshness: Best by 10-2013
Packaging: 12 oz. can
Glassware: Shaker pint
Purchased: Received in a trade
A: Clear and golden beer, topped by a white head composed of large bubbles. There's a fair amount of head retention but no lace to speak of.
S: Aromas have a light grain sweetness coupled with light notes of grass and hay hops.
T: The taste is pretty much in line with the aromas, with a light sweetness of malts and a light hop flavor of grass. Taste is clean and unoffensive, if not very flavorful.
M: Light bodied, with a crisp feel that has a medium amount of carbonation. The finish is pretty much the same as the taste, slightly sweet with no bitterness of hops.
O: I thought this was a simple and enjoyable brew; certainly light on flavor but makes a good summertime/lawnmower type thirst quencher.
Thanks to HopFace for sending me this rarity from Japan!
893 characters

1.43
/5
rDev
-51.5%
look: 2.5 | smell: 2 | taste: 1 | feel: 2 | overall: 1
Typical of the Japanese style, just higher alcohol. It reminds me of cheap, stale beer in cans leftover from youth parties. This is the antithesis of high quality, Euro type beer. It is fitting that I am drinking it in a Japanese business hotel room, where it may be popular. I should have gone with the sake instead, where the Japanese are masters.
349 characters
3.38
/5
rDev
+14.6%
look: 2 | smell: 4 | taste: 3 | feel: 4 | overall: 3.5
A: Transparent, orange yellow. Mild scattered rising carbonation but zero head.
S: Sweetish, honey, vanilla, brown sugar malt. Almost like cookies.
T: Sweetness is very subtle in the flavor, but there. Cross between a bitter and sour tang, though that's a relatively peripheral flavor as well. Malt does have a sort of cookie like quality.
M: Pretty soft with a pleasant sting.
O: Decent, certainly more interesting than an average lager.
440 characters

3.68
/5
rDev
+24.7%
look: 4.5 | smell: 4 | taste: 3.5 | feel: 3.5 | overall: 3.5
12oz can received as another gift from my ex-wife. Poured into a Duvel tulip. Logo on the can says "Original rich taste for relaxing" - You have to love Japanese to English translations.
A - An aggressive pour into the center of the glass yields a nearly perfectly clear and pale pale straw yellow...a "Bud Light" yellow. Two big fingers of rocky white foam hang around for a good long time. As the head finally dies it leaves behind uneven spiderwebs of lacing. Great looking beer for the style.
S - Noble hop aroma/bitterness with a chaser of lemonade...very lemony in the aroma - really pretty close to fresh squeezed lemon. Soft, soft malt in the background with delicate bready and sweet aromas. Interesting - not really what I expected...a bit more character there than anticipated.
T - Malty lemonade. Makes me think a bit of radler (available in Germany - a mixture of Pils and lemonade...a "ladies" drink). Overall flavor is low, but there is a distinct lemon character...if I didn't pour it myself, I'd swear somebody squeezed a lemon wedge in here. Delicately sweet and bready malt at the base. Hops are barely there...a bit of a stretch to say they have any distinct flavor addition. The bitterness is so subtle they could easily be missed entirely. I'd say they balance out the malt more than anything.
M - Thin but not quite watery in feel. Fairly strong carbonation that yields a nice tingle throughout the mouth. The lemony aspect keeps this feeling pretty clean and crisp, probably masking any off flavors in here.
O - Absolutely not something that I would seek out, but in a pinch I could handle drinking this again. Worth remembering for the next time I'm in Japan...a bit different than the typical Japanese lagers and an interesting change of pace. This vs. Bud Light...no doubt, I'd go for this...but that really doesn't say much. Still worth a shot if faced with any number of other Japanese or American macro lagers out there as the other choice.
1,975 characters

3.87
/5
rDev
+31.2%
look: 3 | smell: 3.5 | taste: 4 | feel: 3.5 | overall: 4.5
Appearance: Clear, golden brew with a fizzy white head. Very short lived head.
Smell: Good malt presence. Very clean.
Taste: Good brew, very clean with a minor hop bite in the finish. Great example of a rich lager.
Mouthfeel: Light-medium body. Very smooth.
Drinkablity: Great brew with an easy to drink yet bold flavor.
335 characters
Kinmugi (Rich Malt) from Suntory
Beer rating:
69
out of
100
with
42
ratings