Gubernija Duonos Gira Kvass
| Gubernija Brewery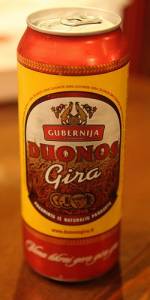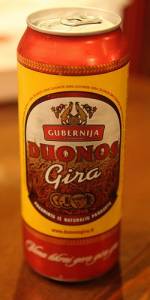 BEER INFO
Brewed by:
Gubernija Brewery
Lithuania
gubernija.lt
Style:
Kvass
Alcohol by volume (ABV):
0.50%
Availability:
Year-round
Notes / Commercial Description:
No notes at this time.
Added by BeerAdvocate on 12-31-2006
HISTOGRAM
Ratings: 14 | Reviews: 12
Reviews by crossovert:
1.84
/5
rDev
-36.6%
look: 2 | smell: 3 | taste: 1.5 | feel: 1 | overall: 1.5
500ml can. This one is a dark brown. It smells like sugar, and more sugar. The flavor is the same. Even sweeter than American soda I would say. just cloyingly sweet. 100ml is more than enough of this stuff. Diabetes in a can. This one is just waaay tooo sweet for me.
267 characters
More User Reviews:

2.77
/5
rDev
-4.5%
look: 3 | smell: 2.75 | taste: 2.75 | feel: 2.75 | overall: 2.75
1.48
/5
rDev
-49%
look: 3 | smell: 2.5 | taste: 1 | feel: 1 | overall: 1
My second foray into the kvass realm went about as good as the first. Brown appearance, far from filtered. Smell was reminiscient of a spoiled frozen yogurt. Fruity, yeasty and moldy.
Taste was just awful. I tried, I really tried. Too much of a nasty bitterness to it, not the kind you get from hops. Weird sugarness to it. Definitely the most challenging style of 'beer' I've ever had, but this tasted nothing like any kind of beer I've ever had.
448 characters
3.4
/5
rDev
+17.2%
look: 3.5 | smell: 3.5 | taste: 3.5 | feel: 3.5 | overall: 3
The usual kvas aroma, which is bready, but also a tad yeasty this one. Light brown with a crowning white head, and lacing at the bottom of the glass. A bit above average mouthfeel. Sweet,carmel in there, but not as sweet as the other kvas products I have tried.Being of Lithuanian decent, I am proud to say this has been the best of several kvas products picked up at Yummy Market, the Russian supermarket in Toronto. A decent choice for a low alcohol beverage, 2.2%
466 characters
3.5
/5
rDev
+20.7%
look: 3.5 | smell: 3.5 | taste: 3.5 | feel: 3.5 | overall: 3.5
BBD: 02 04 2011
Ingredients: Water, sugar, bread crumbs 2.4% (roasted rye malt, rye wholemeal), CO2, acidity regulator citric acid.
Spotted this can in the back cooler of Three Sisters Delicatessen.
A new Lithuanian Kvass, might as well give it a try for $2.29 a .5L can.
Pours a murky copper orange with visible suspended sediment (bread crumbs?). Frothy bubbles on the surface give way to a feeble skim and ring of foam, with some spotty lacing.
Predominant raisin and rye bread aromas, maybe a little nutty walnut at times. Lightly tangy and sweet, almost a raisin bread soda. Mildly spicy with a brown sugar sweetness lingering. Light and easily quaffed, a bit too sweet to really have a bunch though. Overall not bad, nothing groundbreaking either.
759 characters

2.86
/5
rDev
-1.4%
500ml can picked at a local Lithuanian market. Best before date stamp on bottom 14 02 2015.
A: Pours a hazy dark orange/light brown with an initial one-inch thick off-white head which fades to the rim and leaves Swiss Cheese lace.
N: Sweet raisin bread, malts, caramel, faint roast.
T: Sweetness, molasses/brown sugar, bready, raisins, malts, caramel.
M: Light body and light carbonation. Sweet caramel like a cola soft drink finish.
O: Unique and interesting. Refreshing. Ingredients listed in English on can: water, sugar, bread crumbs (croutons on brewery website), roasted rye malts and roasted whole meal with citric acid as an acid regulator. Each can contains 40 grams of sugar. Label says "soft drink". Only $1.99.
727 characters

3.3
/5
rDev
+13.8%
look: 3 | smell: 3 | taste: 3.5 | feel: 3 | overall: 3.5
Served in a Chicago Bears shaker pint glass.
The Kvass Kick rolls on! This offering pours a hazy light amber with a short-lived wisp of a head. This thing is decidedly lighter in color than any other kvass up to this point. Not sure if that's good or not. The nose is the usual, though, comprising maple syrup, pumpernickel, and brown sugar. You can feel the sweetness in your teeth before it ever enters the mouth. The taste is very similar, with some fennel and sugar-coated walnuts thrown into the mix. I like this seeming addition of complexity. The body is a light medium, with a lightly fizzy carbonation and a light syrupy feel. Overall, a sort of oddity in my Kick, very sweet and bready, slightly off-putting but somehow drinkable nonetheless.
753 characters

3.39
/5
rDev
+16.9%
look: 3.25 | smell: 3.5 | taste: 3.25 | feel: 3.5 | overall: 3.5
Reviewed from notes taken in Summer 2014. Kvass/gira.
.33L brown glass bottle served into stemware.
HEAD: No bubble show forms as it's poured. No head forms, and there's no lacing.
BODY: Clear translucent purple with copper hues. Clean; no yeast or sediment is visible within.
Generally appealing for a kvass.
AROMA: Light hints of a faint lactic sourness/sourdough bread. Lightly bready, sure, but it doesn't seem heavy or filling. Mellow breadiness and some sarsaparilla-esque root/herb. Not as cola-redolent as the other kvass I've tried. Seems flat in terms of carbonation.
An inoffensive aroma of average strength. I find no overt alcohol or off-notes.
TASTE & TEXTURE: Light and mellow presence on the palate. Smooth, wet, undercarbonated, refreshing. A bit sour.
Sourdough bread notes are at the heart of the flavour. Bready and balanced in its simplicity. Flavour intensity is very low.
Average flavour duration and depth of flavour.
OVERALL: It's a drinkable enjoyable kvass. Less filling and more refreshing than the other kvass I've tried. Pairs well with food. I'd get it again.
B- (3.39) / WORTHY
1,121 characters

3.08
/5
rDev
+6.2%
look: 3.5 | smell: 3 | taste: 3 | feel: 3.5 | overall: 3
Poured from 500mL can into a pint glass.
Appearance: medium brown hue with a pretty thick haze. Head poured a finger of creamy light-tan foam which is leaving a decent lacing on the glass. A bit light, but a good-looking kvass.
Smell: bready and raisiny, per the style, with the emphasis a little bit more on the bready side. Nice, but a bit too sweet for me.
Taste: sweet and fairly raisiny. The bready and yeasty qualities are much more subdued here. Par for the style, but again, a bit too sweet for my taste.
Mouthfeel: medium-light body with a good carbonation and a surprisingly creamy mouthfeel for the style. I like it.
Overall: a decent, middle-of-the-road kvass. Could be a little less sweet.
707 characters

3
/5
rDev
+3.4%
look: 3 | smell: 3 | taste: 3 | feel: 3 | overall: 3
I purchased a can of Gubernija Duonos Gira Kvass for $2.20 USD at a bakery in Glendale, CA/USA.
Look: Gubernija Duonos Gira Kvass had a dark appearance.
Smell: Gubernija Duonos Gira Kvass had a vague aroma of Tamarind and Sweet Sour Sauce.
Taste: Gubernija Duonos Gira Kvass had a sugary taste of molasses and a slightly sour aftertaste.
Feel: Gubernija Duonos Gira Kvass has low carbonation.
Overall: People who seek a low carbonation kvass will enjoy Gubernija Duonos Gira Kvass.
483 characters
2.26
/5
rDev
-22.1%
look: 1.5 | smell: 3 | taste: 2 | feel: 2.5 | overall: 2
Sold in the "soft drink" area of my local Russian grocery.
Pours a dull, cloudy, and watery orange-brown. No head, no visible bubbles. Pretty lousy.
Smell is intriguing; lightly sour, with notes of pumpernickel, bread yeast, and caraway. An underlying spoonful of syrupy sugar hovers above all. With a drier yeast, a sourer snap (think Triumph Brewing's Jewish Rye beer), this could really peak my interest.
Taste is overwhelmingly sweet; more like malta goya than beer. Of course, this is only 2.5%, so that's to be expected. The taste otherwise follows the same path as the nose; rye bread, yeast, egg white. Not pleasant.
Mouthfeel is no winner either -- for something so sweet, you'd think they'd throw a little extra carbonation in there. This is just flabby, if not entirely dormant.
Overall, this is bad news. You can tell this is an interesting style -- and a style with promise -- but this is not a good example of it.
932 characters

3.42
/5
rDev
+17.9%
look: 3 | smell: 3.5 | taste: 3.5 | feel: 3 | overall: 3.5
My kvass-quest continues with this tall boy of Lithuanianian orgin.
It pours a ruddy ruby-amber in the glass. Some foam. Doesn't last long.
There's a definite, distinct "kvass" aroma to this, which would unflatteringly be described as soggy rye bread… but I think of it as sweet, fermenting, tart rye, with some fresh orange juice notes—not as hops, but in terms of that fresh squeezed with pulp flavor.
The flavor is interesting. Slightly tart, with a hint of orange juice and just to the side of cloyingly sweet, it's kept light from the effervescence. Flavor drops quickly.
I'm starting to learn that prepackaged kvass is all pretty much similar and middle-of-the-road. This one is no exception. Not a bad introduction but by all means try to find it fresh.
782 characters

3.27
/5
rDev
+12.8%
look: 4 | smell: 3.25 | taste: 3.25 | feel: 3 | overall: 3.25
Can from Russian Gourmet in Alexandria, VA.
Murky copper body with a thin beige collar. Aromas of sweet breads, pastries. Brown sugar, cola, sugary breads. An interesting style. Too sweet to enjoy in quantity. Fun.
215 characters
Gubernija Duonos Gira Kvass from Gubernija Brewery
Beer rating:
2.9
out of
5
with
14
ratings