Weed Golden Ale
| Mount Shasta Brewing
BA SCORE
82
good
10
Reviews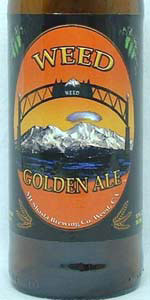 BEER INFO
Brewed by:
Mount Shasta Brewing
California
,
United States
mtshastabrewingcompany.com
Style:
American Blonde Ale
Alcohol by volume (ABV):
5.00%
Availability:
Year-round
Notes / Commercial Description:
No notes at this time.
Added by Muddybuddy on 12-22-2005
Reviews: 10 | Ratings: 16

3.5
/5
rDev
+1.2%
look: 4 | smell: 4 | taste: 3.5 | feel: 3 | overall: 3
Poured into a He'brew pint glass. Pours a light orange-yellow amber with a nice one finger white persistent head and quite a bit of lacing. Pleasant sweet malt aroma with a hint of hops and light fruit. Flavor is somewhat muted compared to the aroma. A hint of malt, citrus fruit and a decent hop kick. Somewhat dry finish with a light hop flavor. Pleasant, but not very assertive in flavor. Wish it had the taste to go with the nice presentation and aroma. Light to medium bodied. A decent, but unassuming golden ale.
518 characters
3.35
/5
rDev
-3.2%
look: 3.5 | smell: 3.5 | taste: 3 | feel: 3 | overall: 4
A- Pours a clear golden color with a finger of white sticky head that left some decent lacing on my glass.
S- Nice sweet crystal malt scents with a nice light hop scent and a bready yeast scent to finish.
T- Decent malt sweetness followed by a slight hop taste and thats about it in the flavor department.
M- Light, BMC style golden ale.
D- Good but would only drink or suggest to drink if someone was looking for something like BMC beers, good session drinking beer, Beer Pong beer.
487 characters
3
/5
rDev
-13.3%
look: 3 | smell: 3 | taste: 3 | feel: 3 | overall: 3
Poured from a 12 oz bottle into a New Belgium globe glass.
A: Pours a light golden color with a small white head.
S: Slightly sweet with a faint whiff of hops.
T: A slightly sweet light malty flavors, faint hops, some floral accents.
M: It's light, dry, crisp, and refreshing.
D: A decent golden ale. It's very light and not all that flavorful.
349 characters

3.03
/5
rDev
-12.4%
look: 3 | smell: 2.5 | taste: 3 | feel: 3.5 | overall: 3.5
Second rifling through the beer fridge for a beer I've never had before brings me to Weed Golden Ale...There's a joke in there somewhere, but not today.
Pretty Golden, maybe closer to darker golden ale pours from a 12 oz bottle. 1 inch white head that leaves little to no lacing.
Lighter scents, some hops, some soft malt, but nothing that is strong or off putting.
Tastes, pretty darn good. Starts a little bit sweet, then the hops come in top the picture. Swallow leaves you a sweet taste that again is followed by a nice slightly hoppy aftertaste. Decent beer. Nice to have on a hot spring day.
603 characters
4.32
/5
rDev
+24.9%
look: 3.5 | smell: 4 | taste: 4.5 | feel: 4.5 | overall: 4.5
"A Friend in Weed is a Friend Indeed!" is written around the outside of the bottlecap.
Then "Try LEGAL Weed" in larger font on the cap.
I've driven through Weed a number or times. Really cool mountain town with stunning views of Mt. Shasta. The bottle label also shows Shasta in the background with the "welcome to Weed" overpass sign you see when driving into town.
Picked this bottle up at Whole Foods actually. 5% abv, no born/freshness date.
Fairly muted head, but the lacing hugs the side of my glass very nicely. Yellow golden with a pale haze.
Mild aroma of yeast and some caramel malt.
Sweet candy flavors and rice. Wheaty white bread. Just a touch cardboardy, but not strong. Great yeast flavor.
Mouthfeel is a bit dusty/chalky with some sticky sweetness. Interesting and complex, nevertheless.
I look forward to more from Mt. Shasta Brewing Co.
866 characters
3.53
/5
rDev
+2%
look: 3.5 | smell: 3 | taste: 3.5 | feel: 4 | overall: 4
Pours a bright crystal gold cold with a small white head.
Aromas are sweet, a bit dusty, and biscuit like.
Flavor is of bright crystal malts, bread dough, and some creamy malt sweetness. The finish is a kind of dry, crisp, and with some floral hop flavors.
Mouthfeel is good. For a lighter tasting beer, this has a pretty full mouthfeel.
Drinkability is good. A solid, but not spectacular, sessionable beer.
419 characters

3.41
/5
rDev
-1.4%
look: 4 | smell: 3 | taste: 3.5 | feel: 3.5 | overall: 3.5
Pours a two finger white head that fades to a ring leaving a good lace. Cloudy amber color. Light carbonation and medium bodied. Slight hoppy nose. Starts almost sweet, middle has hints of sour apple cider, finish some hops but clean. Decent golden. $1.55 for a 12oz bottle from Liquid Solutions Tigard, Or.
307 characters
3.92
/5
rDev
+13.3%
look: 3 | smell: 3.5 | taste: 4 | feel: 4 | overall: 4.5
Pours a cloudy gold with a thin white head that quickly fades.
Smell is very bready, with yeasty aromas, and a slight orangy citrus.
Taste is tangy citrus with a light hop bitterness, and lots of yeasty flavours. An almost creamy light mouthfeel coats the mouth then quickly fades into a semi-dry bitterness.
Overall this is a fairly drinkable beer, would be refreshing in the summer months.
400 characters

3.33
/5
rDev
-3.8%
look: 3.5 | smell: 3 | taste: 3.5 | feel: 3 | overall: 3.5
Appears a light gold chill hazed with a settled ecru spotty head.
Balanced scents with a Tang mix and caramel candy scent.
First swigs: Aroma is reflected in the flavor. Hard candy flavors, some orange hints, nothing fancy, with a fast finish of honey and Tang.
Thin to medium body with a generous carbonation.
Last swigs: No mus no fuss. Just a drinkable golden ale. Some hops and malt balance. Average but glad to try it as a new beer. Thanks to AKSmokedPorter for this as 1 of 24 he sent!
Beer is good. Happy average beering.
547 characters
3.56
/5
rDev
+2.9%
look: 4 | smell: 3 | taste: 4 | feel: 3 | overall: 3.5
This is a blonde from, I believe, a relatively new brew company in Weed, CA. Please correct the style if I got it wrong.
Appearance: Very clean in appearance for a bottle conditioned ale (yeast is in the bottle) with little cloudiness to a light honey colored brew. A good two finger head of white foam forms and thins into a veneer of lacing on top. I then pour the remainders of the bottle including the yeast into it to see how it tastes.
Smell: A brown sugar smell is most apparent and somewhat disconcerting for such a light beer. There is some sweetness followed by a hops smell which I am unfamiliar with. Somewhat floral and sweet overall.
Taste: Definitely not a close cousin of the big three as this one packs some flavor to go with a good appearance. The taste of bananas is somewhat present and reminds me of a French amber I reviewed a few days ago. The yeast flavor is not unpleasant and makes me want some fresh baked bread or a good thick stew to enjoy with this beer. There is some spicyness, but it is restrained as are the hops flavors in this beer. Though held back, the hops do make a somewhat crisp impression on the tongue. There is also a slight rosemary taste, but it is both fleeting and light. I think it isn't a bad beer for the style.
Mouthfeel: This beer is well carbonated and if you have had anything sweet lately I think you might regret it. If you had this beer with dinner, you probably wouldn't encounter any problems.
Drinkability: This beer gets a slightly better than average rating from me since it is light in alcohol content and somewhat crisp, making a good session beer.
1,630 characters
Weed Golden Ale from Mount Shasta Brewing
3.46
out of
5
based on
16
ratings.