New Year's Eve Beer Bash
Cooking with Beer
by
Sean Z. Paxton
| Dec 2014 | Issue #95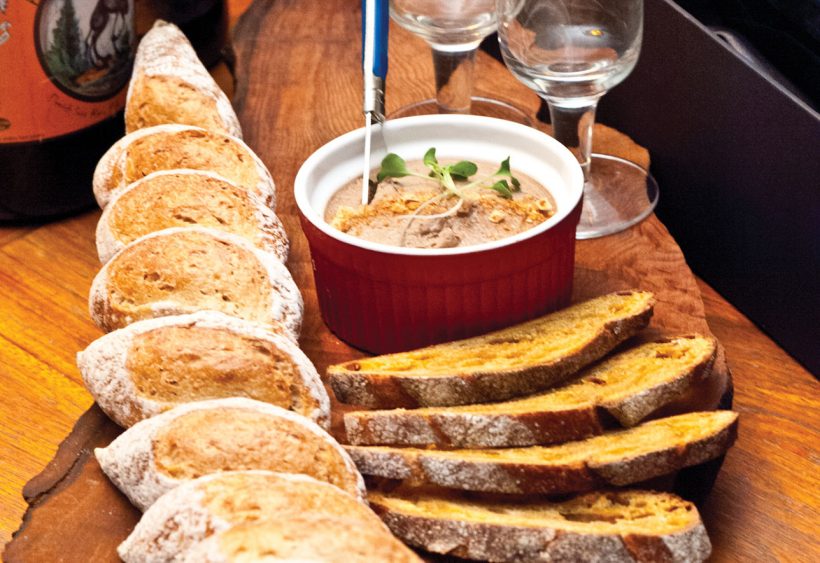 Photos by Sean Z. Paxton
What better way to celebrate the end of 2014 than with a kick ass beer tasting party? Whether you are hosting or attending a party, it's time to raid the beer cellar and pick out some special brews to share with close friends, family and loved ones. Here are a few recipes you can tweak to highlight different flavors in your bottle selection. Have several styles on hand to pair with each recipe and talk with your guests about which flavors enhance each bite or sip. Happy New Year!
Chicken or Duck Liver Mousse
Liver mousse is an easy-to-make, relatively inexpensive appetizer that can feed a crowd. It's also a portable and elegant dish to share. Create a smorgasbord of flavors by adding different cheeses and cured meats.
Makes: 32 ounces (Four 8-ounce ramekins)
Dubbel Prune Mousse
Ingredients:
1 lb. chicken or duck livers, fresh
4 tbsp rendered duck fat, chicken fat, unsalted butter or olive oil
1 cup shallots, peeled and sliced (about 5)
4 each thyme sprigs
1 each bay leaf
4 each prunes, pitted and chopped
1 cup Dubbel such as Westmalle Dubbel, Allagash Dubbel or Anderson Valley Brother David's Double
2/3 cup heavy cream, preferably organic
kosher salt to taste
Stout Mushroom Mousse
Ingredients:
1 lb. chicken or duck livers, fresh
4 tbsp rendered duck fat, chicken fat, unsalted butter or olive oil
1 cup leeks, washed and sliced (1–2)
4 each thyme sprigs
1 each bay leaf
6 each mushrooms (crimini, shitake, or porcini), cleaned and sliced
1 cup Stout such as Bell's Kalamazoo Stout, Wolaver's Oatmeal Stout or Ninkasi Oatis
2/3 cup heavy cream, preferably organic
kosher salt to taste
Liver Mousse Directions:
Place the chicken or duck livers in a medium-sized bowl. Cover with cold water and let them rest for 30 minutes, allowing the organ to release any remaining blood. After half an hour, drain the water and place the livers onto a doubled-over paper towel to dry.
As the livers are soaking, add 2 tablespoons of your chosen fat to a cast iron skillet or sauté pan over medium-low heat. Add the shallots or leeks along with the thyme, bay leaf and a few good pinches of salt. Cook the vegetables and allow them to caramelize, stirring frequently, for about 10 minutes. Add the dried fruit or the mushrooms and continue cooking for another 3–4 minutes. (Be careful not to burn your ingredients or the resulting mousse will taste bitter.)
Deglaze the skillet with the Dubbel (with shallots) or the Stout (with leeks) and let the beer reduce until it becomes syrupy and thick, but not dry in the pan. Turn off the heat and remove the thyme stems and bay leaf. Using a spatula, pour and scrape the mixture into the bowl of a food processor or the pitcher of a blender. Allow it to cool.
Clean the pan and replace it over medium heat, adding the remaining 2 tablespoons of fat. Once the fat starts to melt and sizzle, add the dried livers and season with several healthy pinches of salt. Sauté the livers for about 3–4 minutes on each side. They should be medium rare; the texture and resulting flavor will change the longer they are cooked. Add the cooked livers to the food processor or blender, along with any remaining fat and juice in the pan.
Allow the livers and the shallot or leek mixture to cool to room temperature, about 20 minutes. Set out a whisk, a spatula and two bowls, one for the whipping cream, and a second for a sieve. Process the liver mixture until very smooth, about 2–3 minutes, scraping down the sides a few times. Add a few more pinches of salt and a tablespoon or two of the beer and process again.
Pour and scrape out the liver mixture into the sieve. Using the back of a spatula, press the liver mixture through the screen to remove any tiny chunks from the finished mousse.
In the second bowl, whisk the cream into a thick consistency. Pour the liver mixture over the whipped cream and fold them together, creating a soft mousse. Taste the mousse and add more salt if needed.
Divide it into four 8-ounce ramekins or two larger bowls. Lightly tap the containers on the counter to level out the mousse and sprinkle the top with salt. Cover each container with plastic wrap and refrigerate for at least 2 hours to set and allow the flavors to infuse together. The mousse will last for about seven days in the refrigerator and may be frozen for up to three months.
To Serve:
For the best texture and spreadability, remove ramekins from the refrigerator 20–30 minutes before serving. Uncover and place on a cutting board with different sliced breads, toasted crostini or artisan style crackers. I like to add micro greens, such as micro arugula or radish sprouts to lend a peppery note and crunch to the appetizer. Pair with beers ranging from holiday ales to rich Porters, and sour ales to smoky Rauchbiers. ■
Previous:
Full of Potential
Next:
Coffee Milk Stout Custard Cake